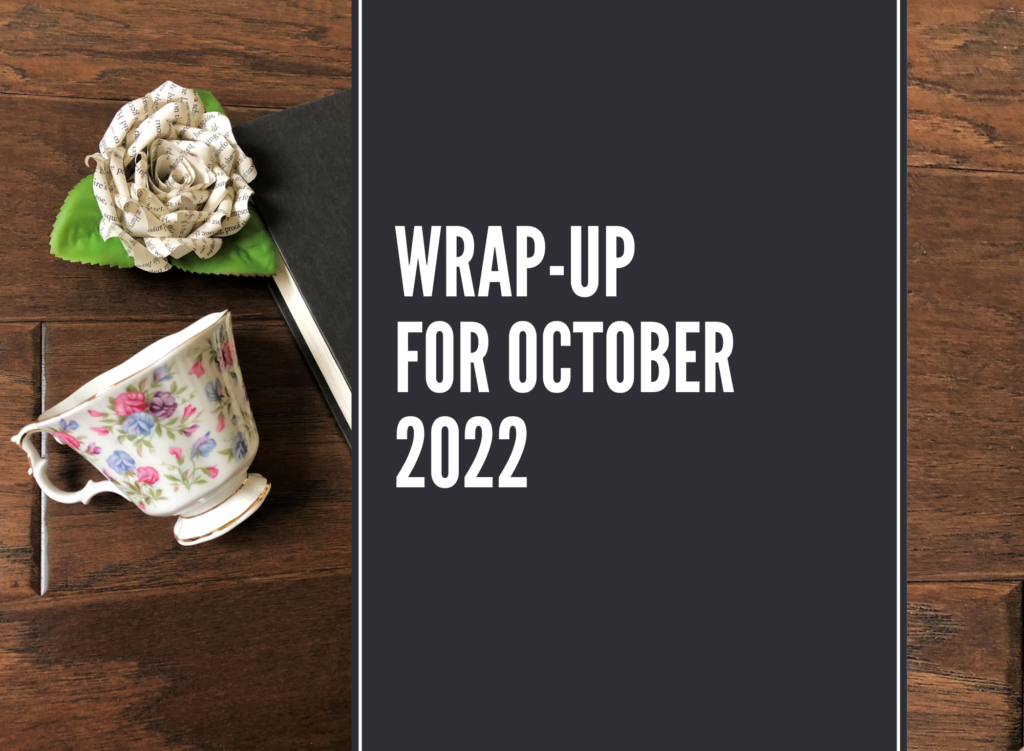 October was the best month I've had in a very, very long time. I had some scary medical stuff going on, but that opened the door to take a month of rest, de-stressing, and internal work. With the most perfect timing, this time was jam packed with reading, movies and tv watching, and lots of bookish events! And good news as a result, my stress levels are WAY down and many of my unexplained medical symptoms are GONE!
This will probably be the longest monthly wrap-up I'll ever have! Thank you in advance for anyone that scrolls through!
Since the start of September, I was already in full-blown Halloween mode! To kick things off this month, I took a photo of some spooky reads that I recommend this time of year as well as a few I was hoping to get to. This photo featured the following books:
The Official Movie Novelization of Halloween by John Passarella
Horrors Untold Vol 3 by Matt Wildasin
The Halloween Store by Ronald Kelly
Dark Matter Magazine – October 2021 – Halloween Special Edition
The very first day of October, we celebrated by going to a donut shop, NH Doughnut Co, that we had just heard about. It was DELICIOUS. We ran out to snag some to bring to his parents house for a little birthday surprise for his dad.
Next up, we had our first weekend away with two friends we hadn't traveled with before. We already cannot wait to make this an annual thing! We went to Bar Harbor, Maine and had an absolute blast! We got to play tourist, visit Sherman Books, go to a brew fest, and eat a ton of good food! Of course, while we were up there, I had to get a local book; Ghosts of Acadia by Marcus LiBrizzi.
This photo is of my husband and I on Cadillac Mountain: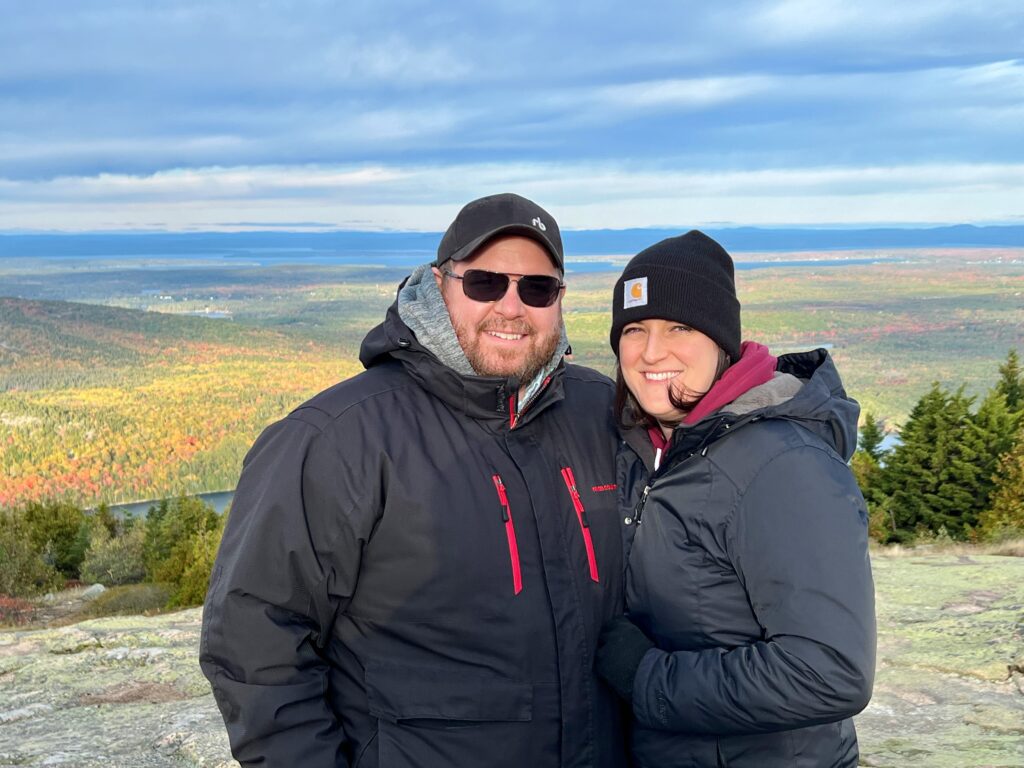 The brew fest was neat as well! I found one that I absolutely loved. It was a raspberry sour, but I unfortunately can't remember the company.
We also got to visit the old King family house again, and this time I had Brennan LaFaro's book with me to take photos and leave it in the Little Free Library nearby!
I also got to see family for a little bit on the way home. This guy is growing up too fast!
This was EXACTLY what I needed to get into relaxation mode; good friends, family, lots of fun, and the Maine air. I was SO relaxed when we returned home.
Next up, I got to attend another amazing Gibson's Bookstore event, this time with Ryan and Josh Malerman! Click here to check out my full post to access the recording of the event!
Then it was time for the Merrimack Valley Book Festival! I am SO grateful that I was able to go to this and that my social anxiety didn't win that day. I got to meet so many authors and readers that I am honored to call friends! I also got to meet a ton of other authors that I love and some that were new to me! I had such a good time, I cannot wait for next year!
This month, I also visited a TON of Little Free Libraries. Stay tuned for more posts about them soon! But this one in Bedford, New Hampshire was my favorite! I just had to leave my duplicate copy of Dark Observations by Catherine Cavendish here. The colors of the book cover and the LFL are so perfectly paired!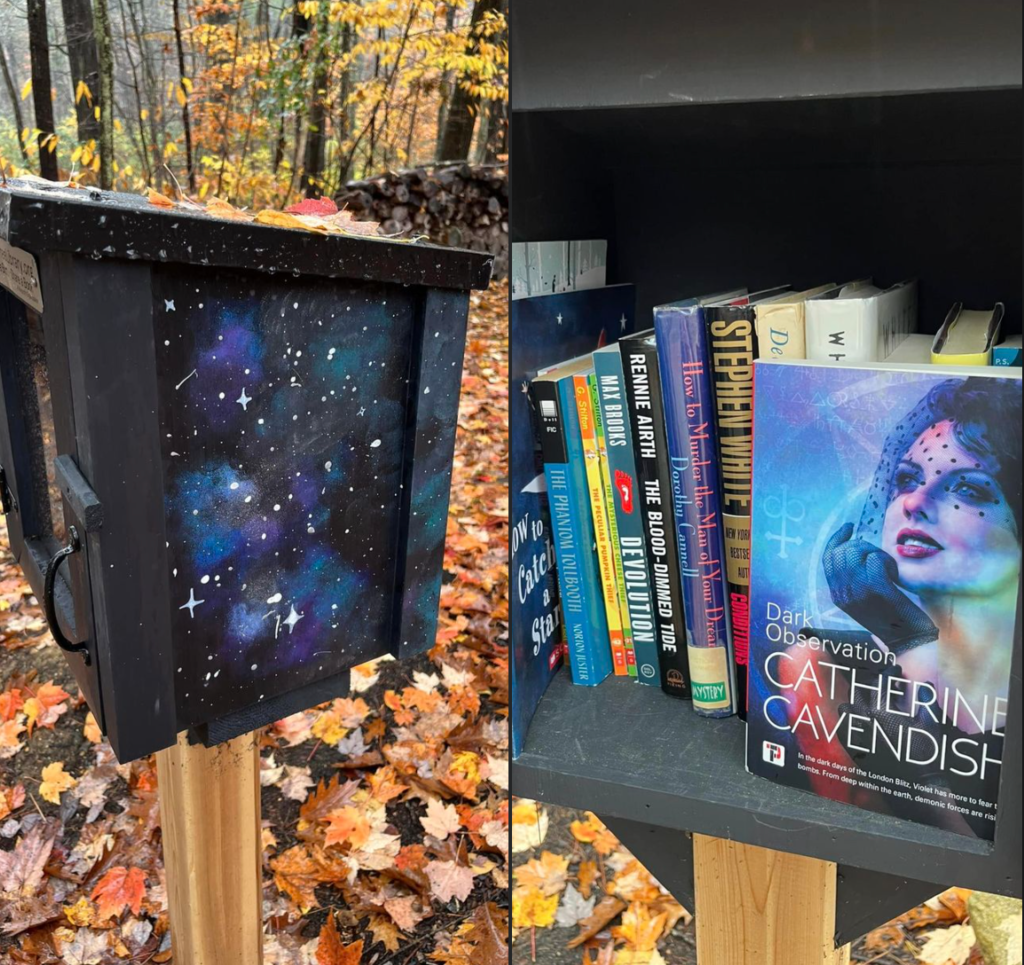 I also had the opportunity to host two interviews with amazing authors! One with Steve L Clark and one with Cat Cavendish!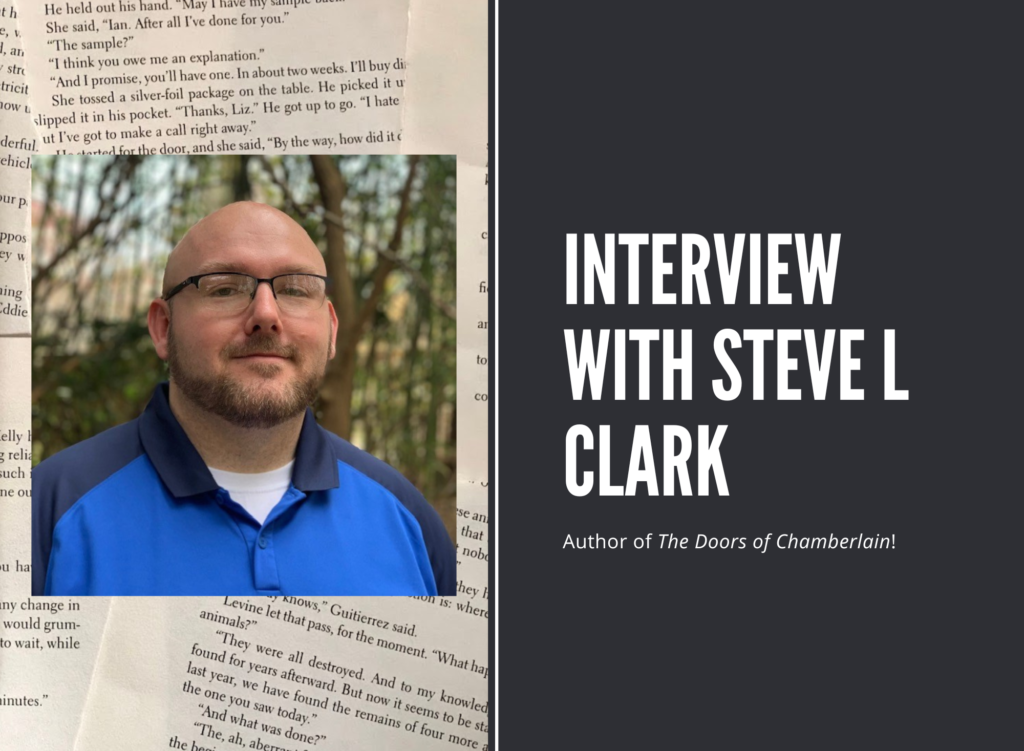 In October, we also celebrated our friend and real estate agent's five year anniversary with a charcuterie class that was so much fun! If you're looking to buy or sell a home in New Hampshire, please let me know! I'll get you right in touch with Jon!
In the photo below is my college roommate and her husband with Alex and I! It was so good catching up with her during the event!
I also got to visit a few farmers markets and pop up art shows.
These two paintings from theartofgrimy were stunning: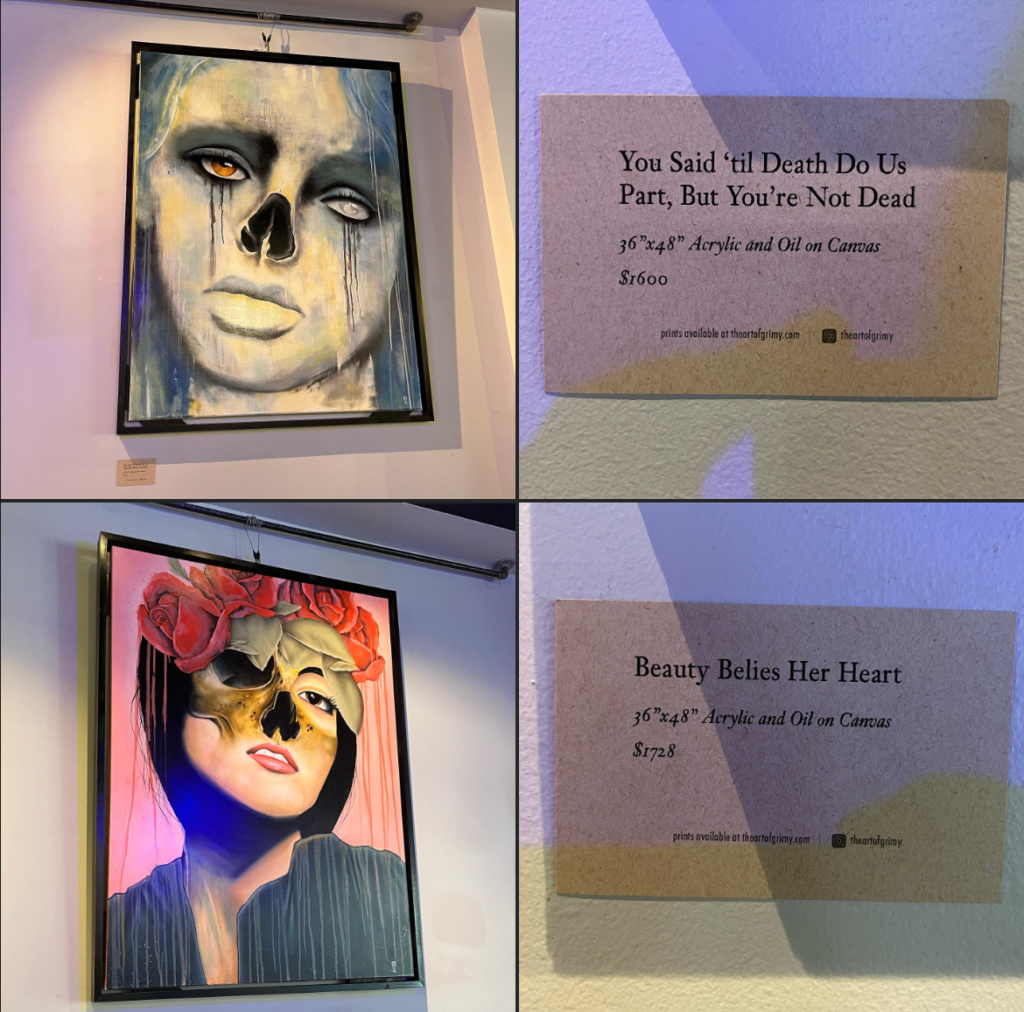 At two of these events, I snagged these mugs that I am obsessed with! The skull mug was created by artby_ttks! I unfortunately can't find the artist for the mug on the right online.
I also had a day that I spent with my sister-in-law, and her two kids! We got to go to a park, a Little Free Library, to a bookstore, and we had lunch! It was a wonderful day! My niece picked an AWESOME book from the LFL:
To wrap up the month, I shared a post about how my husband will turn over my book if I leave it laying around if he thinks the cover of the book I'm reading is too spooky. For the photo below, I was reading Nothing But Blackened Teeth by Cassandra Khaw!
One last note – One of my irrational childhood fears occurred this month… I got my hair sucked into the back of my blowdryer and my husband had to cut my hair out of it. A few weeks since this happened, I can laugh about it, but I still need to schedule a haircut to even things out. You can definitely see the hair that had to get chopped.
Let's dive in to the rest of my recap!
October 2022 Monthly Musings
Reading:
Watching:
Raven's Hollow | 2022 Gothic Horror Film | Shudder –
I may need to rewatch this one. The overall vibe was spooky, but I wasn't super following the storyline. Had a good couple of jump scares though!
The Long Night | 2022 Horror Film | Shudder –
The start of this had some seriously creepy horror movie tropes coming into play, and I couldn't wait to see how they were going to play out! I was really enjoying the tension, but this one lost me after one very odd scene.
The Gate | 1987 Teen Horror Film | Shudder –
When two boys accidentally summon a demon, they think the found the fix to send them back. But they're very wrong… Unfortunately they only find out that they're in danger after convincing their parents to leave them home alone without a babysitter for the weekend. This was so much fun! Such over the top 80's horror with fun monsters and effects! The main kids did an awesome job! My only wish for this one would have been to do without the two girlfriends of the sister. They were just obnoxious. It would have been stronger to me without some of the random scenes with them.
Sissy | 2022 Psychological Horror Film | Shudder –
This was wild! This will make you really question all the online influencers and if they actually practice what they preach, or if it's all smoke and mirrors. The downfall of the main character was so chilling to watch! Aisha Dee, the main character, Sissy, was AMAZING. I need to go find more of her work asap. And the gore here… brutal and a bit over-the-top that comes off a little silly, but very effective. A must watch for fans of psychological tales!
Lou | 2022 Action Survival Film | Netflix –
THIS WAS SO TENSE! My goodness. The atmosphere here… I was so invested in these characters and anxiously watched, just waiting for the ball to drop. As a viewer, I could tell there was something off, and when it was finally revealed… phew. Definitely recommended if you enjoy tense storylines where you're not sure if everyone will walk away.
Do Revenge | 2022 Drama Comedy Film | Netflix –
I love these two main actresses, so of course I had to check this one out. This was cute! What a twisted ride filled with manipulation! The soundtrack absolutely ruled and I loved the overall storyline. Definitely a must-watch if you're looking for something with happy endings for all.
Last Seen Alive | 2022 Action Thriller Film | Netflix –
What a terrifying premise! When a relationship has been a bit rocky, the couple drives to the wife's hometown to have her stay with her parents for awhile. On the way, the wife gets kidnapped whey they stopped at a gas station. The husband won't stop until he finds her. This was so action filled and tense! A typical action film with some questionable choices and police work, but addicting to watch for sure! This was a blast!
The Unsettling | 2019 Suspense Series | Netflix –
This was, for lack of a better term, INCREDIBLY UNSETTLING! My goodness. I watched all 8 episodes back to back. I just couldn't turn it off! This has some of the typical teen drama involved, but overall, this was super spooky!
Mr. Harrigan's Phone | 2022 Supernatural Film | Netflix –
Loved the slow build of tension here! The relationship between the two main characters was awesome. There were so many scenes that made me laugh, and many others that made me so happy. But of course, there was a wicked sad scene before we got to the spooky!
Halloween | 1978 Horror Film | Shudder –
A seasonal favorite!
Halloween II | 1981 Horror Film | Youtube –
Another seasonal favorite! I LOVE that this one picks up right where we left off with the previous film.
Halloween III Season of the Witch | 1982 Horror Film | Youtube Rental –
My goodness. I don't know how it's possible, but I actually forgot all about the song from this one until rewatching. The ending of this movie still gets me every time!
Halloween 4 The Return of Michael Meyers | 1988 Horror Film | Shudder –
I loved little Danielle Harris in this! The ending… phew.
Halloween 5 The Revenge of Michael Meyers | 1989 Horror Film | Shudder –
Danielle Harris crushes it again in this movie! I loved all of the scenes with her and Billy.
Halloween – The Curse of Michael Meyers | 1995 Horror Film | Youtube Rental –
This one certainly takes the gore up a notch! And the jump scares! Phew! I loved that we get to see Tommy Doyle in this one! Paul Rudd does a great job.
Halloween H2O: 20 Years Later | 1998 Horror Film | Youtube Rental –
Jimmy and the ice skate… Such an iconic scene! The call back line from the original, "It's Halloween, I guess everyone is entitled to one good scare!" I love this one.
Halloween Resurrection | 2002 Horror Film | Youtube –
I love the start of this one so much. They do a GREAT job recapping what's been going on. Then the movie takes a turn that's not super for me. But I loved Ryan Merriman's role! And the kills toward the end of this one… phew!
Halloween | 2007 Horror Film | Youtube Rental –
The language at the start of this one is so over the top vulgar to me that it just comes across as lame. Not my favorite of the bunch, but still absolutely brutal.
Halloween II | 2009 Horror Film | Youtube Rental –
This one has some gnarly gross-out horror and brutal body horror with uncomfortable close-ups. They used SO much blood in this one. I loved Chris Hardwick's scene! But other than that, this is another of my least favorites of the series.
Halloween | 2018 Horror Film | Youtube Rental –
I had never seen this one until this year! I LOVED it! The cast was perfect, and it was right back to that unsettling vibe with brutal horror mixed in. The quiet scenes here specifically were so chilling! The long emotional scenes, the quiet wait to see if anyone is in the house, the slow walk, the kill without the scream and just a gasp.
Halloween Kills | 2021 Horror Film | HBO Max –
Love, love, love that this one picks up the same night where the last one left off, giving us a bit more detail until we're right back in the back of the truck with the three survivors. My goodness the tension in this one! And YES! The line "It's Halloween, everyone's entitled to a good scare!"
The Midnight Club | 2022 Series | Netflix –
My goodness, I loved this series! I cannot wait to see if they do a second season. I still have so many questions!
Dead Stream | 2022 Horror Comedy | Shudder –
This movie was so over the top! I loved the idea behind something happening on a live stream! The comments section was so well done. The makeup and practical effects were good! Some of the elements didn't line up though. For example, a gnarly wound suddenly being small. Or a puddle of blood going missing. But with the fun of the film, I could look past that. There was one jump scare that REALLY got me. Definitely a good watch if you're looking for something on the silly side, but still spooky!
Speak No Evil | 2022 Horror Film | Shudder –
This made me so uncomfortable. My good god. So many red flags! And it just keeps getting worse and worse! This was such an unsettling film. I highly recommend watching it, but I'll never watch again! This is some serious nightmare fuel! Well done!
Barbarian | 2022 Horror Film | HBO Max –
This was WILD! My goodness, the jump scares, the brutal gore, and all the tense scenes that made me want to scream at the main character! I hate Airbnb's to begin with, so I was already terrified at what was to come. But it only got worse in ways that I was NOT expecting at all! Phew!
She Hulk | 2022 Marvel Series | Disney+ –
Alex and I both loved this! We waited until we could binge watch it and oh man, am I glad we did! We cruised right through this one! She was a hoot! I loved the timely references they made. Seeing the other characters that pop in was a blast. I cannot wait for season two! If you haven't yet watched this, I recommend it for sure. Also make sure to watch through the illustration credits. There are extra scenes for some of the episodes!
Wendell & Wild | 2022 Horror Comedy Animation | Netflix –
This was SO MUCH FUN! There was horror, there was suspense, there were gut-punches of grief, and there was a lot of laughter and happiness! If you haven't yet, please go watch this immediately! The cast is incredible and the storyline was wonderful.
Listening to:
I got all caught up on my podcasts this month! If you're looking for recommendations, I would definitely recommend you check out the following podcasts that range from self help, to marketing, to bookish things – Dead Headspace, Book Riot, Making Money Personal, On Purpose with Jay Shetty, Dark Downeast, Marketing Over Coffee, Talking Scared, RedHanded, The Ghost Writers Podcast, Culpable, Radio Rental, Books In The Freezer, The Laydown, Overdue, Buried Bones, and My Favorite Murder.
Special shout-out to Undertow – Blood Forest! This podcast is SO FREAKING GOOD. Horror/spooky fans, go check this out. It's a story that is narrated over the course of many episodes. There are four episodes out now and I'm so invested in this story! I can't wait to see where it goes.
Playing:
This month, I tried one new game that was pretty fun for a minute! I got it on my phone, so I'm wondering if another platform would have been better. But it was called Haunt The House. You play a cute little ghost that has to haunt different items to get the people in the area to leave.
My husband also finally received the Retroid he had ordered in the main and he got that all set up! So I got to play a couple of my childhood favorites; Kirby's Avalanche and Chameleon Twist! I fell right back into the Kirby game no problem, but I struggled a bit getting back into Chameleon. I cannot wait to play more though!
In the bookish community:
Die Booth gave me a lovely shout-out for my review of his book 365 Lies. Click here to check out Die's blog post!
Cat Cavendish added a quote from my review to her page promoting her latest book, The Crow Witch!
Stephen Kozeniewski shared our photo from Merrimack in his newsletter: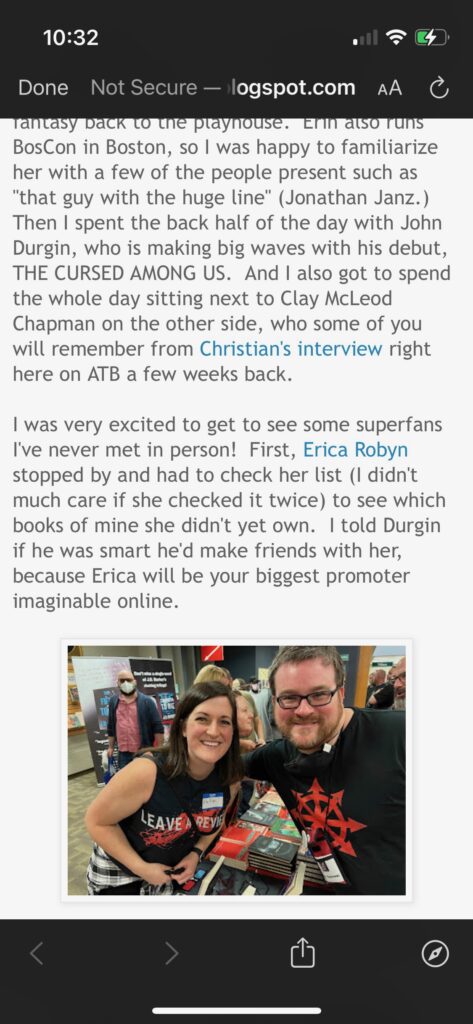 Tenebrous Press also gave me a lovely shout out on Twitter to help boost two lists I started this month. Click below to check them out!
Monthly bookish related haul:
Oh gosh.. Last month, when I shared my book haul stack I said: "This book stack here is why I put myself on a book buying ban until I go to the Merrimack Book Fest! To be fair, most of these books were signed copies, so of course I couldn't help myself!"
It's a really good thing that I did that because this month, I went absolutely WILD. However, I still stayed in budget! So I am extremely impressed with myself there. My husband and I have been working on a new budgeting system where we give ourselves allowance that can carry over if we don't use it. I'm so glad I carried over as much as I did for October!
Let's get to the books!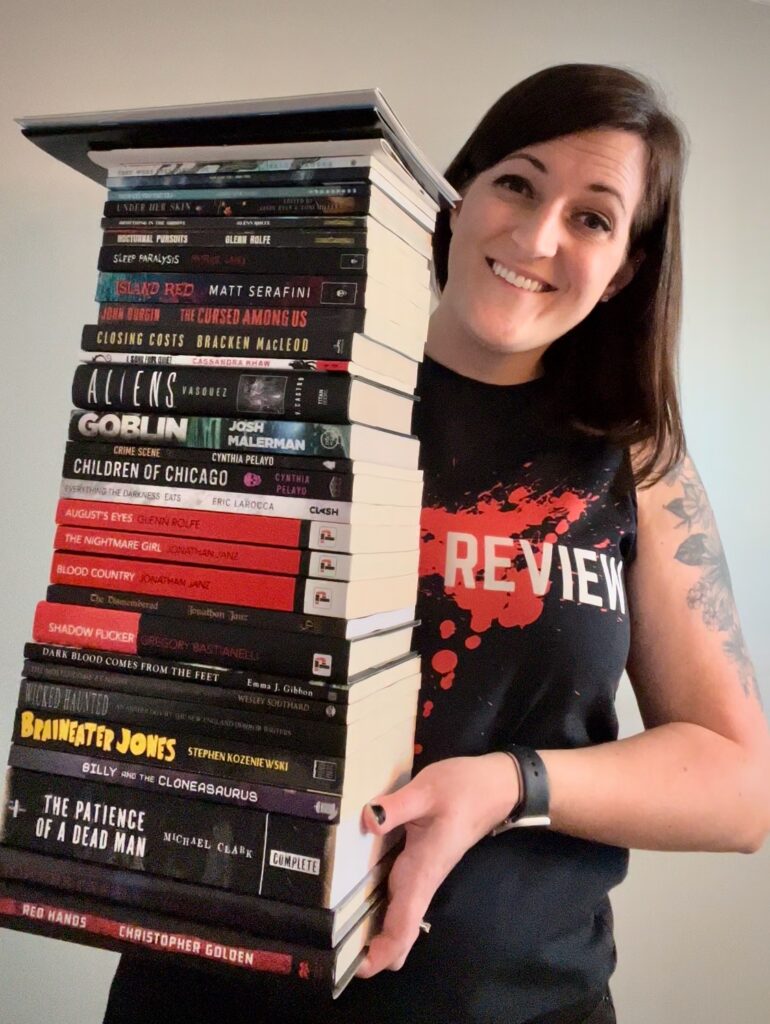 The first photo is my stack that I got at the Merrimack Valley Book Festival. All of those books and comics are signed, but I will save the space of sharing all of those photos in this post. The books I snagged at the festival included:
Dead Ball Vol 1
Jol Vol 1
They Tryall of Abigal Pierce for Witchcraft by Bracken MacLeod
They Were Here Before Us by Eric LaRocca
Dead In The USA by David Price
Flowers for the Sea by Zin E. Rocklyn
Under Her Skin edited by Lindy Ryan & Toni Miller
Something In The Groove by Glenn Rolfe
Nocturnal Pursuits by Glenn Rolfe
Sleep Paralysis by Patrick Lacey
Island Red by Matt Serafini
The Cursed Among Us by John Durgin
Closing Costs by Bracken MacLeod
A Song For Quite by Cassandra Khaw
Aliens Vasquez by V. Castro
Goblin by Josh Malerman
Crime Scene by Cynthia Pelayo
Children of Chicago by Cynthia Pelayo
Everything The Darkness Eats by Eric LaRocca
August's Eyes by Glenn Rolfe
The Nightmare Girl by Jonathan Janz
Blood Country by Jonathan Janz
The Dismembered by Jonathan Janz
Shadow Flicker by Gregory Bastianelli
Dark Blood Comes From The Feet by Emma J. Gibbon
They Mostly Come At Night by Wesley Southard
Wicked Haunted Anthology
Braineater Jones by Stephen Kozeniewski
Billy and the Cloneasaurs by Stephen Kozeniewski
The Patience of A Dead Man Trilogy by Michael Clark
Jokers Club by Gregory Bastianelli
Red Hands by Christopher Golden
Outside of that festival, I also acquired the following books directly from the author or publishers:
Somewhere South of Hell Book 1 – 3 by Ronald Kelly
Dark is the Water by Susan Earlam
Earthly Bodies by Susan Earlam
Try Again by Wesley Southard
Human Monsters edited by Sadie Hartman and Ashley Saywers
The Cellar Door Issue 1: Woodland Terrors edited by Aric Sundquist
The Crow Witch by Catherine Cavendish
Marla by Jonathan Janz
The books I snagged from local bookshops included:
Little Eve by Catriona Ward
Ghosts of Acadia by Marcus LiBrizzi
Daphne by Josh Malerman
I also got Inside Out by Lor Gislason and Malice House by Megan Shephard from the Little Ghosts monthly subscription box.
In case you missed it:
Looking forward to:
In November, I am looking forward to getting back into the swing of things, but SLOWLY. I need to make sure I am upholding my personal boundaries in both my life in work and outside of work. Staying as low stress as possible is my focus.
This month, we're also going to see one of my favorite bands, I Prevail. I have a golden ticket, so I can't wait to actually meet them as well!
Thanks for reading!