The Merrimack Valley Halloween Book Festival was held on October 15th, 2022, and I'm so excited that I got to attend!
Keep reading this post to check out a recap of my experience there. I will give you a heads up, this is a LONG one with loads of photos of the authors I met, books I snagged, and photos of all the signed copies!
Let's dive in!
My Thoughts on the 2022 Merrimack Valley Halloween Book Festival
I wanted to get there at least an hour before the doors officially opened to make sure I had parking and wasn't scrambling around. The parking lot of the library was much bigger than I expected, and I was so happy to get a spot very close to the building! That came in handy later when I needed to drop off books to get right back to it!
When I got out of my car, I went over to Paul (@pbanditp on Twitter!) and his brother, Mike, who I knew were traveling down. While we waited until 10am, we chatted all about books! We had two other women join us to wait to go in as well, but I unfortunately forgot their names.
Close to the official start, we wandered over to see if we could go in, and sure enough, we could! People were still setting up, so we all huddled by the front desk until ten on the dot. Then we all scattered.
I made a beeline to go see Eric LaRocca first! I just couldn't wait any longer to finally meet them in person after we had been chatting consistently since the summer of 2020 when I read Starving Ghosts In Every Thread!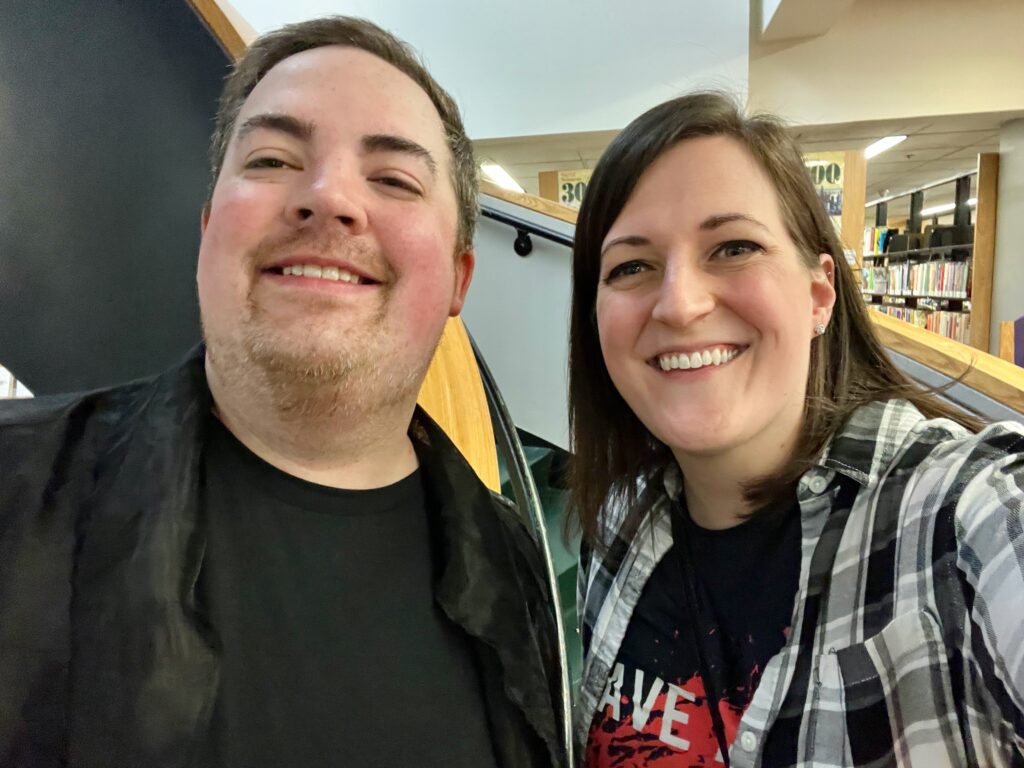 I got to snag a hug and a selfie with Eric before grabbing a copy of They Were Here Before Us. Later, after grabbing a copy of the ARC for Everything The Darkness Eats, I ran right back to Eric to have him sign that one as well!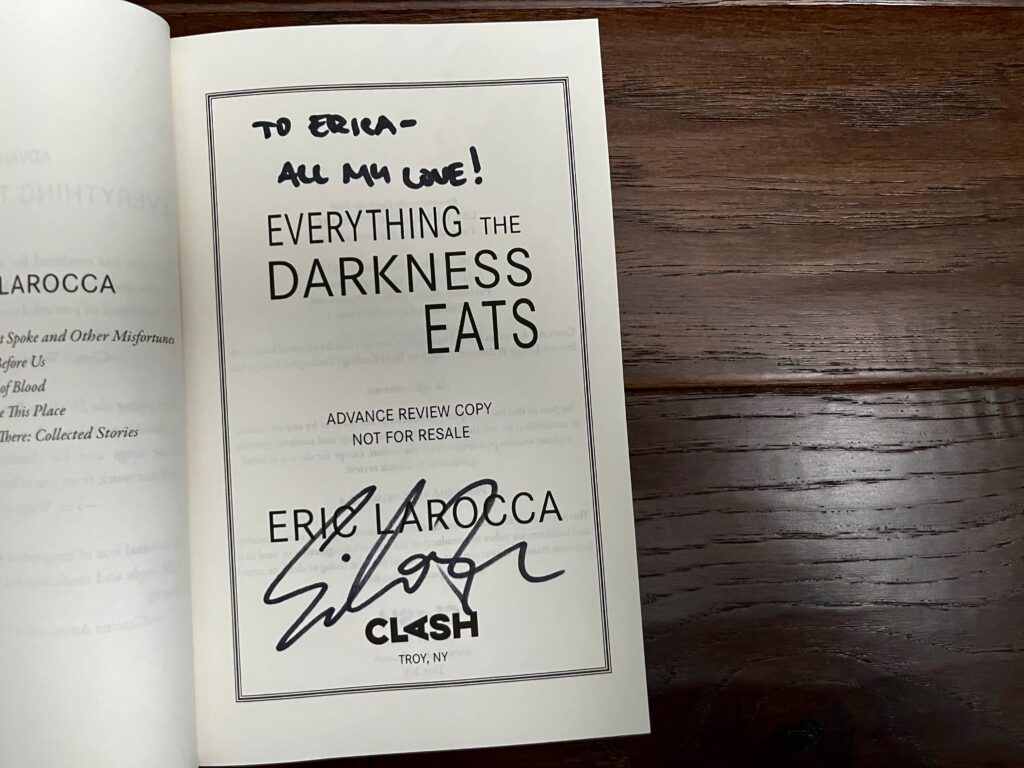 Next up, I went to find Michael Clark who I knew would be on the second floor. This was my first time meeting Michael as well, even after all discussions we've had thanks to my blog and his amazing work! When I got up there, I was super pumped to see that he was sharing a table with Glenn Rolfe! I was very lucky and got a photo with both of them!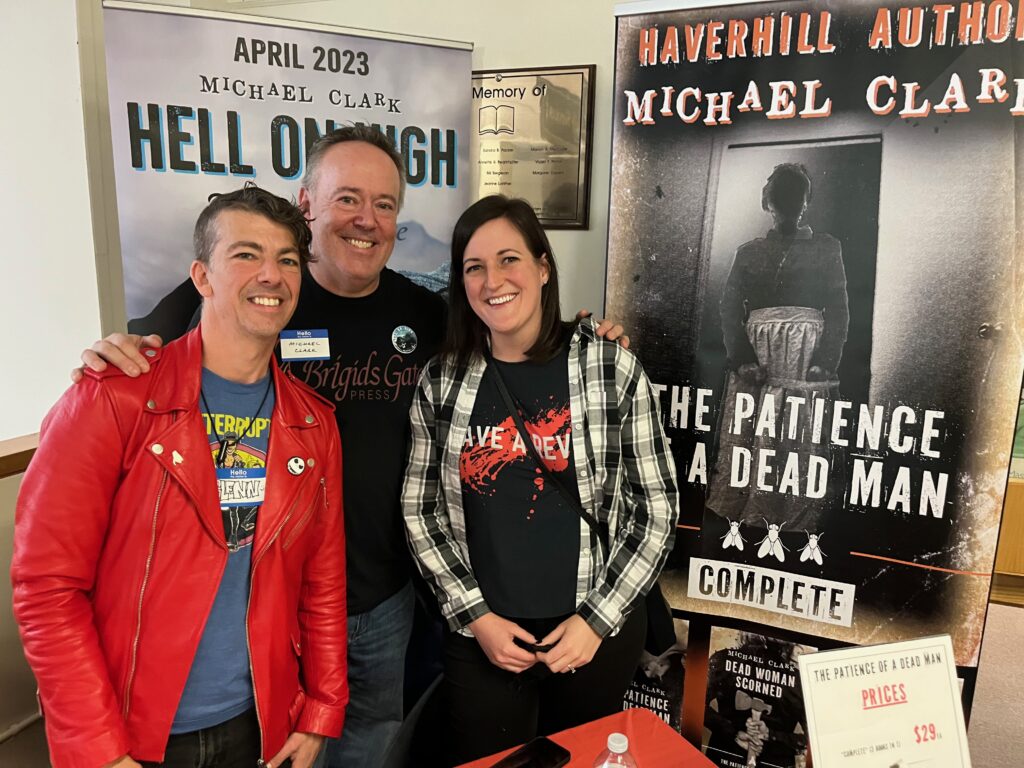 The first book I purchased was the compendium for Michael Clark's trilogy, The Patience of a Dead Man COMPLETE, that I'm obsessed with and he handed me a gift of an AMAZING t-shirt that I can't wait to rock out and about at other bookish events!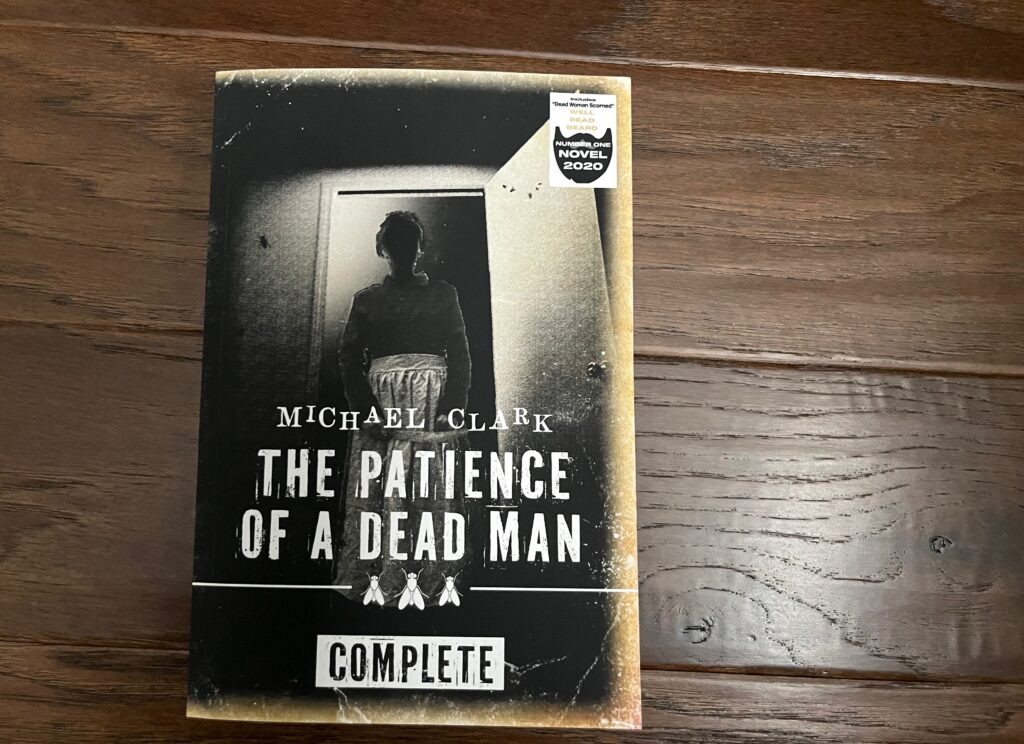 From Glenn Rolfe, I grabbed one of each of the books he had that I didn't already own;
Something in the Groove
Nocturnal Pursuit
August's Eyes
Next, I got to meet one of my favorite humans, Wesley Southard! I just had to snag a physical copy of his latest book, They Mostly Come At Night to round out my collection of his works. I'm so grateful to have a copy of each of his works that he has signed for me! Of course, I had to get a photo with him! He totally made my day when he said that he was going to as me for a selfie if I hadn't asked first!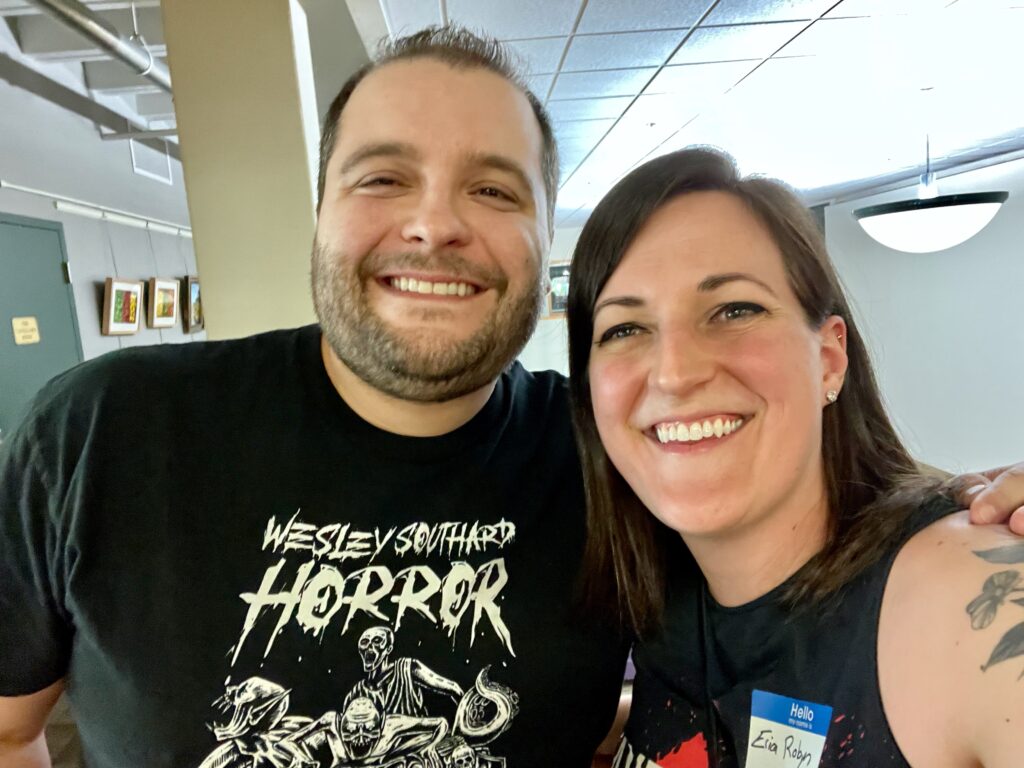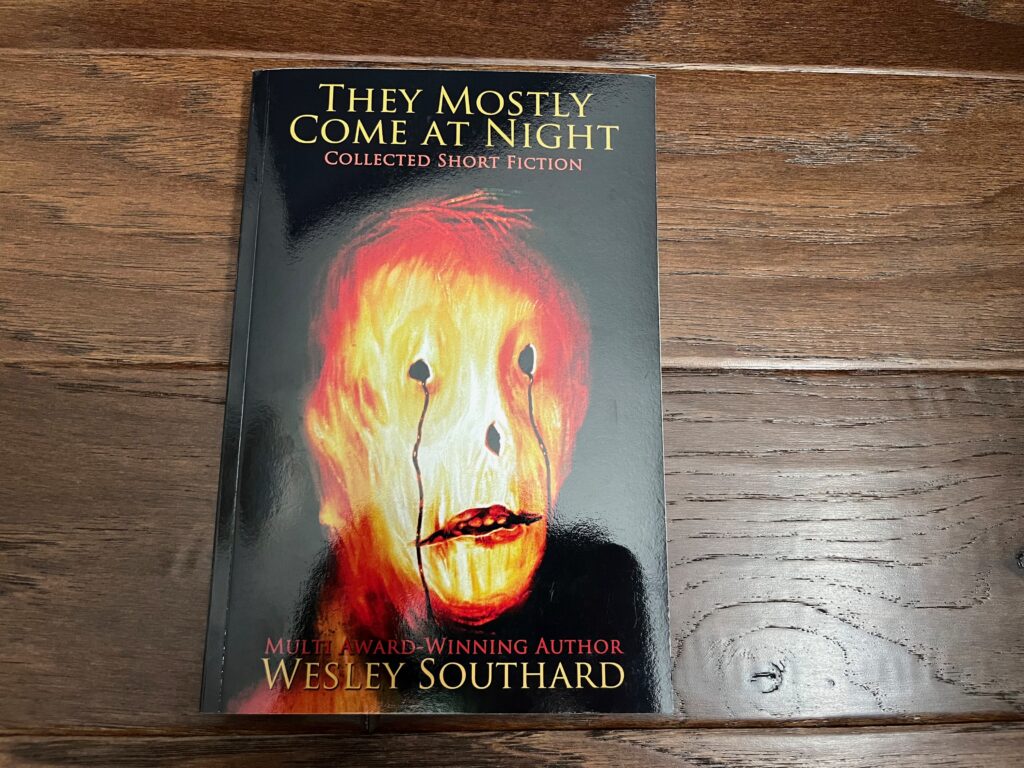 While the crowd was still light upstairs, I went to meet two authors that were sharing a table next to Wesley and snagged a book from each of them. These two were so kind! I cannot wait to read their books!
I snagged:
Island Red by Matt Serafini
Sleep Paralysis by Patrick Lacey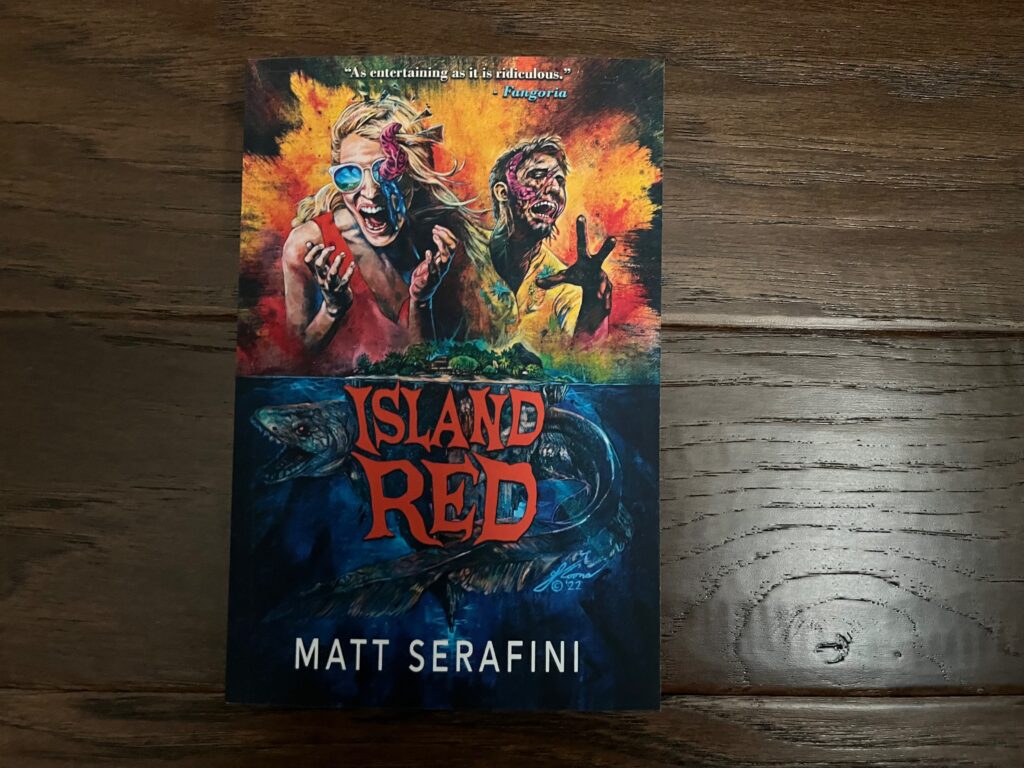 After that, it was time to head back downstairs. By this time, the floodgates had opened! It was PACKED. The first person I wanted to make sure to see down here was Gregory Bastianelli! I first read some of Gregory's work thanks to Flame Tree Press when Snowball was released, then met him at Water Street Bookstore in Exeter, NH on his book tour. So it was an absolute pleasure to meet him again today!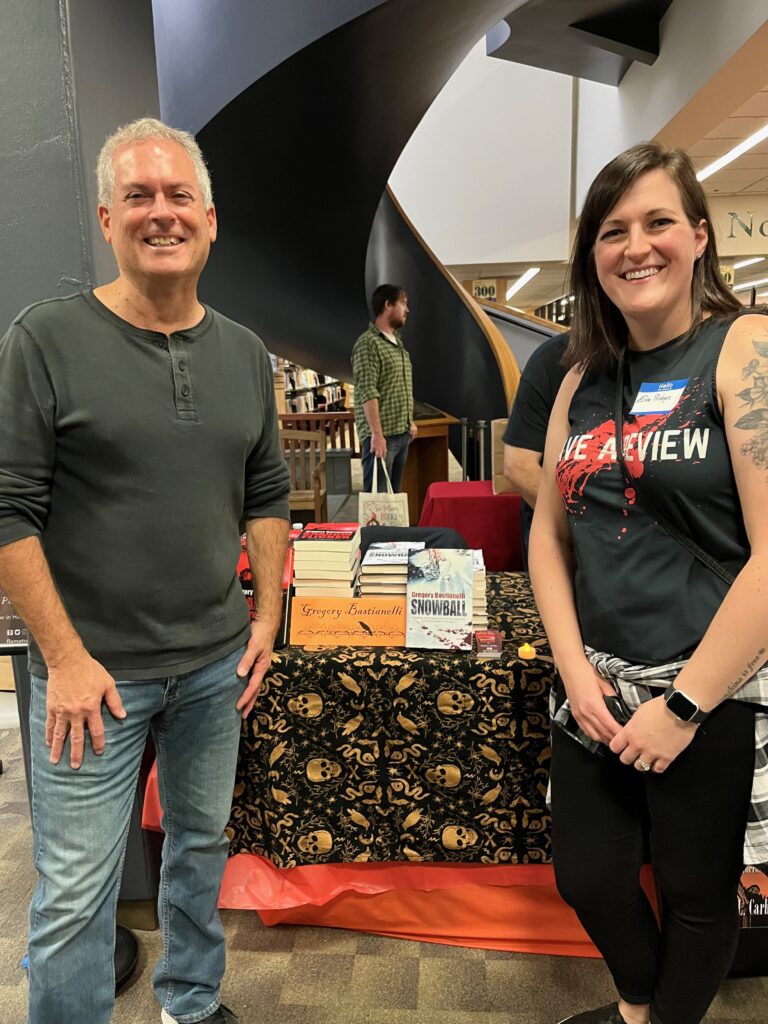 I picked up a hardcover of Shadow Flicker to replace my paperback copy at home, as well as a copy of Jokers Club.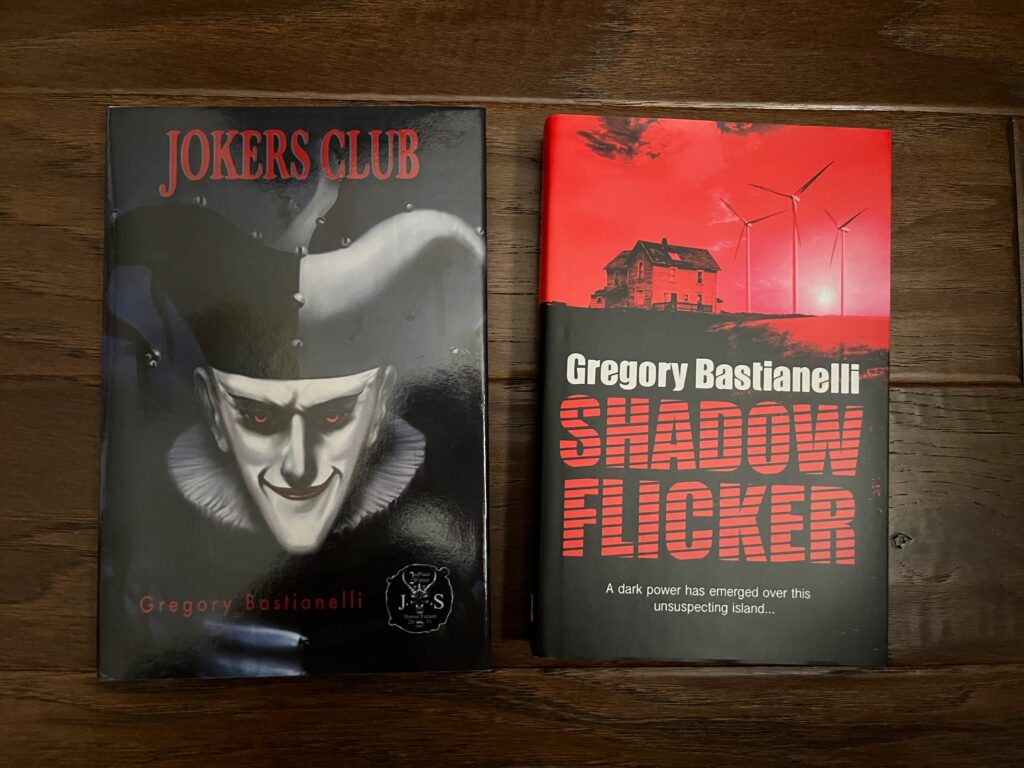 In that same area, I also picked up two books, but missed out on getting photos because it got very busy:
Dead in the USA by David Price
Wicked Haunted – An Anthology by the New England Horror Writers edited by Scott T. Goudsward, Daniel G. Keohane, and David Price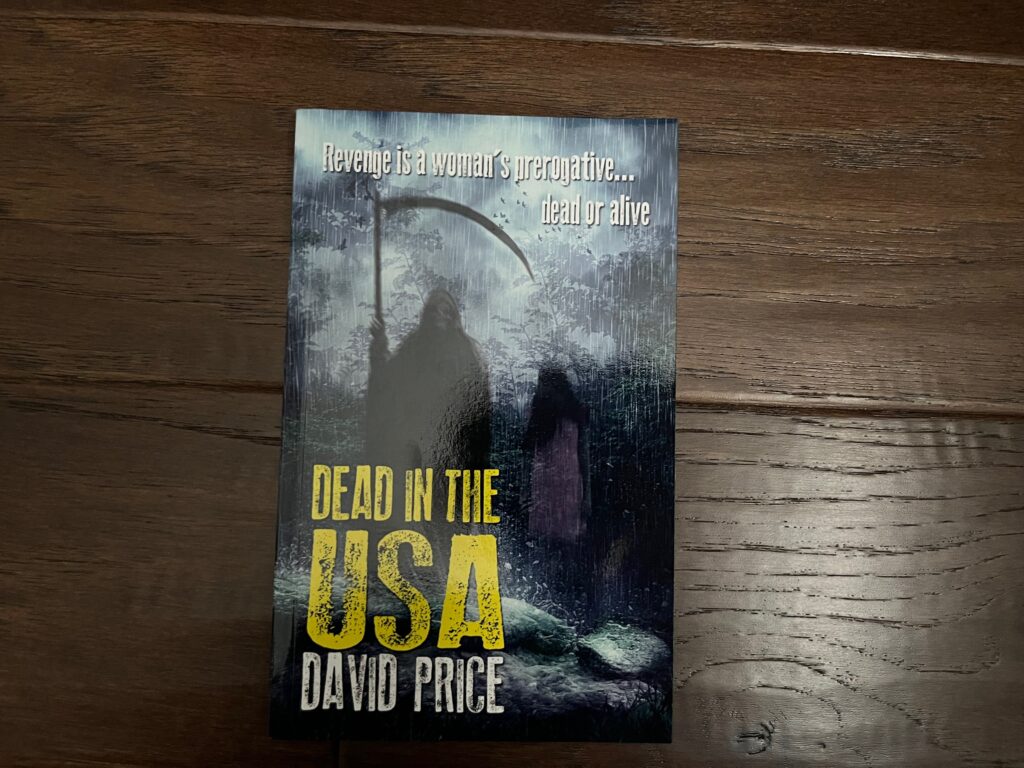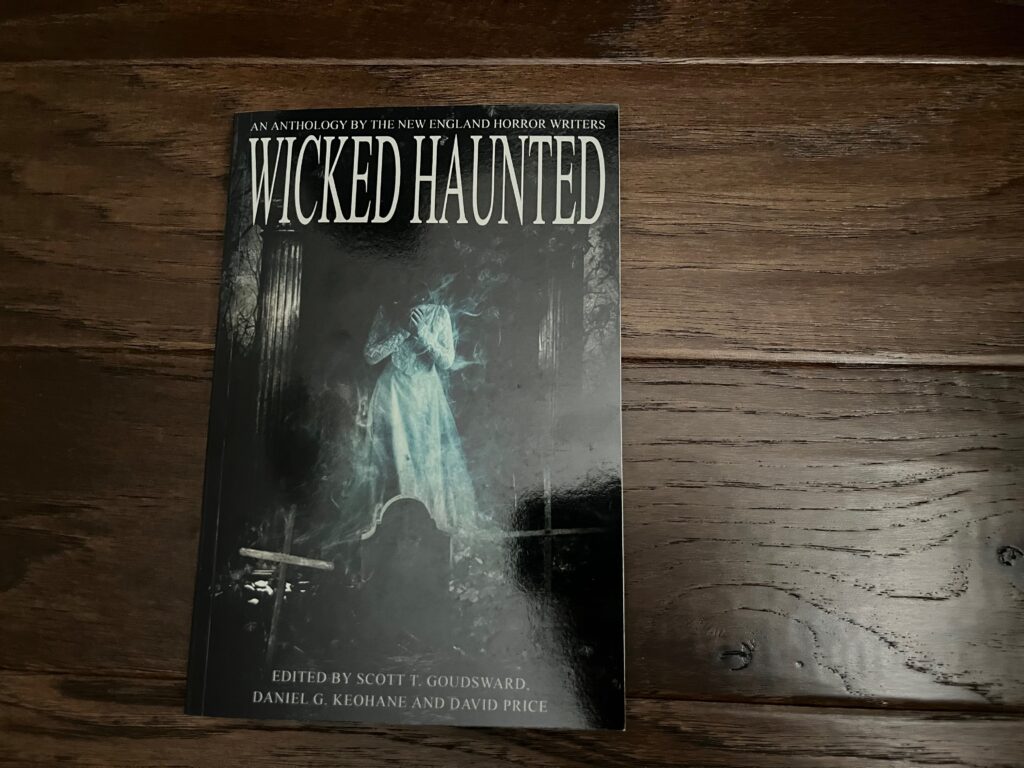 Next, I got to meet another of my favorite people, Stephen Kozeniewski! Right when I first started chatting with him, it got SUPER loud in the area. Luckily, I got to see him a few more times after that though.
I had to refer to my list to see which books I could snag from him. I easily could have gotten like five books here… but I limited myself to:
Billy and the Cloneasaurus
Braineater Jones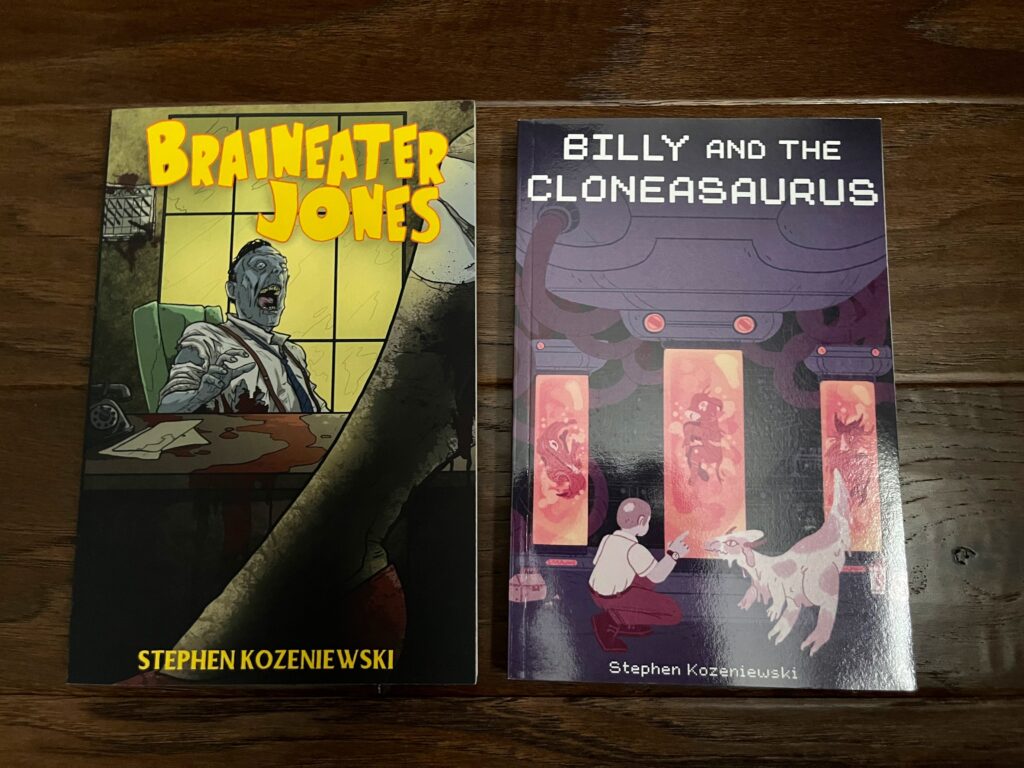 Next up was the nicest person in the horror community, Jonathan Janz! I was terrified that I was going to get too starstruck to speak, but Janz made me feel super comfortable chatting immediately! He also gave me a shout out for my work with reviewing books and helping spread the word about books! How cool is that?!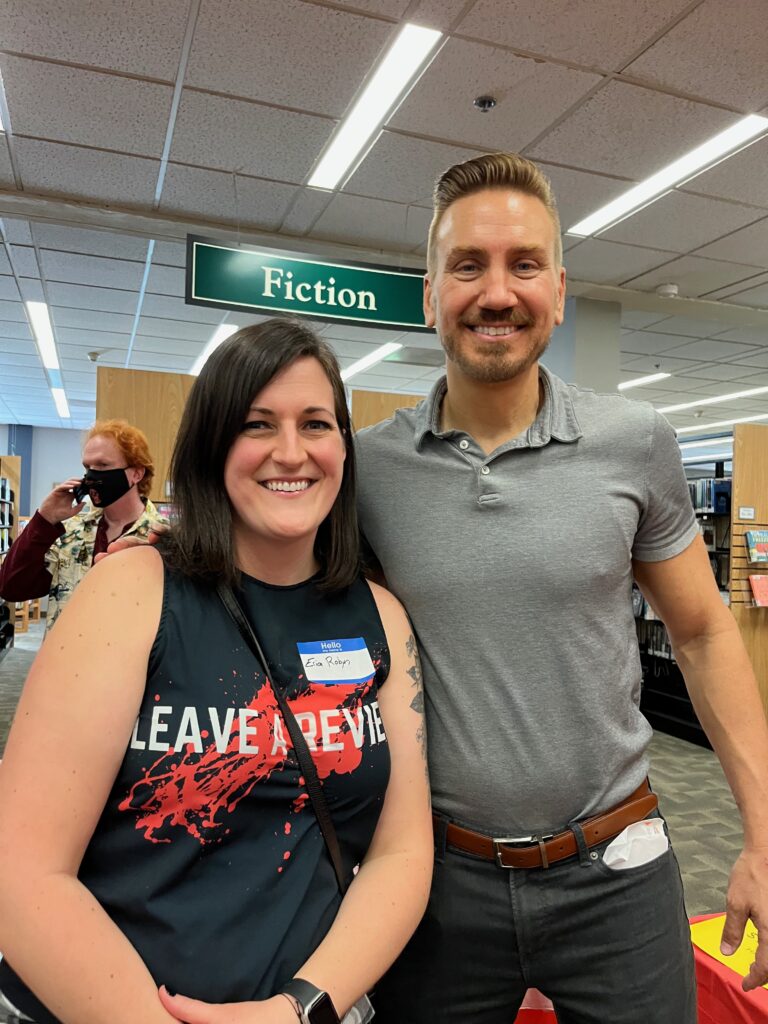 I already own a ton of Janz's books, many that I still need to hurry up and read! But even so, I couldn't help but grab the following of his books:
The Nightmare Girl
Blood Country
The Dismembered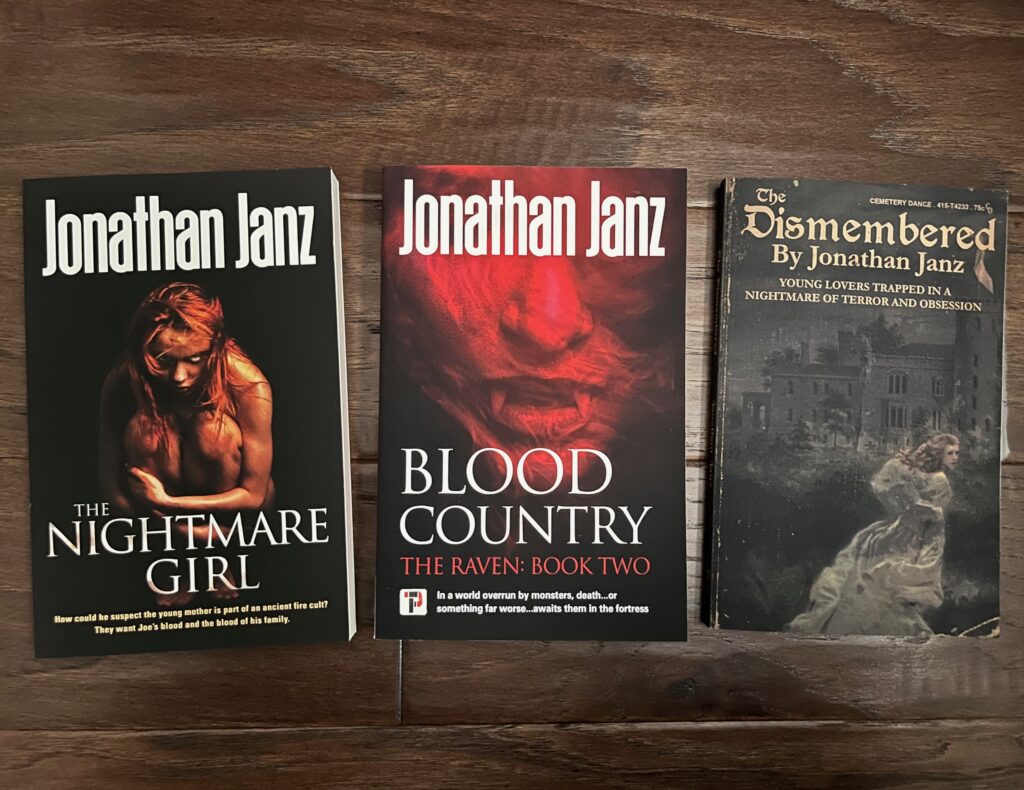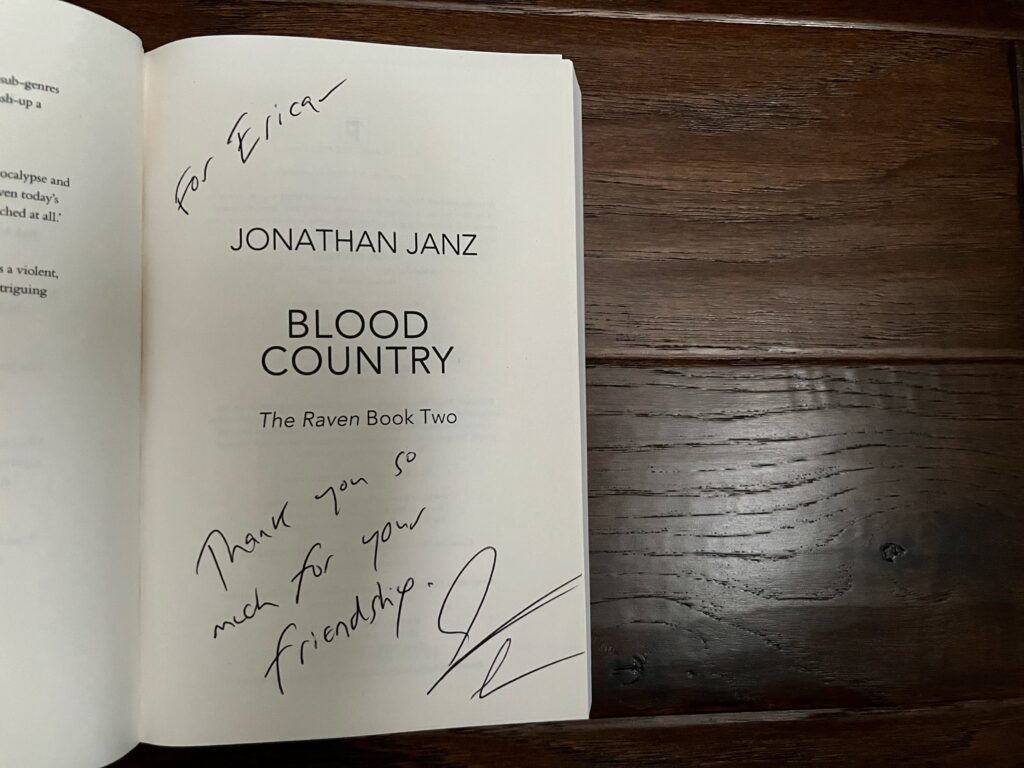 After that, I popped by to snag a book from Zin E. Rocklyn! Zin was the coolest and so kind! They are an author I didn't know until today and I already cannot wait to read Flowers for the Sea!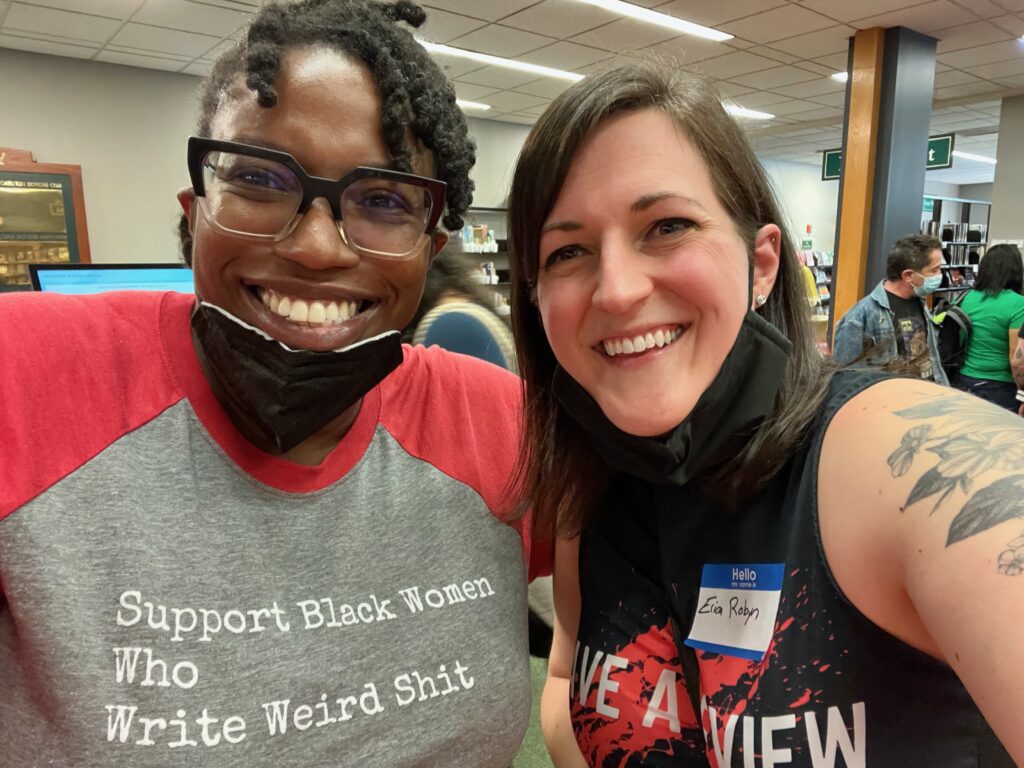 Go check out the cover and synopsis of this book and then order yourself a copy! It's Zin's debut!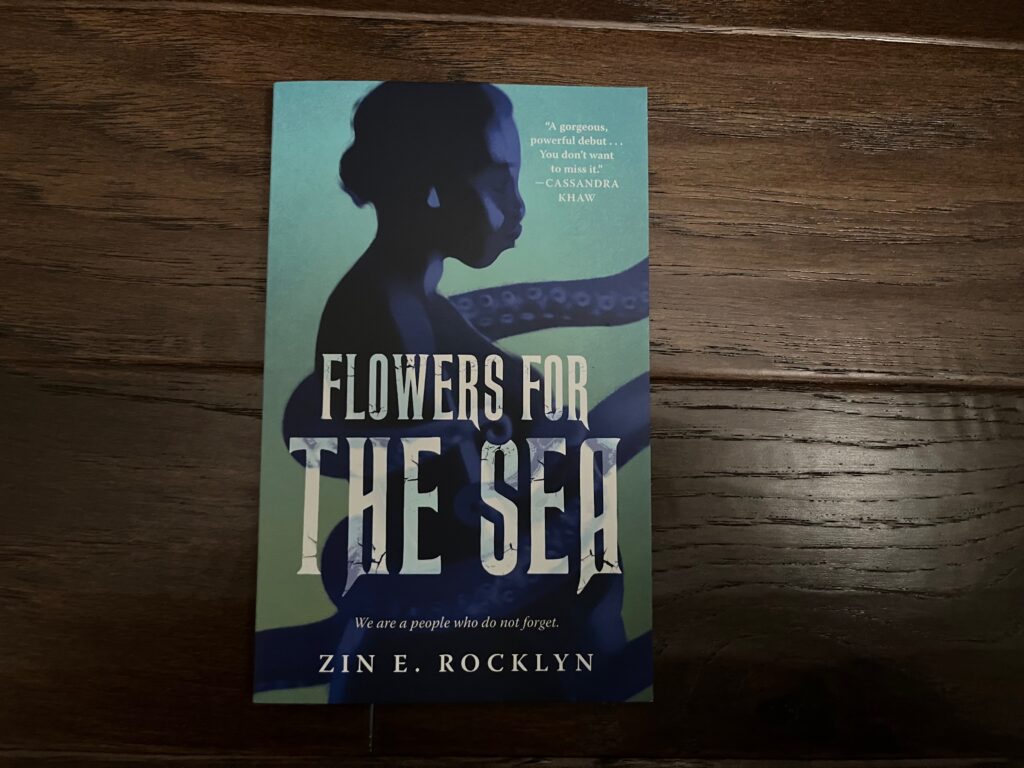 I redeemed myself after getting super starstruck on Thursday at Gibson's… This time I actually didn't panic when trying to talk to Josh Malerman! Anyone that has met him or seen him speak at any event knows how much he rules! We got to rave about Ryan from Gibsons for a bit, and he totally remembered the two books that he signed for me the other night!
Today, I had to pick up a copy of Goblin for him to sign!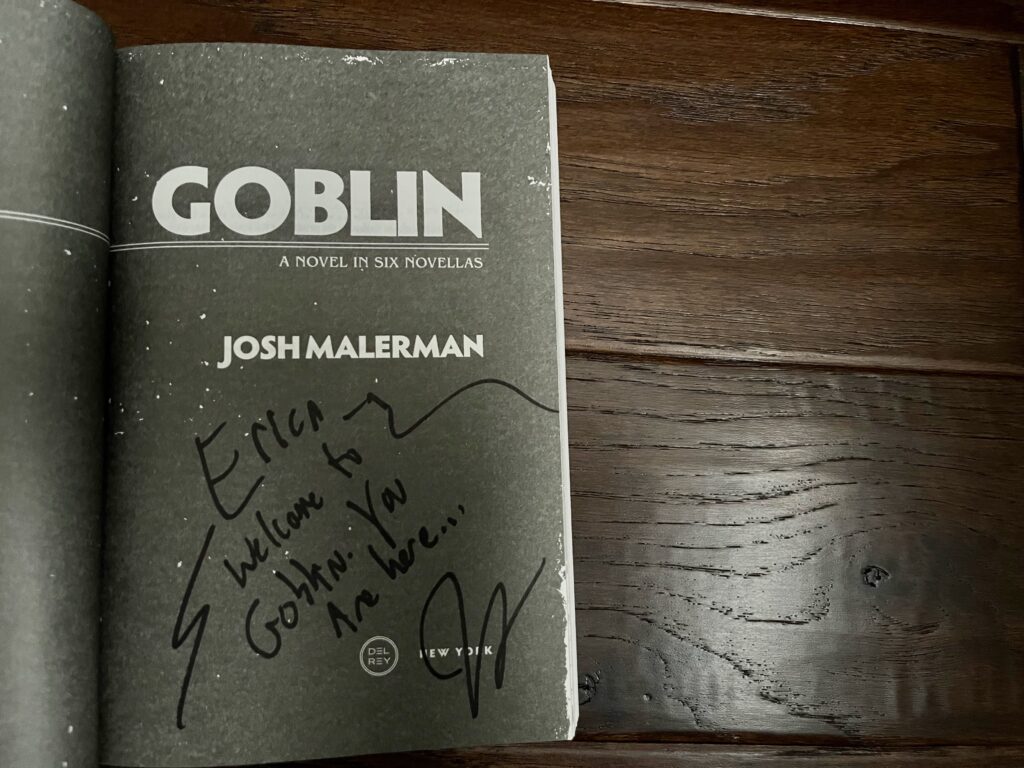 When I turned around from seeing Josh, I heard someone shout my name. It was Char of Char's Corner of Horror! Char has been one of my favorite bloggers since I got started, and meeting her was amazing! She's so bubbly and fun! I easily could have spent the rest of the afternoon with her, but I will settle for our short bursts that we got today! She was wearing the PERFECT shirt for today!
In that same area, I got to meet the lovely Cynthia Pelayo. Her work always makes me cry, it's just always so beautifully hard-hitting. Per usual, she was stunning! I'm equally as obsessed with her style as I am with her work! Cina recognized my name from Twitter. I couldn't believe it!
Today I snagged the following titles:
Crime Scene
Children of Chicago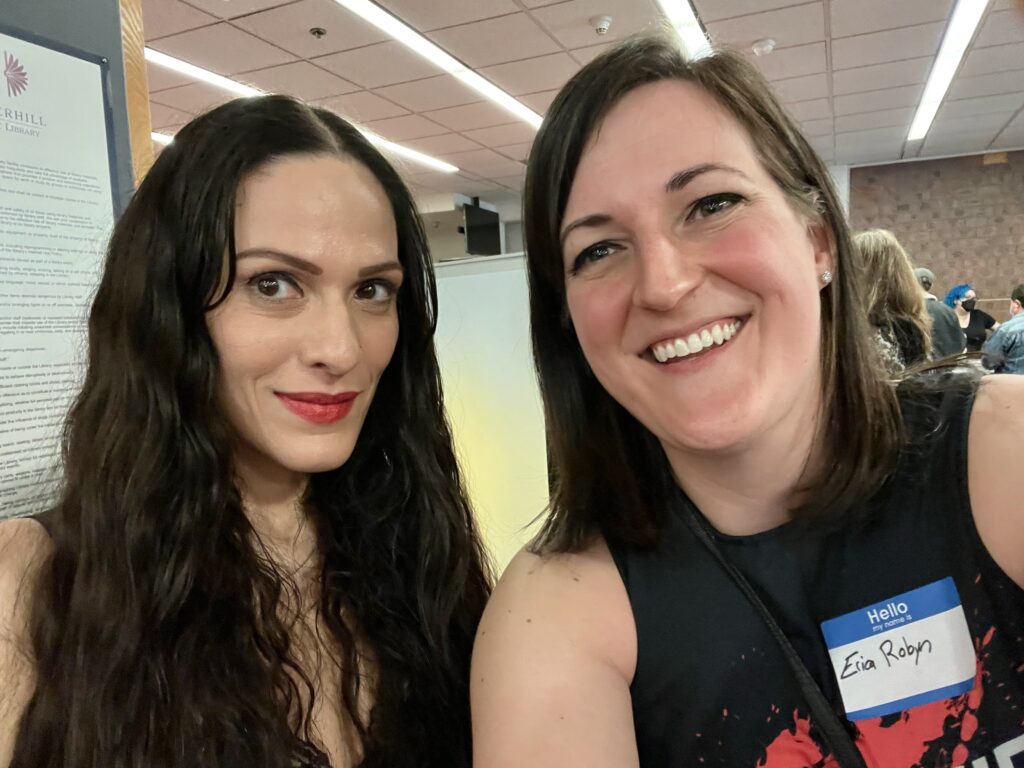 Next I went to see Cassandra Khaw to have her sign my copy of A Song For Quiet. She was so nice! I cannot wait to read that book as well as Nothing But Blackened Teeth.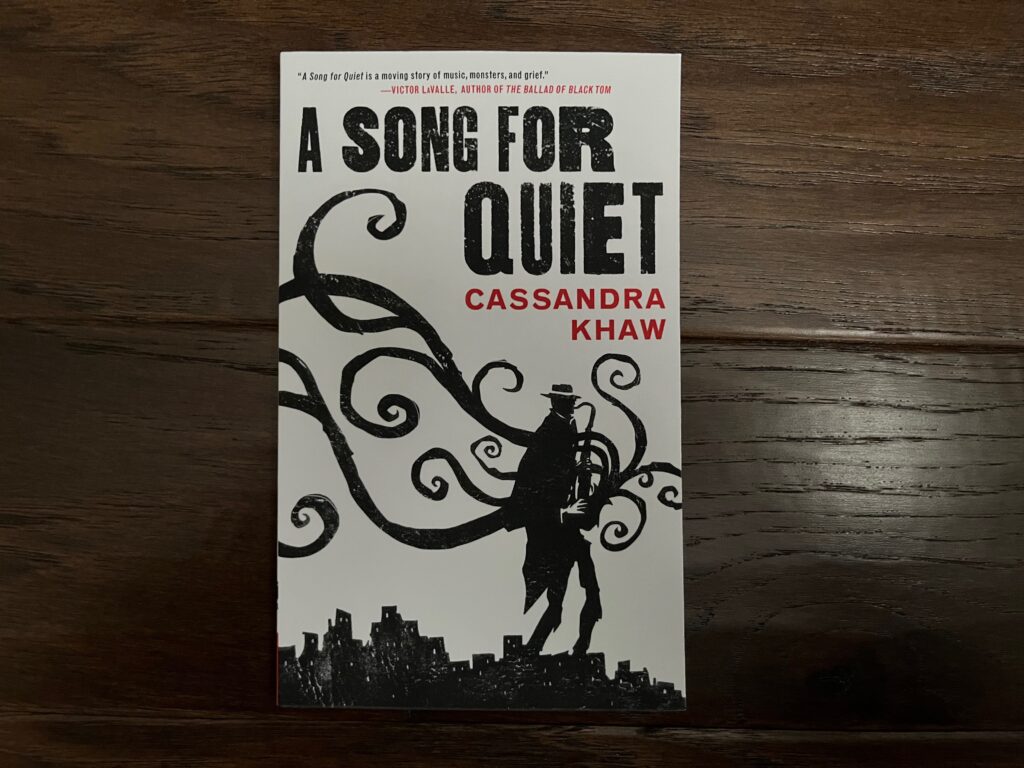 Then I finally saw a gap in V. Castro's line and ran over to her! I had the opportunity to chat with V virtually on Dead Headspace, so it was extra nice to meet her in person today. She is seriously one of the coolest people and her work… just amazing. Please go buy a copy of her work if you haven't yet!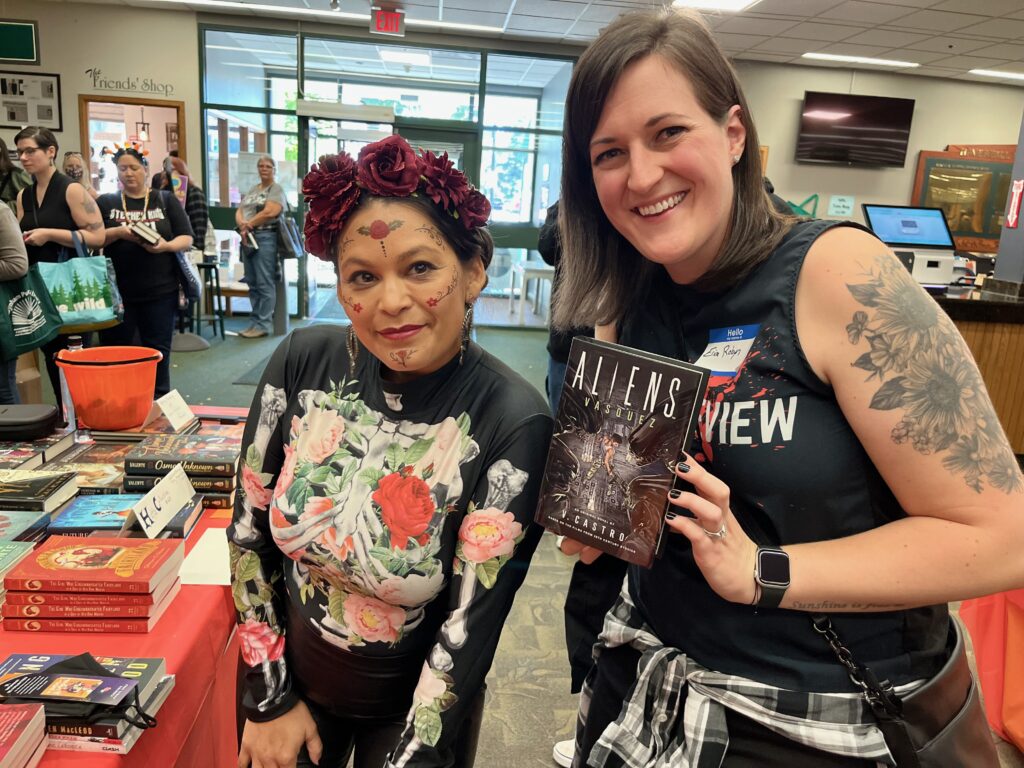 I couldn't wait to get my hands on a copy of her latest, Aliens Vasquez!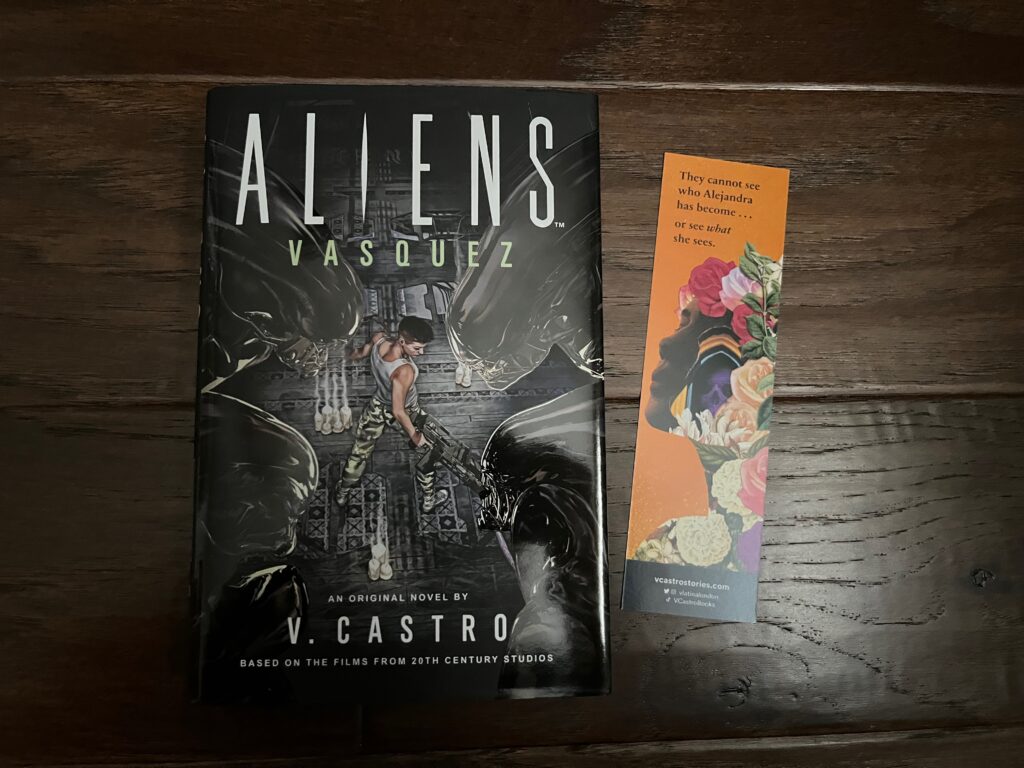 While wandering, I ran into George aka the Book Monster or @Sshh_ImReading on Twitter! George was another Twitter friend that I was hoping to find! A selfie was a must!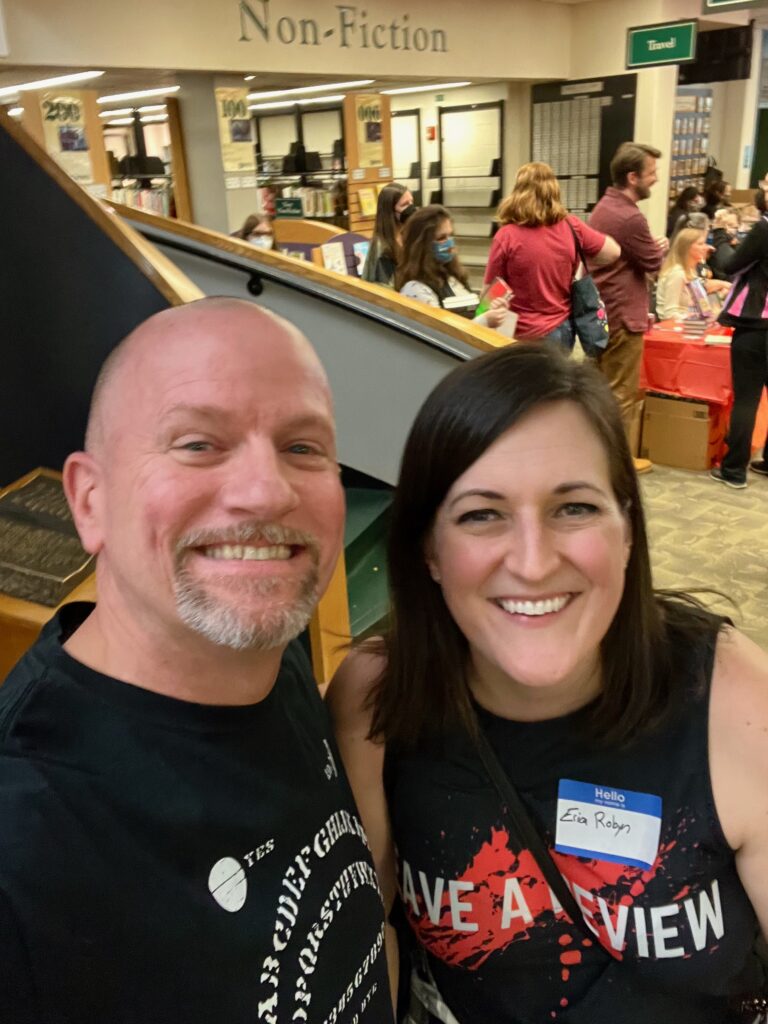 The Twitter crew (though we were missing Rich (@Rudy53088) here!) also grabbed a group shot that I cannot wait to print and frame for my library! Check out this crew; George (@Sshh_ImReading), Char (@Charrlygirl), and Steven Gomzi (@sjgomzi)!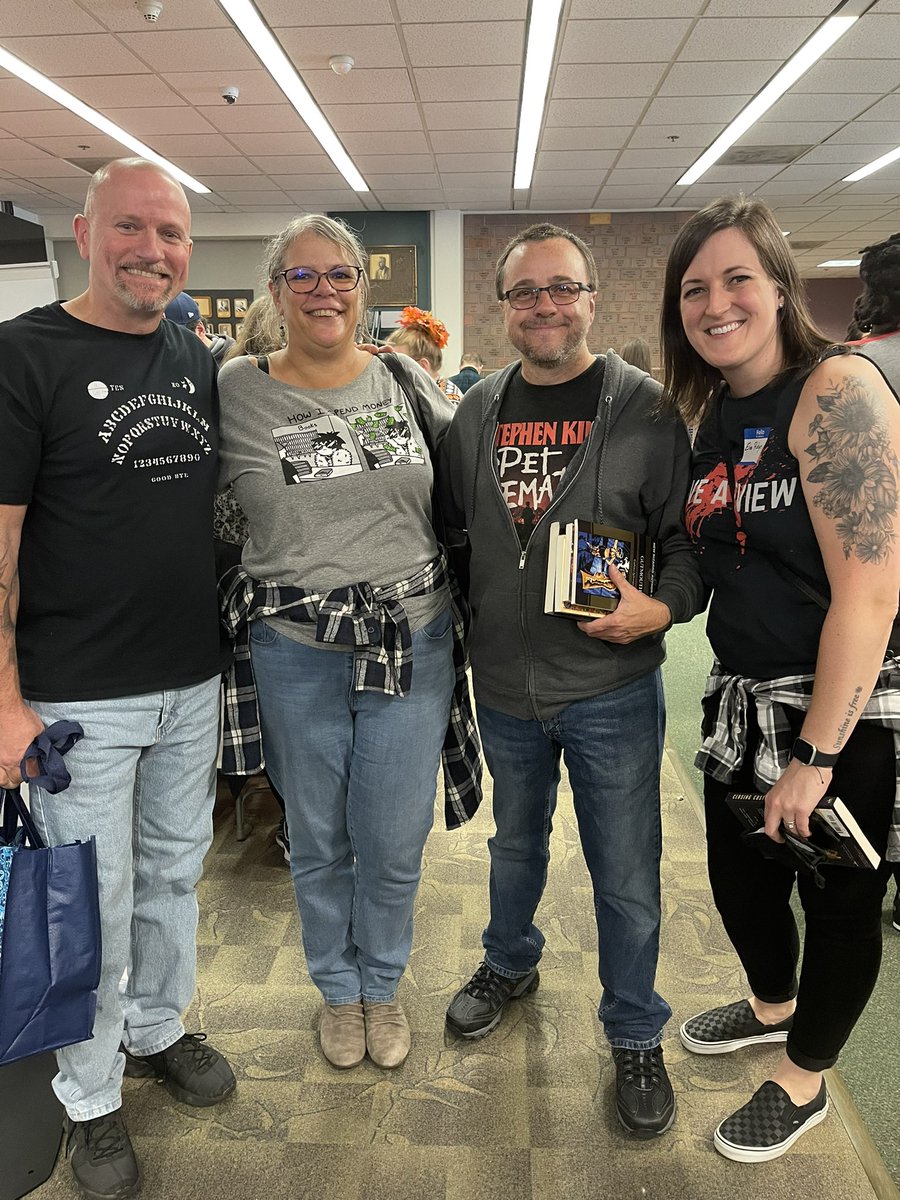 Then it was time for the panel that I wanted to listen to the most for the day! Too Much is Not Enough! with Stephen Kozeniewski, Jonathan Janz, Wesley Southard, Michael Seidlinger, and Eric LaRocca! This was an awesome chat. I loved that they made time for loads of questions from the audience. There were a LOT of laughs here!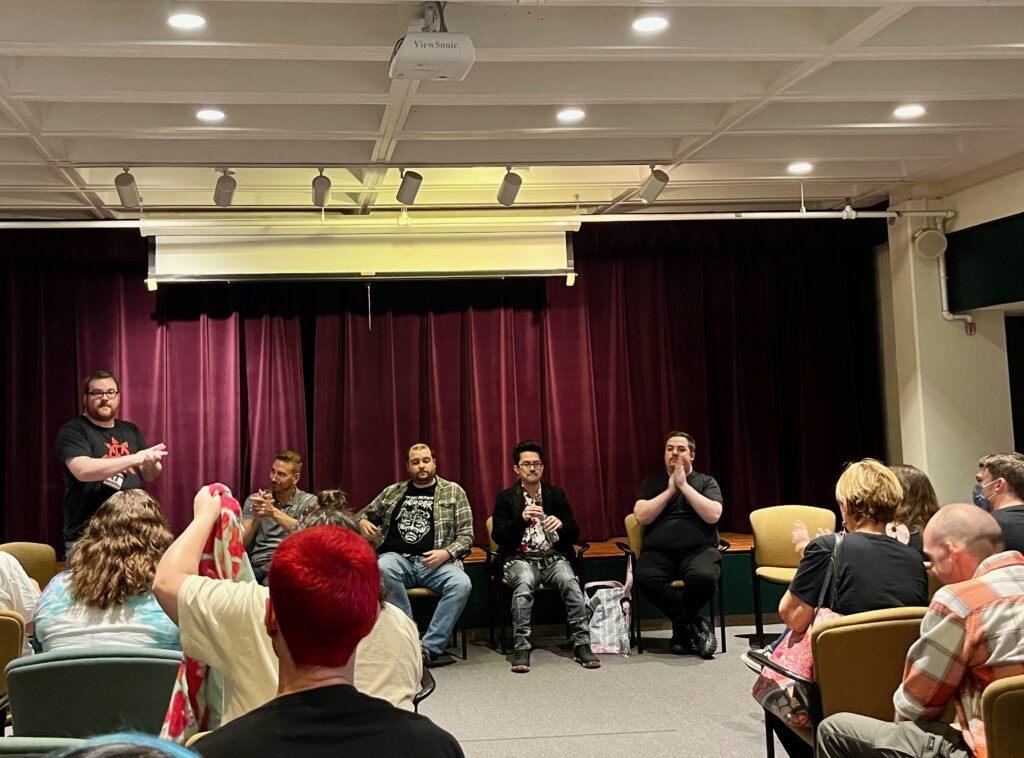 After the panel, it was finally time for me to head over to meet Bracken MacLeod! Bracken is one of the most personable humans I've ever met! I love that he draws you right into conversation and makes you feel like you're his only focus when he's talking to you!
I first learned about Bracken during a virtual book event and absolutely loved the first thing I read from him, The Texas Chainsaw Breakfast Club or I Don't Like Mondays. It was high time to pick up another of his books! I grabbed a copy of Closing Costs, which came with a super fun keychain and house key! Bracken also told myself and two others a story about the town name!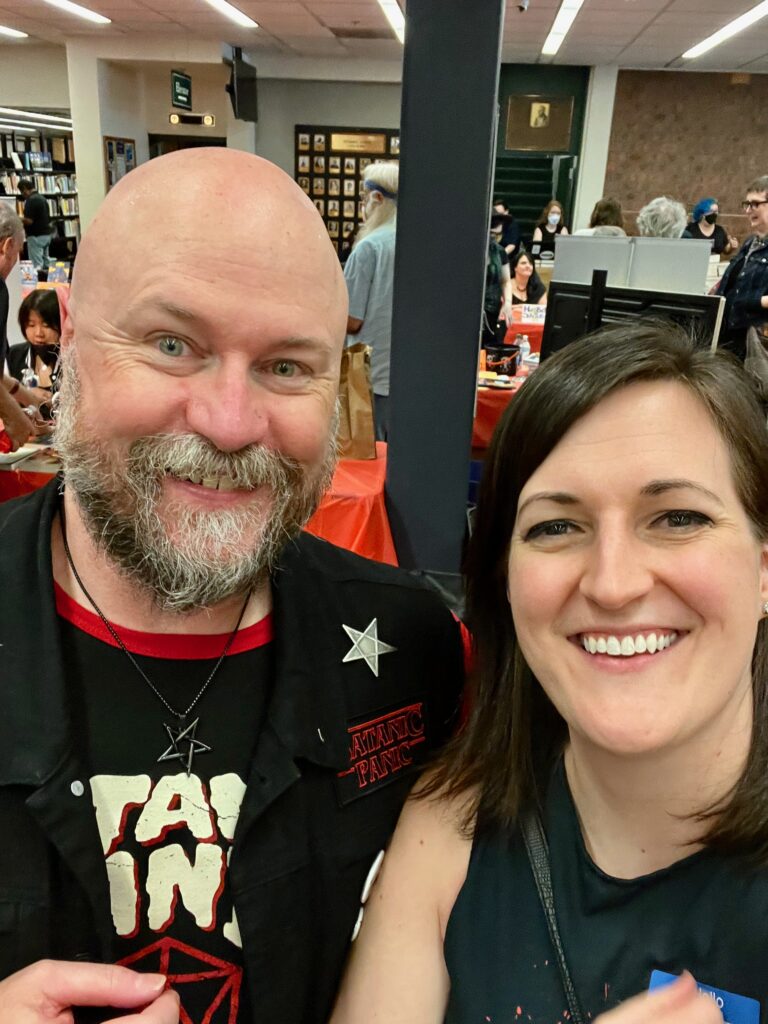 I had almost walked away, but then Rich told me about the handmade chapbooks, and how Bracken only makes a select amount for events like this. So of course I had to go back to get one!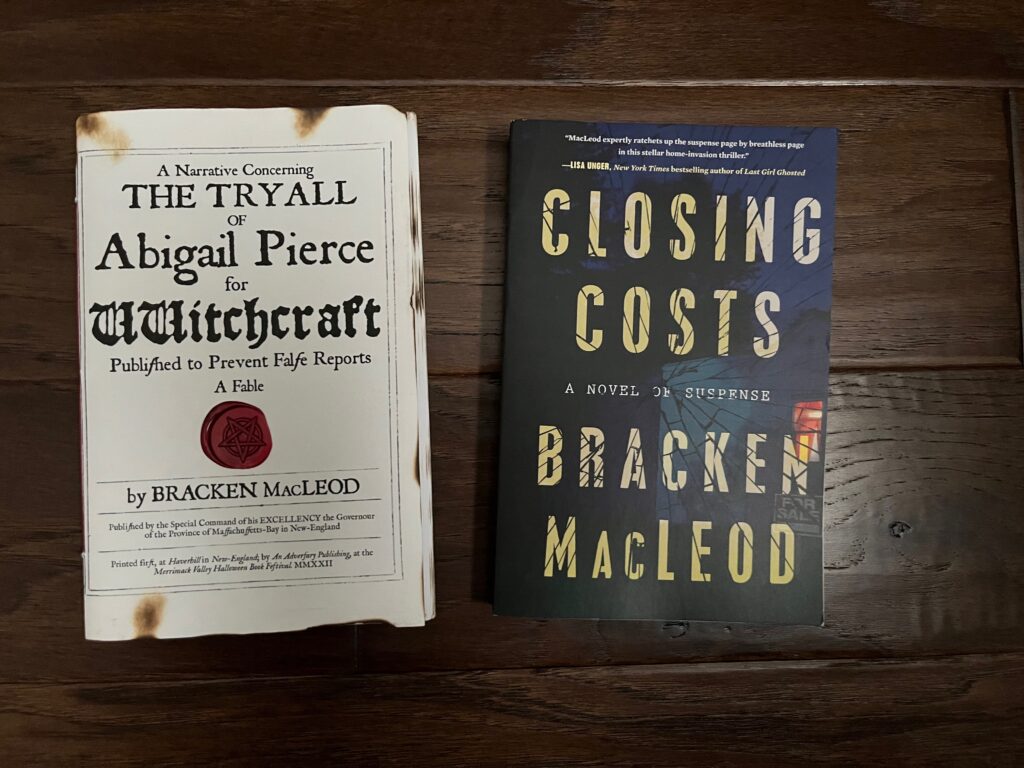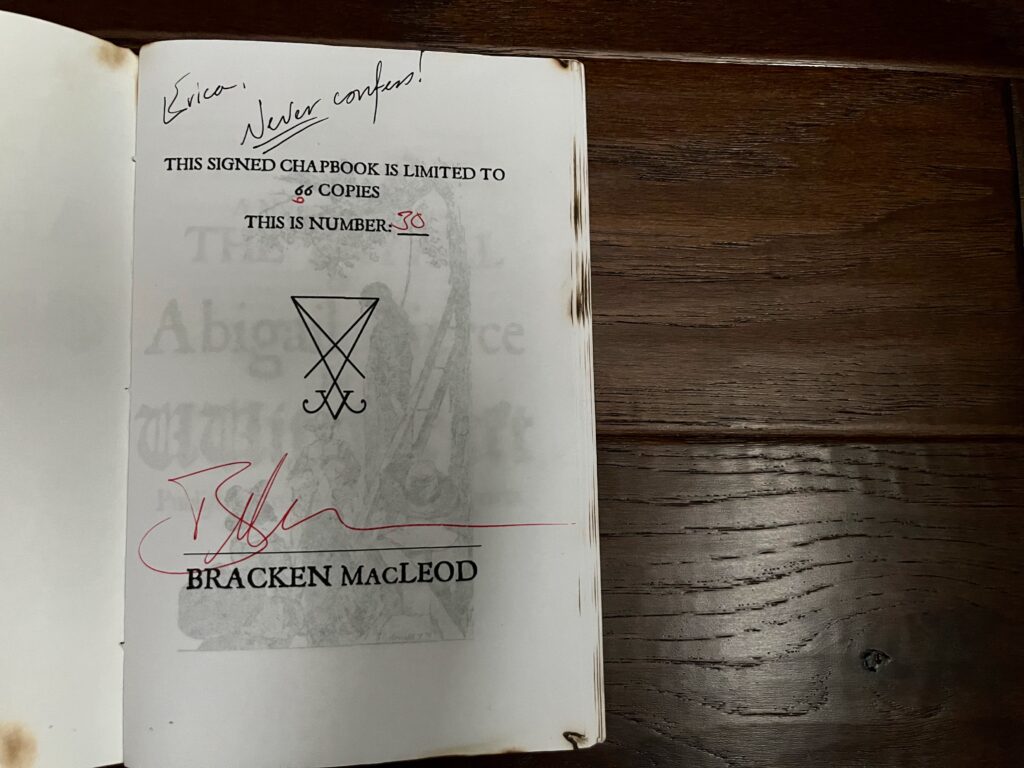 Of course, I couldn't leave the event without picking up a book from the event organizer, Christopher Golden! I snagged a copy of his book titled Red Hands, but missed out on getting a photo! Next year I'll have to make sure to do so!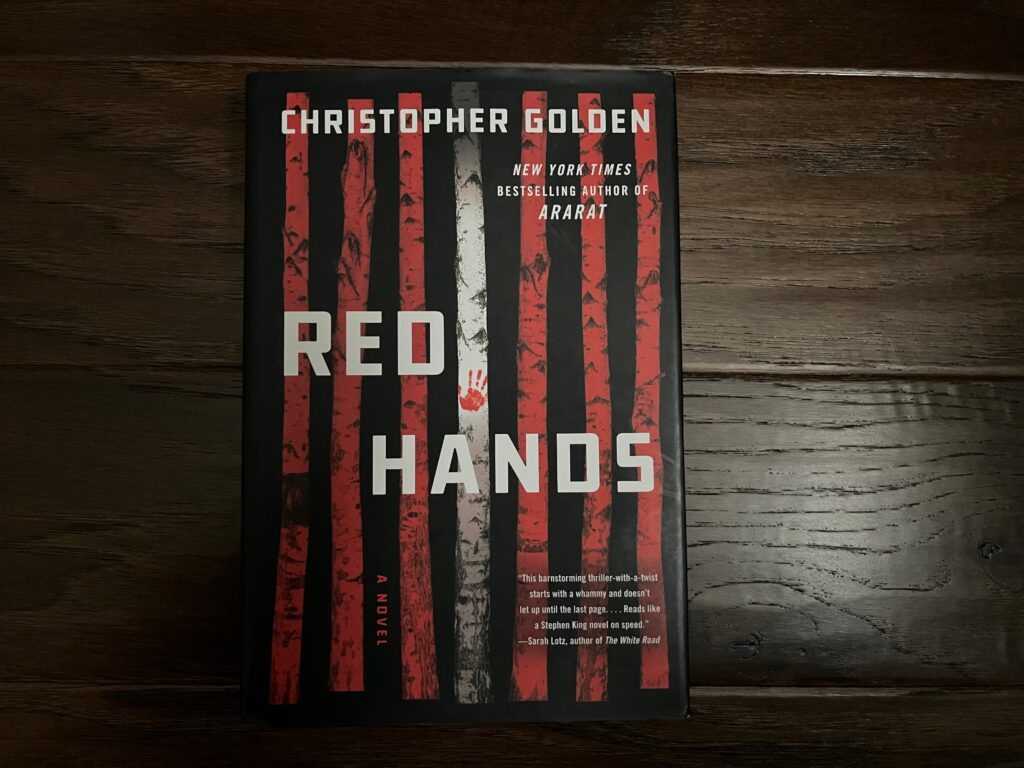 I was thinking about leaving until George told me that the only other author on my MUST SEE list had arrived! I quickly got myself back upstairs to meet Emma J. Gibbon in person!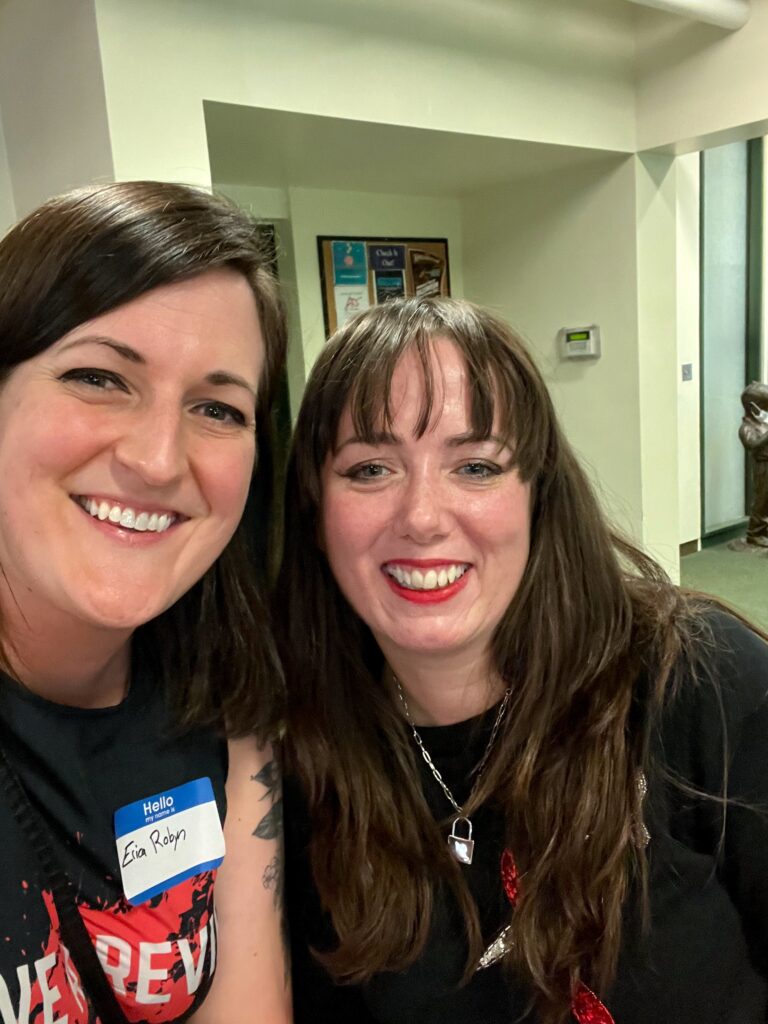 I was so excited to meet Emma after reading her novel, Dark Blood Comes From The Feet. Of course I had to snag a physical copy for my shelves along with another book she had for sale, Under Her Skin – A Women in Horror Poetry Collection Vol 1 edited by Lindy Ryan & Toni Miller.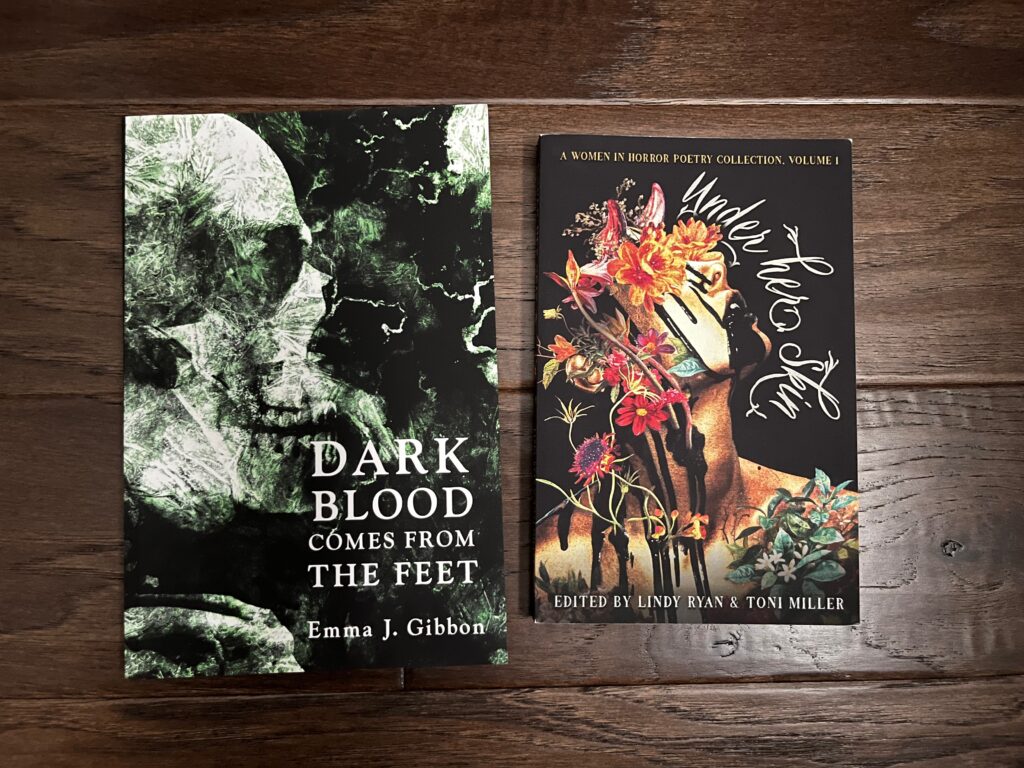 After that, I made one more loop before heading out, and I stopped at a table that I must have passed a dozen times… I'm SO glad I stopped!
John Durgin, who I was connected to on twitter, was selling his debut novel as well as some comics! He told me about all three, and of course, I walked away with all three… One is a special edition comic! I can't wait to dive in and see what's in store!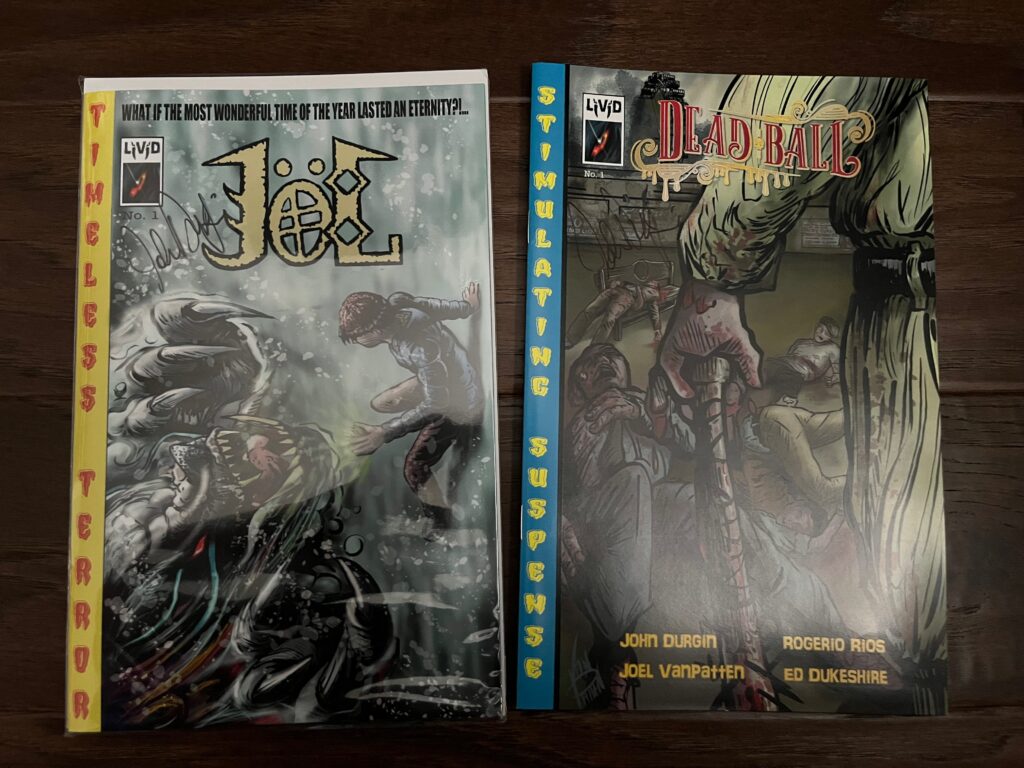 While talking to John, Stephen Kozeniewski leaned over and told John that I'm going to be his best friend! Referring to my blog and how much I shout about great books of course! Another comment that totally made my day!
And to top the already super exciting day off, I got to meet Brennan LaFaro in person for the first time! This was long overdue. I already can't wait until we can meet up again! And hopefully next year, he'll have his own table to display his books!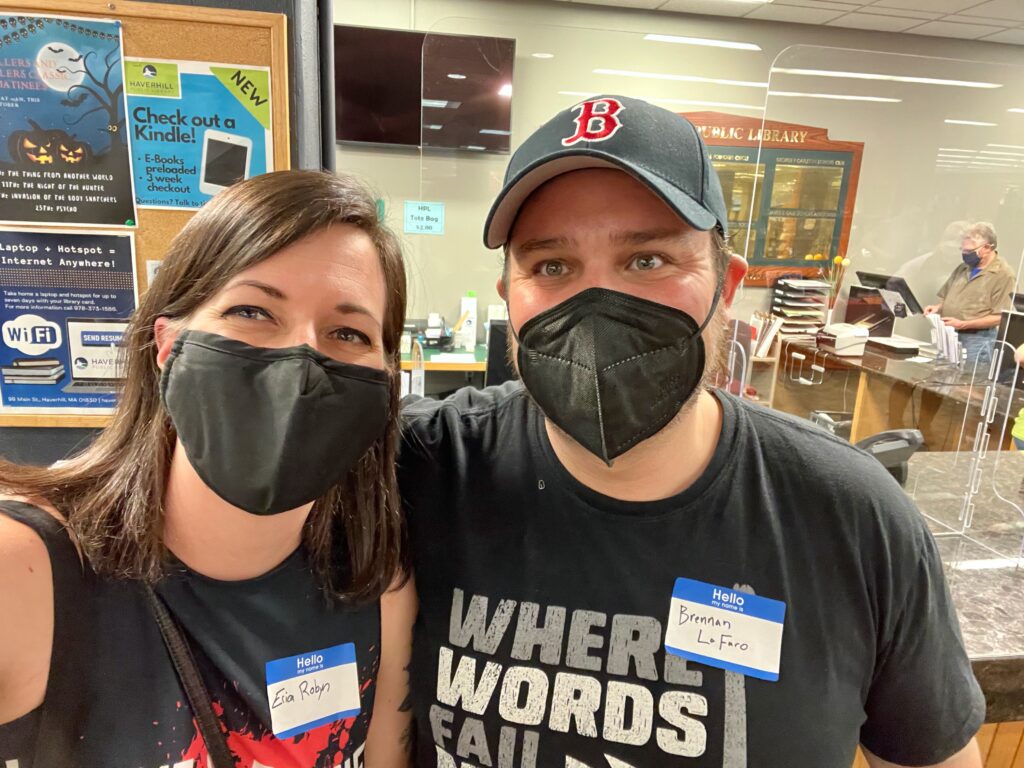 And about all the books I snagged copies of… I certainly went wild. But I mean… it was all for a great cause. So I HAD to. ❤️ Thank you all SO much for taking the time to sign ALL of these books! What a haul!!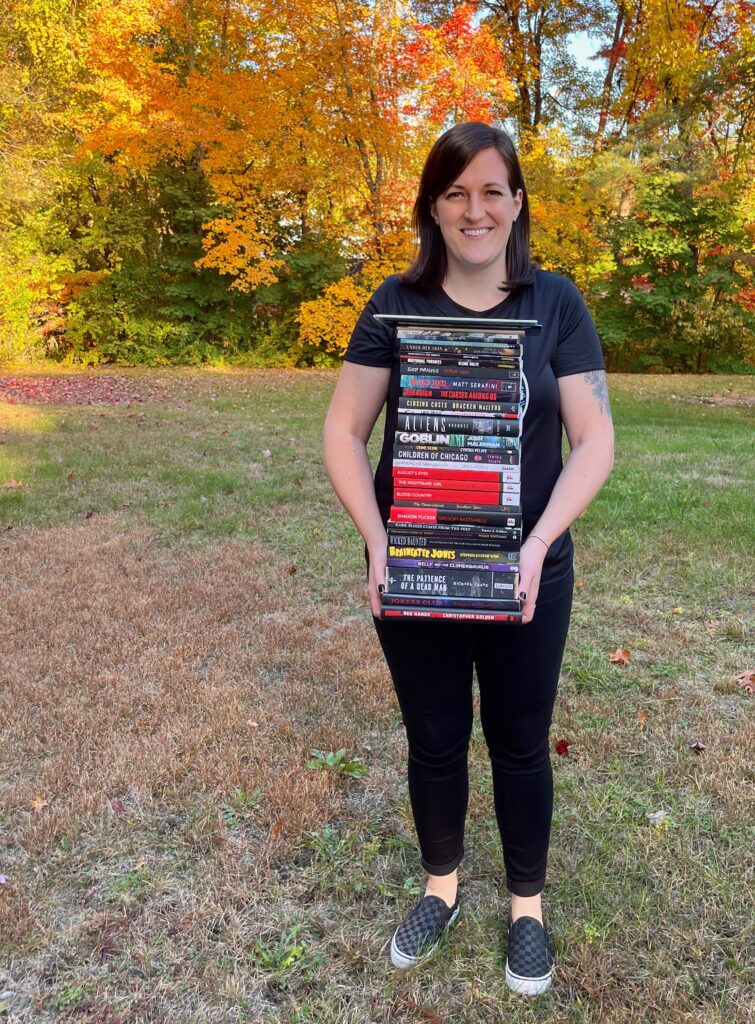 Here's a close up of my full haul: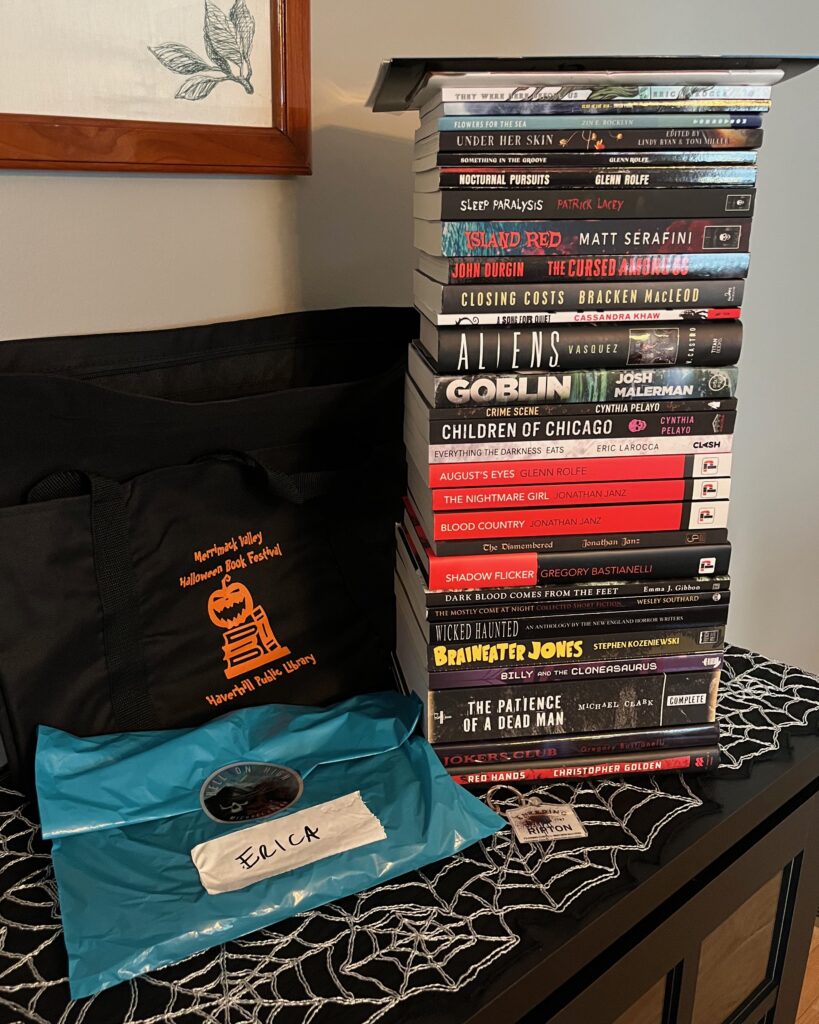 And of course, the t-shirt gift from Michael Clark! I'm OBSESSED with this tee. It's so soft!
Thanks for reading!
And phewwww, what an event! If you're able to travel to Massachusetts, I highly recommend keeping an eye on this event for next year!
This was my very first book event like this, and it was such a great experience! I can't believe how many authors I got to snag works from and how many friends I met! I was blown away that many people not only recognized me, but complimented my blog! I'll be floating around on that high for a LONG time!
Major thanks to Christopher Golden for organizing and to the Haverhill Public Library for hosting!