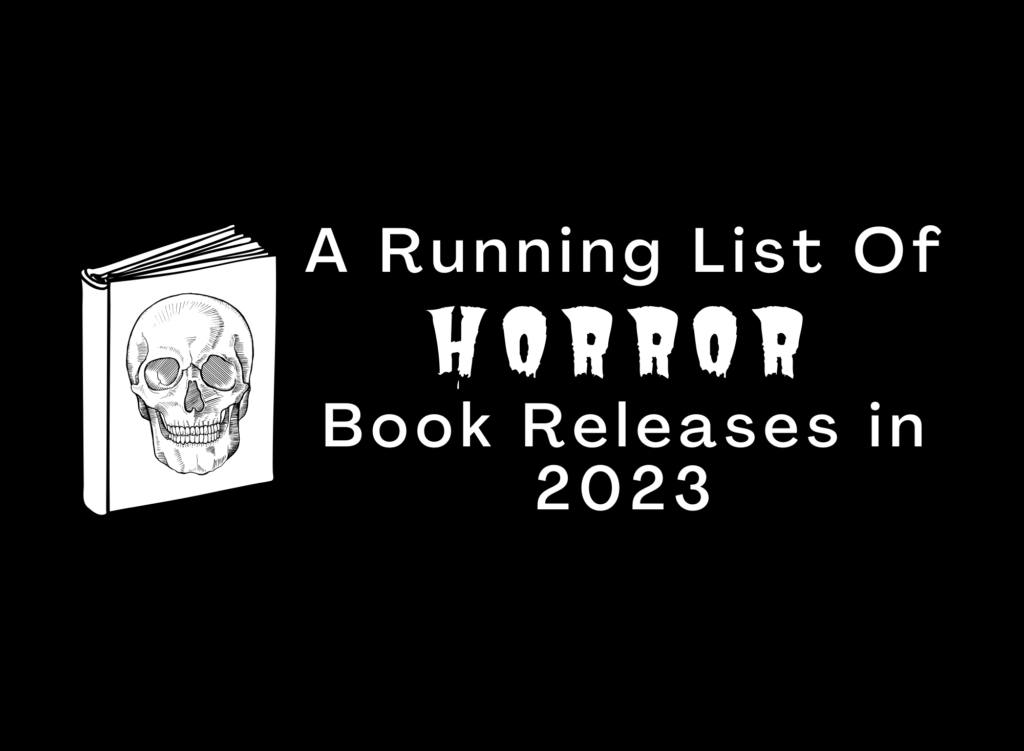 Looking for a list of horror books that are coming out in 2023? You're in luck!
In previous years, I had completed a blog post each month, highlighting the books I couldn't wait to read that were coming out the following month. Without fail, after I hit post, I would see a book or two that I missed. So I am trying something a bit new!
This year, I'm going to update this one long-running list of book releases broken out by month, highlighting the books that I am looking forward to. This list will capture mostly horror, but I just can't help myself with other books I may be excited about. So you may see a few special highlights for mysteries, thrillers, and a fantasy or two mixed in.
This list will be refreshed each month, keeping the latest month at the top, and retiring previous months at the bottom. So stay tuned for more information each month!
Thank you in advance for coming along with this journey! And please note that the links below may include affiliate links.
Horror writers and publishers – If you would like your book added to the list, feel free to comment below or share details in the original tweet here!
Now, prepare your To-Be-Read lists, and let's dive in!
Horror Books Publishing in September 2023
---
The Leaves Forget by Alan Baxter
Expected Publication Date: September 1, 2023
Publisher: PS Publishing
Genre: Horror
Synopsis:
Olivia has been missing for months. Her family have tried to accept that perhaps she'll never be found, and they'll never know what happened. So when her brother Craig unexpectedly receives a stack of letters from Liv, all written not long after her disappearance, he's both excited and frightened. Reading through her correspondence, Craig begins to get a sense of where she was, but he still doesn't know where she is now, or if she's still alive. Using what clues he can from the old letters, Craig sets off with his partner and his father to find Olivia, hoping for the best, fearing the worst.
---
Last Stay by Brennan LaFaro
Expected Publication Date: September 8, 2023
Publisher: D&T Publishing
Genre: Horror
Synopsis:
Your room is ready.
John and Faye Parker own a motel in the middle of the desert. The business is bleeding them dry, but they're stuck with the floundering roadside destination.
Meanwhile, Morgan Rose and her two best friends, fresh out of college, embark on a cross-country road trip, careening toward an inevitable confrontation at the Parker Motel.
To stay afloat, the Parkers enter the business of life and death, but how long can they put off the judgment that comes with their choices?
Enjoy your night…it might just be your Last Stay.
---
Black Sheep by Rachel Harrison
Expected Publication Date: September 12, 2023
Publisher: Berkley Books
Genre: Horror, Supernatural
Synopsis:
A cynical twentysomething must confront her cultish family in this fiery, irreverent novel from the national bestselling author of Such Sharp Teeth and Cackle.
Stay tuned for more!
Order Black Sheep from Gibson's Bookstore here!
---
Never Whistle At Night: An Indigenous Dark Fiction Anthology edited by Shane Hawk and Theodore C. Van Alst Jr.
Expected Publication Date: September 19, 2023
Publisher: Vintage
Genre: Horror Anthology
Synopsis:
A bold, clever, and sublimely sinister collection that dares to ask the question: "Are you ready to be un-settled?" Featuring stories by:

Norris Black – Amber Blaeser-Wardzala – Phoenix Boudreau – Cherie Dimaline – Carson Faust – Kelli Jo Ford – Kate Hart – Shane Hawk – Brandon Hobson – Darcie Little Badger – Conley Lyons – Nick Medina – Tiffany Morris – Tommy Orange – Mona Susan Power – Marcie R. Rendon – Waubgeshig Rice – Rebecca Roanhorse – Andrea L. Rogers – Morgan Talty – D.H. Trujillo – Theodore C. Van Alst Jr. – Richard Van Camp – David Heska Wanbli Weiden – Royce Young Wolf – Mathilda Zeller
Many Indigenous people believe that one should never whistle at night. This belief takes many forms: for instance, Native Hawaiians believe it summons the Hukai'po, the spirits of ancient warriors, and Native Mexicans say it calls Lechuza, a witch that can transform into an owl. But what all these legends hold in common is the certainty that whistling at night can cause evil spirits to appear–and even follow you home.
These wholly original and shiver-inducing tales introduce readers to ghosts, curses, hauntings, monstrous creatures, complex family legacies, desperate deeds, and chilling acts of revenge. Introduced and contextualized by bestselling author Stephen Graham Jones, these stories are a celebration of Indigenous peoples' survival and imagination, and a glorious reveling in all the things an ill-advised whistle might summon.
---
October Screams: A Halloween Anthology edited by Kenneth W. Cain
Expected Publication Date: September 19, 2023
Publisher: Kangas Kahn Publishing
Genre: Horror Anthology
Synopsis:
October Screams brings you twenty-seven tales of the greatest holiday of all, Halloween! Featuring stories from authors like Brian Keene & Richard Chizmar, Jeremy Bates, Kealan Patrick Burke, Clay McLeod Chapman, Philip Fracassi, Todd Keisling, Gwendolyn Kiste, Red Lagoe, Ronald Malfi, Bridgett Nelson, Rebecca Rowland, Steve Rasnic Tem, TJ Cimfel, Cassandra Daucus, Ryan Van Ells, Patrick Flanagan, Brennan Fredricks, Larry Hinkle, Larry Hodges, Kevin Kangas, Evans Light, Gregory L. Norris, Frank Oreto, Robert Stahl, Cat Voleur and Jacqueline West.
Terrifying, fun, creepy and poignant, this volume contains stories for every craving! This is one book that will deliver all the tricks-and-treats that you'd want in celebration of All Hallows Eve!
---
Black River Orchard by Chuck Wendig
Expected Publication Date: September 26, 2023
Publisher: Del Rey
Genre: Horror
Synopsis:
It's autumn in the town of Harrow, but something else is changing in the town besides the season.

Because in that town there is an orchard, and in that orchard, seven most unusual trees. And from those trees grows a new sort of apple: Strange, beautiful, with skin so red it's nearly black.

Take a bite of one of these apples and you will desire only to devour another. And another. You will become stronger. More vital. More yourself, you will believe. But then your appetite for the apples and their peculiar gifts will keep growing—and become darker.

This is what happens when the townsfolk discover the secret of the orchard. Soon it seems that everyone is consumed by an obsession with the magic of the apples… and what's the harm, if it is making them all happier, more confident, more powerful?

And even if buried in the orchard is something else besides the seeds of this extraordinary tree: a bloody history whose roots reach back the very origins of the town.

But now the leaves are falling. The days grow darker. And a stranger has come to town, a stranger who knows Harrow's secrets. Because it's harvest time, and the town will soon reap what it has sown.
Order Black River Orchard from Gibson's Bookstore here!
---
Hot Iron and Cold Blood: An Anthology of the Weird West
Expected Publication Date: September 26, 2023
Publisher: Deaths Head Press
Genre: Horror Anthology
Synopsis:
Desperados and yellow-bellies be warned: These ain't your typical westerns … Herein find legendary masters of anomalous Western and Horror stories— along with a posse of budding word-slingers— who all bring you an electrifying and frightening collection of extraordinary tales set in the Old West and beyond…
Within these pages, the improbable is made real: cowboys encounter a chimeric critter of the night; dinosaurs return as massive poltergeists; Chinese railroad workers are haunted by invisible frights; outlaws experience Cronenbergian body-horror; fallen-light stalks mother and daughter upon a wintry prairie; a headless horseman roams the badlands; otherworldly creatures hunt within our domain; screaming spectral birds nest within the damned; and gunslinging women with murderous skills annihilate foolish notions of a man's world.
These are just a handful of the offerings in this body of macabre lore. So, mount your saddle-horse and join this gang of rogue authors for a ride down dark trails of terror and unsettling thoroughfares that lead deep into strange, nightmarish territory. Here you gallop through places where law has no dominion and Death constantly deals a grim hand— and where the iron is red-hot and the blood drips ice-cold.
Featuring stories by Joe R. Lansdale, Edward Lee, David J. Schow, Jill Girardi, R.J. Jackson, Vivian Kasley, Owl Goinback, Kenzie Jennings, Jeff Strand, Wile E. Young, and more. Edited by Patrick R. McDonoughWith an Introduction by R.J. Joseph.
---
Inked In Blood 2- Once Upon a Crime by Z2 Comics
Expected Publication Date: September 2023
Publisher: Z2 Comics
Genre: Horror
Synopsis:
There's always a sequel. INKED IN BLOOD 2: ONCE UPON A CRIME picks up the bloody trail left by the debut graphic novel from ICE NINE KILLS, with a shockingly "meta" twist.
Max Charnas, the ne'er-do-well identical twin brother of INK mastermind Spencer Charnas, hatches (hatchets?) a plan to blackmail, frame, and ultimately destroy his cinema-obsessed sibling. Hard-living, duplicitous, and without scruples, sophisticated slasher Max will stop at nothing to carve away Spencer's life, one cut at a time. Our story begins at the Silver Scream Con horror convention, peeling back layers of history and lore that would make the Bateman family shiver, including Max's hedonistic nights at stately Charnas Manor. A family heirloom with a particularly sharp edge; a Silence mask disguise; a bloodthirsty public ready to see Spencer brought to "justice,"; and all of the requisite mystery and intrigue that only a truly evil twin can summon. The chills, thrills, and bloody kills at the black heart of the ICE NINE KILLS mythology continue.
lce Nine Kills frontman Spencer Charnas crafted the INKED IN BLOOD 2: ONCE UPON A CRIME story himself, with frequent collaborator Ryan J. Downey, a longtime journalist.
---
Horror Books Publishing in October 2023
---
Out There Screaming – An Anthology Of New Black Horror edited by Jordan Peele and John Joseph Adams
Expected Publication Date: October 3, 2023
Publisher: Random House
Genre: Gothic Horror Anthology
Synopsis:
The visionary writer and director of Get Out, Us, and Nope, and founder of Monkeypaw Productions, curates this groundbreaking anthology of all-new stories of Black horror, exploring not only the terrors of the supernatural but the chilling reality of injustice that haunts our nation.
A cop begins seeing huge, blinking eyes where the headlights of cars should be that tell him who to pull over. Two freedom riders take a bus ride that leaves them stranded on a lonely road in Alabama where several unsettling somethings await them. A young girl dives into the depths of the Earth in search of the demon that killed her parents. These are just a few of the worlds of Out There Screaming, Jordan Peele's anthology of all-new horror stories by Black writers. Featuring an introduction by Peele and an all-star roster of beloved writers and new voices, Out There Screaming is a master class in horror, and–like his spine-chilling films–its stories prey on everything we think we know about our world . . . and redefine what it means to be afraid.
Featuring stories by: Erin E. Adams, Violet Allen, Lesley Nneka Arimah, Maurice Broaddus, Chesya Burke, P. Djèlí Clark, Ezra Claytan Daniels, Tananarive Due, Nalo Hopkinson, N. K. Jemisin, Justin C. Key, L. D. Lewis, Nnedi Okorafor, Tochi Onyebuchi, Rebecca Roanhorse, Nicole D. Sconiers, Rion Amilcar Scott, Terence Taylor, and Cadwell Turnbull.
---
Twelve Gauge by Ronald Kelly
Expected Publication Date: October 5, 2023
Publisher: Crossroad Press
Genre: Extreme Horror Novella
Synopsis:
The citizens of Cedar Bluff, Tennessee, have never recovered from the Christmas Massacre of 1978 … that tragic day when Richard McFarland, armed with a shotgun, abandoned his wife and son and selected a local church as the stage for a bloody, murderous rampage. McFarland paid for his crimes in the electric chair. Yet not even death will stop him from finishing what he started …
After fourteen years, Sonny's father is back. He'd been away so long that Sonny hardly remembered him. But Richard McFarland remembered his only son. And now he will teach him how to kill. Sonny is about to become a deadly force that will be unleashed on the unsuspecting citizens of Cedar Bluff. For when the time is right, he will return to the small, quiet town, bringing death and destruction on an even more terrifying Christmas Day!
---
A Light Most Hateful by Hailey Piper
Expected Publication Date: October 10, 2023
Publisher: Titan Books
Genre: Horror, Supernatural
Synopsis:
Three years after running away from home, Olivia is stuck with a dead-end job in nowhere town Chapel Hill, Pennsylvania. At least she has her best friend, Sunflower.
Olivia figures she'll die in Chapel Hill, if not from boredom, then the summer night storm which crashes into town with a mind-bending monster in tow.
If Olivia's going to escape Chapel Hill and someday reconcile with her parents, she'll need to dodge residents enslaved by the storm's otherworldly powers and find Sunflower.
But as the night strains friendships and reality itself, Olivia suspects the storm, and its monster, may have its eyes on Sunflower and everything she loves.
Including Olivia.
---
The Conservator's Collection: Derelict by John Durgin, Jay Bower, and John Lynch
Expected Publication Date: October 13, 2023
Publisher:
Genre: Horror
Synopsis:
Hidden within dusty shelves are tomes made of human flesh, Blood-soaked pages reveal tales once thought to be lost but now revealed for the first time by The Conservator.
He spent decades collecting and preserving forgotten lore. Now, he's decided to unveil three of the best legends culled from the darkness.
The tone is set with John Durgin's Blank Space, a vicious story that introduces Helen Crowe, an entity not easily forgotten.
Jay Bower's Eyebiters Revenge follows a group of friends hoping to invoke the spirits of the dead in an abandoned school, only to find something even more sinister.
The Conservator ends with John Lynch's brutal tale, Expiration of Sentence. The darkness of a prison hides a horrific evil where no one is safe.
Bringing together three nightmares for a special collection, The Conservator awaits your presence.
---
Lost Oblivion by Katherine Silva
Expected Publication Date: October 13, 2023
Publisher:
Genre: Horror
Synopsis:
This is the sequel to Hallowed Oblivion. Stay tuned for more!
---
I Died Too, But They Haven't Buried Me Yet by Ross Jeffery
Expected Publication Date: October 2023
Publisher: Clash Books
Genre: Horror
Synopsis:
Henry's daughter was fourteen when she went missing and he's been burying pieces of her ever since. Each totem Henry places in the ground is a memento mori of his daughter's life that he's desperate to forget. Surviving with the guilt of his possible role in her disappearance, and more than likely her death, Henry is unable to move forward.
All is not lost though, when a stranger appears at Henry's grief counseling group with a dark and disturbing proposition for him. "Have you ever tried to make contact with your daughter, to see if she's passed?"
What follows is a tale of deception and possession like no other. With thriller pacing and words that bleed off the page, Ross Jeffery delivers a terrifying nightmare of how grief can climb inside and bury itself in the human heart.
---
The Wolf and the Favour by Catherine McCarthy
Expected Publication Date: October 2023
Publisher: Brigids Gate Press
Genre: Horror
Synopsis:
Ten-year-old Hannah has Down syndrome and oodles of courage, but should she trust the alluring tree creature who smells of Mamma's perfume or the blue-eyed wolf who warns her not to enter the woods under any circumstances? When Hannah and her doting father move to Wales following her parents' divorce, Hannah finds herself faced with many challenges—a new school, new friends, a place at the local drama club. At first she rises to the challenge, but when her mother, a famous actor, moves to Sweden on a permanent basis leaving Hannah with nothing more than a trunk of old theatre costumes as a parting gift, things take a turn for the worse. The Wolf and the Favour is a tale of love, trust, and courage. A tale that champions the neurodivergent voice and proves the true power of a person's strength lies within themselves.
---
Horror Books Publishing in November 2023
---
Bookshops & Bonedust by Travis Baldree
Expected Publication Date: November 7, 2023
Publisher: Tor Books
Genre: Fantasy
Synopsis:
When an injury throws a young, battle-hungry orc off her chosen path, she may find that what we need isn't always what we seek.In Bookshops & Bonedust, a prequel to Legends & Lattes, New York Times bestselling author Travis Baldree takes us on a journey of high fantasy, first loves, and second-hand books.
Viv's career with the notorious mercenary company Rackam's Ravens isn't going as planned.
Wounded during the hunt for a powerful necromancer, she's packed off against her will to recuperate in the sleepy beach town of Murk–so far from the action that she worries she'll never be able to return to it. What's a thwarted soldier of fortune to do?
Spending her hours at a beleaguered bookshop in the company of its foul-mouthed proprietor is the last thing Viv would have predicted, but it may be both exactly what she needs and the seed of changes she couldn't possibly imagine.
Still, adventure isn't all that far away. A suspicious traveler in gray, a gnome with a chip on her shoulder, a summer fling, and an improbable number of skeletons prove Murk to be more eventful than Viv could have ever expected.
Note: I just can't help but mention this book even though it's not horror, as the first book, Legends & Lattes, was one of my favorites of 2022!
---
Horror Books Publishing in December 2023
---
The Folly by Gemma Amor
Expected Publication Date: December 2, 2023
Publisher: Polis Books
Genre: Gothic Horror
Synopsis:
An ex-con, wrongly convicted of his wife's murder and subsequently acquitted, and his daughter move into an abandoned decorative folly on the cornish coastline to escape their past, but a stranger bearing secrets–and an important message–soon catches up with them.
Morgan always knew her father, Owen, never murdered her mother, and has spent the last six years campaigning for his release from prison. After a retrial, a fresh jury acquits him, and he is set free into an uncertain world. A pandemic is sweeping across the nation, Morgan is broke, and both of them have the heavy stench of a highly publicized trial. Both need a change of scene, as Morgan can no longer live in the house that was last decorated by her Mother's blood after she fell down the stairs – the accident her father was wrongly accused of orchestrating. Or was he?
Salvation comes in the form of a tall, dark and somewhat notorious decorative granite tower on the Cornish coastline known only as 'The Folly'. The owner is used to rehabilitating ex-cons, and offers them new life, in exchange for taking care of The Folly. It's an offer that is too good to refuse.
At first the Folly is idyllic, but soon a stranger arrives who seems obsessed with Morgan's dead mother. The stranger acts like her mother, talks like her mother, and wears her dead mother's clothes. It quickly becomes apparent that he has a message, but with each new encounter, Morgan becomes increasingly unsure as to what that message is, and worse, who it is she is dealing with, exactly: a deranged stranger hell-bent on vengeance, or her restless Mother's spirit itself?
As a strained father and daughter become increasingly uncomfortable in the Folly, the stranger continues to haunt and taunt them. Questions pile up: who exactly is this stranger? Why must he speak, act and dress like her deceased mother? Is her father as innocent as she always thought? And, most importantly, what happened the night her mother died?
An atmospheric blend of the The Lighthouse, with hints of Du Maurier's Rebecca, played out on a lonely, Cornish backdrop, THE FOLLY is visceral mystery and family drama, a dark examination of love, loyalty, guilt and possession that draws on the very real horror of betrayal by those closest to us, by those we love the best.
---
Other Books Publishing in 2023
Stay tuned for more information on the following as it becomes available!
---
---
Archive of Horror Books That Published in 2023
List of Horror Books That Published in January 2023
---
Fear: Author's Preferred Edition by Ronald Kelly
Expected Publication Date: January 10, 2023
Publisher: Crossroad Press
Genre: Horror
Synopsis:
It was a legend in Fear County… a hideous, flesh-eating creature – part snake, part earthbound demon – that feasted on the blood of innocent children in the cold black heart of the Tennessee backwoods.
But ten-year-old Jeb Sweeny knows the horrible stories are true. His best friend Mandy just up and disappeared. He also knows that no one has ever had the courage to go after the monster and put an end to its raging, bestial hunger. Until now.
But Evil is well guarded. And for young Jeb Sweeny, who is about to cross over into the forbidden land of Fear County and the lair of the unknown, passage through the gates of Hell comes with a terrible price. Everlasting…FEAR!
---
Red Rains Down by Ryan Harville
Expected Publication Date: January 13, 2023
Publisher: Self Published
Genre: Horror, Short Stories, Ghosts
Synopsis:
Take a terrifying trip along lonely highways and discover the horror hiding below the Bible Belt. Let these thirteen tales lead you to crumbling churches, run-down gas stations, and the lost parts of the forest. Waiting within are stories of madness and vengeance, of monstrous creatures and human monsters.
Unearth an ancient ritual where the fate of an entire town rests on the outcome.
Meet a long-haul trucker with very peculiar cargo and clientele.
Walk with two young men as they preach door-to-door and find evil hidden in the heart of the suburbs.
Stalk the woods with a new mother as she hunts for her missing son.
Visit an amusement park where the fun never ends, no matter how much you want it to.
So get in, buckle up, and lock your door. We're going where cryptids hunt, the dead don't die, and red rains down.
Welcome to the Deep South.
---
Fake Somebodies, Real Nobodies by E.C. Hanson
Expected Publication Date: January 16, 2023
Genre: Horror Short Stories
Synopsis:
This collection of previously published stories highlights how public facades mask internal despair. Two brothers invite the wrath of seagulls. A young girl befriends a monster during a snowstorm. A liquid entity invades a school and takes no prisoners. A teenager uses witch hysteria against her parents. Tales like these make up the contents of FAKE SOMEBODIES, REAL NOBODIES.
---
Inside the Devil's Nest by John Durgin
Expected Publication Date: Out on Godless January 17, 2023
Genre: Occult Horror
Publisher: D&T Publishing
Synopsis:
Real estate agent Anthony Graham has his family on the run after witnessing a murder at the hands of the powerful Costello crime family.
They're forced to hide at one of Anthony's properties: a deserted campground with a sinister past.
No one is safe from the men that hunt them or the terrors that await them inside The Devil's Nest.
---
How to Sell a Haunted House by Grady Hendrix
Expected Publication Date: January 17, 2023
Publisher: Berkley Books
Genre: Horror, Psychological Thriller
Synopsis:
When Louise finds out her parents have died, she dreads going home. She doesn't want to leave her daughter with her ex and fly to Charleston. She doesn't want to deal with her family home, stuffed to the rafters with the remnants of her father's academic career and her mother's lifelong obsession with puppets and dolls. She doesn't want to learn how to live without the two people who knew and loved her best in the world.
Most of all, she doesn't want to deal with her brother, Mark, who never left their hometown, gets fired from one job after another, and resents her success. Unfortunately, she'll need his help to get the house ready for sale because it'll take more than some new paint on the walls and clearing out a lifetime of memories to get this place on the market.But some houses don't want to be sold, and their home has other plans for both of them…
Order How To Sell A Haunted House from Gibson's Bookstore here!
---
All Hallows by Christopher Golden
Expected Publication Date: January 24, 2023
Publisher: St. Martin's Press
Genre: Horror, Supernatural
Synopsis:
It's Halloween night, 1984, in Coventry, Massachusetts, and two families are unraveling. Up and down the street, secrets are being revealed, and all the while, mixed in with the trick-or-treaters of all ages, four children who do not belong are walking door to door, merging with the kids of Parmenter Road. Children in vintage costumes with faded, eerie makeup. They seem terrified, and beg the neighborhood kids to hide them away, to keep them safe from The Cunning Man.
There's a small clearing in the woods now that was never there before, and a blackthorn tree that doesn't belong at all. These odd children claim that The Cunning Man is coming for them…and they want the local kids to protect them. But with families falling apart and the neighborhood splintered by bitterness, who will save the children of Parmenter Road?
All Hallows. The one night when everything is a mask…
Order All Hallows from Gibson's Bookstore here!
---
AHH! That's What I Call Horror: An Anthology of '90s Horror edited by Chelsea Pumpkins
Expected Publication Date: January 25, 2023
Publisher: Publishers of Interesting Terrors
Genre: Horror Short Stories
Synopsis:
With fourteen horror stories set during the decade of flannel shirts and neon dolphin Trapper Keepers, Ahh! That's What I Call Horror features a PHAT (pretty horrific and terrifying) collection of totally rad horror and weird fiction authors exploring the darker side of what many consider a time of relative peace and prosperity. With Communism falling and Clear Channel rising, the horror of the 1990s requires peeling back layers of safe, sanitized media to reveal the nightmares waiting beneath. When it comes to '90s horror, this is one anthology guaranteed to be all that and a bag of haunted chips.
You won't need a dial-up connection to reach the beyond in this time-warp to the '90s. With undead grunge rock icons, menacing action figures, family sitcoms gone very wrong, and more: these terror tales will return you to the end of the old millennium.
How will you get back?
Like, who says you will?
---
Exiles by Jane Harper
Expected Publication Date: January 31, 2023
Publisher: Flatiron Books
Genre: Mystery, Crime Thriller
Synopsis:
Federal Investigator Aaron Falk is on his way to a small town deep in Southern Australian wine country for the christening of an old friend's baby. But mystery follows him, even on vacation.
This weekend marks the one-year anniversary of Kim Gillespie's disappearance. One year ago, at a busy town festival on a warm spring night, Kim safely tucked her sleeping baby into her stroller, then vanished into the crowd. No one has seen her since. When Kim's older daughter makes a plea for anyone with information about her missing mom to come forward, Falk and his old buddy Raco can't leave the case alone.
As Falk soaks up life in the lush valley, he is welcomed into the tight-knit circle of Kim's friends and loved ones. But the group may be more fractured than it seems. Between Falk's closest friend, the missing mother, and a woman he's drawn to, dark questions linger as long-ago truths begin to emerge. What would make a mother abandon her child? What happened to Kim Gillespie?
---
The Drift by C.J. Tudor
Expected Publication Date: January 31, 2023
Publisher: Ballantine Books
Genre: Horror, Psychological Thriller
Synopsis:
Hannah awakens to carnage, all mangled metal and shattered glass. Evacuated from a secluded boarding school during a snowstorm, her coach careered off the road, trapping her with a handful of survivors. They'll need to work together to escape–with their sanity and secrets intact.
Meg awakens to a gentle rocking. She's in a cable car stranded high above snowy mountains, with five strangers and no memory of how they got on board. They are heading to a place known only as "The Retreat," but as the temperature drops and tensions mount, Meg realizes they may not all make it there alive.
Carter is gazing out the window of an isolated ski chalet that he and his companions call home. As their generator begins to waver in the storm, something hiding in the chalet's depths threatens to escape, and their fragile bonds will be tested when the power finally fails–for good.
The imminent dangers faced by Hannah, Meg, and Carter are each one part of the puzzle. Lurking in their shadows is an even greater danger–one with the power to consume all of humanity.
---
Horror Books That Published in February 2023
---
Melinda West: Monster Gunslinger by KC Grifant
Expected Publication Date: February 2, 2023
Publisher: Brigids Gate Press
Genre: Horror
Synopsis:
In an Old West overrun by monsters, a stoic gunslinger must embark on a dangerous quest to save her friends and stop a supernatural war.
Sharpshooter Melinda West, 29, has encountered more than her share of supernatural creatures after a monster infection killed her mother. Now, Melinda and her charismatic partner, Lance, offer their exterminating services to desperate towns, fighting everything from giant flying scorpions to psychic bugs. But when they accidentally release a demon, they must track a dangerous outlaw across treacherous lands and battle a menagerie of creatures—all before an army of soul-devouring monsters descend on Earth.
The Witcher meets Bonnie and Clyde in a re-imagined Old West full of diverse characters, desolate landscapes, and fast-paced adventure.
---
Gothic by Philip Fracassi
Expected Publication Date: February 3, 2023
Publisher: Cemetery Dance
Genre: Horror
Synopsis:
On his 59th birthday, Tyson Parks—a famous, but struggling, horror writer—receives an antique desk from his partner, Sarah, in the hopes it will rekindle his creative juices. Perhaps inspire him to write another best-selling novel and prove his best years aren't behind him.
A continent away, a mysterious woman makes inquiries with her sources around the world, seeking the whereabouts of a certain artifact her family has been hunting for centuries. With the help of a New York City private detective, she finally finds what she's been looking for.
It's in the home of Tyson Parks.
Meanwhile, as Tyson begins to use his new desk, he begins acting… strange. Violent. His writing more disturbing than anything he's done before. But publishers are paying top dollar, convinced his new work will be a hit, and Tyson will do whatever it takes to protect his newfound success. Even if it means the destruction of the ones he loves.
Even if it means his own sanity.
---
Don't Fear the Reaper by Stephen Graham Jones
Expected Publication Date: February 7, 2023
Publisher: Saga Press
Genre: Horror
Synopsis:
December 12th, 2019, Jade returns to the rural lake town of Proofrock the same day as convicted Indigenous serial killer Dark Mill South escapes into town to complete his revenge killings, in this riveting sequel to My Heart Is a Chainsaw from New York Times bestselling author, Stephen Graham Jones.
Four years after her tumultuous senior year, Jade Daniels is released from prison right before Christmas when her conviction is overturned. But life beyond bars takes a dangerous turn as soon as she returns to Proofrock. Convicted Serial Killer, Dark Mill South, seeking revenge for thirty-eight Dakota men hanged in 1862, escapes from his prison transfer due to a blizzard, just outside of Proofrock, Idaho.
Dark Mill South's Reunion Tour began on December 12th, 2019, a Thursday.
Thirty-six hours and twenty bodies later, on Friday the 13th, it would be over.
---
Wasps in the Ice Cream by Tim McGregor
Expected Publication Date: February 7, 2023
Publisher: Raw Dog Screaming Press
Genre: Horror
Synopsis:
What happens when you fall for the girl everyone hates?
Summer 1987: Mark Prewitt's only priority is to avoid his dad's new wife and waste time with his friends, but idle nights are the devil's playground. When his friends decide to pull a cruel prank on the reclusive and strange Farrow sisters, Mark regrets caving in to peer pressure.
Wanting to make amends, Mark is drawn into the mysterious world of the Farrow girls, finding a kindred spirit in the middle sister, George. She is unlike anyone he's ever known; a practicing witch who uses folk magic to protect her family. They bond over books, loneliness, and homemade spells. She even invites Mark to join a séance to contact her dead sister, who died under mysterious circumstances.
Keeping their relationship secret, Mark learns that living a double life in a town this small is impossible. When the secret is exposed, and his friends plot to punish the witch sisters for stealing one of their own, Mark is forced to choose between these two worlds.
---
Deep by Aquino Loayza
Expected Publication Date: February 17, 2023
Publisher: Self Published
Genre: Horror
Synopsis:
There are places on earth that carry an air of the ethereal—an aura of malevolence that can only be felt in the breathless whisper of a passing breeze. One of these places is found along the rugged mystical coastline of Maine's northern shores—Juneberg. Since its inception the morbid mishaps of the city were carried on the murmurs of sailors and visitors who have seen the peculiarities up close. From people vanishing in the dead of night, as though they had been carried out to sea. To hushed utterances in the darkest corners of taverns about a nefarious Cult scheming in the underbelly of the city's ancient tunnels.
Giovanni Divale is one such person, becoming obsessed with the town from a young age. Fate has brought him to its boundaries before, but this time the city may not be so keen on letting him leave. Will he discover the truth buried in the desolate decrepit city? Or will he become lapped up in the whirlpool of eldritch madness?
---
Churn the Soil by Steve Stred
Expected Publication Date: February 17, 2023
Publisher: Black Void Publishing
Genre: Horror
Synopsis:
Two hundred miles north of the town of Basco sits The Border. It's a quiet, off-the-grid settlement, where the residents have developed a tentative agreement with those that live on the other side of the clearing.
But things are about to change forever.
As night falls, a teenage girl is brutally murdered as she flees across the clearing.
Now, it's up to Basco PD officers Brown and Reynolds to find her killer.
But the truth is far worse than they could possibly imagine, and the more the officers uncover, the bolder the things beyond the clearing grow.
'Under an icy snowfall…'
'Under a clear, blue moon…'
North of The Border lies a land unseen by man. A land where things are ready and waiting… to feed.
Splatterpunk-Nominated author Steve Stred, who brought you 'Mastodon' and 'Incarnate,' delivers a pulse-pounding, high-stakes story where if the cold doesn't kill you, the Forest Guards will.
---
Sister, Maiden, Monster by Lucy A. Snyder
Expected Publication Date: February 21, 2023
Publisher: Tor Nightfire
Genre: Horror, Cosmic Horror
Synopsis:
A virus tears across the globe, transforming its victims in nightmarish ways. As the world collapses, dark forces drive a small group of women together.
To survive, they must evolve.
A virus tears across the globe, transforming its victims in nightmarish ways. As the world collapses, dark forces pull a small group of women together.
Erin, once quiet and closeted, acquires an appetite for a woman and her brains. Why does forbidden fruit taste so good?
Savannah, a professional BDSM switch, discovers a new turn-on: committing brutal murders for her eldritch masters.
Mareva, plagued with chronic tumors, is too horrified to acknowledge her divine role in the coming apocalypse, and as her growths multiply so too does her desperation.
Inspired by her Bram Stoker Award-winning story "Magdala Amygdala," Lucy A. Snyder delivers a cosmic tale about the planet's disastrous transformation… and what we become after.
---
A Blackness Absolute by Caitlin Marceau
Expected Publication Date: February 21, 2023
Publisher: Ghost Orchid Press
Genre: Horror, Short Stories
Synopsis:
A Blackness Absolute is a collection of previously unpublished short horror stories by up-and-coming Canadian author Caitlin Marceau. The collection takes in uncertainties of perception, feelings of vulnerability-to the weather, the natural world, the tenuousness of sanity-and mixes these elements with a strong sense of history and folklore. From the title piece, which evokes the pure claustrophobic terror of becoming lost and disoriented in a cave-system, to the final tale, Doireann, where a woman performs unusual funeral rites in a starving community, each story layers ambiguities to create an unnerving effect that will get under your skin.
If you love great storytelling, creepy atmospherics, and stories that instil a sense of dread that will return to you in the dead of night, then you're sure to find something to enjoy in this masterful collection. These stories will linger long after you close the book.
The Backrooms by Matt Wildasin
Expected Publication Date: February 24, 2023
Publisher: Dandelion Publishing
Genre: Horror Sci-Fi
Synopsis:
Are you the real you?
After the turn of the century, life as we knew it carried on without the threat of a computerized apocalypse.
Except, that's what we were meant to believe.
A few people woke up and began experiencing odd glitches in everyday life. Then, they started seeing a white cat, and before they knew it they found themselves lost in an anomaly known as…
the backrooms.
Now, you find yourself trapped in the yellow corridors, with only the letters of a few survivors to guide you.
Can you escape?
---
She Is a Haunting by Trang Thanh Tran
Expected Publication Date: February 28, 2023
Publisher: Bloomsbury
Genre: Horror
Synopsis:
A house with a terrifying appetite haunts a broken family in this atmospheric horror, perfect for fans of Mexican Gothic.
When Jade Nguyen arrives in Vietnam for a visit with her estranged father, she has one goal: survive five weeks pretending to be a happy family in the French colonial house Ba is restoring. She's always lied to fit in, so if she's straight enough, Vietnamese enough, American enough, she can get out with the college money he promised.
But the house has other plans. Night after night, Jade wakes up paralyzed. The walls exude a thrumming sound, while bugs leave their legs and feelers in places they don't belong. She finds curious traces of her ancestors in the gardens they once tended. And at night Jade can't ignore the ghost of the beautiful bride who leaves her cryptic warnings: Don't eat.
Neither Ba nor her sweet sister Lily believe that there is anything strange happening. With help from a delinquent girl, Jade will prove this house—the home her family has always wanted—will not rest until it destroys them. Maybe, this time, she can keep her family together. As she roots out the house's rot, she must also face the truth of who she is and who she must become to save them all.
---
A to Z of Horror by Kevin J Kennedy
Expected Publication Date: February 28, 2023
Publisher: KJK Publishing
Genre: Horror Short Stories
Synopsis:
Praise for Kevin J. Kennedy's A to Z of Horror

'This tome by Kevin Kennedy is a veritable cornucopia of macabre entertainment, and a lot of bang for your buck. The author creatively covers all the bases of horror, from the pathological to the apocalyptic to the downright extreme. There's something for everyone in this big juicy collection!' – Edward Lee, author of Ouija Pig and The Bighead.

'If only there were more letters in the alphabet to satisfy my craving for Kevin J. Kennedy's work! As it is, these 26 entries run the gambit of every kind of horror-reading pleasure: cruel twists, harrowing frights, and a taste for the darkness that lingers so deep in all our souls.' – Eric J. Guignard, award-winning author and editor, including That Which Grows Wild and Doorways to the Deadeye.

'Kennedy is becoming a titan of the genre, dominating charts and putting out continuous, strong work. If you haven't checked him out yet, you really need to. There's plenty to choose from.' – Andrew Lennon, author of A Life to Waste.

'Kennedy's work has a visceral grittiness that you just can't shake. I think we have horror's answer to Irvine Welsh.' – Lee Mountford, author of Horror in the Woods.

'Kennedy is a storyteller's storyteller. Each tale brims with anticipation; for the extreme, for the grotesque, for the delicate and emotional. This collection has something for everyone and will take you places unexpected. In a sea of constant releases, I think this one will rise above.' – Steve Stred, Splatterpunk-Nominated author of 'Sacrament' and 'Mastodon.'
---
Horror Books That Published in March 2023
---
Illusions of Isolation by Brennan LaFaro
Expected Publication Date: March 1, 2023
Publisher: French Press
Genre: Horror, Short Stories
Synopsis:
Is anyone ever really alone?
When a young man's wife goes away for the weekend, he lies awake all night wondering what the otherworldly sound in the attic is and why only he can hear it.
After her husband's death, a mother who interacts with her son exclusively through stationery notes grapples with the strange ways her lost love seems to be haunting them both.
And inch by inch, room by room, a young girl's home is overtaken by a savage jungle, even while her parents are being gradually replaced by somewhat…wilder housemates.
In this debut collection Brennan LaFaro, the author of NOOSE and SLATTERY FALLS, brings you these stories of creeping dread and much, much more. Contained within are thirteen tales of horror, humor, and heart, (including nine which have never before seen the light of day) and an introduction by the legendary Jonathan Janz.
Is anyone ever really alone? Or are they merely suffering…
ILLUSIONS OF ISOLATION
---
Every Woman Knows This by Laurel Hightower
Expected Publication Date: March 3, 2023
Publisher: Death Knell Press
Genre: Horror, Short Stories
Synopsis:
A never-ending storm rages, tossing a dark and bottomless sea. Tentacled beasts reach from every direction, a battle at every turn, but they've chosen the wrong target. Armed with teeth and sharp weapons of her own, she'll fight until there's nothing left, and then she'll pick herself up and fight again. For this is what we do.
Laurel Hightower, author of Below and Crossroads, delivers the blow that shatters the glass ceiling into twenty deadly shards-each reflecting horrors faced by women. Unwelcomed advances from dangerous men. The unbearable weight of motherhood. A goddess pushed to her limits. The inescapable responsibilities of being a caretaker, even beyond the grave.
Dive in for Hightower's most beloved short stories, all brought together in one collection which includes five brand new tales. Navigate the stormy waters of womanhood with caution as you are about to experience the horrors that every woman knows.
---
The Trees Grew Because I Bled There by Eric LaRocca
Expected Publication Date: March 7, 2023
Publisher: Titian Books
Genre: Horror, Short Stories
Synopsis:
Eight stories of literary dark fiction from a master storyteller. Exploring the shadow side of love, these are tales of grief, obsession, control. Intricate examinations of trauma and tragedy in raw, poetic prose. In these narratives, a woman imagines horrific scenarios whilst caring for her infant niece; on-line posts chronicle a cancer diagnosis; a couple in the park with their small child encounter a stranger with horrific consequences; a toxic relationship reaches a terrifying resolution…
Originally published under the title The Strange Thing We Become and Other Dark Tales, this is a much-praised collection of deeply unsettling, painfully dark tales.
---
Hell on High by Michael Clark
Expected Publication Date: March 9, 2023
Publisher: Brigids Gate Press, LLC
Genre: Survival Horror
Synopsis:
Prepare for adventure as Juliana, a nineteen-year-old Brazilian, finds herself forced to run from an occult overlord, leaving her sister in peril. Temporarily safe, Juliana works to save money for Vilma's rescue—and along the way, meets Patrick, a rich-boy mountain climber with friends in high places.

Angus Addison wants to see his corporate flag on the summit of Mount Everest—carried there by the first woman in history—but the Himalayas are no joke. Failure could cost both sisters their lives.

Juliana weighs the risks and rewards—for even if she raises the cash, she still must figure a way to free Vilma from the same man she ran from—a man known to his disciples as The Farmer.
---
Alien: Enemy of My Enemy: An Original Novel Based on the Films from 20th Century Studios by Mary SanGiovanni
Expected Publication Date: March 14, 2023
Publisher: Titan Books
Genre: Sci-Fi Horror
Synopsis:
The moon on which it was built hurtles toward an inevitable collision with the dead planet Hephaestus. The clock is ticking, yet when a distress signal arrives from a Weyland-Yutani biowarfare outpost, a desperate plan is launched to evacuate the trapped scientists. Meanwhile, across the galaxy a mysterious black substance rains down on Earth settlements, creating hideous monsters from indigenous creatures… and from human beings. Terran governments point the accusing finger at one another.Thus on LV-846—a United Americas colony—high-level talks convene to address the galaxy-wide hostilities, but there's a plot brewing among the participants. One which could plunge the colonies into all-out war. The only hope for peace may lie with the deadliest ally imaginable…
---
Red London by Alma Katsu
Expected Publication Date: March 14, 2023
Publisher: G.P. Putnam's Sons
Genre: Suspense, Thriller
Synopsis:
CIA agent Lyndsey Duncan's newest asset might just be her long-needed confidante…or her greatest betrayal.
After her role in taking down a well-placed mole inside the CIA, Agent Lyndsey Duncan arrives in London fully focused on her newest Russian asset, deadly war criminal Dmitri Tarasenko. That is until her MI6 counterpart, Davis Ranford, personally calls for her help.
Following a suspicious attack on Russian oligarch Mikhail Rotenberg's property in a tony part of London, Davis needs Lyndsey to cozy up to the billionaire's aristocratic British wife, Emily Rotenberg. Fortunately for Lyndsey, there's little to dissuade Emily from taking in a much-needed confidante. Even being one of the richest women in the world is no guarantee of happiness. But before Lyndsey can cover much ground with her newfound friend, the CIA unveils a perturbing connection between Mikhail and Russia's geoplitical past, one that could upend the world order and jeopardize Lyndsey's longtime allegiance to the Agency.
Red London is a sharp and nuanced race-against-the-clock story ripped from today's headlines, a testament to author Alma Katsu's thirty-five-year career in national security. It's a rare spy novel written by an insider that feels as prescient as it is page-turning and utterly unforgettable.
---
The Shoemaker's Magician by Cynthia Pelayo
Expected Publication Date: March 22, 2023
Publisher: Agora Books
Genre: Horror, Supernatural
Synopsis:
A fabled lost movie. An increasing body count. How much do you risk for art?
Paloma has been watching the Grand Vespertilio Show her entire life. Grand, America's most beloved horror host showcases classic, low-budget and cult horror movies with a flourish, wearing his black tuxedo and hat, but Paloma has noticed something strange about Grand, stranger than his dark make-up and Gothic television set.
After Paloma's husband, a homicide detective, discovers an obscure movie poster pinned on a mutilated corpse on stage at the Chicago Theater, she knows that the only person that can help solve this mystery is Grand. When another body appears at an abandoned historic movie palace the deaths prove to be connected to a silent film, lost to the ages, but somehow at the center of countless tragedies in Chicago.
The closer Paloma gets to Grand she discovers that his reach is far greater than her first love, horror movies, and even this film. And she soon becomes trapped between protecting a silent movie that's contributed to so much death in her city and the life of her young son.
---
The Sum Of Your Flesh by Beverley Lee
Expected Publication Date: March 23, 2023
Publisher: Ink Raven Press
Genre: Horror, Occult Horror
Synopsis:
Haven Ford arrives in the small village of Mortimer West on the back of a troubled voicemail asking for his help. But the baggage he carries is far more than the rucksack slung over his shoulder.
Rafferty Henderson has lived his whole life in the gatehouse cottage at the edge of the woods. It's a safe space for a boy with strange eating habits, until his brother's death sends his whole world spiralling into a twisted nest of persecution and unanswered questions.
Meredith Evans is a woman returning to her roots, but this is no cosy revisit. This is a return to lay the nightmare of her childhood to rest. Or, at least, to gain a better understanding of it.
When graves start to collapse in the cemetery and the whispers from the villagers become accusations against Rafferty, Haven finds himself in the midst of an unfolding horror with its seeds firmly planted in the past—a past that will take him down with it, a past that wants to drown him.
For beneath this village lies a terrible secret. A secret that refuses to die. A secret discarded over a hundred years ago by the sole survivor of a doomed Arctic voyage, a man whose blood flows in Rafferty Henderson's veins.
---
A House With Good Bones by T. Kingfisher
Expected Publication Date: March 28, 2023
Publisher: Tor Nightfire
Genre: Horror
Synopsis:
Mom seems off.
"Her brother's words echo in Sam Montgomery's ear as she turns onto the quiet North Carolina street where their mother lives alone.
She brushes the thought away as she climbs the front steps. Sam's excited for this rare extended visit, and looking forward to nights with just the two of them, drinking boxed wine, watching murder mystery shows, and guessing who the killer is long before the characters figure it out.
But stepping inside, she quickly realizes home isn't what it used to be. Gone is the warm, cluttered charm her mom is known for; now the walls are painted a sterile white. Her mom jumps at the smallest noises and looks over her shoulder even when she's the only person in the room. And when Sam steps out back to clear her head, she finds a jar of teeth hidden beneath the magazine-worthy rose bushes, and vultures are circling the garden from above.
To find out what's got her mom so frightened in her own home, Sam will go digging for the truth. But some secrets are better left buried.
---
The Unicorn Killer by Candace Nola
Expected Publication Date: End of March, 2023
Genre: Horror
Synopsis:
Frank Franklin has one goal in life, to be the world's most memorable serial killer. But he's grown bored with his routine and craves something fresh and inspiring.
He longs for something that will cement his place in the history books.
A late-night infomercial might be the answer to his prayers, in a most unexpected way.
---
Horror Books That Published in April 2023
---
LINGHUN by Ai Jiang
Expected Publication Date: April 4, 2023
Publisher: Dark Matter
Genre: Gothic Horror
Synopsis:
Follow Wenqi, Liam, and Mrs. in this modern gothic ghost story by Chinese-Canadian writer and immigrant, Ai Jiang. LINGHUN is set in the mysterious town of HOME, a place where the dead live again as spirits, conjured by the grief-sick population that refuses to let go.
Jiang is widely considered to be one of the most exciting young voices in science fiction, fantasy, and horror. LINGHUN will be her debut novella.
Note: LINGHUN is Ai's debut novella.
---
Forbidden Magic: The Cellar Door Issue #2 edited by Aric Sundquist
Expected Publication Date: April 4, 2023
Publisher: Dark Peninsula Press
Genre: Horror, Short Stories
Synopsis:
Forbidden Magic is the second issue of The Cellar Door anthology series from Dark Peninsula Press. Featuring ten stories of dark fiction exploring themes of black magic, voodoo, and witchcraft.

With stories by: Patrick Barb, Michael Harris Cohen, Serena Jayne, Ryan Marie Ketterer, Gwendolyn Kiste, Lynne M. MacLean, Ville Meriläinen, Scotty Milder, Jaye Nasir, and Michelle Tang. Compiled and edited by Aric Sundquist. Cover artwork by Mikio Murakami.

Embrace the dark, and join the coven…
---
The Haunting of Alejandra by V. Castro
Expected Publication Date: April 18, 2023
Publisher: Del Rey Books
Genre: Historical Horror, Gothic Horror
Synopsis:
A woman is haunted by the Mexican folk demon La Llorona as she unravels the dark secrets of her family history in this ravishing and provocative horror novel.
Alejandra no longer knows who she is. To her husband, she is a wife, and to her children, a mother. To her own adoptive mother, she is a daughter. But they cannot see who Alejandra has become: a woman struggling with a darkness that threatens to consume her.
Nor can they see what Alejandra sees. In times of despair, a ghostly vision appears to her, the apparition of a crying woman in a ragged white gown.
When Alejandra visits a therapist, she begins exploring her family's history, starting with the biological mother she never knew. As she goes deeper into the lives of the women in her family, she learns that heartbreak and tragedy are not the only things she has in common with her ancestors.
Because the crying woman was with them, too. She is La Llorona, the vengeful and murderous mother of Mexican legend. And she will not leave until Alejandra follows her mother, her grandmother, and all the women who came before her into the darkness.
But Alejandra has inherited more than just pain. She has inherited the strength and the courage of her foremothers–and she will have to summon everything they have given her to banish La Llorona forever.
---
Bound in Flesh: An Anthology of Trans Body Horror edited by Lor Gislason
Expected Publication Date: April 18, 2023
Publisher: Ghoulish Books
Genre: Horror, Anthology
Synopsis:
BOUND IN FLESH: An Anthology of Trans Body Horror brings together 13 trans and non-binary writers, using horror to both explore the darkest depths of the genre and the boundaries of flesh. A disgusting good time for all! Featuring stories by Hailey Piper, Joe Koch, Bitter Karella, and others. Edited by Lor Gislason.
---
The Vile Thing We Created by Robert P. Ottone
Expected Publication Date: April 18, 2023
Publisher: Hydra Publications
Genre: Horror
Synopsis:
Lola and Ian had what they thought was the perfect relationship. Vacations. Fine dining. A
healthy sex life.
But when their childless lifestyle begins impacting their social lives, they decide to take the
natural next step.
But what happens when that next step cracks the perfect foundation Lola and Ian have built?
What happens when that next step is anything but natural?
Robert P. Ottone's The Vile Thing We Created is a terrifying vision of parenthood in the tradition
of Ira Levin and Thomas Tryon.
---
This Delicious Death by Kayla Cottingham
Expected Publication Date: April 25, 2023
Publisher: Sourcebooks Fire
Genre: Horror
Synopsis:
Two years ago, a small percentage of population underwent a transformation known as the Hollowing. Those affected were only able to survive by consuming human flesh. The people who went without quickly became feral, turning on their friends and family. Luckily, scientists were able to create a synthetic version of human meat that would satisfy their hunger. As a result, humanity slowly began to return to normal.
Cut to Zoey, Celeste, Valeria, and Jasmine, four hollow girls living in Southern California. As a last hurrah before graduation they decide to attend a musical festival in the heart of the desert. They have a cooler filled with seltzer, vodka, and Synflesh… and are ready to party.
But on the first night of the festival Val goes feral and ends up killing and eating a boy in one of the bands. As other festival guests start disappearing around them the girls soon discover someone is targeting people like them. And if they can't figure out how to stop it, and soon, no one at the festival is getting out alive.
---
The Merry Dredgers by Jeremy C. Shipp
Expected Publication Date: April 25th, 2023
Publisher: Meerkat Press
Genre: Paranormal/Dark Fantasy
Synopsis:
Seraphina Ramon will stop at nothing to find out the truth about why her sister Eff is in a coma after a very suspicious "accident." Even if it means infiltrating the last place Seraphina knows Eff was alive: a once-abandoned amusement park now populated by a community of cultists.
Follow Seraphina through the mouth of the Goblin: To the right, a wolf-themed roller coaster rests on the blackened earth, curled up like a dead snake. To the left, an animatronic Humpty Dumpty falls off a concrete castle and shatters on the ground, only to reform itself moments later. Up ahead, cultists giggle as they meditate in a hall of mirrors. This is the last place in the world Seraphina wants to be, but the best way to investigate this bizarre cult, is to join them.
---
Neverest by T.L. Bodine
Expected Publication Date: April 25th, 2023
Publisher: Ghost Orchid Press
Genre: Horror
Synopsis:
One year ago, Sean Miller—journalist and mountain climbing enthusiast—reached the summit of Mount Everest and was never seen again. Unable to move on without knowing the truth of what happened, his widow Carrie insists on an expedition to search for Sean's body so it can be properly laid to rest. Tom, Sean's best friend and former climbing partner, agrees to serve as expedition guide and promises to keep Carrie safe on the mountain, despite their complicated relationship history.
Guided by a travel journal left behind by her husband, Carrie ventures into the frozen, open-air graveyard of the world's tallest peak. But as Sean's diary and Carrie's experiences reveal, climbing the mountain is more than a test of endurance; it's a battle of wills with an ancient and hostile force protecting the mountain—and the dead do not rest easy at the summit.
NEVEREST is a survival thriller with a hint of the supernatural that will appeal to fans of Ally Wilkes' All the White Spaces and Amy McCulloch's Breathless.
---
Tales From The Southern Fried Crypt – Book Two by Ronald Kelly
Expected Publication Date: April 2023
Publisher: Crossroads Press
Genre: Horror
Synopsis:
Book Two of Ronald Kelly's EC Comic-inspired Southern Fried story collections will find the Old Storyteller in the fetid swamps of Louisiana. Nine terrifying tales of dark bayous, voodoo, and creatures who lurk and roam among the water-logged cypress and Spanish moss. It will also feature ten black and white comic book-style illustrations by the author, as well as two pages of retro comic book advertisements in the back.
Horror Books That Published in May 2023
---
The Salt Grows Heavy by Cassandra Khaw
Expected Publication Date: May 2, 2023
Publisher: Tor Nightfire
Genre: Horror, Dark Fantasy
Synopsis:
After murdering her husband and burning his kingdom to cinders, a mermaid joins a strange doctor on a journey through the eerie taiga. Deep in the woods, the pair stumble upon a village, full of seemingly ageless children and the three surgeons who oversee them–called only "the saints."
After discovering the villagers' taste for a sinister blood sport, the mermaid and her companion must embrace the darkest parts of their true nature, if they hope to survive.
---
Conjuring the Witch by Jessica Leonard
Expected Publication Date: May 2, 2023
Publisher: Ghoulish Books
Genre: Horror, Witches
Synopsis:
There are witches in the woods. These are the words the reverend of the Lilin Assembly of Our Lord repeats to his parishioners each week. Steve and Nicole Warby think it's just a metaphor, until Nicole takes a walk in those woods and comes back changed. Something came out of them with her, and the simple small-town life they've always known is forever altered when they discover the dark secrets buried deep and those intent on keeping them there. Fearing for his wife's sanity, and his own comfortable status in the church, Steve is unsure if he wants to help or ignore the problems. The reverend believes there are witches in the woods, and he thinks Nicole is only the most recent.
Conjuring the Witch is a dark, haunted story about what those in power are willing to do to stay in power, and the sins we convince ourselves are forgivable.
---
Horror Books Published in June 2023
---
The World You Loved (Slattery Falls Book 3) by Brennan LaFaro
Expected Publication Date: June 13, 2023
Publisher: Crossroad Press
Genre: Horror, Supernatural
Synopsis:
Following the events of Decimated Dreams, Travis and Elsie reunite with their daughter, April. Only the world has changed while they were gone.
Officer Metcalf and her wife, Penny, have kept April from harm, but when Travis and Elsie return, the shadow of Robert Weeks lurks around every corner.
Brought together by fate, the group prepares to make a final stand that will take them between dimensions, into the past, and to the chilling House of the Phantoms. Sacrifices will be made and strength tested as they desperately seek to find a way to defeat Robert Weeks in his own world, a haunted reflection of Slattery Falls
Brace yourself for the thrilling, emotional final chapter of the Slattery Falls trilogy.
How tight can you hold onto something you can't keep?
---
House of Rot by Danger Slater
Expected Publication Date: Jun 14, 2023
Publisher: Tenebrous Press
Genre: Psychedelic Splatter
Synopsis:
The pink mold growing on the walls isn't the worst thing about Elenya and Myles' brand new fixer upper.
There's also the inexplicable footsteps in the night; the sealed-over windows and doors; the neighbor that hears their screams but can't be bothered to help.
Soon, there's no leaving at all. No hope of cleaning. And that encroaching mold? It's practically become a second skin.
Welcome to the House of Rot. You're never getting out.
---
Night's Edge by Liz Kerin
Expected Publication Date: June 20, 2023
Publisher: Tor Nightfire
Genre: Horror, Vampires
Synopsis:
MOMS CAN REALLY SUCK.
Having a mom like Izzy meant Mia had to grow up fast. No extracurricular activities, no inviting friends over, and definitely no dating. The most important rule: tell no one of Izzy's hunger – the one only blood can satisfy.
But Mia is tired of being her mother's keeper. She's in her twenties now and secretly longs for a life of her own. One where she doesn't have to worry about anyone discovering their terrible secret, or breathing down her neck. When Mia meets rebellious musician Jade she dares to hope she's found a way to leave her home – and her mom – behind.
It just might be Mia's only chance of getting out alive.
---
Everything the Darkness Eats by Eric LaRocca
Expected Publication Date: June 20, 2023
Publisher: Clash Books
Genre: Horror, Occult & Supernatural, Gothic Horror
Synopsis:
Evil waits for the unsuspecting in the small town of Henley's Edge, Connecticut after a recent string of unexplained disappearances.
Lives are interwoven and transformed forever when pacts are drawn, deals are made, and when hatred is left unrestrained. Some will succumb to the darkness that lurks in the cellar of Mr. Heart Crowley's home, others will resist, and some will face a truly remarkable being–creator of tides, vessel of infinity, eater of darkness.
---
The Only One Left by Riley Sager
Expected Publication Date: June 20, 2023
Publisher: Dutton
Genre: Thriller
Synopsis:
At seventeen, Lenora Hope
Hung her sister with a rope
Now reduced to a schoolyard chant, the Hope family murders shocked the Maine coast one bloody night in 1929. While most people assume seventeen-year-old Lenora was responsible, the police were never able to prove it. Other than her denial after the killings, she has never spoken publicly about that night, nor has she set foot outside Hope's End, the cliffside mansion where the massacre occurred.
Stabbed her father with a knife
Took her mother's happy life
It's now 1983, and home-health aide Kit McDeere arrives at a decaying Hope's End to care for Lenora after her previous nurse fled in the middle of the night. In her seventies and confined to a wheelchair, Lenora was rendered mute by a series of strokes and can only communicate with Kit by tapping out sentences on an old typewriter. One night, Lenora uses it to make a tantalizing offer—I want to tell you everything.
"It wasn't me," Lenora said
But she's the only one not dead
As Kit helps Lenora write about the events leading to the Hope family massacre, it becomes clear there's more to the tale than people know. But when new details about her predecessor's departure come to light, Kit starts to suspect Lenora might not be telling the complete truth—and that the seemingly harmless woman in her care could be far more dangerous than she first thought.
---
The Shrouded Tome: Ten Forgotten Fables by Ronald Kelly
Expected Publication Date: Jun 16 from Godless & June 30th from Amazon
Publisher: D&T Publishing
Genre: Horror Short Stories
Synopsis:
Within this dark crypt, lie stories long untold…
These are the forgotten fables… tales that have suffered the fate of premature burial. Shrouded and unceremoniously laid to rest. Stories that languish in deep shadow and tattered cobweb, abandoned and unread.
Within these pages, you will find ten such yarns of Southern horror. Novellas, novelettes, and short stories that appeared briefly in limited editions and bygone periodicals, then faded into obscurity and became relics of the past.
In this volume, Ronald Kelly lifts the shroud to give you a peek underneath. Like the good Doctor Frankenstein, he has sewn these lost tales together and resurrected them into a palpable and bone-chilling collection, to live and breathe, unnerve and horrify once again.
---
Horror Books Published in July 2023
---
At the End of Every Day by Arianna Reiche
Expected Publication Date: July 4th 2023
Publisher: Atria Books
Synopsis:
Delphi has spent years working at a vast and iconic theme park in California after fleeing a trauma in her rural hometown. But following the disturbing death of a beloved Hollywood starlet on the park grounds, Delphi is tasked with shuttering it for good.
Meanwhile, two siblings with ties to the park exchange letters, trying to understand why people who work there have been disappearing. Before long, they learn that there's a reason no one is meant to see behind its carefully guarded curtain…What happens when the park empties out? And what happens when Delphi, who seems remarkably at one with it, is finally forced to leave?
Simultaneously "a smart and surprising escape room of a novel" (Matt Bell, author of Appleseed) about the uncanny valley, death cults, optical illusions, and the enduring power of fantasy, Reiche's debut is a mind-bending teacup ride through an eerily familiar landscape, where the key to it all is what happens at the end of every day.
---
DISASTERPIECES by Wesley Southard and Wile E. Young
Expected Publication Date: July 4, 2023
Publisher: South of Heaven Press
Genre: Horror
Synopsis:
Disasters come in all shapes and sizes. They can be as intimate as a house fire. As unpredictable as a sinkhole. As random as a car crash. Or as overwhelming as a landslide.
But what about the bigger ones? The ones that can affect hundreds―if not thousands―of people all at once. The ones that trigger wide-spread destruction and disorder. That push ordinary individuals to their limits, forcing them to rise above the devastation…or drown in the disarray and hysteria.
Award-winning authors Wesley Southard and Wile E. Young bring you "Everybody Wants to Rule the World" and "Rivers of Mercy", two brand new novellas of natural and man-made catastrophes, and the fateful souls thrust into their unpredictable chaos.
Disasterpieces… The damage isn't the only thing to be frightened of…
---
Pitfall by Ronald Kelly
Expected Publication Date: July 6, 2023
Publisher: Macabre Ink
Genre: Supernatural Horror
Synopsis:
Includes the bonus short story "Last of the Chupacabra" BLOOD SPORT They were called diablos hoyos. Vicious black-furred beasts that fought in the pit with the raw fury and savage ferocity of Satan himself. For their owners, they were a lucrative investment. For the people of Sulphur Springs, Texas, they were the best entertainment they'd had in a long while. For Bowie Kane, they were his darkest nightmare come true. He alone recognized the dark and ravenous evil that his Apache ancestors had foretold. But Bowie Kane was an outsider in Sulphur Springs. No one would listen to his warnings. And now it was too late to avert the rampage of carnage and terror unleashed on an unsuspecting town.
---
The After-Death of Caroline Rand Catherine Cavendish
Expected Publication Date: July 11, 2023
Publisher: Flame Tree Press
Genre: Dark Fantasy/Gothic Horror
Synopsis:
At a weekend house-party at ancient Canonbury Manor, Alli is caught between fantasy and reality, past and present, in the life of Caroline Rand, a famous singer from the late Sixties, who reportedly killed herself in that house. Alli soon learns that evil infests the once-holy building. A sinister cabal controls it, as it has for centuries. Before long, her fate will be sealed, and she will learn about her role in the after-death of Caroline Rand.
It begins with a chilling greeting: "Welcome to The Columbine, Miss Sinclair. You are expected."
---
Melon Head Mayhem: A Novella (Killer VHS Series, #1) by Alex Ebenstein
Expected Publication Date: July 11, 2023
Publisher: Shortwave Media
Genre: Horror
Synopsis:
Have you ever wanted to live inside your favorite horror film? Prove you have what it takes to fight Freddy? Destroy Jason? Mangle Michael?

Cousins Carson and Sophia are in town for their grandma's funeral and are, unknowingly, about to live out the nightmare that is every horror fan's dream.

After they find an old unfamiliar VHS tape tucked away in grandma's house, they figure the worst that can happen is a few cringeworthy moments and 90 minutes wasted. Instead, the video summons the movie monsters—local urban legends called melon heads—into their very real lives!

The destruction caused by the blood thirsty melon heads has Carson and Sophia fighting to survive and sets them on a deadly path to the shores of Lake Michigan, home of the devilish beasts. They vow to destroy every last one of the melon heads and make sure these monsters never get a sequel.

Will they survive? Would you fare better?

It's a creature feature. It's a throwback. It's… MELON HEAD MAYHEM!
---
The Beast You Are: Stories by Paul Tremblay
Expected Publication Date: July 11, 2023
Publisher: William Morrow & Company
Genre: Horror, Supernatural
Synopsis:
Paul Tremblay has won widespread acclaim for illuminating the dark horrors of the mind in novels and stories that push the boundaries of storytelling itself. The fifteen pieces in this brilliant collection, The Beast You Are, are all monsters of a kind, ready to loudly (and lovingly) smash through your head and into your heart.
In "The Dead Thing," a middle-schooler struggles to deal with the aftermath of her parents' substance addictions and split. One day, her little brother claims he found a shoebox with "the dead thing" inside. He won't show it to her and he won't let the box out of his sight. In "The Last Conversation," a person wakes in a sterile, white room and begins to receive instructions via intercom from a woman named Anne. When they are finally allowed to leave the room to complete a task, what they find is as shocking as it is heartbreaking.
The title novella, "The Beast You Are," is a mini epic in which the destinies and secrets of a village, a dog, and a cat are intertwined with a giant monster that returns to wreak havoc every thirty years.
A masterpiece of literary horror and psychological suspense, The Beast You Are is a fearlessly imagined collection from one of the most electrifying and innovative writers working today.
---
Horror Books Published in August 2023
---
The Wild Fall by Katherina Silva
Expected Publication Date: August 3, 2023
Publisher: Strange Wilds Press
Genre: Supernatural Survival Horror
Synopsis:
It has been ten years since the Merging, since the Woods began taking over the world, since ghosts returned to haunt their loved ones. Liz Raleigh has hidden in the New England wilderness with Hank, his daughter, Evie, and their small group, trying to eke out a small but normal life. Though Liz longs to forget the time she spent attached to her best friend and lover, Brody's ghost, she finds herself pursued by a shadow of his former self and dreams of a life they could have lived together had he not died.

The Woods and the wolves that live inside them continue to threaten the group's existence, looming closer every day. Liz feels drawn to them, to the feeling that deep inside the trees is a way to end the reign the Woods have over the world. What's worse is that they seem different inside, darker and emptier than when she visited them years before.

Hope comes in the discovery of a self-sustained community, Onyx River: a place run by wind and solar power where other colonies have supposedly fled to with the opportunity to live life the way they used to. Upon arrival, however, they find the place abandoned and, after tragedy strikes, they realize this place might not be as promising as they once believed.

Both Liz and Evie will face not only their worst fears but the ones they couldn't even imagine were lurking in the woodland oblivion.
---
101 Horror Books to Read Before You're Murdered by Sadie Hartmann
Expected Publication Date: August 8, 2023
Publisher: Page Street Publishing
Genre: Horror, Books & Reading
Synopsis:
For every reader who has excitedly wandered over to their local bookstore's horror section only to find a few measly shelves with books you've already read by authors you've already heard of, this book is for you! Sadie Hartmann, better known as "Mother Horror" online, has put together the ultimate list of must-read novels, without a single repeat author, so you can confidently build up your TBR list.
With books that span the genre's full spectrum, from paranormal hauntings to creepy death cults, and small-town terrors to apocalyptic disasters, Sadie demonstrates that horror is so much more than slasher stories full of blood and guts (though you're sure to find those inside too). Each recommendation is complete with a brief story summary, critical insight, and a featured quote to lure you in. And once you've made it through the list, fear not! Sadie includes plenty of resources and tips to find even more horror, such as bookstores with great selections or publishers to watch.
This reader's guide is the perfect gift for long-time fans of monsters and the macabre as well as a great introduction for curious readers who dare to delve into the dark.
---
The Silver Scream by Roy Merkin
Expected Publication Date: August 8, 2023
Publisher: Rare Bird Books
Genre: Horror Thriller
Synopsis:
They say it's hard getting into the movies…try getting out!
Fresh from the cutting room floor, The Silver Scream exposes the bloodiest behind-the-scenes details of the most gruesome, shocking, true-crime tragedy of our time. Part autopsy, part grisly director's "cut," this is the only book with a comprehensive exploration inside the mind of America's notorious, celluloid-obsessed, rock star turned cinema-copycat murderer, Spencer Charnas.
Bayonet Award-winning television reporter Roy Merkin is the only storyteller in possession of the journals scrawled by disgraced psychotherapist Dr. Ian Black. The Silver Scream reconstructs, with unflinching detail, how fiction became fact, art imitated death, and the most horrific movie murders by the likes of Jason, Leatherface, Freddy, Michael, and the rest became real. Merkin courageously slashes open the ghoulish mind and tortured nightmares of Spencer himself, probing deeply, with razor-sharp precision. Learn how the box office created so many oblong boxes. Understand why this rock n' roll heartthrob chose to stop so many human hearts.
---
Mosaic by Catherine McCarthy
Expected Publication Date: August 8, 2023
Publisher: Dark Hart Books
Genre: Horror Novella
Synopsis:
When a stained-glass artist embarks upon the restoration of a church window, her personal demons are put to the test when she unveils a conspiracy to reawaken a cosmic force.
MOSAIC is the new gothic horror novella from Catherine McCarthy, the acclaimed author of IMMORTELLE. Cover art by Devin Forst.
---
Mister Magic by Kiersten White
Expected Publication Date: August 8th
Publisher: Del Rey Books
Genre: Supernatural Thriller
Synopsis:
Thirty years after a tragic accident shut down production of the classic children's program Mister Magic, the five surviving cast members have done their best to move on. But just as generations of cultishly devoted fans still cling to the lessons they learned from the show, the cast, known as the Circle of Friends, have spent their lives searching for the happiness they felt while they were on it. The friendship. The feeling of belonging. And the protection of Mister Magic.
But with no surviving video of the show, no evidence of who directed or produced it, and no records of who–or what–the beloved host actually was, memories are all the former Circle of Friends has.
Then a twist of fate brings the castmates back together at the remote desert filming compound that feels like it's been waiting for them all this time. Even though they haven't seen each other for years, they understand one another better than anyone has since.
After all, they're the only ones who hold the secret of that circle, the mystery of the magic man in his infinitely black cape, and, maybe, the answers to what really happened on that deadly last day. But as the Circle of Friends reclaim parts of their past, they begin to wonder: Are they here by choice, or have they been lured into a trap?
Because magic never forgets the taste of your friendship. . . .
---
Her Teeth, Like Waves by Nikki R. Leigh
Expected Publication Date: August 15, 2023
Publisher: Spooky House Press LLC
Genre: Ocean Horror
Synopsis:
Kat answers the call of the ocean when her twin brother, Mitch, goes missing after a diving expedition. Traveling to his last logged destination, Kat along with her girlfriend, Jules, take on the tempestuous journey that leads to the mysterious deep of the ocean. In this emotional, weird horror, pseudo-creature feature novelette, Kat and Jules may sacrifice everything to force the unknown to the surface only so it might be buried again.
---
Silver Nitrate by Silvia Moreno-Garcia
Expected Publication Date: August 15, 2023
Publisher: Random House
Genre: Horror, Supernatural
Synopsis:
Montserrat has always been overlooked. She's a talented sound editor, but she's left out of the boys' club running the film industry in '90s Mexico City. And she's all but invisible to her best friend, Tristán, a charming if faded soap opera star, though she's been in love with him since childhood.
Then Tristán discovers his new neighbor is the cult horror director Abel Urueta, and the legendary auteur claims he can change their lives—even if his tale of a Nazi occultist imbuing magic into highly volatile silver nitrate stock sounds like sheer fantasy. The magic film was never finished, which is why, Urueta swears, his career vanished overnight. He is cursed.
Now the director wants Montserrat and Tristán to help him shoot the missing scene and lift the curse . . . but Montserrat soon notices a dark presence following her, and Tristán begins seeing the ghost of his ex-girlfriend.
As they work together to unravel the mystery of the film and the obscure occultist who once roamed their city, Montserrat and Tristán may find that sorcerers and magic are not only the stuff of movies.
---
What Happened At Hawthorne House by Hadassah Shiradski
Expected Publication Date: August 2023
Publisher: Brigids Gate Press
Genre: Gothic Horror
Synopsis: Stay tuned for more!
Note: This is Hadassah's debut novel!
---
Thanks for reading!
As always, feel free to let me know if a book you know about or have written should be added to this list!