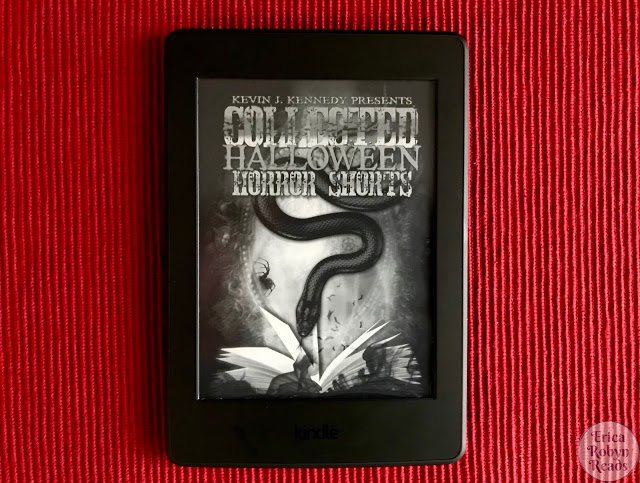 Collected Halloween Horror Shorts: Trick 'r Treat is a wonderful collection of short stories. Some of the stories are bizarre, some are brutal, some are sad, some are terrifying; this collection has something for any horror fan!
Full disclosure: I was given a free copy of this book from the authors in exchange for an honest review. This did not affect my rating in any way.
My Thoughts on Collected Halloween Horror Shorts: Trick 'r Treat
I usually struggle with short story collections. But in this case, I just couldn't put the book down! I was totally hooked and I absolutely loved most of the stories! Out of sixteen stories, there were only two that weren't really for me. The rest were thrilling in different ways.
Gosh, what an awesome collection! I can't wait to check out another collection soon!
And how cool is that cover!? It was designed by Lisa Vasquez.
Here are my rating breakdowns for each story:
Forward – Nev Murray
This is one of the best forwards I have ever read! I was already excited to dive in to this collection, but the forward made me even more excited! The first few sentences had me chuckling! And I totally agree with Nev, I believe Halloween is the most wonderful time of the year! I loved the slight personal touches as well as the compliments to the authors within the collection.
Christina Bergling – Black Widow – 4.5/5
Man, this one totally creeped me out! What a great story! The author totally nailed the college-bro persona.
Richard Chizmar – Mister Parker 5/5
Woah, this one was sad! Poor Mister Parker. I hate pranks!
Andrew Lennon – Girlfriend
Ah yes, the crazy ex! Always a terrifying story! Don't drink and drive folks! 4.5/5
Mark Lukens – The Coffin Man 5/5
So spooky! I loved the idea of this story. There's something about stories and not being able to look out windows that's always hit for me!
Suzanne Fox – The Devils Fruit 4/5
What a fun twist on the typical Halloween game, bobbing for apples!
Christopher Motz – The Halloween Playground 4/5
Woah! This was quite the dark story!
James Matthew Byers – Jenny Greenteeth 1/5
I'm just not a poetry fan…
Steven Stacy – Don't Fear the Reaper 2/5
I didn't care for this one. Too much teenage girl drama. I also wasn't really following the story at the start. Fans of the Halloween movies may have better luck with this story though.
This passage was pretty funny though:
"Yeah… hopefully. I think I'd be in a Stephen King book, myself. Really dark, fucked-up shit."
"I think you'd be in some random short story, if you were that lucky," Emma giggled again.
Mark Cassell – A Story of Amber 3/5
This one was bizarre and brutal!
Briana Robertson – Trick Turned Treat 0/5
Not a story for me.
Lisa Morton – Pumpkin Rex 5/5
I loved this one! What a fun tale! This needs to be a movie!!
J.C. Michael – The First Shot 4/5
While reading this one, I felt that it was setting something up. Sure enough; there's a note at the end of the story saying that it's a prequel for "You Only Get One Shot." Clever!
Stuart Keane – Hollowed Be Thy 2/5
Another one that's just not for me with the language.
Peter Oliver Wonder – Dressed For Success 3/5
The idea behind this story was so neat!! I wish it could have been just slightly longer to give us a better taste of the plot.
John R. Little – The Halloween Phantoms 3/5
Phew, another wicked sad one! But what an interesting plot.
Kevin J. Kennedy – Halloweenland 5/5
I'm a total sucker for any story that is set in an amusement park! This one was so awesome! The characters were lovely, the action was thrilling, and the plot was interesting! This one is going to be part of a series of tales, and I cannot wait to read more!
My Final Thoughts on Collected Halloween Horror Shorts: Trick 'r Treat
This is definitely a collection that I will be coming back to from time to time to reread! It was such a spooky collection! I can't wait to re-read it around Halloween!
---
Snag a copy through Bookshop to help support local indie bookshops:
Thanks for reading!
What is your favorite Halloween read?
Related Reading:
Feel free to also check out my reviews of his work below: