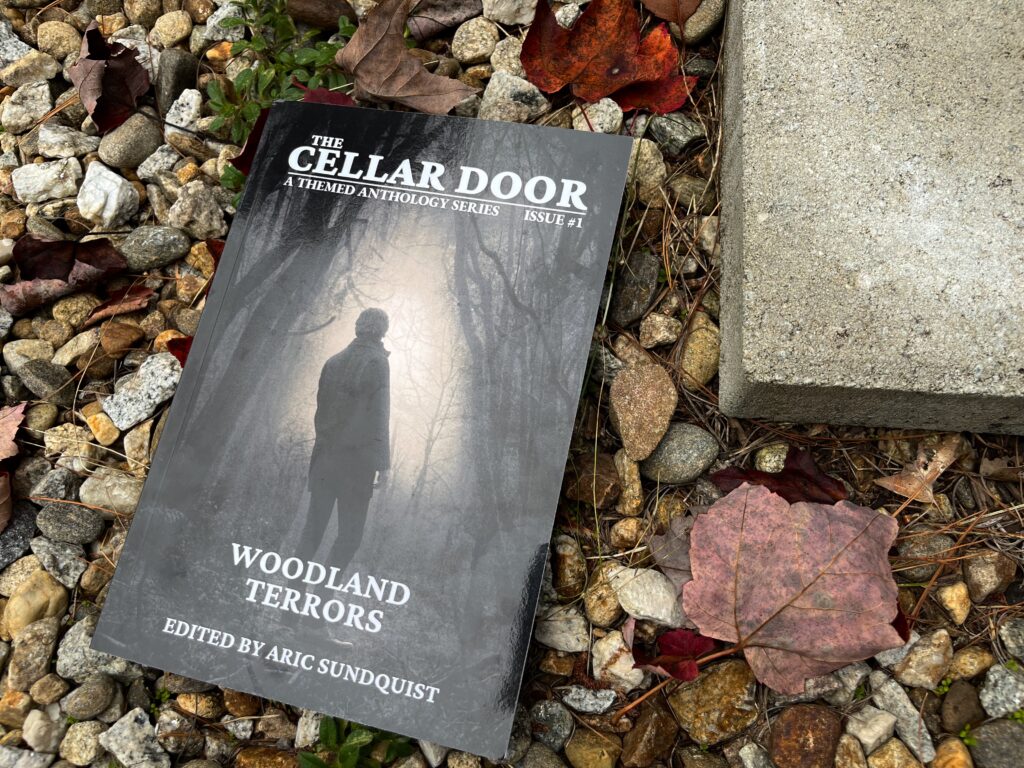 This collection of short stories is the first entry in this new anthology collection, The Cellar Door. This one, titled Woodland Terrors, is certainly not for readers that are afraid of the woods and what lives inside the tree-line.
Unless, of course, you want to try to face that fear here!
Let's dive in!
My Thoughts on Woodland Terrors: The Cellar Door Issue #1 edited by Aric Sundquist
This collection has an awesome range from the bizarre, to spooky paranormal, and even to heartbreak horror, plus so much more!
The cover artwork is by Mikio Murakami, and what a chilling cover it is! When looking at it, my eyes keep searching the trees, just waiting to see something hidden in there… ready to jump out!
As for the stories, my gosh what a collection! The first sentence or two of each tale will suck you right into the story. With each new beginning, I would read the first short bit and say, "another one!" It's like it was written in the guidelines that the first two sentences must draw readers right in!
Between stories, if I had to put the book down to go do something else, I had to force myself not to read the opening of the next story, just knowing there would be no putting it down after that!
Here are my notes on each story:
CIRCLES by Maggie Slater –
Haunted by the spirits of those that have passed, called the haints, this young girl is determined to protect her pregnant sister from them.
Unsettling right from the first sentence, this one just gets more and more intense as it goes. This poor girl only wanted to help and protect, but no one would listen to her.
---
LADDERS by Douglas Ford –
Distressed by the recent new houses being built near his once wooded home, this man goes out one night and trips over a ladder. But the ladder wasn't just lying on the ground, it was going down into the ground. Climbing down, he's shocked at what he finds. But what's worse, is now they know he knows what's going on.
This one was so creepy. When he first went down the ladder I was so nervous. It only got worse from there!
---
RED MOON LODGE by S.R. Miller –
While on a hiking trip, one of the hikers injured his leg which slows their progress down. But these hikers are about to learn that there's much more to fear that just falling behind.
This was so terrifying! Overnight hikes freak me out to begin with. But then add in an injury and two missing people?! No thank you! And of course, there was much more terror there as well!
---
GIANT KILLER by Amelia Gorman –
A story told between the two perspectives, a giant and and giant killer, readers learn about the family feud they uphold.
This story had some beautiful lines! The horror around the passage of time and change was really heartbreaking.
---
GHOST FOREST by Mark Wheaton –
Determined to leave and find a home elsewhere, this family has no choice but to try to pass through the ghost forest. After a shot time, they quickly realize that there is much more to fear than the government and bears in these woods.
This story is heartbreaking and so tense right from page one. I wanted a happy ending here so badly!
---
ONE RED SHOE by Scott Paul Hallam –
On the anniversary of their son having gone missing, this couple makes a shocking discovery in their backyard. One of their sons shoes has appeared. Then they think they hear his voice coming from the woods. Desperate, they rush in.
This story was heartbreaking and terrifying. The thought of losing a kid is enough, but add onto that the terror of the woods and you've got one heck of a horror story! And it only kept getting darker!
---
THE SISTERS by Ai Jiang –
Every person in this village must go to see The Sisters in order to face their fears. When it's this young child's turn, they have no idea what they are about to face as they fear many things. But on the walk back to the village, they realize many things that totally changes their perspective of their family and the town.
What a fun play on fears! I was so nervous to see where this one would go. When we got to the reveal, I wanted to cheer!
---
BLISTERS by Scotty Milder –
Living in the woods after something had gone down, this family lives off the land with the constant threat of bad guys coming. But who really was the bad guy here?
This one was so unsettling and sad! As a reader, you can tell that something is off, but you're not sure just what that is.
---
PIGFOOT by Daniel Barnet –
Forced to move to a small town, this teen is told a local story about Pigfoot. But little does the teen know, the story hits much closer to home.
Another terrifying and sad one! A tale about fire, searching, and fatherhood.
---
My Final Thoughts on Woodland Terrors: The Cellar Door Issue #1
I highly recommend picking this one up and reading it as soon as you can. The stories are just too good to allow this one to sit on your TBR.
But be warned, this is a collection to avoid if you've got a camping trip or any woods-focused activity coming up. For once, I'm glad we bought a house with neighbors within sight.
---
Snag a copy today!
The publisher, Dark Peninsula Press, sells copies directly! Click here to order your copy of Woodland Terrors!