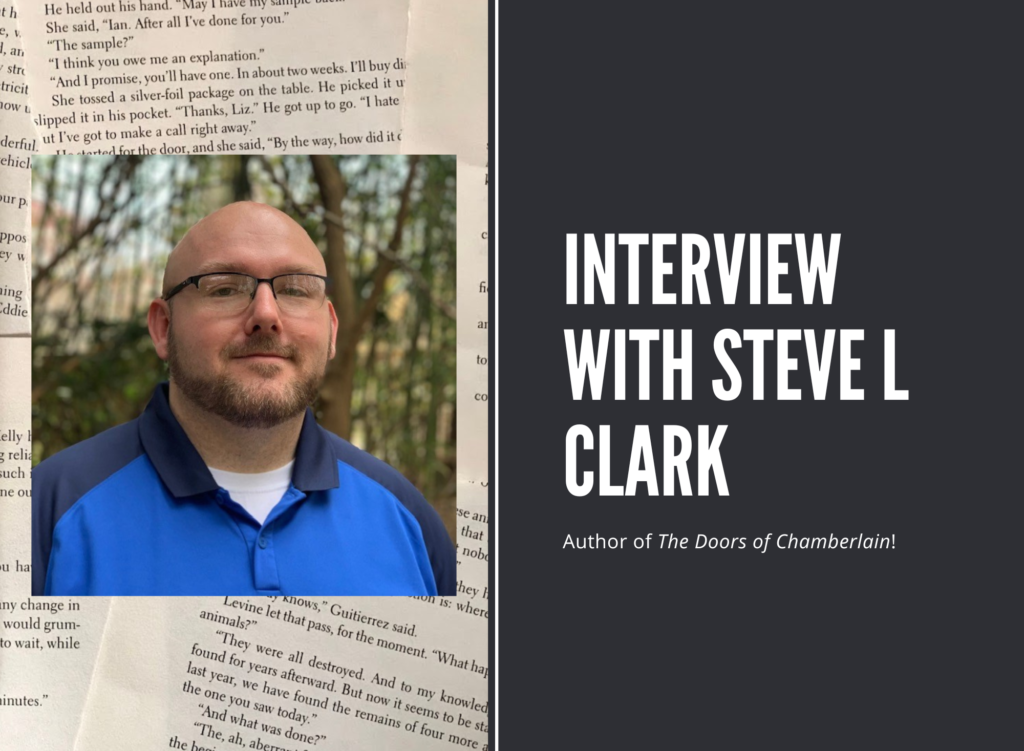 Steve L Clark is an author that was sent my way via the wonderful Matt Wildasin. If Matt vouches for someone, you know they're good people. I'm so excited to be sharing an interview with Steve today here on my blog!
Let's dive in!
Interview with Steve L Clark, author of The Doors of Chamberlain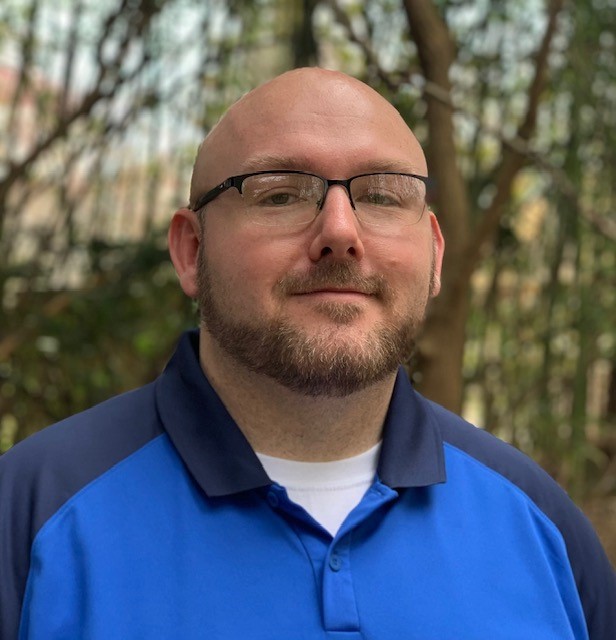 Who is Steve L Clark?
Steve L Clark is an author of horror and dark fiction from Southwest Ohio, where he lives with his wife and three children. His most recent release is The Doors of Chamberlain, a supernatural/cosmic/found footage novella. When not writing or working the day job, Steve enjoys spending time with his family (which most of the year consists of running from one soccer field to the next), playing music, and catching up on books/movies/shows/games.
What is your first memory of writing for fun?
I remember writing a chapter or two of a story when I was around 14 about a boy being attacked by a werewolf on the way home from basketball practice, but I fizzled out. I wrote a short story for English class in 9th grade about a group of teens stealing a boat and going on a joyride, which ended up winning 2nd place. The girl who beat me is now a professional romance writer, so I had stiff competition. Beyond that, I dabbled here and there throughout my twenties, but didn't get serious about writing until a couple years ago.
How many books have you written?
Counting anthologies, I have 3 releases to date. My first publication was a short story in the Matt Wildasin edited anthology Dark Words: Stories of Urban Legends and Folklore. I followed that up with my first solo release, a short story collection called The Collapse of Ordinary. Both of those books were released in 2021. Then, in April of this year, I released my first novella, The Doors of Chamberlain.
What are some of your other interests outside of writing?
I started learning to play guitar when I was 6 years old, and music has always been a passion of mine. Growing up, my dream was to be a rockstar. I played in a few bands in highschool and a couple years after, and I still play for fun. Grew up as a gamer as well, particularly loving the survival horror genre. Games like Resident Evil and Silent Hill were huge influences. I don't have much time to play anymore, but I try when I can. And of course, movies and books are always on my radar.
Are you also a reader?
Absolutely! I loved to read as a child, and as a young kid in the 90's who already loved horror, Goosebumps captivated my imagination. Devoured those and moved on to Fear Street. Around 12-13, I read my first Stephen King book (Misery), and never looked back.
What genres do you reach for the most?
Horror is my go-to, but I also enjoy sci-fi, fantasy, thriller, and crime.
Do you have an all time favorite book or author?
Typical answer, but Stephen King of course. The Eyes of the Dragon is my favorite King book. Also a big fan of Richard Matheson, Anne Rice, Michael Crichton, and Jonathan Maberry to name a few. What Dreams May Come by Matheson, Queen of the Damned by Rice, and Sphere by Crichton are a few of my all-time favorite books.
Book Related Questions
In The Doors of Chamberlain, the tension you built was incredible! Right from the start, I was so anxious to see where this story would go! Can you talk us through how this story idea came to you and what the writing process was like?
I'm a huge fan of found footage. I saw The Blair Witch Project in theaters and it blew me away. I wanted to do something in that genre, and I came up with the core idea of the grieving girlfriend receiving footage of the events leading up to her boyfriend's disappearance. I don't outline much at all, so that was really all I had to start with. I have a general direction in mind, but I let the story come to me and incorporate ideas as I go. The characters of Leslie and Jared were later additions, not part of my original plans. As I say in the acknowledgements of the book, Chamberlain will always be special to me because until then, I had never written anything longer than a short story. It was an adventure to learn my process for writing longer work, and I'm very proud of the story.
There was some serious fear developed in The Doors of Chamberlain. It wasn't just in the overall plot or the fact that doors appeared or disappeared out of nowhere. But the fear was also prominent in the little things such as the brief claustrophobia inducing moment where a stairway narrowed. Was there anything included in this story that mirrored any of your own fears?
For me, fear has a strong link to being uncomfortable or unsettled. When I write, I try to come up with situations that make me feel uneasy. The scene you mention about the narrowing stairway, that feeds off a primal fear I think most people have of being trapped. Seeing people act in strange ways is unsettling to me. It teases a loss of control or understanding, and the unknown is scary.
You mentioned having another book in the works for later this year. Can you give us any hints at what's to come?
Of course! My next book is titled Down Home, and it will be released in December of this year. It's a supernatural/occult story set in the Appalachian Mountains. My mom is from Southeastern Kentucky, and this one is dedicated to her and features a lot of easter eggs that she and some of my family will pick up. It's the story of a young woman who returns to the mountain for the funeral of her aunt, after having fled a neglectful and abusive homelife when she was 18. She's reunited with an uncle and cousin and stays with them for the night. A late night stroll into the woods with her cousin stirs up dark history and awakens something wicked that doesn't want to let her leave the mountain again.
Just one last question; Where can readers find you?
Twitter is my main social media platform for writing, but I do have Facebook as well. You can find me on Twitter @stevelc8349, as well as Steve L Clark on Goodreads, Bookbub, and my Amazon author page. I'm always happy to chat or answer questions about my work, so feel free to reach out. And thank you, Erica, for having me on your blog and for the wonderful review of Chamberlain. I look forward to your thoughts on Down Home!
---
Thanks for reading!
I am anxiously awaiting the release of Steve's next book! Stay tuned as I will have a review up for that next month!
---
Related Reading: