I'm absolutely buzzing with this interview with the amazing author, Catherine Cavendish!
I have been in awe of each of the books that I have read by Cat so far, and there are many books that I still need to pick up! The way that Cat creates these very thick gothic atmospheres is something that I admire so much. The storylines, the characters… It's all just wonderful!
Let's dive in to the interview!
Interview with Catherine Cavendish, author of The Haunting of Henderson Close, The Crow Witch and Other Conjurings, and more!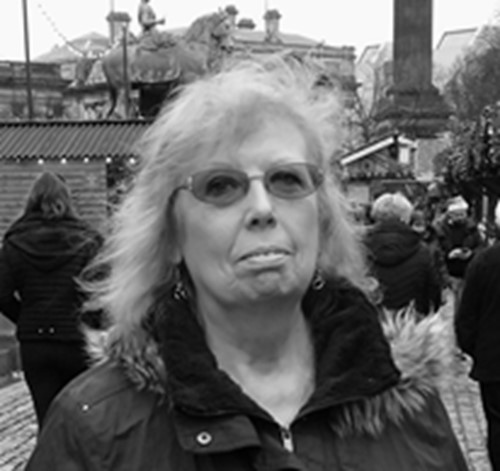 Who is Catherine Cavendish?
Following a varied career in sales, advertising and career guidance, Catherine Cavendish is now the full-time author of a number of paranormal, ghostly and Gothic horror novels, novellas and short stories.
Her first fiction collection – The Crow Witch and Other Conjurings – is out now from Weird House Press, and a new collection will be coming out in 2023
Cat's novels include Dark Observation, In Darkness, Shadows Breathe, The Garden of Bewitchment, The Haunting of Henderson Close, The Devil's Serenade, The Pendle Curse, and Saving Grace Devine.
Her novellas include The Darkest Veil, Linden Manor, Cold Revenge, Miss Abigail's Room, The Demons of Cambian Street, Dark Avenging Angel, The Devil Inside Her, and The Second Wife.
She lives by the sea in Southport, England with her long-suffering husband, and a black cat called Serafina who has never forgotten that her species used to be worshipped in ancient Egypt. She sees no reason why that practice should not continue.
What is your first memory of writing for fun?
I think it was probably back in the late 1970s when I decided to write a novel based on the fate of the last Russian Tsar – Nicholas II – and his family. I had just read a book called The File on the Tsar by Anthony Summers and Tom Mangold – a riveting account of how the family could have escaped slaughter in that cellar in Ekaterinburg. This also opened up the whole Anastasia conspiracy to me and the seeds of a historical novel were born. This was before I decided horror was my way to go. Even then though I plotted ghostly elements and Rasputin was a gift on the occult front! The resulting novel went through many transformations and really became my first major experiment a writer. I will always be grateful to it although I wouldn't dream of showing it to a publisher now!
How many books have you written?
So far, twelve novels and nine novellas. Of those, two novels are under contract but not yet published
What are some of your other interests outside of writing?
History – especially prehistory, ancient Egypt, and modern British and European social history. Films, theatre, visiting interesting locations, and if they are haunted, all the better. I also adore cats and am well and truly under the paw of our six-year-old black beauty called Serafina
Are you also a reader?
I am an avid reader. Without a book I am miserable
What genres do you reach for the most?
Apart from horror, I read a lot of crime – both true and fictional. I also read biographies and a lot of history. I research my books carefully in order to portray an accurate sense of time and place, engaging all the senses.
Do you have an all time favorite book or author?
I have plenty! One I keep coming back to time and again is Wuthering Heights. It still amazes me that, with her sheltered background, Emily Bronte could have written such a novel, but one thing that doesn't surprise me about it is how she is able to convey the incredible atmosphere of the Pennine moors she so loved to hike around. I grew up near those same moors and there is a timelessness about the majesty of the crags, the peaty ground, with its earthy smells, the heather and the circling birds – especially the curlews with their lonely and plaintive cry (although, sadly, the numbers of curlews have so depleted, you're lucky to hear one now). It's a magical, unique environment. My novel The Garden of Bewitchment is set in that landscape.
Book Related Questions
Your latest book, titled The Crow Witch and Other Conjurings, just released from Weird House Press. Can you tell us a bit about this one?
This is a collection of my shorter fiction, written over a few years although there are a number of stories original to it, including The Crow Witch, Marzana's Hut, Sour Grapes, The Oubliette of Elie Loyd, and Daft Old Bat. The longest story is my novella, The Malan Witch. which was previously published alone. The blurb gives a good taste of what is contained within the collection:
As the nights draw in and the temperature plummets, beware the witch's curse.
And stay out of the shadows, for far more lurks there than you could ever imagine…
Two witches, burned for their evil centuries earlier, now hellbent on revenge. A woman who seems to step out of an old Hollywood movie, and a castle with a murderous past. A seer whose lost and deadly prediction was hidden away for a future generation. A mysterious portrait that is far more deadly than mere paint and canvas. An old woman only the foolish would ridicule, for she knows the secrets of the land and how to harness its power.
All these and more abound, and you would do well to remember…
When the seeds of revenge are sown, beware the harvest.
As your first short story collection, what was your writing process like, and how did that differ from your usual full-length novels, if at all?
Euphemia Christie, and The Lost Prophecy of Ursula Sontheil were both written for anthologies so were designed to fit a fairly broad set of guidelines in each case. The Malan Witch was written as a standalone novella so I had approached this in a similar way to writing a novel. The other stories came to me from a variety of directions, The Oubliette of Elie Loyd was originally intended for an anthology but the publisher ceased operations so that became available for this collection. Daft Old Bat was also intended for an anthology but this never transpired. Sour Grapes came to me as an idea one day when I was watching a neighbour through my window…well, we won't go into that! As for Marzana's Hut – I was scrolling through Shutterstock looking for images for promotional purposes and I came across this picture – it's unnerving and eerie. It looks like a painting of a beautiful woman, until you look closer and you can see the skull beneath the skin. That set me off and I wrote the first draft of that story really quickly – couple of days I think. I licensed the picture and you can see it on my blog.
The Crow Witch was the last story to be written, and it appears first. The reason for that becomes clear when you read it. It could also never appear on its own or anywhere without the others. That is the first time I have ever done that.
Some of these tales (while perfect as is of course) left me antsy to see more because I just wasn't ready to let the characters go yet! Would you ever consider expanding on any of these stories later on for a novella or novel?
It's not something I am actively considering although a number of people have suggested The Malan Witch lends itself to a sequel – or even a prequel. I have learned never to say 'never'…
For readers that may not have read any of your work yet, is there a specific book you would recommend?
Dark Observation or The Garden of Bewitchment if you are looking for a novel, The Crow Witch and Other Conjurings if you prefer to dip into shorter stories. If you are looking for something between the two, Linden Manor, Miss Abigail's Room or The Second Wife perhaps.
Just one last question; Where can readers find you?
---
Thanks for reading!
I absolutely cannot wait to dive into the other books that I own from Cat! Stay turned for more reviews soon!
---
Related Reading: