I swore I was going to stay on top of this post throughout the year… but of course, 2020 was a rough one. I know I'm missing plenty that should be added here. If anyone reading this thinks of something, feel free to reach out!
Here's to hoping I keep up with my list of highlights in 2021 🙂
Let's dive in!
My Highlights of 2020
January 2020
Kicking off the month with an author event! Woot!! I was SO excited to attend a book event at Gibson's Bookstore with Erin Morgenstern! She was a lovely speaker and I would happily travel to see her speak again!
This month, I also discovered one of my new favorite podcasts, Make Me Read Your Book!
---
February 2020
In February, I got to read and review an early release copy of Last of the Mountain Men by Tony Moyle! I had so much fun reading this. It had humor, mystery, light romance, historical elements, and a bit of suspense! Check out my full review here.
This month, I snagged a few bookmarks from A Stranger Dream. I'm obsessed with these bookmarks!! Her artwork is amazing and the quality is wonderful. I will definitely be ordering more of these in the future! *Update, I now have fourteen bookmarks from this creator!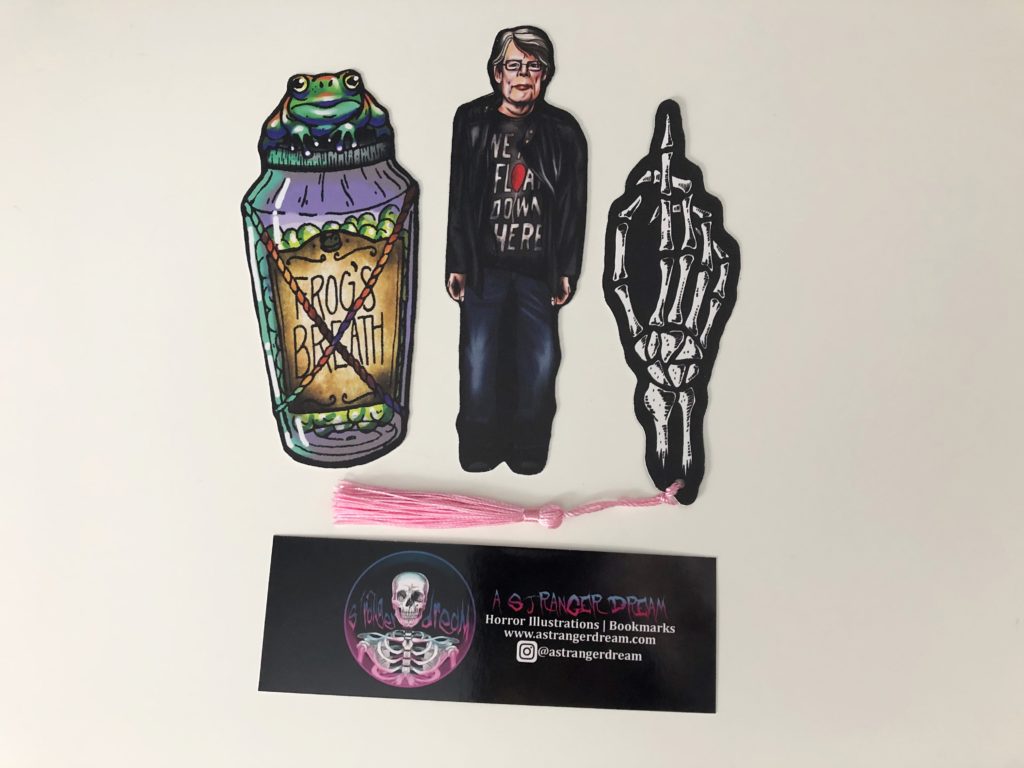 In February, I also attended an awesome book event at Water Street Bookstore in Exeter, New Hampshire! From that, I was able to post a feature on the shop itself as well as my experience meeting Gregory Bastianelli, author of Snowball!
March 2020
In March, I participated in the Bookish Blog Hop, Spring Edition. I hosted the post about shorter books. Click here to check that out.
Also in March, I got to visit two wonderful used book stores here in New Hampshire before COVID had us all on lock down.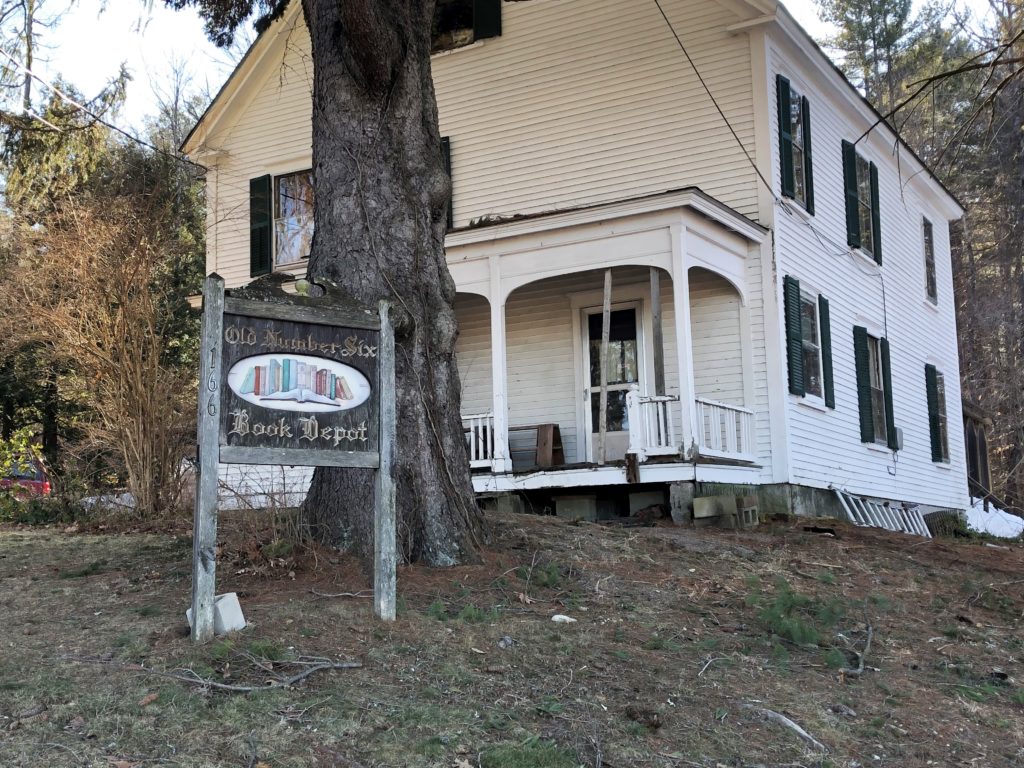 April 2020
I had the opportunity to not only host Michael Clark in an interview, he also mentioned that interview in his video and newsletter! Check out the video below:
I also worked with Michael Clark to beta read the third book in The Patience of a Dead Man series, Anger is an Acid! I am so grateful for the opportunity to read the book early and to be the first to post a review!
Also in April, I joined in to watch the virtual event, Corona Con. This event was INCREDIBLE. I bought so many books direct from the authors that participated in this event. As this was supposed to be the year I went to book cons, I was so grateful to be able to participate in this virtual one! A number of my questions were chosen to ask the panels as well, which was so exciting!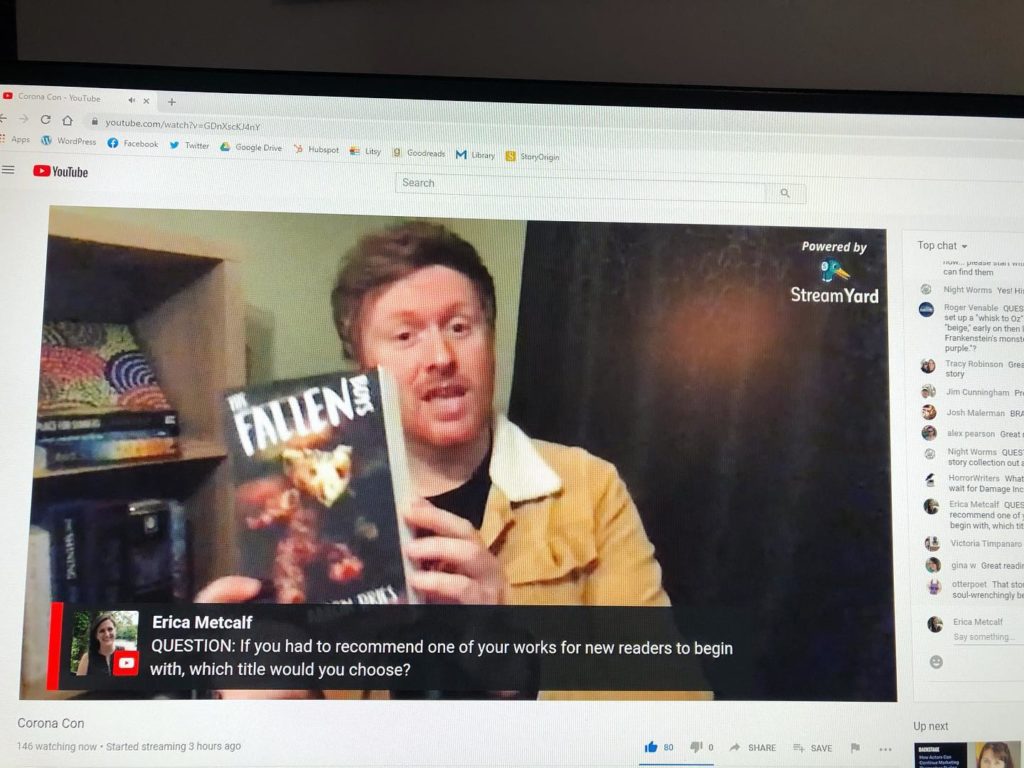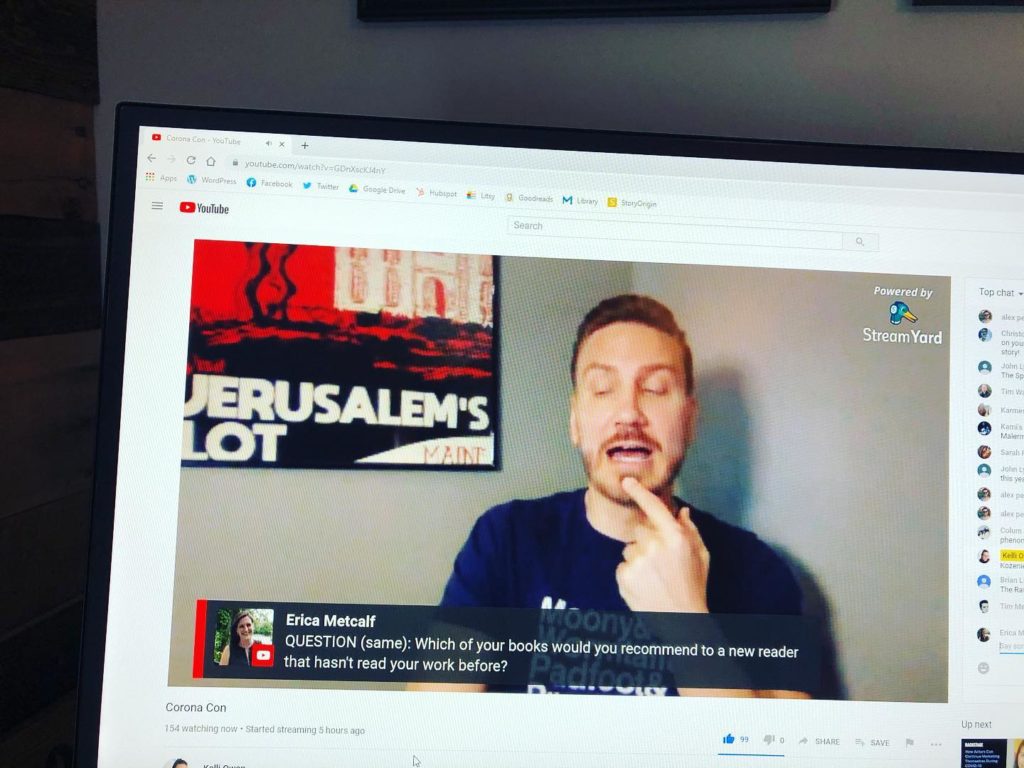 May 2020
This month I was given a wonderful shout-out from Katie Southard of the Make Me Read Your Book podcast! If you haven't yet, make sure to go check this podcast out! If you listen to this episode, check out time stamp 3:27!
Also in May, my copy of Anger Is An Acid by Michael Clark came in…. AND CHECK THIS OUT:
This is by far the coolest thing that has happened to me since I began blogging. I'm so very grateful for Michael Clark for opting to use my blurb on the back cover of his book! I am honored!
July 2020
In July, I began working with Aiden Merchant. If you haven't yet read anything written by Aiden, I highly recommend checking his stuff out! He has been incredible to work with and I'm so grateful that we crossed paths! He's a wonderful writer. He's very polite. He also takes trigger warnings seriously and in the very first email he sent me with ebook copies, he gave me a breakdown with each story and potential triggers. While I only have one trigger that I'm aware of (cheating), words cannot express how grateful I am so see this happening.
On Dead Headspace this month, Patrick and Brennan had an awesome Q&A with Ken McKinley of Silver Shamrock Publishing. I was so grateful that they asked the questions I had sent in! I love learning more from Ken.
Also in July, I was asked to help spread the word about the Ladies Of Horror Fiction Award Nominees and then the Winners of the Ladies Of Horror Fiction Awards.
August 2020
I received this wonderful gift from Hunter Shea! <3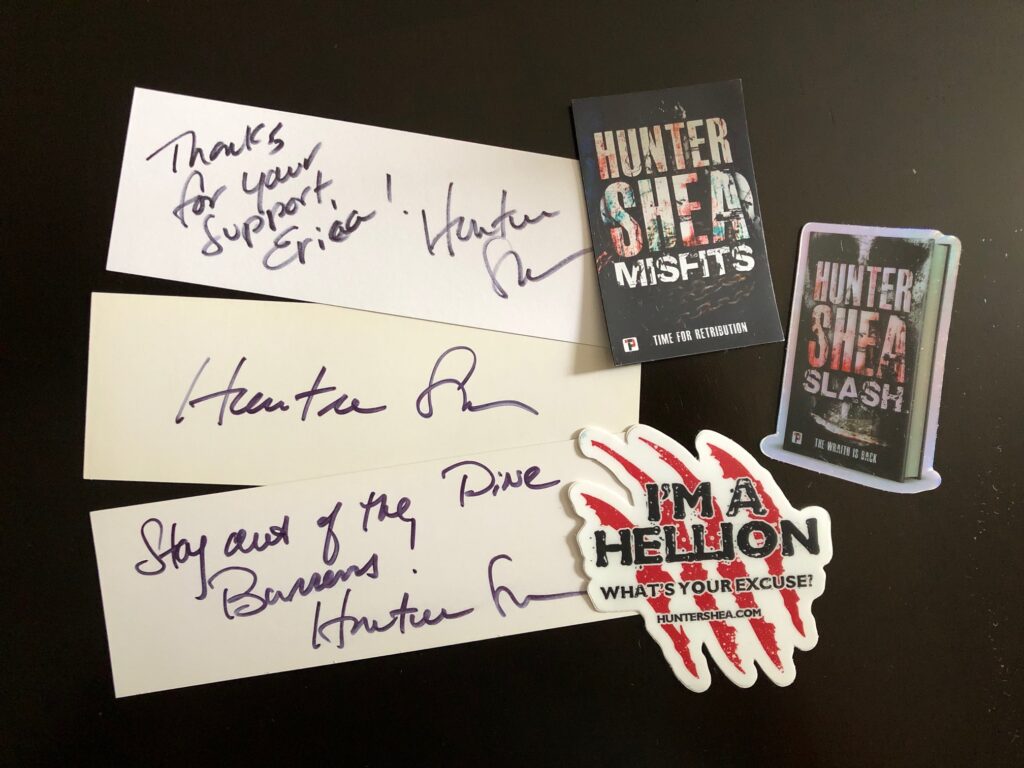 And this wonderfully thoughtful gift from Dean M. King! <3
This month I was tagged by Andrew, The Book Dad, in the #bookstastrong challenge. The stack that I chose to hold up with one arm is a selection of women in horror!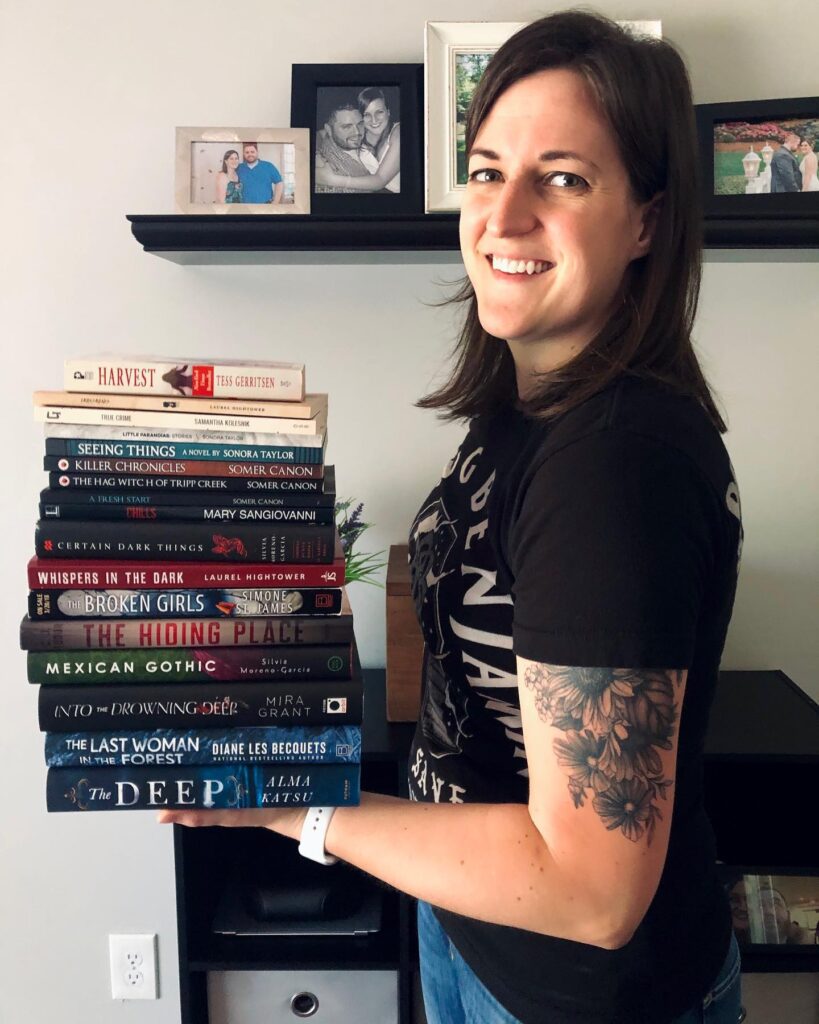 Also this month, I watched the live Scares That Care Virtual Charity event. I was ecstatic when my question was chosen for The Walking Dead Panel!
September 2020
In September I received my package from backing Our Final Halloween, Issue #3 on Kickstarter, complete with this wonderful custom sketch! 🙂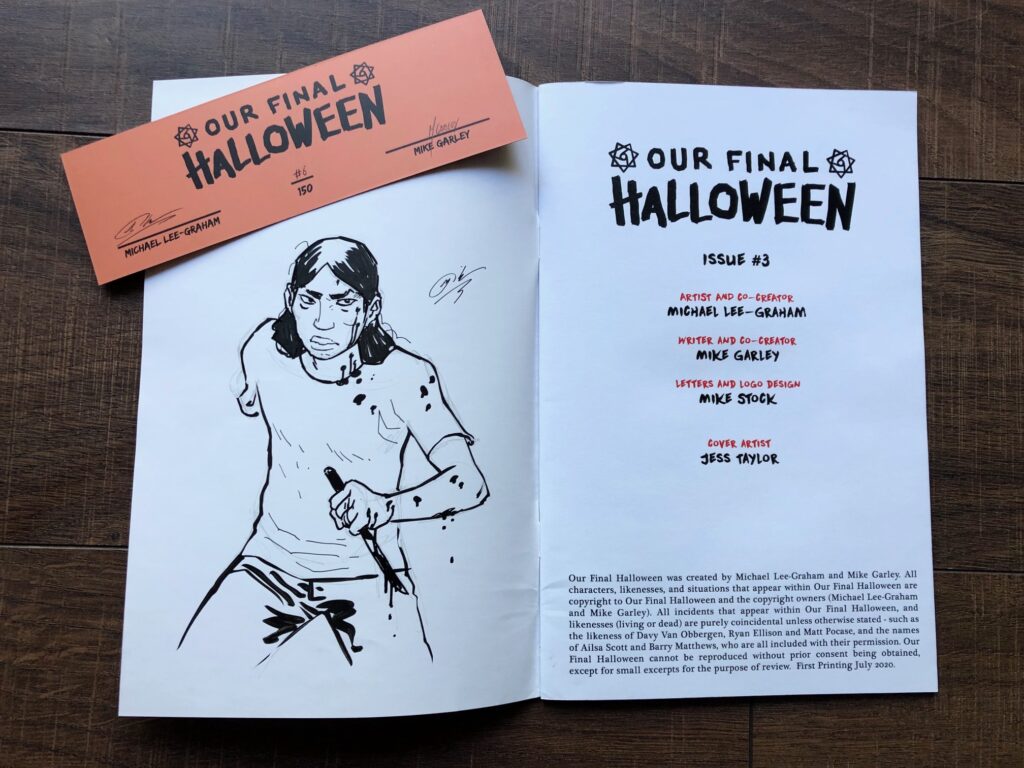 Hosting this awesome interview with the amazing Eric LaRocca!
This little note in Duncan Swan's book promotion trailer for Monstre Vol 1!
Seeing this link share from author, Elena Taylor!
October 2020
In October, I did something WAY out of my comfort zone and had SO much fun! I got to be a guest host on the Dead Headspace Podcast!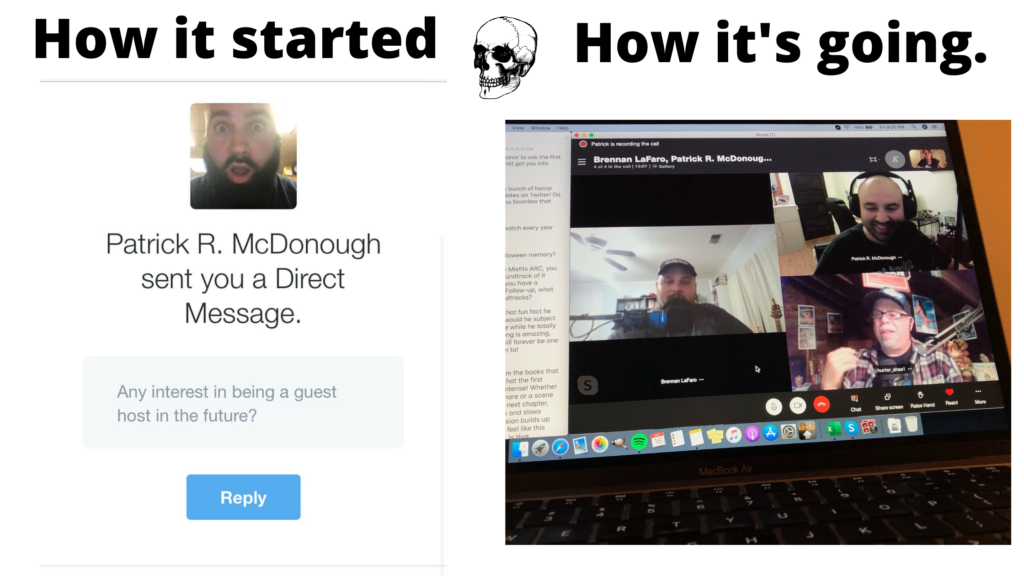 Also in October, my shout out for Creature by Hunter Shea was included in Episode 79: Halloween Freezer Book Special of the Books In The Freezer podcast!
December 2020
I was asked back to be a guest host on Dead Headspace! When the host, Patrick, reached out I was halfway through reading Seeing Things by Sonora Taylor. I couldn't believe the timing! Click below to learn more and to listen to the episode!
To cap off the year, my copy of Horrific Holidays arrived! Check out the blurb on the back! (For those of you that know me as only Erica Robyn, Metcalf is my last name!)
What a year! Bring on 2021!