Dead Daughters by Tim Meyer is a fast-paced murder mystery that blends horror and thriller aspects together wonderfully! Buckle up before you begin this one; you won't want to put it down.
There was one night that I was reading this book, and I looked at the time and saw that it was just fifteen minutes before I wanted to head to bed. I told myself, just one more chapter… Of course, an hour and a half later, I was finally going to bed.
Trigger Warning: Of course, as you can likely assume by the title, this would be a tough read for someone who has lost a daughter.
Let's dive in!
My Thoughts on Dead Daughters by Tim Meyer
When this story begins, Eve has thrown a surprise birthday party for her husband, Drew. The party goes very well and Drew has a great time celebrating with his family and friends. At the end of the party, and after they had put their daughter to bed, he opens up the cards he had gotten in the mail. But the contents of one envelope, one with no name, held something that brings time to a standstill.
Soon afterward, they realize that someone has been in their daughters room… and it only get more terrifying from there.
Gosh this book had me totally hooked, but I dreaded what would happen next! I loved that the author ended many chapters with things like:
I nodded, but something told me it wasn't that simple.
And it wasn't.
Not at all.
Or:
Something was wrong.
Very fucking wrong.
Or, the one that made me keep reading even though I really needed to be sleeping:
The next time we talked, the detective had news.
Big news.
Things like that made it impossible to put the book down! I just had to learn more.
Through absolutely wonderful character development, I found myself really attached to these characters very quickly. I just wanted the detective to hurry up and solve the mystery so the family of three could live happily ever after…
One smaller, but really spooky element of this story, were the letters that were added here and there. They were clearly from someone deeply troubled. These letters were rather puzzling until one bit of information drops and it all suddenly makes more sense. But one thing that I really wanted to know- when were these letters written?! Yikes!
In one of the letters, the writer was listing off things he'd kill for. One of the things on the list is an encore episode of Alf! That gave me a great chuckle. The mom on Alf is a family friend, so I always love seeing mentions of the show in books!
There is SO much about this book that I would love to rave about, but you really need to experience it on your own!
My Favorite Passages from Dead Daughters
My throat felt restricted, as if a snake had coiled around my windpipe and squeezed my breath away.
We live or die by the choices we make.
I walked over to the kitchen table, the soles of my shoes feeling like they were blanketed with chewed bubble gum. The muscles in my legs lost their feeling and my knees wobbled and knocked together. I reached out and put both hands on the chair to keep myself from going down.
My Final Thoughts on Dead Daughters
I felt so unsettled reading this one but I was hooked! That sense of unease began very early on, and it only got worse the further into the story that I read. There were many small instances that had me feeling wary about certain characters very early on. But while I had some suspicions and kept trying to guess at what was going on, I wasn't even close to figuring out this psychological horror story.
This story has such a dark undertone with highlights of interesting technology-related aspects and a ton of love.
I highly recommend this to horror/thriller fans that enjoy read filled with twists that will keep you guessing and a dash of sci-fi that adds a very intense layer to the story!
---
Snag a copy through Bookshop to help support local indie bookshops:
Thanks for reading!
And thanks again to Tim Meyer for sending me a signed copy with this wonderfully spooky note that is even more eerie now that I've finished this book!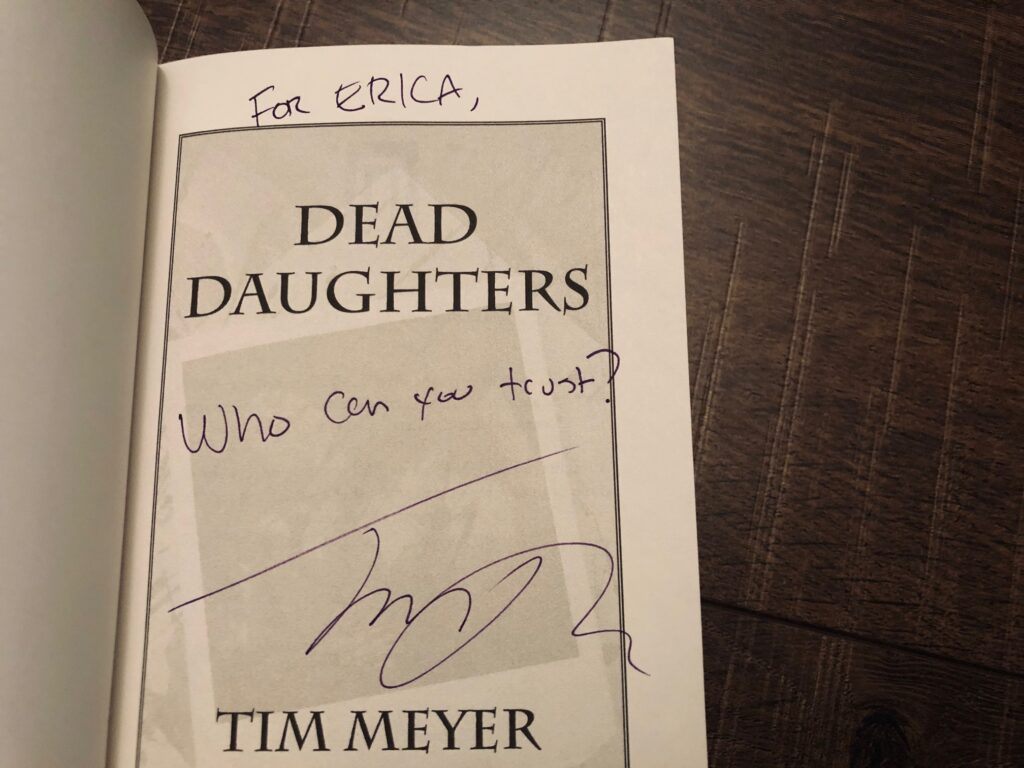 Related reading: