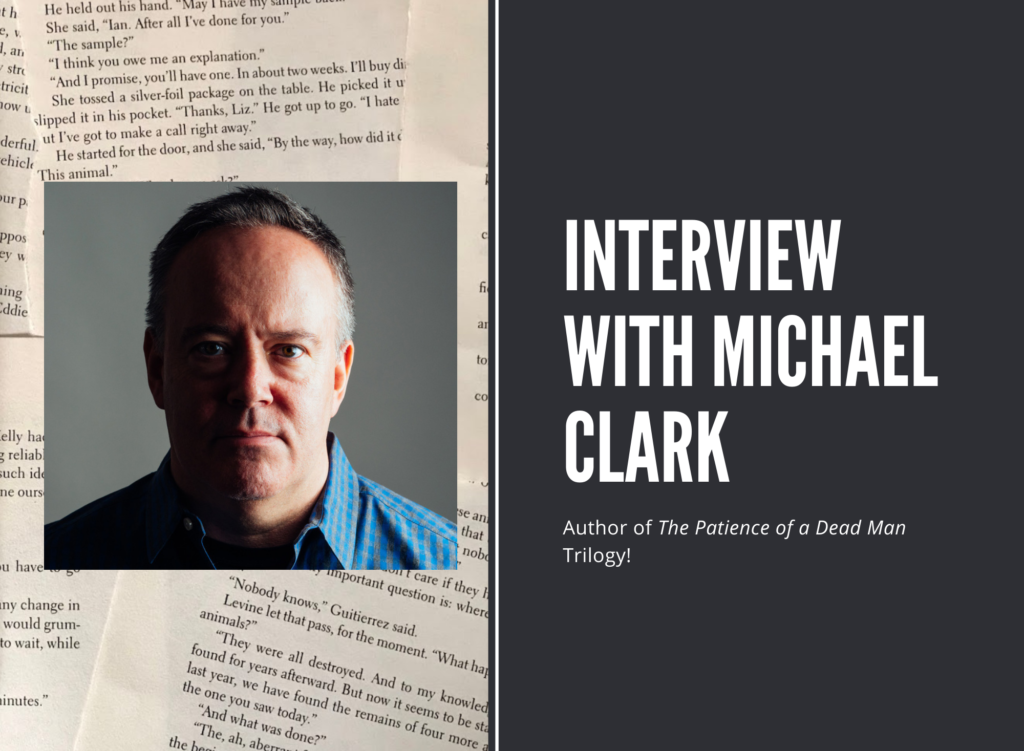 I am so delighted to be sharing this interview with an amazing author, Michael Clark!
If you're a fan of horror and the paranormal, and you haven't heard of him yet, you gotta check Mr. Clark out! 🙂
Mr. Clark first reached out to me on Twitter, and shortly afterward, two of his books showed up on my doorstep. Soon after that, a bookish beautiful mug arrived. Then an amazing bookmark from A Stranger Dream based on a character from the book series! To say I was excited would be the understatement of the year. I was totally blown away by his generosity and could not wait to dive into the books!
When I finally started the first book, I had to dive into the second one immediately after. Finishing the second book in just a few sittings, I posted my review and Mr. Clark reached out to ask if I'd be interested in reading an early copy of the third book.
At first I let out a little scream/wahoo cheer mix, but then paused. This was such a "is this real life?!" moment for me.
Did I die and go to book blogger heaven?!
Who is Michael Clark?
Michael Clark was raised in New Hampshire and lived in the house The Patience of a Dead Man is based on. The bats of the barn really circled the rafters all day and there actually was a man-made grove hidden in the forest. He now lives in Massachusetts with his wife Josi and his dog Bubba.
The Patience of a Dead Man is his first novel. Dead Woman Scorned is his second. More to come.
Let's dive into the interview!
Interview with Michael Clark author of The Patience of a Dead Man Trilogy
What is your first memory of writing for fun (ex. A fun project in school, your first novel draft), et cetera)?
I never wrote anything for fun until I started "The Patience of a Dead Man" in 2017. I think I wanted to write a book in the early nineties–I think it was going to be a prison story–but I just sat down and started writing from page one (no premeditated outline) and the project died quickly. I guess I just wasn't ready. Before TPOADM I had never written more than five pages, which I had to do once a week for Freshman English at UNH. BUT, you know that "secret question" on websites to log in or retrieve a lost password? My question was always "What's your dream job" and the answer was always "writer" because you can do it from anywhere.
How many books have you written?
I just finished my third, and it is/was a trilogy.
What are some of your other interests outside of writing?
I tried to play guitar for 12 years, but it didn't come naturally and it takes a lot of time. I also love to travel and hang out with family.
Are you also a reader?
Yes, but I'm the guy that sees "soon to be a major motion picture" on the cover and gets interested that way. I think I'm a movie person first. A couple of books that I read that were "soon-to-be's" were Jurassic Park and Silence of the Lambs.
What genres do you reach for the most?
Horror and Sci-Fi, although I think I like sci-fi movies better than books. I grew up a Stephen King fan and met him in 1983. He signed my copy of "Christine". I also like rock-n-roll biographies for some reason.
Do you have an all-time favorite book or author?
Stephen King, Michael Crichton, Thomas Harris, Vince Flynn… If I had to narrow it down to three books, I'd say The Shining, Silence of the Lambs and Jurassic Park.
Book Related Questions
You were raised in New Hampshire and actually lived in the house that the trilogy is based on. What other elements included in the series were based on things from your real life?
Well, the divorce part was easy to write, but let me be clear that "Sheila" is not my "ex". My parents were also divorced, and coincidentally it all went down while I lived in the house that's in the book.
I also think I write from the perspective of a dream. When I have a nightmare, there is usually a confrontation scene, where you have to make a decision, like do I run? Or do I fight? And in my opinion, ghosts are creepy…but do you ever touch one or fight one? What happens then? To me, the story gets less scary once things get physical. I like the eeriness of a ghost in the distance or hiding behind a door.
My first book started around one scene–the one where Tim starts work on the house all by himself, planning on putting in eighteen-hour days, but then he sees something…and runs…but then realizes he has to go back or he'll lose everything and no one would believe him. What would a grown adult really do in a situation like that?
In the books, many of the characters see ghosts and it sways their beliefs if they hadn't believed in the paranormal before. Where do you fall with that; do you believe in ghosts? Have you seen or heard one yourself?
No, I don't believe in ghosts and that might disappoint some people, but I love ghost stories and good horror movies. I like things with a touch of realism, such as Jurassic Park. There is an attempt to make it sound as if it could happen in real life. I also like Batman based in reality (the Christian Bale movies) as opposed to fighting alongside Superman. The same with ghost stories. I want the characters to be seeing a ghost as if for the first time because that would be me.
I just adore book covers that 1, look amazing, and 2, really capture the essence of the story itself. Each of your book covers gives off a very eerie vibe and features wonderful photos of your wife! What was that cover design process like?
I start thinking of the title and the covers as I'm writing because I think of the three things together as a "package". If one of them is off, it's like watching a movie with no music in it. My working title for "The Patience of a Dead Man" was "Two Stones in the Grove," but I didn't like that double "O" sound. During that time, my cover was…
…two stones in a grove.
The problem was, I don't know of a cool grove like that around here, and the picture you see here was one I "borrowed" from the internet and tried to disguise. I made so many versions of it, and photoshop is something I'm only average at anyway, so I gave up.
Luckily, I had the idea for the flies-on-the-neck cover, but again, I borrowed the dress picture from Etsy and didn't feel comfortable using it.
Whew, this is turning into a long answer! THEN, a friend of mine had an account with "Design Pickle" and had this done for me, the original cover of the book:
When I figured out there would be more than one book, I found a guy to "brand" all three. I knew I didn't want to use Shutterstock photos so my wife and I had a little photoshoot using the light from a lantern to make it grungier and creepier. James from GoOnWrite.com put all the flies and special effects on it. He also did Book Two and Book Three. James has a package deal. Buy three and get a discount. That meant I had to think of the cover and title of Book Three early. It turns out I didn't end up using the title OR the photo, but here was my first "draft."
Just one last question; Where can readers find you (blog link, social media, Goodreads, etc.)?
I'll make it easy: https://linktr.ee/michaelclarkbooks
---
Thanks for reading!
Thank you again to Michael Clark for taking the time to answer these questions!
Snag copies of his work through your local bookstore or from his website!
---
Additional Reading:
Feel free to also check out my reviews of his work below: