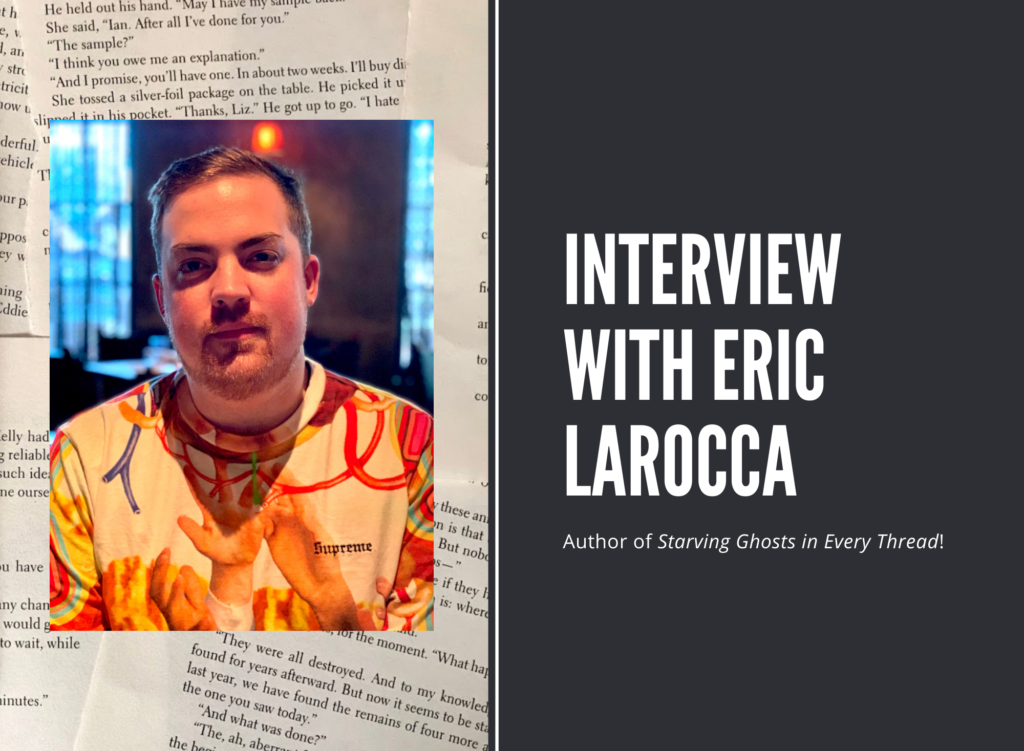 I'm so pumped to be hosting this interview with Eric LaRocca!
Thanks to Twitter, I very recently met Eric and read his amazing debut novel, Starving Ghosts in Every Thread. If you haven't picked that book up yet, I highly recommend snagging it as soon as possible!
Let's dive in!
Interview with Eric LaRocca, author of Starving Ghosts in Every Thread
Who is Eric LaRocca?
Eric LaRocca's fiction has appeared in various literary journals and anthologies in the US and abroad such as Stiff Things and Year's Best Hardcore Horror, Volume 2. He is also the author of several plays which have been developed and produced at theaters across the country. His debut novella, Starving Ghosts in Every Thread, was released in May 2020. Follow him on Twitter @ejlarocca.
What is your first memory of writing for fun?
My first memory of writing for fun is actually quite painful to recall. I was perhaps six or seven years old. I used to write all of my projects long hand when I was a child. Pencils and pads of paper were always in abundance in our house thanks to my very supportive parents. I can recall so distinctly working on a short story and getting up from my seat to go into the kitchen. Well, I hadn't realized I had clumsily dropped a freshly sharpened pencil on the floor. I took a single step and the tip of the pencil stabbed my foot, a sliver of lead burrowing deep inside me. Our faithful family doctor was able to pry the pencil tip out from my foot. I think it wasn't long after that my parents decided to buy me a computer. I avoided pencils for quite some time.
How many books have you written?
Starving Ghosts in Every Thread is actually my first long-form piece of fiction. I've since completed two novelettes I plan to release together in a small collection I'm eyeing to independently release in the first quarter of 2021. More details on that to follow.
What are some of your other interests outside of writing?
Since Covid began, I've been staying with my parents at their house in New Hampshire. While in quarantine, one of my favorite things to do is to explore the surrounding area and observe the wildlife. My parents are expert birdwatchers and they've welcomed me into their exclusive coterie. We frequently go on nature walks and explore all of the beauty the Granite State has to offer.
Are you also a reader?
I am absolutely a reader. Like most, my interest in writing stemmed from my love of reading at an early age. I grew up in a very small, quaint town in Connecticut and was introduced to quality literature very young thanks to my mother. (In fact, to this day, everything I write goes in front of my mother's eyes before it's published.) Her love of reading inspired me to tell stories and continues to motivate me to this day.
What genres do you reach for the most?
Horror is my favorite genre. Of course, I enjoy neighboring territories like Science Fiction and Dark Fantasy; however, Horror will always be my true love. That's not to say I don't explore other genres. One of my favorite genres to read during my formative years was Mystery. I was a huge Agatha Christie fan and still am. Although I haven't read all of Christie's works, I am a great admirer of her formidable Belgian sleuth, Hercule Poirot. My favorite Christie books include Death on the Nile and Appointment with Death.
Do you have an all-time favorite book or author?
A book to which I continuously return year after year simply because it challenged me so greatly upon my initial reading has to be Chuck Palahnuik's Haunted. I seldom physically react when reading a book. That being said, few books have made me physically shudder the way I had when I first read Haunted. I heartily recommend Palahnuik's masterpiece to anybody interested in experiencing transgressive and boundary-smashing fiction.
Book Related Questions
I have to know more about that book cover! Did you do it yourself or work with a designer?
I'm so pleased to hear you (and others) appreciate the book cover. I'm afraid I can't take much credit for that. The accolades rightfully belong to the book's chief designer, Sig Evensen of Inkubus Design. I was first introduced to Sig's work when my work appeared in the Comet Press anthologies Stiff Things and Year's Best Hardcore Horror, Volume 2. I knew if I ever decided to independently release a book, I would want to work with Sig. I reached out and luckily he was available and more than willing to work with me. I highly recommend his services to any indie authors out there searching for a professional book designer. His work is truly impeccable.
Teddy was clearly trying to avoid dealing with her guilt, but it cut through and made itself known a few times. It also kept building the more she went through. In an alternate world, do you think Teddy could have ever come to terms with the guilt and moved on, or was the damage already done?
I'm afraid I'm quite negative when it comes to these matters, so my gut reaction is that the damage was already done and nothing Teddy could have done could have resolved those issues for her. I recall I was in a very dark headspace when I first began working on Starving Ghosts in Every Thread. I had just moved out of my hometown in Connecticut, graduated from college, left all of my friends behind, and had no clue how I would possibly navigate in this world. I felt lost. I was grappling with horrible things that had happened to me in my youth over which I had no control. Starving Ghosts was my attempt to reconcile some of those demons because there were moments in my life when I felt as though I were literally unravelling. Luckily, I have an amazing support system – parents that care about me, a partner that loves me, etc. – but, I can't help but identify with Teddy. Sometimes darkness touches us and lingers.
That one basement scene… It had all the key factors for scenes that always make me jump when seeing them in films! What are some of your favorite horror-related films or books?
Thank you so much! I really appreciate your kind words. That basement scene was a thrill to write, and I certainly had hoped readers would respond positively to it. I'm a huge fan of horror films. I think the films I enjoy definitely inform what I write about. There are too many quality genre films to name, especially with the current renaissance of horror as an art form thanks to companies like A24. I'll do my best to name a few that have stayed with me over the years… Andrzej Zulawski's Possession will forever hold a place in my heart – a truly fascinating film with a masterful award-winning performance from Isabelle Adjani. I think Ari Aster's Midsommar is one of the greatest horror films to premiere in the last ten years – an unpredictable and truly unsettling excursion into terror. Philip Ridley's The Reflecting Skin is another favorite for me – a visually staggering portrait of 1950's America filled with roving gangs, mummified fetuses, and vampires.
Just one last question; Where can readers find you?
I'm very active on Twitter and Instagram. Please feel free to follow me @ejlarocca and say "Hello!" Over the past year, I've really strained to up my social media game and I'm having so much fun so far. I've had the pleasure of meeting and interacting with some very lovely people in the horror genre.
---
Thanks for reading!
And thank you again to Eric LaRocca for taking the time to answer these questions!
If you haven't snagged Starving Ghosts In Every Thread yet, I highly recommend doing so! The tale is centered around a lovely main character that is struggling with her guilt. In this quick novella, there is a bit of violence and heartbreak, and it is sure to keep you on the edge of your seat while it also gives you quite the emotional punch to the gut! Click here to check out my full review of the book if you'd like!
Snag a copy today via Amazon today!
---