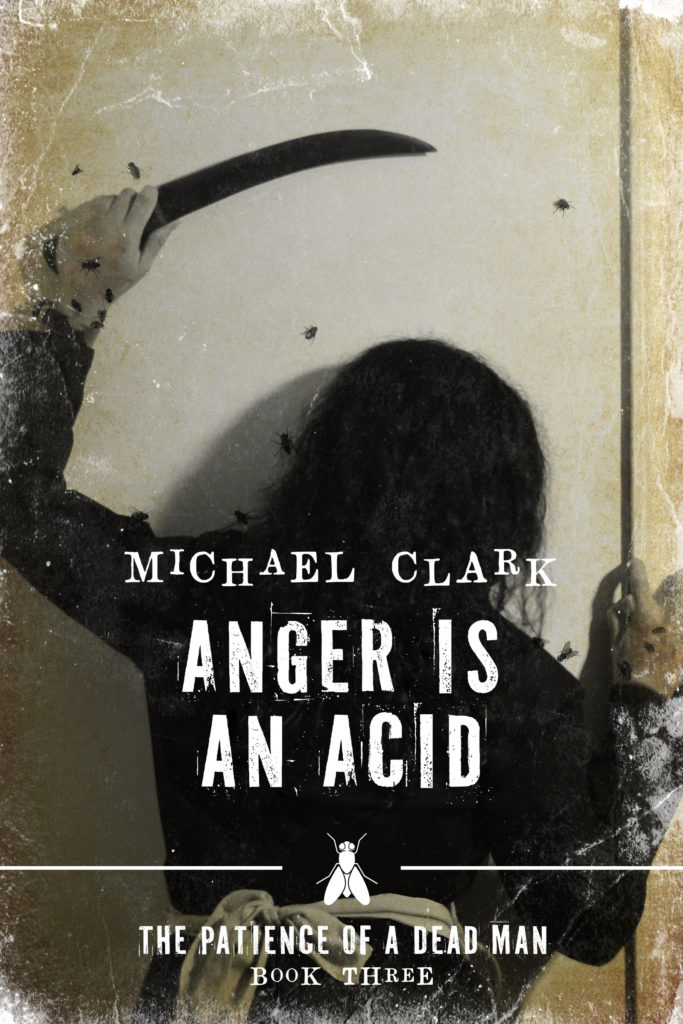 Anger Is An Acid is a continued tale of revenge that one… being… is determined to carry out. But this time, it's not just revenge that Mildred is feeling. There's much more bubbling under the surface and she will go to great measures in order to carry out her plan.
Anger Is An Acid is the third book in this wonderful series. If you missed my reviews for the first two books, feel free to check them out below:
If you haven't read the first two books, you may want to skip this review and come back later. No major spoilers are included, but better to be safe!
Full disclosure: I was given an ARC copy of this book from the author in exchange for an honest review. This did not affect my rating in any way.
Let's dive in!
My Thoughts on Anger Is An Acid by Michael Clark
When this book picks up, we're right back where we left off at the end of book two; seeing someone get murdered by Mildred Wells. But that's not the worst that's about to happen at her hands…
We also rejoin poor Andrew, the young owner and operator of a funeral parlor, who is being haunted by not one, but two ghosts. It's immediately clear to him that they want him to do something, but he can't figure out what that something is. After a week of the nightly appearances, Andrew finally gets a clue that leads him to our crew in Sanborn, New Hampshire.
Speaking of our crew, Holly and Tim are desperately trying to sell the house that Tim has finally finished working on. But during a showing, a certain someone make's her presence known on the edge of the property. Tim and Holly can't believe it…
Mildred is back.
My goodness. I read this book in two sittings. I just could not stop reading!
This tale was so wonderfully unsettling. At every turn, I couldn't help but wish for the the best, but dread the worst. You just never knew how things were going to play out which made this a heart-pounding read!
My favorite thing about reading stories that get under my skin is how jumpy they make me. Even though I had turned on every light that I could see in my immediate area while reading Anger Is An Acid, my entire body still came completely up off of the bed when my husband opened the door to enter the room.
The best part? I had heard his footsteps coming toward the room, I knew he would open the door, and it STILL made me jump. Phew!
Andrew's character was really neat! I was so nervous for him and just wanted him to DO something with his life to get things turned around. Each time he found himself in a certain predicament, I thought that was the end of the line for him for sure that time… Even though he was wicked jumpy, I loved that he was really kind and brave when he needed to be. He also seemed to do a lot of growing up over a very short period of time, and I would love to see where his life takes him after the conclusion of this book!
I loved seeing Tim and Holly try to stay strong, but to lose it a bit with their fear and anger. I cannot imagine what they were both feeling with what Mildred handed them in this book. Their reactions to everything was so realistic!
I also loved watching Mildred slowly change as she got tired. What an awesome way to finally wear her down a bit! While tired, she was still a wicked force that couldn't be reckoned with!
In this book, we also saw a furry friend join the crew! This character was dog named Neptune. Man, did I loved the first scene with him!
This is yet again another book that I could go on and on about, but I don't wait to spoil anything! So I'll just say that this one was written so wonderfully and paced so well that I just couldn't put it down. It was jam-packed with suspense and you really feel for all of the characters!
If you have read the first two books in the series, I cannot wait to see what you think of this one!
My Favorite Passages from Anger Is An Acid
The guilt hung over him every day like a wet blanket.
He caught his eyelids closing and snapped to attention. To fall asleep in the open living room was something he never wanted to do. Although it was a given that the ghost would return, he needed the false sense of security that the locked bedroom door provided, whether he was fooling himself or not.
To allow those thoughts into one's head was to give the enemy the keys to the front door.
He crawled into bed, leaving the shades up because he didn't want the night lasting any longer than it had to.
Anger left her body as if a candle had been blown out.
My Final Thoughts on Anger Is An Acid
I LOVED this book so much!
Anger Is An Acid is truly the most perfect ending to this trilogy. From the first page to the very last, you will be hanging on every word.
Just like the other three books, it was wonderfully written and each of the characters really came to life! The plot was wicked suspenseful and engaging. This book was filled with so many truly scary moments, but there was also a lot of heart! And the very end… totally made me tear up!
Shortly after I got myself together after that final scene, I started tearing up again because I was so satisfied with the ending of the three book series!
Wonderful work, Mr Clark!
If you enjoy stories that center around family and the paranormal with a heavy dose of spine-tingling horror, then this series will be a home run for you! Just be warned- once you complete one book, you'll want to dive right into the next one. So you'd best buy all three copies at once!
---
Snag a copy through Bookshop to help support local indie bookshops:
Thanks for reading!
And thank you again to Michael Clark for giving me the opportunity to read an early copy of this one! I am so grateful for that opportunity!