This month was another insanely busy one! It was filled with lots of big events, bookish events, and lots and lots of house and work projects.
One of my favorite parts of the month was that I got to watch the leaves change color in our backyard. I'm obsessed with how pretty our yard was for a few weeks!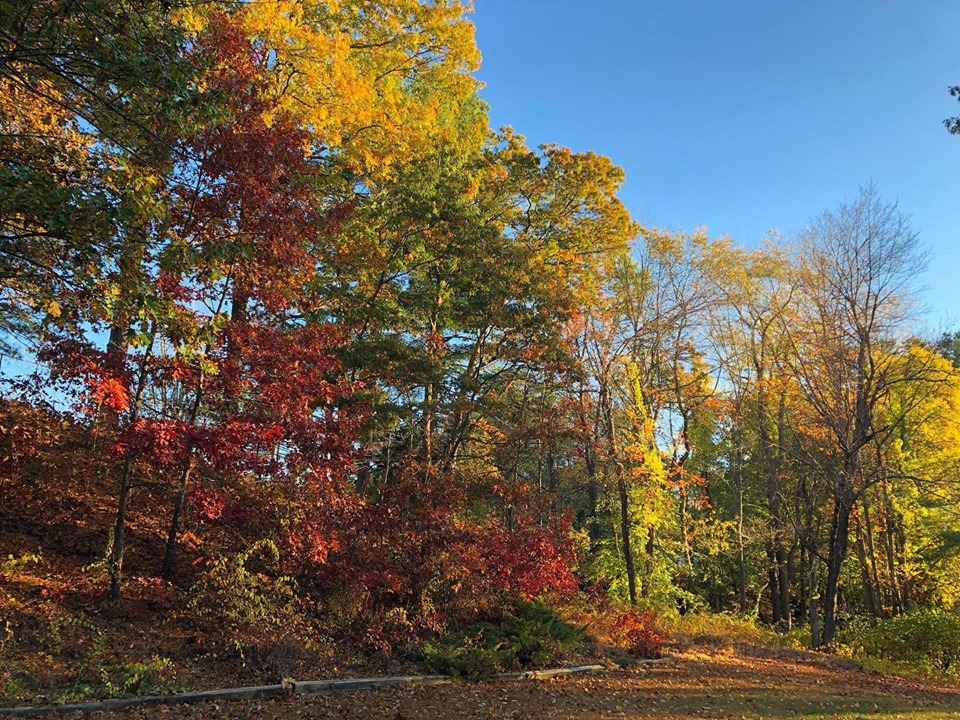 Another huge highlight of the month for me was a trip I took with my sister-in-law, Alex, to see Stephen King and Joe Hill!!
The month was also the bachelor/bachelorette party AND the big day for my friend Heather of Heather's Reading Hideaway!! She tied the knot! It was so wonderful celebrating her and her husband! <3
And of course, Alex and I had to take a selfie while we were at the reception.
I dedicated some time this month to working on my professional development! I took a webinar to learn about the updates Facebook and Instagram will be rolling out soon, I continued using HubSpot for various courses, and I took some time to do some training sessions on our company's university.
I also blocked out some time on my calendar this month just to blog. This felt SO nice. I need to make sure to make more time for this. I've been so busy, my blogging has definitely been pushed to the back burner.
For house projects, we're still slowing getting through our original to-do list. This month we ordered oil for the first time and we worked with an awesome company that I'm excited that we got in touch with. One of the bigger items we got to check off our list was getting a security system! The local company that we worked with to install ADT made everything so easy!
This month, Alex and I got to babysit our friends kiddo! We had so much fun playing hide and seek and hanging out with Spider-Man!
For Halloween this year, our team had a Candyland theme! Our cube area looked awesome:
But our team looked even better!
Per usual, the photo of the three of us cracking up perfectly explains our group dynamic.
Without further delay, let's dive in to my monthly wrap-up!
My Reading Breakdown for October:
5 Stars- 4
4 Stars- 2
3 Stars- 0
2 Stars- 0
1 Star-  0
DNF- 1

Desper Hollow by Elizabeth Massie – I just couldn't get into this one… I may try it again at a later date.
Monthly Musings
Watching:
The Joker (2019 Film) – 5/5
Oh my gosh, I thought that the Joker was INCREDIBLE. The acting was absolutely amazing. Joaquin Phoenix, bravo. I've never had a movie make me forget to breathe like that. But my god, I will never watch that again because it made me SO uncomfortable. Be very careful when watching this if you are easily triggered. My anxiety was so high.
In The Tall Grass (2019 Netflix Film) – 2/5
This was… weird. I was so excited to watch this after reading the novella. It took me three different watches to try to get through this. It was dark and creepy, and the actors did a great job. But I don't think I would recommend this, especially if you have read the novella. It was just too long. If they cut out 30-45 minutes in the middle, I would have liked this a lot more.
The Office – Season 3 & 4
Alex and I got back into watching The Office. We love it so much!
Playing:
Nothing this month.
Drinking:
There was lots of prosecco, champagne, and wine consumed this month.
Listening to:
Alex and I headed to Portland, Maine one afternoon to see Incubus… but to be totally honest, the show was by far the worst show I have ever been to. Hopefully it was just an off night for the band, but I will certainly not jump to buy tickets to another of their shows…
With all of the driving we did, I cruised right through the audio-book of The Graveyard Book by Neil Gaiman. If you're looking for an engaging audio-book for the whole family, you gotta check out The Graveyard Book audio-book performed by the full cast!
I also listened to all of the episodes available from the Let's Unpack That podcast. These two are too funny! The first book series that they read and "unpacked" was the Twilight series. I have been so afraid to re-read this series as I really enjoyed it in high school, even though I had some issues with it. So many of their thoughts about the series lined up with mine. Next up is The Hunger Games, but only a handful of episodes are out now. Check out the podcast here!
I also listened to all of the stories read on Full Body Chills. These tales are SO creepy!! If you need a nice dose of spookiness, check this one out!
And something that I think is really cool happened!! Books In The Freezer Podcast included my clip on their episode talking about top Stephen King books as voted on by their listeners! Give the episode a listen here!
In the bookish community:
I've been so busy that I unfortunately haven't had much time to dedicate to blog hopping 🙁
Monthly bookish related haul:
Book of the Month:
My BOTM subscription is still on hold.
Book Club:
Stilllll didn't get to make it to book club 🙁
My favorite bookish photo this month:
In Case You Missed It:
Looking forward to:
I'm really looking forward to slowing down this month. Things are about to get crazy for the holiday season, but first, I need a break. I have put on my calendar a weekend for self-care time. It will be the first weekend I've had off since June. This is long overdue!
In November, I also have two photos shoots booked! I cannot wait to see each couple and capture these phases of their lives! I'm so honored that they each reached out to me.
Thanks for reading!
How was your month? Have any special plans for November? I'd love to hear about them in the comments section below!