If you're looking for an amazing fantasy filled with action and wonderfully diverse characters and relationships, The Shoreless Sea by J. Scott Coatsworth is a must read for you!
The Shoreless Sea is the conclusion to the Liminal Sky trilogy. If you missed my reviews for the previous books, feel free to check them out:
Full disclosure: I was given a free copy of this book from the author in exchange for an honest review. This did not affect my review in any way.
Let's dive in!
My Thoughts on The Shoreless Sea by J. Scott Coatsworth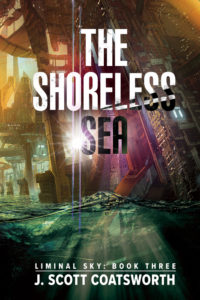 Have I mentioned how much I love when authors recap what has happened in the series to catch the reader up to speed?! This author added a wonderful recap to get the readers back into the story.
But before we dive into the story, can we just take a moment to appreciate this section:
Then the story begins years after the second book ended. While the crew of our favorites have had some time to get their lives back together after the last threat they dealt with, the next threat is already looming…
Just like the other two books, there was so much action and suspense! There were many times when I just couldn't put this book down.
The difficult situations that the characters faced in this one were very tough to read about simply because many things could be related to things that are going on in the world today. These situations were super powerful and I thought that the author handled them very well.
I know I've mentioned how protective I feel about characters from time to time, and that was certainly the case here. Particularly toward the end!
One of my favorite new characters in this book was Destiny. Destiny was a nonbinary character, and the first nonbinary character that I have encountered in a book!
I was so thrilled to see this character introduced to the audience in a way that was totally natural but also slightly educational. This author totally nails things like this! I loved seeing the proper pronouns, Se/Ser, used throughout the book. I also loved how the other characters reacted when discussing ser pronouns of choice or asking about how she identified.
Destiny was such a kick-butt character! I loved every second she was included and couldn't wait to see what she was going to do next. Her character's story line was so much fun to experience.
My Favorite Passages from The Shoreless Sea
There was something cathartic about putting things in order, about organizing things on the outside even if she was a mess on the inside.
The boy cursed, using a surprisingly wide array of words, a couple of which she'd never heard before.
Humans always seemed to find a way to make a mess of something good. Just when you thought they had evolved, they took two steps back into chaos.
My Final Thoughts on The Shoreless Sea
This whole trilogy was so perfect. I cannot recommend it highly enough.
The characters, their relationships, and their family trees were amazing. The overall plot of the whole series, as well as the plots for each individual section of book, were so captivating. The action and suspense was tense and exciting. I could go on and on!
These books are just wonderfully written.
Be prepared to totally lose yourself in these books when you give them a read.
---
Snag a copy through Bookshop to help support local indie bookshops: