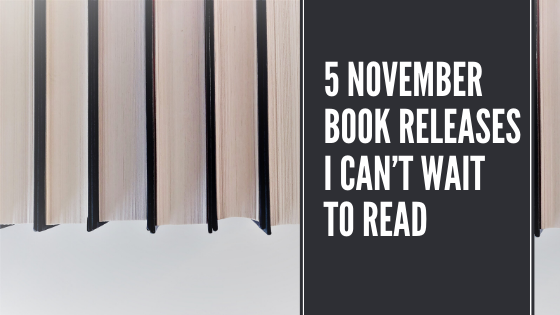 What a great month for new releases!! I'm so ready to add a few of these to my Christmas wish-list!
Note: This post features Amazon affiliate links. While I greatly appreciate the support if you are going to order online, please try to purchase the book(s) from your local bookstore if you are able. <3
Let's dive in!
November Book Releases
The Starless Sea by Erin Morgenstern
Expected publication date: November 5th, 2019
Genre: Adult Fantasy
Synopsis: Zachary Ezra Rawlins is a graduate student in Vermont when he discovers a mysterious book hidden in the stacks. As he turns the pages, entranced by tales of lovelorn prisoners, key collectors, and nameless acolytes, he reads something strange: a story from his own childhood. Bewildered by this inexplicable book and desperate to make sense of how his own life came to be recorded, Zachary uncovers a series of clues–a bee, a key, and a sword–that lead him to a masquerade party in New York, to a secret club, and through a doorway to an ancient library, hidden far below the surface of the earth.
What Zachary finds in this curious place is more than just a buried home for books and their guardians–it is a place of lost cities and seas, lovers who pass notes under doors and across time, and of stories whispered by the dead. Zachary learns of those who have sacrificed much to protect this realm, relinquishing their sight and their tongues to preserve this archive, and also those who are intent on its destruction.
Together with Mirabel, a fierce, pink-haired protector of the place, and Dorian, a handsome, barefoot man with shifting alliances, Zachary travels the twisting tunnels, darkened stairwells, crowded ballrooms, and sweetly-soaked shores of this magical world, discovering his purpose–in both the mysterious book and in his own life.
---
Dead Meat: Day 2 by Nick Clausen
Expected publication date: November 8th, 2019
Genre: YA Horror
Synopsis:
The dead have awakened.
Driven by insatiable hunger.
In eternal search of fresh meat.
The infection spreads like the plague.
Nothing stands between the undead and humanity.
Is it too late to save the world from disaster?
Day 2 follows the second day in the story of Dead Meat.
---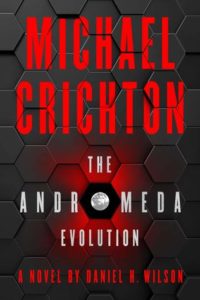 The Andromeda Evolution (Andromeda #2) by Michael Crichton, Daniel H. Wilson
Expected publication date: November 12th, 2019
Genre: SciFi
Synopsis: The Evolution is Coming.
In 1967, an extraterrestrial microbe came crashing down to Earth and nearly ended the human race. Accidental exposure to the particle—designated The Andromeda Strain—killed every resident of the town of Piedmont, Arizona, save for an elderly man and an infant boy. Over the next five days, a team of top scientists assigned to Project Wildfire worked valiantly to save the world from an epidemic of unimaginable proportions. In the moments before a catastrophic nuclear detonation, they succeeded.
In the ensuing decades, research on the microparticle continued. And the world thought it was safe…
Deep inside Fairchild Air Force Base, Project Eternal Vigilance has continued to watch and wait for the Andromeda Strain to reappear. On the verge of being shut down, the project has registered no activity—until now. A Brazilian terrain-mapping drone has detected a bizarre anomaly of otherworldly matter in the middle of the jungle, and, worse yet, the tell-tale chemical signature of the deadly microparticle.
With this shocking discovery, the next-generation Project Wildfire is activated, and a diverse team of experts hailing from all over the world is dispatched to investigate the potentially apocalyptic threat.
But the microbe is growing—evolving. And if the Wildfire team can't reach the quarantine zone, enter the anomaly, and figure out how to stop it, this new Andromeda Evolution will annihilate all life as we know it.
---
Firefly Original Graphic Novel: The Sting by Delilah S Dawson, Joss Whedon (Creator), Pius Bak (Illustrations), Wesllei Manoel (Contributor)
Expected publication date: November 19th, 2019
Genre: SciFi
Synopsis: Saffron unites the women of the Serenity crew to join her on a heist in this all-new original FIREFLY graphic novel.
Saffron — the enigmatic rogue who captured the hearts of FIREFLY fans worldwide, as well as the heart of Capt. Malcolm Reynolds — returns to the Serenity. But this time, she's got no time for Mal, as she's there to recruit the women of the ship to join her on a heist that has personal stakes for all involved.
New York Times Bestselling writer Delilah S. Dawson (Sparrowhawk, Star Wars: Phasma), along with a team of artists including Pius Bak, Rodrigo Lorenzo, and Taj Tenfold, enter Joss Whedon's FIREFLY to reveal an untold chapter of the fan-favorite saga.
---
Stranger Things: SIX (Graphic Novel Volume 2) by Jody Houser
Expected publication date: November 26th, 2019
Genre: SciFi
Synopsis: Francine, a teenage girl with precognition, has struggled through a lifetime of exploitation: first by her parents, then by Dr. Brenner of Hawkins Laboratory. Dr. Brenner wants to harness her powers as well as those of the other gifted children that they hold captive at the lab. Wracked by increasingly disturbing visions, she sees an opportunity for her and all the children to escape. But at what cost?
From the pen of Jody Houser (Faith, CMYK: Magenta, Max Ride: Ultimate Flight) and featuring art from Edgar Salazar and Keith Champagne (Black Panther), Stranger Things comics is essential reading for fans of the hit Netflix series as well as fans of the urban fantasy and horror genres in general.
Collects Stranger Things II issues #1-4.
---
Thanks for reading!
What books are you looking forward to in November?