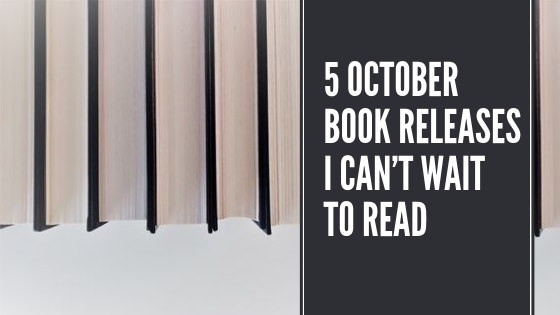 Oh my gosh, October is going to be an AMAZING month for new releases from some of my favorite authors!
Note: This post features Amazon affiliate links. While I greatly appreciate the support if you are going to order online, please try to purchase the book(s) from your local bookstore if you are able. <3
Let's dive in!
Expected publication date: October 1st, 2019
Genre: Horror
Synopsis: A little door that opens to a world of fairy tale wonders becomes the blood-drenched stomping ground for a gang of hunters in "Faun." A grief-stricken librarian climbs behind the wheel of an antique Bookmobile to deliver fresh reads to the dead in "Late Returns." In "By the Silver Water of Lake Champlain," two young friends stumble on the corpse of a plesiosaur at the water's edge, a discovery that forces them to confront the inescapable truth of their own mortality . . . and other horrors that lurk in the water's shivery depths. And tension shimmers in the sweltering heat of the Nevada desert as a faceless trucker finds himself caught in a sinister dance with a tribe of motorcycle outlaws in "Throttle," co-written with Stephen King.
Featuring two previously unpublished stories, and a brace of shocking chillers, Full Throttle is a darkly imagined odyssey through the complexities of the human psyche. Hypnotic and disquieting, it mines our tormented secrets, hidden vulnerabilities, and basest fears, and demonstrates this exceptional talent at his very best.
---
Vampiro And Other Strange Tales of the Macabre by Kevin J. Kennedy
Expected publication date: Early October, 2019
Genre: Horror
Synopsis: After the success of Kennedy's first collection, Dark Thoughts, he brings you Vampiro and Other Strange Tales of the Macabre. This one contains stories inspired by TV shows from his youth, such as 'Tales from the Crypt,' 'Eerie India,' 'The Twilight Zone' & 'The Outer Limits.' Inside, you will find tales of a carnival vampire, a town overtaken by a special kind of Easter bunnies, tales of the insane, a journey through Hell at Christmas time, and many other shorts to make your hair stand on end. Come and join us, but be warned… you may never want to leave.
---
Dead Meat: Day 1 (Dødt kød #1) by Nick Clausen
Expected publication date: October 8th, 2019
Genre: YA
Synopsis: The end of the world one day at a time.
Three teenagers find themselves trapped in a stuffy, warm basement. The old lady who used to own the house is now dead. She's also standing right on the other side of the basement door, scraping and moaning, trying to get in. Patiently. Tirelessly.
How did they end up here? Just a few hours ago, all three of of them were sitting in Thomas' car, sweating and listening to music, not a care in the world. They were almost done with the paper route when they came to the old lady's house. And that's when everything turned to chaos.
---
When She Returned by Lucinda Berry
Expected publication date: October 15th, 2019
Genre: Mystery
Synopsis: One woman's reappearance throws her family into turmoil, exposing dark secrets and the hidden, often devastating truth of family relationships.
Kate Bennett vanished from a parking lot eleven years ago, leaving behind her husband and young daughter. When she shows up at a Montana gas station, clutching an infant and screaming for help, investigators believe she may have been abducted by a cult.
Kate's return flips her family's world upside down–her husband is remarried, and her daughter barely remembers her. Kate herself doesn't look or act like she did before.
While the family tries to help Kate reintegrate into society, they discover truths they've been hiding from each other about their own relationships. But they aren't the only ones with secrets. As the family unravels what happened to Kate, a series of shocking revelations shows that Kate's return is more sinister than any of them could have imagined.
---
Sworn Guardian by T.L. Branson
Expected publication date: October 15th, 2019
Genre: Fantasy
Synopsis: Gone. They're all gone.
His level. Magicka points. Memory. Everything…
Waking aboard an unfamiliar ship missing all the attributes he spent years earning, Aren remembers little except that his sister, Claire, is in mortal danger.
"Save me. Save the Empire." Those were the last words she'd said to him… or was that even her?
Somehow, he's become an oathbreaker, a pariah, and enemy to the throne. With the help of a fellow new recruit to his clan, Aren set's out to find Claire, all while battling new enemies far beyond his level, and piecing together his broken memory.
But still, Aren can't help the nagging feeling that there's something greater at stake. If only he could remember…
---
Thanks for reading!
What books are you looking forward to in October?