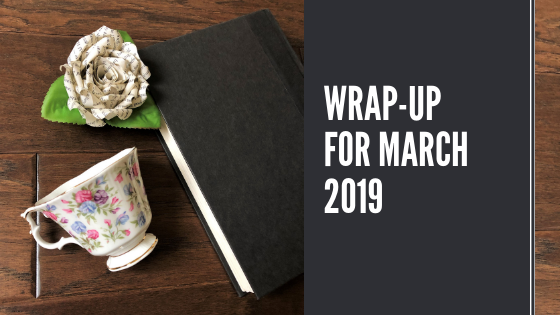 At work this month, we has SO much going on. At the beginning of the month, we all had a small Mardi Gras celebration! Look at this pretty cupcake below!
For the rest of the month, there were a TON of renovations going on. There was a lot of paining and rug replacement. I had to leave the office on a few occasions because the fumes were way too much for me. Luckily my boss rules, and he let me work from home a few times. And boy do I miss working from home!
Toward the end of the month, my body had enough of the fumes and allergens… I had to take a sick day. I was so mad about it because earlier that week I had joked about taking a sick day… and then on the actual day I had off, I just got sicker and sicker as the day went on. My body was definitely flushing the allergens out…
For the first time in quite a while, I got my inbox for my main email account cleared out! I laughed out loud when I got this funny message from MailBird (that's the email platform I use). Now if only I could do this with my blog related email account!
One of the highlights of this month was going to a book event for Diane Les Becquets! I'm so excited that Alex went with me! But not only did Alex take me there so I didn't have to go alone, he also bought me the book so I could get it signed, and treated me to dinner after. What a guy!
I finally got our shadow box created! Since taking this photo, the two pictures inside lost their glue, so I'll have to restick them. But overall I'm very happy with how it turned out!
A group of friends decided to go for a hike up Mount Major this month! It was absolutely terrifying because it was SO icy! But we made it safely!
On the 30th, Alex and I attended a mortgage and first time home buyers seminar. We learned so much and I am so happy that we went. However, this event further proved that we're at least two years out from buying a house, which I'm still wrapping my head around. I really wanted to be out of our place at the end of this year.
Alex has been helping me sort all of our things out so we can get rid of the items we're not using and don't need, or box up items we want to keep but aren't currently using. All in the hopes that we can organize our place better so I feel less claustrophobic. Hopefully we can keep this up and really get things looking better!
Without further delay, let's dive in to my monthly wrap-up!

My Reading Breakdown for March:
5 Stars- 8
4 Stars- 5
3 Stars- 1
2 Stars- 1
1 Star- 1
DNF- 1
Monthly Musings
Watching:
The Time Traveler's Wife (2009 Film)
While I enjoyed this adaptation more than the book, I still didn't love it. Check out my full review here.
Captain Marvel (2019 Film)
I LOVED THIS SO MUCH! What a perfect introduction film! Brie Larson was absolutely perfect. I cannot wait to see more of her as this character! 5/5
The Birds (1963 Film)
When Alex told me he hadn't seen this film, I immediately snagged it from our local library. Alex did not enjoy it… I, personally, LOVED rewatching this! I saw it for the first time when I was way too young, and it terrified me. Each time I rewatch, I remember the original fear, but I just love how humorous I find it now. 5/5
Krampus (2015 Film)
I went into this one totally blind. I saw it on the shelf at my local library and snagged it simply because it said "Krampus." Oh my goodness, I LOVED this movie! Comedy Horror is definitely my favorite genre, and this was the most perfect blend of the two! The casting was awesome as well! 5/5
Spider-Man: Into the Spider-Verse (2018 Film)
As soon as I saw this DVD on the shelf at our local Target, I grabbed it and Alex and I watched it that night. We both absolutely loved it! The artwork is amazing. The soundtrack was great. The plot was interesting. Definitely one of my favorite Marvel films!! 5/5
Conversations with a Killer: The Ted Bundy Tapes (2019 TV Series)
I finally started watching this… my god, this series will get your blood boiling! Each episode is wonderfully organized. If you are interested in True Crime, I highly recommend this. But be warned if you haven't heard much about this case, it's brutal and very unsettling to see Bundy's face. 5/5
The 2000's (2018 TV Miniseries)
The first two episodes of this totally got me hooked! And then I hit the episode that centered around 9/11… I could not stop crying. This is such a powerful series. I definitely recommend checking it out if you haven't yet! 5/5
Playing:
Nothing this month.
Drinking:
This month, I tried a pretty decent green tea with matcha from Lipton. I enjoy it, but I definitely prefer the same type of tea from Traditional Medicinals Tea.
Listening to:
I had this song by Beartooth pop up on my shuffle when I was cleaning one afternoon, and I cannot stop listening to it!
And of course, I'm still hooked on this song. Into the Spider Verse refreshed that obsession! 🙂 This video rules!!
In the bookish community:

Monthly bookish related haul:
Book of the Month:
I skipped picking a new book for March as I just wasn't interested in any of the options. I also finally got around to reading my pick for last month, Early Riser, but had to DNF it.
Book Club:
I had to skip book club again this month 🙁
My favorite bookish photo this month:
In Case You Missed It:
Looking forward to:
In April, I'll be headed to my friend Amber's baby shower! I cannot wait to celebrate her, Rob, and Max!
I also have a doctors appointment coming up in April. It's one that I've been hesitant to schedule… Over the course of the last few months, I've been writing down notes about my symptoms. So I'm hoping to go in and discuss and see where that goes.
Thanks for reading!
How was your month? Have any special plans for April? I'd love to hear about them in the comments section below!