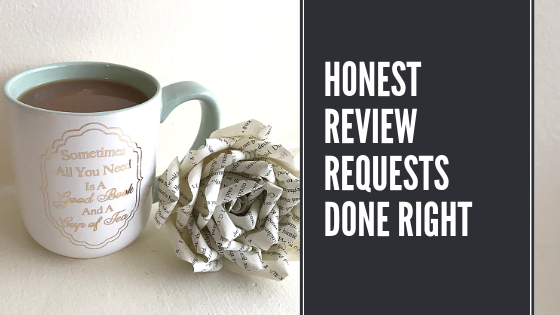 When collecting screenshots for this post, I went though every single one of my emails in my "Review Request" folder. It was so awesome to see all of my email threads that began with, "Hey there! Thanks so much for taking the time to fill out my form! I would love to give (title) a read…"
So for this first edition of my series focusing on Honest Review Requests Done Right, I had to start by highlighting those that followed my initial process.
First, a little background information:
When I finally got this blog up and running, I created a paged called "Request An Honest Review" and on this page, I outlined my process in as much depth as I could think of at the time.
As my process changed over the next few months, the first step was always the same: "If you are a publisher or an author that would like to request an honest review from me, please review the following, and then fill out this brief request form."
Of course, that meant that visitors had to take the time to find this page in the first place. Which, understandably, takes too much time for some.
However, I greatly appreciate those that took the time to do their research before reaching out! After all, no one wants to end up being an Honest Review Request Gone Wrong…
So in this first post, I would live to give a shout-out to those that took the time to follow my process. Many people that filled out my form also left me wonderfully thoughtful comments, the majority of which included something along the lines of, "Thank you for taking the time to consider my request!"
Many Thanks To:
Ally K.
Angie Langley
Arel B. Grant
Ashleigh
Bree Steinbronn
Caleb Pyles
Corina Bishop
Curtis W. Jackson
David Hughes
David Meredith
Dennis Canfield
Edward Vukovic
Elias Zanbaka
Elliot Parker
Ethan Howard
Hervey Copeland
Ian Gregoire
in60Learning
J. Scott Coatsworth
Jim Morris
Jocelyn Tollefson
John Akers
John Manderino
Jordan Lyons
Kathryn Jones
Kelsey Butts
Kevin Hammond
Kevin J. Kennedy
Khaled Talib
Kristopher Kam
L. M. Schukraft
L.D. Goffigan
Lauren Becker
Lisa A. Baeringer
Lisa Munley
Liz Grace
Lokesh Sharma
Lucinda Berry
Lucretia Stanhope
Marta Elena Vassilakis
Martin Ferguson
Matthew S. Cox
Megan O'Russell
Michael C. Sahd
Nadine Fischer
Nikki Thorsted
Pam Labbe
Patricia Furstenberg
Rachel Desilets
Rafael Chandler
Rebekah Teller
Richard Howard
Robert
Rook Winters
Scott Kauffman
Sehaj Deol
Serena Agusto-Cox
shekhar
T.L. Branson
Ted D. Berner
Tony Moyle
Tyler
Wynne McLaughlin
Seeing this list in full is just amazing to me! I am so grateful for everything that this blogging journey has given me!
I am thrilled to say that I am still working with a number of these authors on the list, and some I have even become friends with!
Thanks for reading!
To authors and publishers, thank you all for taking the time to research a bit before reaching out to bloggers to make sure it's a good fit.
To my fellow bloggers, whatever your review request may be, I hope you are having loads of wonderful people reaching out to you. 🙂
Stay tuned for the next edition of Honest Review Requests Done right where I will be sharing screen shots of great emails that have been sent my way.