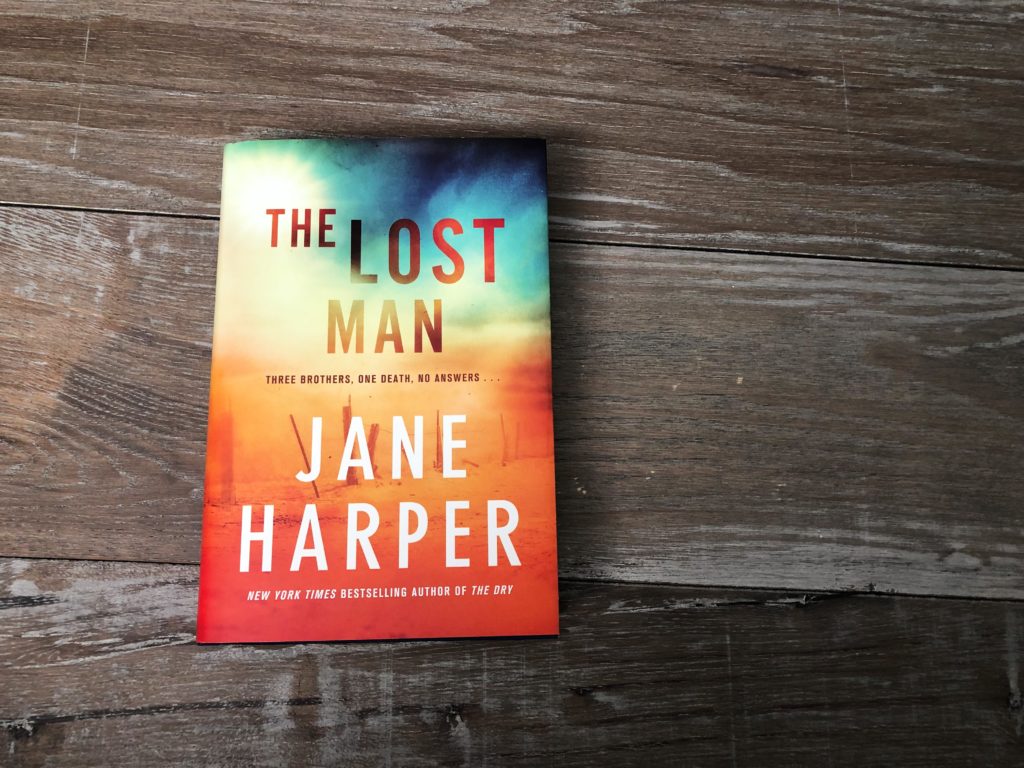 The Lost Man by Jane Harper is an atmospheric tale about regrets, family secrets, isolation, and a man that is found dead by the gravestone of a local legend.
She has done it again, folks! Jane Harper has created another captivating tale that will totally suck you in and not let you go until the very last sentence.
This was one of my top most anticipated reads of 2019, and I am so thrilled that it did not disappoint.
But of course it didn't… It's Jane Harper!
Let's dive into my review.
My Thoughts on The Lost Man by Jane Harper
This is another book that you really just need to read for yourself, so I'll keep this light.
The story begins in a very dark place; two brothers, Nathan and Bub, are standing near the body of their deceased brother, Cameron, who was found by a famous landmark on their property. It seems as though this may have been a suicide, that the stress of working the massive plot of land in the incredibly hot Australian outback was just too much for Cam. But Nathan isn't convinced. There are just far too many things that don't add up.
Over the course of the novel, we are led along a wonderfully character-driven story line where little bits and pieces of the whole picture start being revealed.
It's a bit of a slow build leading up to the last few pages. But it certainly was not boring in any way! With each passing chapter, just enough information was given out. It was like the author was leaving us breadcrumbs, getting us to follow her through the story. Then when the very last bit of dust is wiped away from the big picture, and everything suddenly becomes clear… Amazing.
When I got to the ending, I jumped up and immediately told Alex what had happened. I did NOT see it coming. Of course, now I need to go back and reread it to see if I can catch any dropped hints that I totally missed!
My Favorite Passages from The Lost Man
It was funny how high and bright the red flags flew in hindsight, Nathan thought.
He hadn't heard the name in more than twenty years, and he had to dig deep to fully unearth the memory. Dusty and buried, it rose up through the years and clicked into place, and by then it wasn't a bell ringing in Nathan's head, it was an alarm.
He had been holding on so long, and it was too hard, and he was just tired. He had felt himself, for the first time, simply giving up. Not all at once, and not entirely willingly, but a little at a time, slipping away, day after day.
My Final Thoughts on The Lost Man
The Lost Man was so wonderfully written. The way that the story was organized was absolutely perfect. The plot was super addictive. And the characters were so interesting, especially with all of their faults!
This tale was so much more than just your normal murder mystery. While it had many darker elements such as death, isolation, and loneliness, it also featured forgiveness and second chances.
If you enjoy tales about families that are a bit dysfunctional but are trying their best to come together in a trying time, then I highly recommend this one to you! I also recommend this one to readers that enjoy slow-building tales that end with an explosive reveal.
I cannot wait to read this again.
---
Snag a copy through your local bookstore or feel free to use my Amazon affiliate link: