It finally got colorful around here! It was so crazy. I was sick for two days at the end of April, then spent two more days inside resting. When I went back out side on Monday for work, I was shocked at how GREEN everything became in just those four days!
May was filled with lots of celebrations! We had a baby shower for one of the managers at my work. We went to the second birthday for little Theo, a birthday for one of my book club friends, and a birthday for our friend Sam. We also had two mothers day celebrations; one in Maine and one in New Hampshire.
Speaking of mother's day celebrations… every year my side of the family does a huge brunch honoring my mom and grandma. This was the spread this year:
This month, my company did a wonderful fundraiser for the American Heart Association. There were 100 envelopes stuck to the wall. Each envelope had a number on the front. People were to pick an envelope and donate at least the amount that was on the envelope. I picked #50, so I donated $50. Once you give your money to the organizer, you put the card from inside the envelope back on the wall. I donated in honor of my mom who had quite the scare a short while back.
I also headed up the team for the Walk Against Hunger with my company. My brother and sister in law also joined us. We raised just under $300, which was short of our goal, but I was still so impressed by our team!
Alex and I FINALLY made it over to the Chunky's theater that opened up in our town. It's LOVELY! The entire theater is so clean and wonderfully decorated! This is a theater where you can order real meals too and get served right at your table. We had so much fun!
My grandma gave me a wonderful surprise gift! There was a reusable bag with polar bears on it, a box of blank notecards that she used a photo she took from our wedding, and an awesome bracelet.
The bracelet below is from 4ocean. This group has removed 4,496,484 pounds of trash from the ocean and coastlines by paid 4ocean employees since 2017 through the sale of their products. Purchase of bracelets like these helps remove one pound of trash from the ocean & coastlines. To learn more, visit the 4ocean site here.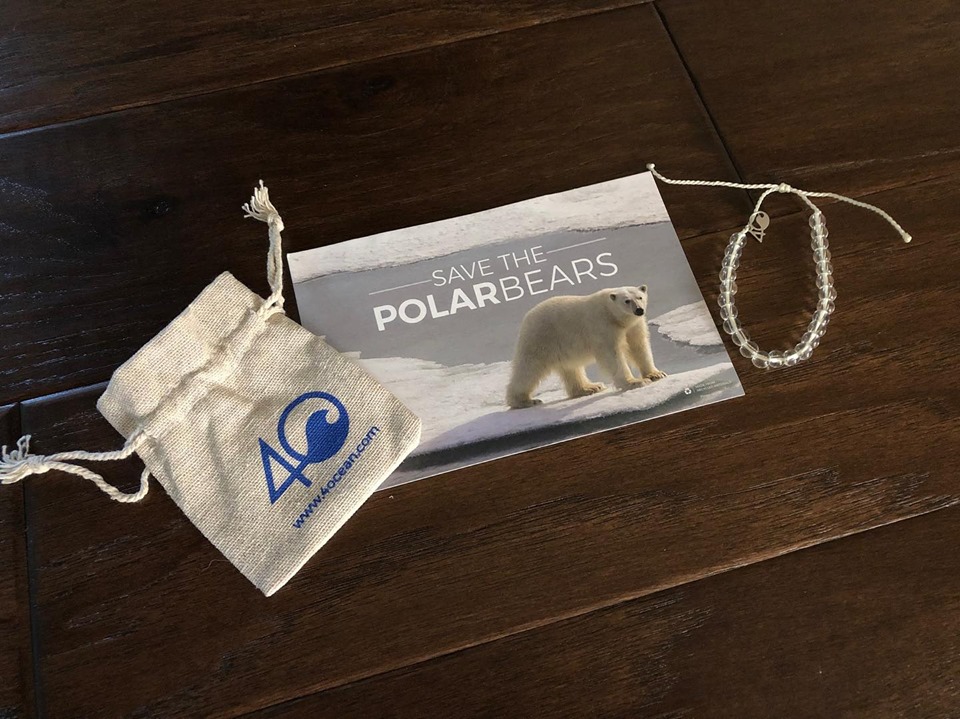 This month, I finally got back into the swing of things with my yoga practice. I also bought a new B Matt from B Yoga, this time snagging one of the long versions so I don't have to worry about my head going off mat.
The photo below was taken by our yoga teacher, Chris, during one Tuesday class.
My company also began offering massage right in the office! So I had my first professional massage (other than one 15 minute chair massage) for the first time in over six years! It was INCREDIBLE. I cannot wait to schedule another session next month.
This month, it also became really clear to me that I am totally burnt out. I've been doing way too much for far too long. This Summer and early Fall are already booked to be just as crazy busy as ever. But in the late Fall, I'm going to seriously evaluate things and see where I can realistically cut back.
In the meantime, I've been working on making more time for self care and saying no more often (at least twice a week!). I'm the type of person that always seems to say yes to please everyone else, but I very rarely put myself first. So I'd love all of the self-care tips!
This graphic came into my life just when I needed it the most:
Medical Update! Feel free to skip the text in italics below.
I went back for a sonohysterogram on the 15th and we learned that my fibroid is in the muscle! This is great news! It means I don't need surgery right away or potentially at all, depending on if it grows or causes more pain.
Moving forward, we are going to monitor it. I'm so excited to finally be able to move forward here. Next steps are to monitor my cycle now that I am off birth control to see if simply going off the hormones will help lighten things up. Fingers crossed!
Without further delay, let's dive in to my monthly wrap-up!
My Reading Breakdown for May:
5 Stars- 4
4 Stars- 4
3 Stars- 0
2 Stars- 1
1 Star- 0
DNF- 1
Monthly Musings
Watching:
End Game (2019 Film)
I missed going to see this with our crew because I was sick, so Alex took me to see it as soon as I felt better. I managed to avoid spoilers (phew!). I really enjoyed it! 5/5
Extremely Wicked, Shockingly Evil and Vile (2019 Netflix Film)
Oh my goodness. If you haven't seen this already and you enjoy true crime, I highly recommend it. Zac Efron did an AMAZING job in this role. Before you give this one a go, make sure to watch The Bundy Tapes on Netflix. 5/5
Pokémon Detective Pikachu (2019 Film)
THIS WAS SO FUN! Oh my gosh. I already can't wait to watch again. They did an awesome job. Everything looked great and the story was engaging. 5/5
Game Of Thrones (Season Eight, Series)
I am so bummed by how rushed this season has felt. I still loved it, but it's like a book that you're really enjoying, but then suddenly things start happening and you're not sure if that was the plan, or if time just ran out. 4/5
Riverdale (Season 3, Series)
Oh this show… This season was INTENSE. It certainly got weird, but I love it! 5/5
Playing:
TRIVIA! My new co-worker and friend, Morgan, introduced me to Trivia down here in New Hampshire and I'm loving it! I went to a couple different spots with her crew this month and really enjoyed each. I'm a huge fan of the audio rounds.
Drinking:
I've been trying a bunch of new teas this month! Stay tuned for a post about that 🙂
I had a few sour beers this month! All of which I've logged in a new app that my friend recommended called Untappd. If you're a beer fan, I highly recommend checking it out! For wine lovers, there's another called Vivino that is awesome as well!
One was the Sour Monkey from Victory Brewing Company. This was just a plain sour beer that was light and refreshing. It had a very mild apple taste. This is one I definitely need to snag to have on hand for summer parties!
Another was called Wheels Gose 'Round from Left Hand Brewing Company. It had a strong raspberry taste, which is one of my faves, so I really enjoyed this one!
Then I had a Sweet Tarts from Peak Organic Brewing while we watched Detective Pikachu. It was really tasty as well!
After the Walk Against Hunger, the Metcalf clan and Morgan went to Thirsty Moose for lunch. I snagged the Gose with Raspberry from Poppy's Moonship. It was DELICIOUS! Definitely one of my new favorites, but boy was it pricey. $10 for one can!
Listening to:
I've been so hooked on Bryan Adams! He's one of my all time favorite artists, so when I heard that he was coming to NH on tour, I made sure all the songs I have by him were on my iPhone!
I've also been listening to a ton of podcasts that had, for whatever reason, stopped updating in my feed.
In the bookish community:
Last month, I took part in the Spring Into Horror Readathon and this month I learned that I was one of the lucky winners! I chose the option where the host would make a $15 donation to the winner's choice of a human rights organization. I picked Planned Parenthood.
Monthly bookish related haul:
Book of the Month:
I didn't love the picks for May, so I snagged a book from a previous month: A Woman Is No Man by Etaf Rum. Stay tuned for my review on that!
Book Club:
For my work book club, we read The Music Shop, which was a super fun read! I really enjoyed it, but the majority of our group did not.
My favorite bookish photo this month:
In Case You Missed It:
Looking forward to:
For the month of June, I'm really looking forward to N0S4A2 airing! That goes live tomorrow, June 2nd!
I'm also looking forward to seeing Bowling For Soup with Alex! It'll be my second time seeing them and I'm so pumped!
In late June, my best guy friend is getting marries!! I cannot wait to celebrate with him and his beautiful soon-to-be wife! <3
Thanks for reading!
How was your month? Have any special plans for June? I'd love to hear about them in the comments section below!