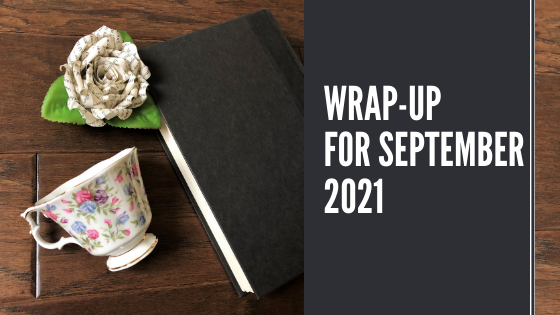 Well… September didn't kick off as I had expected. I was extremely ill and wound up in the emergency room at the tail end of August and it took a full two week to recover fully. While it was miserable, and I would never wish something like that on my worst enemy, I am grateful for everyone that reached out, to my husband that bent over backwards to do anything I needed with or without me having to ask. I'm also grateful that this gave me a little reset.
That saying is SO true; "If you don't pick a day to relax, your body will pick it for you." Make sure to take time for yourself to truly relax, friends! <3
On a lighter note, Alex and I had our third wedding anniversary! Where I still wasn't feeling well, we just ordered takeout and watched a movie together, but it was lovely.
Later on in the month, the photos from my brothers wedding came back! I will add a couple below:
I'm obsessed with their photos! They're all SO pretty!
This month I was able to finally put a therapy assignment into place where I put things on the calendar and tackle only that thing. This has been extremely helpful with the projects we're working on around the house! My norm is to see a to do list, and try to rush through each thing to clear out the list. But that's clearly not great when I just exhaust myself!
I'm hoping I can keep up this new practice. It's already doing wonders and I feel so fulfilled having accomplished that one thing rather than brushing aside what I do accomplish, and being wicked hard on myself for what I didn't get to, even if it was totally unreasonable to expect of myself.
Other than that, I spent the rest of the month trying to continue to monitor my time and activity levels. I had a couple of doctor appointments and social events scattered throughout the month once I had the energy to go.
Let's dive in to the rest of my recap!
My Reading Breakdown for September:
5 Stars
4 Stars
3 Stars
2 Stars
1 Star
DNF
Monthly Musings
Watching:
Raising Hope | Hulu – 5 Stars
I just LOVE this show so much. Alex and I are really enjoying watching this together. The number of belly laughs we both have every single episode is wonderful! This is a must watch if you need a laugh! I counted one show and Alex had seven deep belly laughs.
Mosquito State | 2020 Horror Film | Shudder – 1 Star
What in the world did I just watch?! To be fair, I watched this when I was very ill, so that may not have been the best idea. But this was super bizarre and I have no idea what the point was!
Monsterland | 2020 Series | Hulu – 2 Stars
I was so excited to watch this after reading the show description. But after I had binged the first five episodes of season one while I was sick, I had to stop. It just wasn't keeping my interest.
Only Murders In The Building | 2021 Series | Hulu – 4 Stars
This show is so much fun! If you're not watching this yet, you should check it out!
Nine Perfect Strangers | Series | Hulu – 4 Stars
My mom recommended this to me and I'm so glad I got to dive in! This show has quite the cast! I love how the story is unfolding!
Bleed With Me | 2020 Horror Film | Shudder – 2 Stars
Three people are heading to a cabin in the woods for a little rest and relaxation… What could go wrong, right? Phew. I knew something bad would happen, but oh my goodness. This one is very unsettling. It's a very slow paced psychological horror. If that's your jam, you'll love this!
Bloodthirsty | 2020 Horror Film | Shudder – 3 Stars
When an artist gets word that a famous producer wants to work with her, she's pumped! There's only one downside, this man was tried for the murder of another artist, and his home is out in the middle of no where… Of course, with big dreams of fame and a killer second album, that doesn't scare the main character away. Once she arrives at the home, she begins to have some odd visions and the vegetarian suddenly craves meat… This one was very eerie! I was so nervous to see where this one was going.
Carrie | 1976 Horror Film | Shudder – 4 Stars
This is such an unsettling film! I love it, but I'm always so uncomfortable while watching. Poor Carrie.
Slasher Flesh & Blood | 2021 Horror series | Shudder – 4 Stars
My GOD this is gory! Body horror and straight up terror at it's finest! I have jumped SO many times, and I'm almost constantly curling my toes from the body horror. I could not wait to see how this one would end! I need to rewatch this again soon!
Superhost | 2021 Horror Film | Shudder – 5 Stars
A must-watch for horror fans! When two vloggers take a trip to a house in the woods, they're pumped to film footage for their channel to get their clicks up. One of them has another plan for the weekend. But all that is about to come to a screeching halt when they meet their host, Rebecca. The actor that played Rebecca, Gracie Gillam, was BRILLIANT. She crushed the role. She was so creepy, but at the same time, I was rooting for her! While watching, my husband commented on how cool it was that this film wasn't afraid to be terrifying in broad daylight!
Martyrs Lane | 2021 Horror Film | Shudder – 4 Stars
The two little girls, Kiera Thompson and Sienna Sayer, did amazing jobs in this role! While there were a ton of jump scares here, overall this one was pretty heartbreaking! Be careful with this one if you have lost a child or try to avoid stories about that.
The Matrix | 1999 Action Film | HBO Max – 4 Stars
My husband finally had me watch this with him. What a blast! I loved this but at the end I said it was probably not something I'd rewatch. We'll see if that holds true. On to the second film!
The Matrix Reloaded | 2003 Action Film | HBO Max – 2 Stars
Continuing our watch through the trilogy, I wasn't a fan of this one. A lot of the scenes seemed to be drawn out to fill space. If they had cut the dragging scenes in half, I may have enjoyed this one more. From the storyline, I am excited to see where it goes from here.
Playing:
Nothing this month.
Drinking:
Lots and lots and lots of water! After being severely dehydrated, I wasn't playing around with straying in that direction any time soon.
Listening to:
I had plenty of time to catch up with my podcasts this month! It felt awesome to have nothing in my queue for a bit while I awaited the newest episode releases.
In the bookish community:
Here are some posts I loved this month:
Monthly bookish related haul:
PHEW! This month was insane with incoming books! I'm so grateful that many of these were sent to me directly from the author. A few I have already read, the rest I cannot wait to get to soon!
My favorite bookish photos this month:
In case you missed it:
Looking forward to:
October is my favorite month! It's already looking pretty busy, so I'm hoping to be able to take the time to relax and enjoy the month. Maybe some plans will be cancelled! *fingers crossed*
Thanks for reading!