Buzz Book Expo is a wonderful online event hosted by Mary SanGiovanni, Matt Wildasin, and Somer Canon where publishers can discuss the releases that they have coming out between now and the end of 2022.
This event totally broke my book budget last year… but I was so excited to snag some new books and add to my to-buy list again this year!
If you missed the live event, don't worry! The team recorded the event and that will be available for you to check it out when you have time on the Buzz Book Expo Youtube channel!
Please note: This post contains affiliate links.
Let's dive in!
Day One | Saturday 9/4/21
Intro with Mary SanGiovanni
Kicking things off, there was an awesome giveaway for The Last House On Needless Street by Catriona Ward! I cannot wait to read into this book when it launches. It sounds SO good.
Crystal Lake Publishing – featuring Christina Bergling, Elana Gomel, Kevin Lucia, and R.B. Wood
For the first publisher time slot, there were pre-recorded sessions hosted by various authors that all discussed their upcoming works and a few did readings from those books.
First up was Christina Bergling who discussed her book Followers, releasing from Crystal Lake Publishing on September 24th, 2021. Christina is wonderful! I've read a bunch of her short stories in collections from KJK Publishing, so I can't wait to pick up this one, especially after Christina did a quick reading during this event!
Next up was a reading from Elana Gomel. She read from her novel, Little Sister, a dystopian historical fantasy set in the Soviet Era, that will be out on October 15th from Crystal Lake Publishing. Elana also gave some insights into her work and how it's tied to her family.
Then there was a session with Kevin Lucia, who discussed his upcoming releases from Crystal Lake Publishing called October Nights. I NEED A COPY OF THIS COLLECTION IMMEDIATELY!
Next, a session with R.B. Wood who did a reading from his latest novel, Bayou Whispers. This one totally hooked me. I need to get a copy soon!
Paul Goblirsch of Thunderstorm Books
Paul jumped on live to talk about the releases coming up and then did a Q&A. He has SO many awesome looking books coming out soon!
I always love seeing Paul and his amazing bookshelves with three copies of all the books he's worked on! SO cool to hear that Crossroads by Laurel Hightower will be coming out as a Temptest book! That's going to be stunning!
Two other books from the list mentioned by Paul that I would KILL to order are as follows:
One day! I am setting the goal right now. I will one day be able to afford to snag a Thunderstorm Books edition from one of my favorite horror authors!
Michelle of Eerie River Publishing
Michelle jumped on live to first discuss what has come out in the It Calls From anthology series so far and announced that next up is It Call From The Doors, all about portals and doorways. Sign me up for this one! I cannot wait to dive into that when it comes out on October 15th. She then went over other upcoming releases before diving into a Q&A.
From this session, I picked up Sentinel by Drew Starling so I can prep for his next release in 2022!
Tim of St. Rooster Books
Tim went over everything they launched recently and what they have coming up live on the air. The one I'm most excited to snag is Let The World Drown, which is a sea horror anthology! As an islander, I'm always game for any tales about the ocean!
Expo Committee Presentation – featuring Mary SanGiovanni, Matt Wildasin, and Somer Canon
This was a wonderful wrap up for the day!
If you haven't yet, please go check out these links to learn more about these three:
On to day two!
Day Two | Sunday 9/5/21
I may have missed the first day when it was running live, but I wasn't going to miss the second! I grabbed a drink and got ready to roll!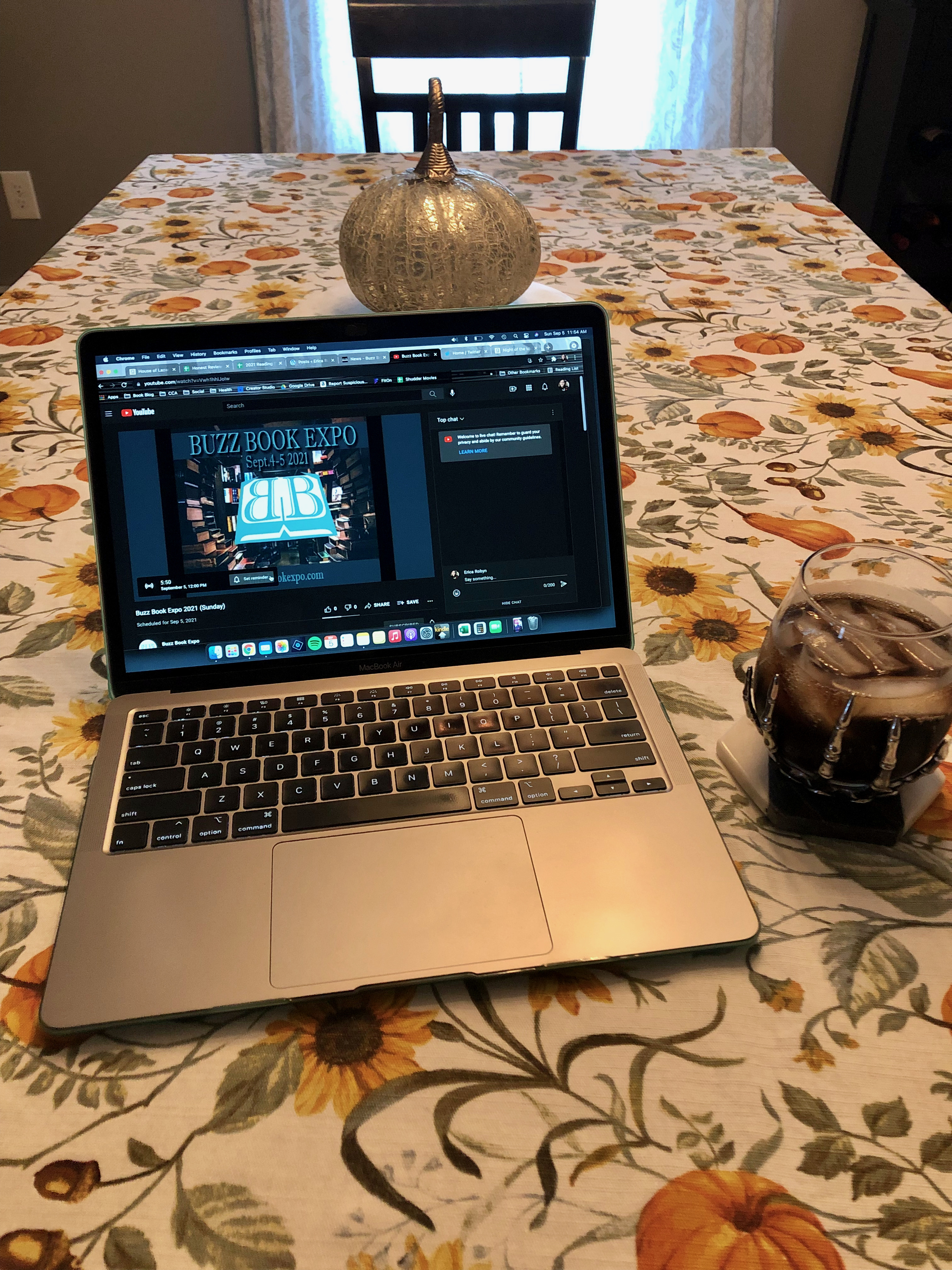 Rob Errera of Bad Hound Books
Rob jumped in live to discuss what they've been working on recently. One collection he spoke about was The Count at Play and Slaughter Series by C.L. Holmes. I'm very intrigued by this one! I need to know more asap. I already snagged book one in the series; Amalina and the Secrets of the Wailing Castle: Episode 1.
Jacob Haddon of Apokrupha featuring Jessica McHugh
In this session, Jacob Haddon and Jessica McHugh jumped on to discuss their works with black out poetry. I finally picked up A Complex Accident of Life by Jessica McHugh, and I can't wait to snag Strange Nests as well soon!
Dawn Shea of D&T Publishing
Dawn the owner of D&T Publishing jumped on to talk about her path so far with the publishing company. I loved learning that this publishing house is named after Dawn and her husband! I grabbed a copy of the first ABC's of Terror! I'm also hoping to see a future release from Mr. E.C. Hanson from this publisher!
D. Alexander Ward of Bleeding Edge Books featuring John F. D. Taff
Next up, D. and John jumped in live. The second these two jumped on, I remembered that I still haven't been able to read The Bad Book yet! I'm kicking myself for not getting around to reading that one yet after my pre-order arrived! Hopefully I will get to it very soon!
John Baltisberger of Madness Heart Press
John jumped on live to go over a TON of upcoming things! I'm SO in for their upcoming series that's in the works; Blood Sports. I'm still a bit here and there with body horror, so I can only imagine this one is going to make me squirm!
Jason Sizemore of Apex Books
Jason dove right in discussing how he started his small press before discussing the many books he has coming out soon! After that, he chatted about Apex Magazine. This was a wonderful session to end on!
---
So, what did I buy?
Sentinel by Drew Starling
Amalina and the Secrets of the Wailing Castle: Episode 1 in the Count at Play & Slaughter series by C.L. Holmes
A Complex Accident of Life by Jessica McHugh
ABC's of Terror from D&T Publishing
I also can't wait to pick up the following titles:
Followers by Christina Bergling (Coming out September 24th 2021)
October Nights by Kevin Lucia (Coming out October 22nd 2021)
Bayou Whispers by R.B Wood (Published April 29, 2021)
It Call From The Doors anthology from Eerie River Publishing (Coming out October 15th 2021)
Let The World Drown: An Anthology of Sea Horror from St Rooster Books
Strange Nests by Jessica McHugh
Thanks for reading!
This was SO much fun to tune into over the weekend, especially after having a very awful week. I have added a ton of books to my TBR list and purchased a bunch as well. Thank you so much to everyone that was involved in running, planning, promoting, and participating in this!
To watch the event on demand, check out the Buzz Book Expo Youtube channel by clicking here!
---
Related Reading: