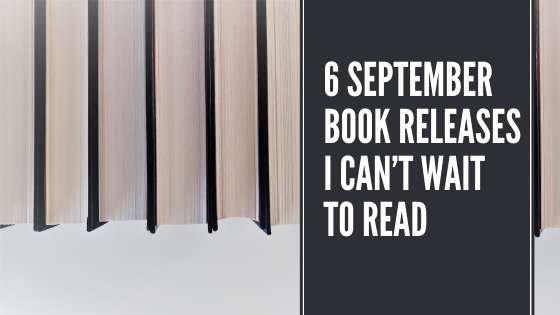 So sorry this one is late! There's one book on my list that already made it's debut. But hey, better late than never! Check out the upcoming books that I can't wait to get my hands on!
Please note: This post contains affiliate links for bookshop.org. By clicking the links and ordering the books, you can help support a local indie bookshop! By using this link, I will get a small commission.
Let's dive in!
September 2021 Book Releases
The Strange Thing We Become & Other Dark Tales by Eric LaRocca
Publication Date: September 1st, 2021
Publisher: Offlimits Press
Genre: Horror
Synopsis:
The Strange Thing We Become and Other Dark Tales collects eight stories of literary dark fiction. Tense and terrifying, these masterful stories by Eric LaRocca explore the shadow side of love.
You Follow Wherever They Go
Bodies Are for Burning
The Strange Thing We Become
The Trees Grew Because I Bled There
You're Not Supposed to Be Here
Where Flames Burned Emerald as Grass
I'll Be Gone by Then
Please Leave or I'm Going to Hurt You
Note: I had the opportunity to read an ARC of this, and my goodness. You NEED to pick this up asap if you enjoy unsettling horror. This is a collection of eight tales that will unsettle you deeply as you ingest the story as quickly as you can to see what happens next within each tale.
---
Pulp Harvest
Expected Publication Date: September 13th, 2021
Publisher: Blood Rites Horror
Genre: Horror
Synopsis:
The fifth anthology from Blood Rites Horror brings serial killers and slashers ploughing relentlessly through the harvest season. Featuring:
JACK HARDING | CARLA ELIOT | AIDEN MERCHANT | ALANA K. DREX | JEREMY MEGARGEE | NIKKI R. LEIGH | NICOLE LYNN | SPENCER HAMILTON | JULIE HINER | D.A. BUTCHER | E. REYES | LEEROY CROSS JAMES
Strap in for some gory homages and new classics in our best anthology yet. Coming September 13th.
---
The Waiting by Hunter Shea
Expected Publication Date: September 14th, 2021
Publisher: Silver Shamrock Publishing
Gener: Horror
Synopsis:
"Clinging to life, haunted by the dead. "
Newlywed Cassandra Pagano lies in a state between life and death, her body fed and preserved by the machines at her side. While she struggles, unaware of the world around her, someone waits a boy. A phantom that appears solid, real, "alive." Cassandra s husband, Brian, sees him in the house, by her bedside, running down darkened hallways. The boy walks without sound, whispers words that can t be deciphered.
Terror and tension are driving Brian to the breaking point. Why is the boy there, and what does he want with Cassandra and her fading soul?
---
House of Lazarus by T.L. Bodine
Expected Publication Date: September 21, 2021
Publisher: Glass Rat Media
Genre: Horror & Suspense
Synopsis:
Things were just starting to look up for Davin Montoya — 23 years old and freshly deceased, he'd at least found something like a family among his fellow Undead. But life as a reanimated corpse has its downfalls. Unemployment, for one, and the threat of discovery by the government's anti-Undead Coalition, for another.
As Davin tries his best to care for his teenage sister — a YouTube journalist this close to cracking a major conspiracy, she's sure of it — and navigate a new relationship with his zombie boyfriend, he stumbles upon a disturbing truth: There are many more Undead in Los Ojos than he realized, and they know some dark secrets.
Now Davin's got a choice. He can get involved with these desperate zombie squatters and risk losing the life he has…or he can walk away from his best chance at uncovering the real truth of what happened the night he died.
Note: This is the follow up to River of Souls. I am SO pumped to dive into this one.
---
Horseman: A Tale of Sleepy Hollow by Christina Henry
Expected Publication Date: September 28, 2021
Publisher: Berkley Books
Genre: Dark Fantasy
Synopsis:
In this atmospheric, terrifying novel that draws strongly from The Legend of Sleepy Hollow, the author of Alice and The Girl in Red works her trademark magic, spinning an engaging and frightening new story from a classic tale.
Everyone in Sleepy Hollow knows about the Horseman, but no one really believes in him. Not even Ben Van Brunt's grandfather, Brom Bones, who was there when it was said the Horseman chased the upstart Crane out of town. Brom says that's just legend, the village gossips talking.
More than thirty years after those storied events, the village is a quiet place. Fourteen-year-old Ben loves to play Sleepy Hollow boys, reenacting the events Brom once lived through. But then Ben and a friend stumble across the headless body of a child in the woods near the village, and the discovery makes Ben question everything the adults in Sleepy Hollow have ever said. Could the Horseman be real after all? Or does something even more sinister stalk the woods?
---
The Last House on Needless Street by Catriona Ward
Expected Publication Date: September 28th, 2021
Publisher: Tor Nightfire
Genre: Horror Thriller
Synopsis:
In a boarded-up house on a dead-end street at the edge of the wild Washington woods lives a family of three.
A teenage girl who isn't allowed outside, not after last time.

A man who drinks alone in front of his TV, trying to ignore the gaps in his memory.
And a house cat who loves napping and reading the Bible.
An unspeakable secret binds them together, but when a new neighbor moves in next door, what is buried out among the birch trees may come back to haunt them all.
---
Thanks for reading!
What are you looking forward to this month?