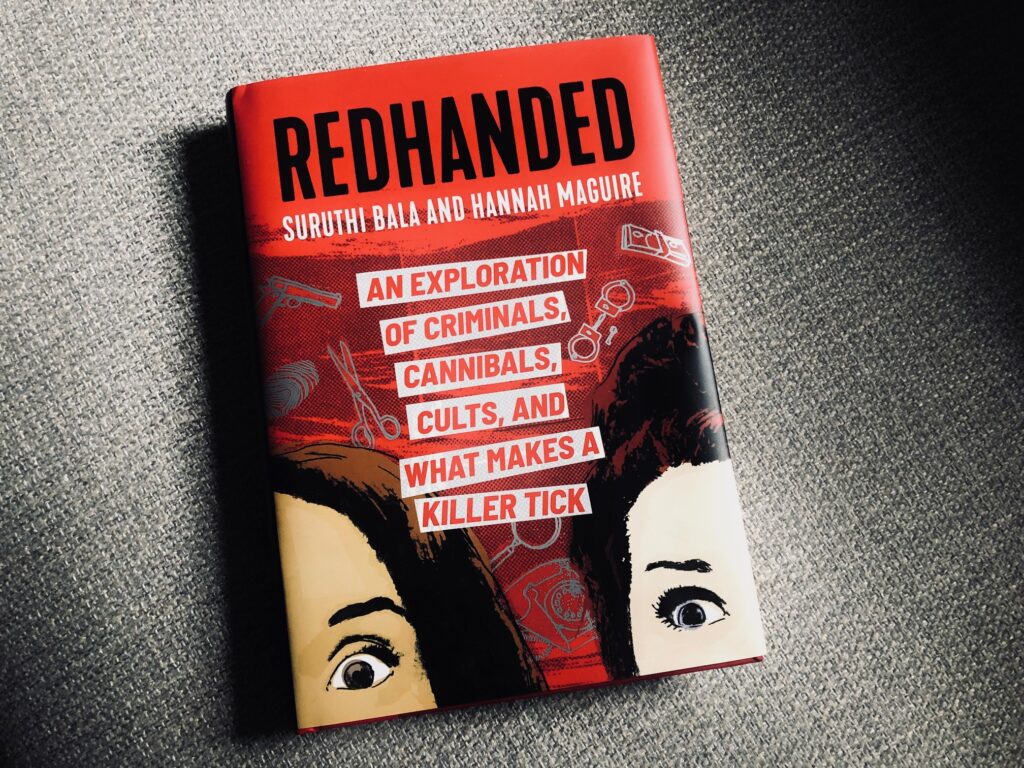 Often with true crime books, shows, or films, the focus lies mainly on the stories of who was involved and what happened, but they don't always get to the why.
In RedHanded: An Exploration of Criminals, Cannibals, Cults, and What Makes a Killer Tick by Suruthi Bala and Hannah Maguire, these two true crime podcasters dove into the science and psychology behind what can make someone a killer.
Full disclosure: I was given a free copy of this book from the publicist in exchange for an honest review. This did not affect my rating in any way.
Let's dive in!
My Thoughts on RedHanded: An Exploration of Criminals, Cannibals, Cults, and What Makes a Killer Tick by Suruthi Bala & Hannah Maguire
I'm obsessed with the RedHanded podcast. I was shown this show by my friend Amber, and after listening to just one episode, I was hooked. I unfortunately fell behind in listening, so I totally missed the mentions of the book. When the publicist reached out to ask if I would be interested in reading a copy, I couldn't believe it! Of course I was interested! The day this arrived on my porch, I cracked it open and started reading.
Of course, you do not need to have listened to the podcast if you want to read this, but knowing these two and how they speak may help you understand some of the humor and jokes included.
If you snag this one, you'll want to buckle in before letting Suruthi and Hannah explain the various factors that may come into play on an individual's path toward murder… Per usual, these two don't hold their punches!
Within the pages of this book, they have broken out the information in sections that include:
Genetics
Childhood & Adolescence
Insanity
Misogyny
Cults
Relationships
Bigotry
Sex
In each section, you'll learn a ton while also getting real world examples to quench your true crime thirst. I was so impressed with the research that these two did and how many studies they were able to pull in to discuss. Of course, if you wanted to learn more, all of the studies are referenced at the back of the book.
I really loved hearing Suruthi and Hannah's voices really shine through in this book. Not only in the storytelling or the explanations, but also in the quick jabs that were thrown here and there to keep readers from spiraling into a dark pit of anxiety due to the subject matter.
The subheaders were also very clever! Some were straightforward, some were cheeky, and some were added for the laugh.
My Favorite Passages from RedHanded
Most killers tend to develop their own code of ethics; after all, no one is the monster in their own story (that's why your ex-boyfriend still has friends).
Never trust a fucker who learned to drive in a fancy car.
So it's important to understand that joining a cult and staying in a cult isn't about intelligence. It's about abuse, and anyone can fall victim to that.
But firstly, no one wears a negligee to bed; many have tried, all have morphed into Sweatzilla and given up. These days women wear their favorite true crime podcast's merch covered in dog/cat hair to bed.
We are obsessed with fear and death, and our obsession with true crime is a sort of controlled fear.
My Final Thoughts on RedHanded
While this was a disturbing read that made me double check my locks at the end of the day before the night set in, I had a blast reading and learning more.
This is a must read for true crime fans.
---
Snag a copy through Bookshop to help support local indie bookshops:
Thanks for reading!