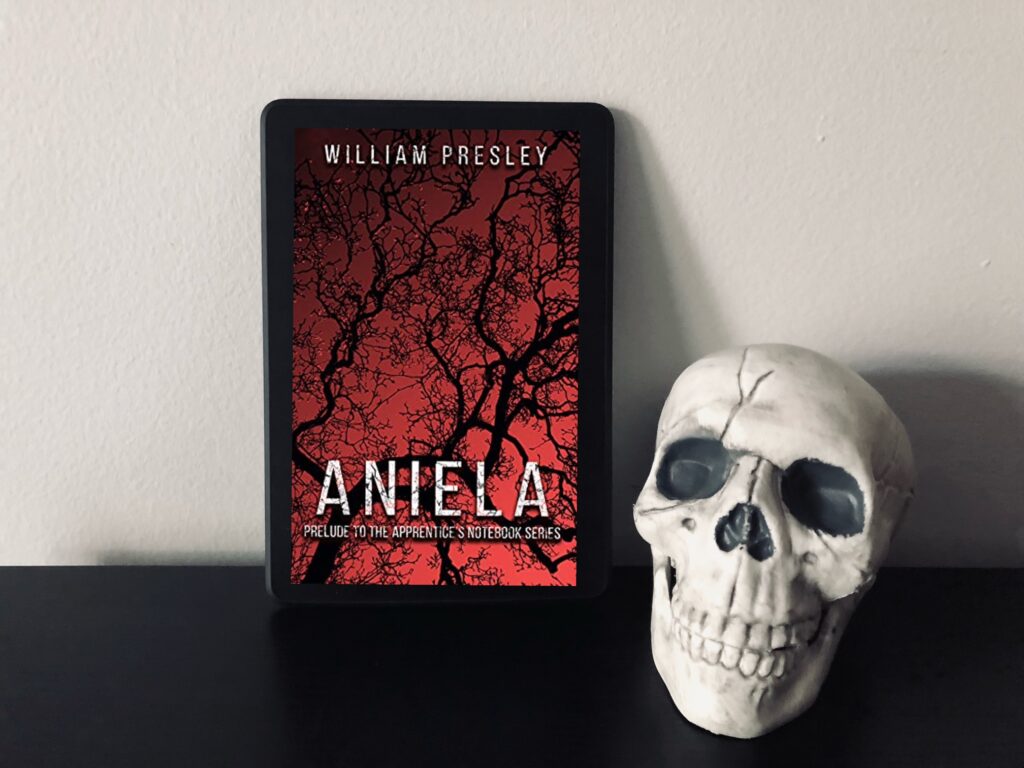 ANIELA by William Presley is a dark tale about a young man that crosses paths with a dark entity. When she promises to help him, he falls for it. Can he get out from under her control before it's too late?
As the prelude to the Apprentice's Notebook Series, this novella is sure to hook readers and make them eagerly await the series to come!
Full disclosure: I was given a free copy of this book from the author in exchange for an honest review. This did not affect my rating in any way.
Let's dive in!
My Thoughts on ANIELA by William Presley
This novella released the day before my birthday this year! I'm so bummed that it took me so long to get to it, but here we are! I had a blast reading this. I never knew what to expect next!
When the story kicks off with the prologue, we see a man doing something horrible. It's clear right away that he's doing this deed for someone else. Later, his wife promises that her husband isn't a bad man, and that this isn't him. A line that investigators usually brush aside. But luckily for this couple, the man sent out to help understands what is actually happening here and he believes her.
Then we jump into chapter one where two young men are in a funeral parlor. One is dressing a body to prepare for a viewing, and the other is pestering the first with questions and comments, trying to get inspiration for a writing project. After the two split up, the writer heads to a neighborhood to see his great-grandmothers house as he had been thinking about her recently after she had passed awhile back.
There, he spots an old woman sitting on the porch, but he thinks he's seeing things. The woman on the porch can't be the same woman that his friend was dressing in the funeral parlor.
When he goes to take a look, he realizes that, impossibly, it is the same woman.
Even though the first encounter spooks him, he just can't stay away. Soon, he's agreeing to give her a drop of his blood… From there, things go sideways and he is on a path of destruction. His life will never be the same.
While this story started out dark, we flipped back to lightheartedness with a bit of morbid humor to get a little break. But after the darkness sweeps in again, it doesn't let up.
There plenty of horror scattered throughout this novella, but one chapter really spooked me; The hypnosis chapter. This one was absolutely terrifying! The description of the scene was incredibly dark and written so perfectly that it played out just like a film in my mind. I was prepared for nightmares after reading this bit!
Pick this one up when you have time to read straight through! Trust me, you won't want to put it down.
My Favorite Passages from ANIELA
Her expression had been set to mimic sleep, but between the one eyebrow that was arched just a little too high and the strong jaw that was shifted just a little too far right, she looked as if she were having a nightmare… and enjoying it.
She'll slip into the skin of some known demon or folk villain and then take advantage of its premade reputation to manipulate her target.
The next morning, I awoke with a clear mind and a stiff body. The pain in my chest hadn't subsided, but I knew it never would. At least… not fully. Not after what I had lost. Indeed, we tend to categorize so many of the bonds we form in life, but there are some people who need no adjective. Their presence is simply a constant – a part of your own personality. Your best or worst memories with them become landmarks in time. And when they die, they take pieces of you with them. Those are the losses that expose the 'time heals all wounds' cliché for an outright lie. There will always be a scab. Its constant itching will sour so many of life's great moments, and yet, scratching it only stings. All you can do is try and adjust to the pain… to anticipate and accept.
There's nothing wrong with emptiness.
Every second you spend thinking about what she did is a second's worth of energy you're throwing right back to her. Don't give her another opening into your life.
My Final Thoughts on ANIELA
ANIELA was an awesome read in itself and such a great set up for a series! It was written in a way that is sure to hook readers and keep them guessing at what will happen next. This author also doesn't shy away from dark and brutal scenes, so readers will cringe while reading as quickly as they can to see a particular scene through.
I cannot wait to see where the story goes from here and what trip the author takes readers on!
Snag a copy through your local bookstore if you are able or feel free to use my Amazon affiliate link:
Thanks for reading!