This month FLEW by. I feel like a broken record saying that, but my goodness, where does the time go?!
This recap will be a very quick one. I'm unfortunately still getting over a nasty sickness that brought me to the ER a few days ago. TW for the paragraph below in relation to that experience.
Whatever it was came on very quickly and really knocked me down. I can't remember a time that I have ever been even close to being that sick. It was truly scary and the experience with the ER itself was a nightmare… They have to test for COVID before letting you in, which is totally understandable. But I waited way too long before caving and telling my husband I was ready to go to a doctor in the first place. Then when we got there, a nurse came out and took my vitals and told us to go park and they would call us for the intake. That took 45 minutes. Then after that, they had me drive up to take a COVID and Strep test to rule those two things out. Then back to the parking lot for about two hours before a room was finally ready for me. And all during this time I was getting violently ill in the front seat of my car while my poor husband sat there, totally helpless and anxious to get me help. When a room was finally ready, it took them a half hour before a doctor came in to look at me and she told me that she wanted to get me an IV ASAP and start anti-nausea meds and fluids. So off to a new room I go. Of course, as I had been violently ill for three days at that point, getting a vein was a struggle for the poor nurse that had to call someone else in. I have five marks from the IV's and needles. But I made it! After a few doses of the anti-nausea meds, I was able to start sipping liquid and didn't have it come back up. A few hours later, and still feeling absolutely horrible, I was discharged to rest up at home, but I wasn't complaining! I just wanted to sleep and that place was packed and very loud the entire time I was there. PHEW.
It's been two days since the ER, and this is the first day that I've been able to sit up for more than 5 minutes and eat something that resembled a meal, not just small bites of food here and there. I'm PUMPED. After posting this, it's right back to the couch for another horror movie and some more gatorade.
This month was seriously on fast-forward as I just counted down the days to my brother getting married to his amazing fiancee that I am so happy to call my new sister-in-law! I cannot wait to see more photos from the big day!
We snagged this photo of my mom, brother, and I before rehearsal dinner.
And this one with family friends that we had the chance to catch up with for the weekend. It was amazing to see them and I miss them already!
Next month I'll hopefully have a few other photos to share from the weekend. It was such an amazing weekend and an absolutely perfect wedding. I wish for all the best for my brother and sister-in-law!
Let's dive in to the rest of my recap!
My Reading Breakdown for August:
5 Stars
4 Stars
3 Stars
2 Stars
1 Star
DNF
Monthly Musings
Watching:
Black Widow | 2021 Marvel Film – 3 Stars
It took us awhile to get around to watching this one, but I'm glad we did. Overall, I enjoyed this. Especially the humor. But I did get bored at times. Still an exciting build up to what will come next!
Jakob's Wife | 2021 Horror Film | Shudder – 4 Stars
This was SO much fun! I loved the storyline and pacing here, and the actors were perfect!
It Follows | 2014 Horror Film | Xfinity Cable – 4 Stars
I love this movie so much! The soundtrack is just incredible, kicking off with that super eerie sone, Heels.
Raising Hope | Seasons 1 & 2 | Hulu – 5 Stars
I LOVE this show so much. I watched this before, but when my husband and I were between shows, I put this on. He was hooked immediately. I'm having so much fun rewatching and see him laugh at everything that made me laugh the first time around. The cast in this show is just amazing and the writing will have you belly laughing!
Playing:
Nothing this month.
Drinking:
I went out to snag a quick lunch with a friend this month and had a beer that I once had at the tail end of a brewery tour. It was called Subtle Banana. I LOVED this beer on the tour, but turns out, I'm not a huge fan. I was so bummed, but glad I know now!
I also had a fair share of Prosecco at my brother's wedding!
Listening to:
I binge listened to Bite-Sized Terror: Beach Vacation Horror, which is an amazing series from Horror Oasis. I can't wait for them to do more like this soon!
In the bookish community:
I was unfortunately totally out of the loop this month. I'm hoping to get some time in for blog hopping this long weekend.
Monthly bookish related haul:
Most of my haul this month were ebooks, but I also snagged these beauties!
My favorite bookish photos this month: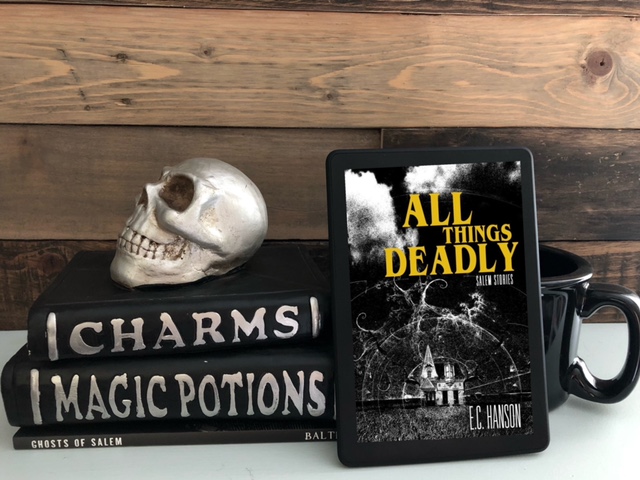 In case you missed it:
Looking forward to:
September is one of my favorite months. I can't wait to feel better after this sickness so I can go buy some mums to plant and decorate for fall. I had a few things I put out last week before we headed to Maine, so I love having that up now as I sit here working on this recap.
I'm also looking forward to a bit of calmness. While things have been on fast forward, I feel like so much has happened. Especially in my day job. Every day I came home last month, I felt accomplished because I knew how much I did throughout the day, but there was always much more that I wished I had gotten to. My boss has been excellent with helping me make sure I'm properly prioritizing, but I think we'll be in a good, more relaxed spot, very soon.
Thanks for reading!