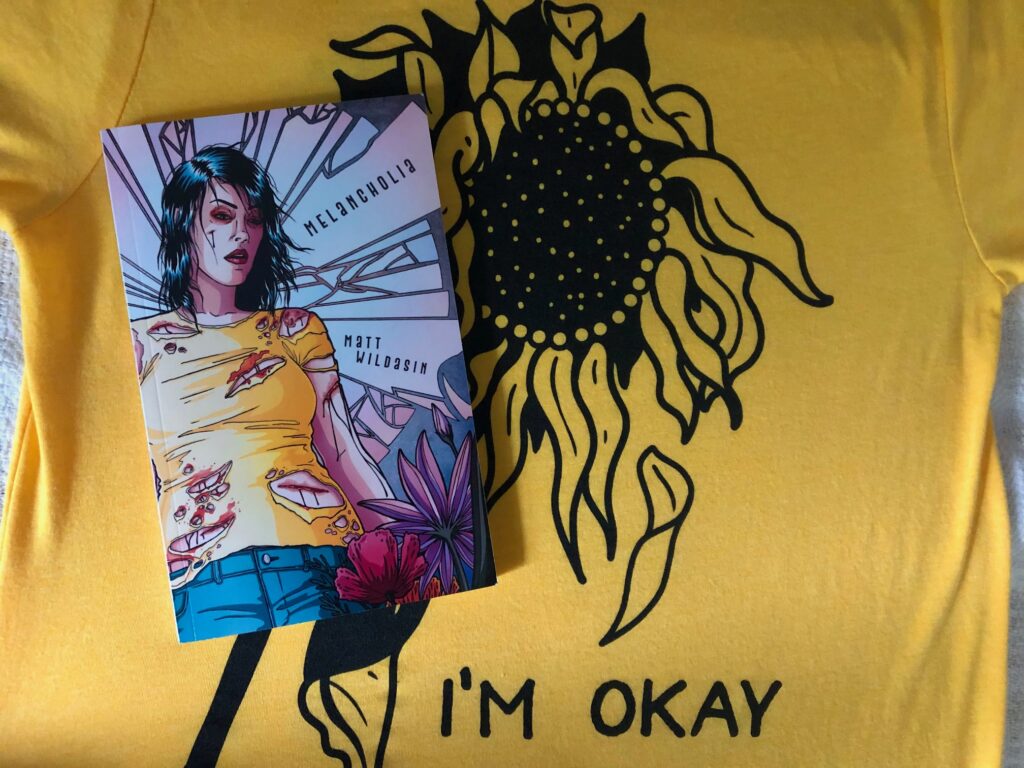 Melancholia by Matt Wildasin is a gut-wrenching tale about a girl that makes a devastating choice that changes everything. Filled to the brim with body horror, this is a book that will suck you in and continuously make you lose your breath as it hits you again and again with the terror.
Content Warning: Suicide
Let's dive in!
My Thoughts on Melancholia by Matt Wildasin
"How did I let it get to this?"
If only there was a checkpoint that came up sooner, before people found themselves asking that question…
When this story kicks off, we meet our main character, Sarah, as she is about to commit suicide. We suddenly jump to Sarah sitting in a car in the woods. But there's something off here… Sarah soon learns that she's not in the world that she was used to. In this world, she will need to confront monsters and battle her inner demons in order to get out.
Each of the creatures in this tale were so unsettling. I loved that Matt had such a variety here as readers never knew what to expect around each corner. Each monster was so unique but had very specific details about them that readers should pay attention to.
The mirror creature was the most terrifying being to me! The thought of encountering this thing and debating with myself whether or not I would choose to look directly at it as both options had terrifying results sent me down a doozy of a thought spiral.
Of course, I need to talk about our main character, Sarah. My heart broke for her. The opening scene is horrible and upsetting and even without knowing her yet, I was very sad to see where she wound up in just a few short paragraphs. As we got to get to know her more as the book carried on, I really empathized with her; it was her anger, when thinking everything was a trick, it was in the wallowing in the negatives and not focusing enough on the positives, and in not being able to ask for help that was all so familiar to me.
*Warning: Incoming personal note*
When I was in college, I hit my rock bottom with my depression and anxiety. I almost did something that I couldn't take back. Having lived through that experience, I could relate to Sarah so much as I felt like I could step right into her shoes having been in a similar space. Reading this felt very therapeutic to me. While I can't say reading this book would necessarily have helped me back when I was really struggling, it sure helped me now to finally process some of those lingering feelings and frustrations.
Thank you, Matt!
My Favorite Passages from Melancholia
She couldn't believe what she was seeing. Before her was a dense sprawling forest of evergreen trees partially obscured a cloudless amber-toned sky. The ground was covered with a heavy damp-looking moss that let off a light steam of evaporating dew from the escalating early morning temperatures. From beneath the moss, large chunks of white quartz protruded out in random angles and clumps. Hearty fern bushes escaped out from beneath the imprisoning stones and moss, creating a serene and almost magical environment. Unfortunately, that serenity came accompanied with an overbearing sense of dread and isolation.
Right before her eyes, and much to her dismay, Sarah watched helplessly as the glass window materialized out of thin air, stretching majestically over the space like ice forming on water.
She was tired of fighting. She had nothing more to give to the cause of survival.
As she grew older, her appreciation for little things dwindled, and she took more and more for granted. The clouds, for example, that she used to lay and watch for hours became less majestic and more of an under-appreciated detail in her life. It reached a point where nothing held the magnificence that it once did because she became so fixated on her own internal struggles. Her narrow mindedness caused her to lose the admiration that she once had for the moments and things that had once brought her joy.
My Final Thoughts on Melancholia
While this may be a difficult read for some, I very highly recommend it! The path that Matt takes readers on is true gut-punch emotional horror at it's finest.
Click here to snag a copy of the ebook or a physical copy directly from the publisher, Death's Head Press!
---
Snag a copy through your local bookstore if you are able or feel free to use my Amazon affiliate link:
Thanks for reading!
Have you read any books that felt therapeutic to you?
Also, a side note about the photo for this post; HOW PERFECT IS THAT TSHIRT DESIGN?! My goodness, when I finished reading and was prepping to take a bookish photo, I saw this I'm Okay Sunflower Tee from Dirty Bourbon and let out a very loud "YES! PERFECT!" Now I'm going to think about the little girl at the end of this tale every time I read it.
Related Reading: