This month had exciting news on the baby front! Not yet for me (at least that we know of).
On May 1st, we had a lovely little celebration for my sister in law on my husbands side. She's expecting another little girl, and I had so much fun hosting the little get together!
A few weeks later, we got the news that the newest little on my side of the family had entered the world! Mom, Dad, and baby are all very doing well! I cannot wait to meet the baby!
This month, I had two weeks off from work. I was so far past burnt-out, I really needed the time to reset. My goal was to be as stress free as possible during that time as we wished that the third IUI attempt would work. While we had a few unfortunate things happen, like the IUI not working out, and the general nasty state of the world with the Roe V Wade discourse, I think I did a pretty darn good job relaxing overall!
I felt like I really came back to myself for the first time in a VERY long time. I read a lot of books, watched a lot of movies, exercised, and even busted out my camera for some nature shots. I actually ended up getting my newest favorite photo of a hummingbird!
I even took an afternoon to do some little free library hopping and left a book and a few bookish goodies at each one! I'll be posting the other visits over the next few months, but feel free to click below to check out my first stop!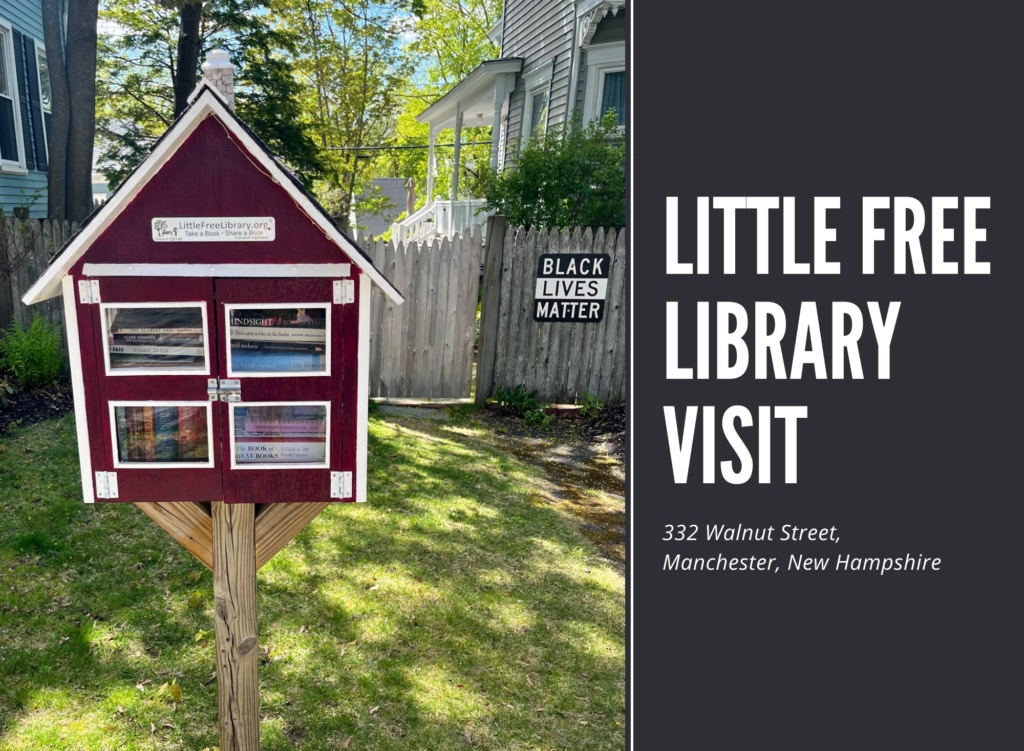 This month, I also saw and bought this beautiful sticker that I just had to put on my car right away!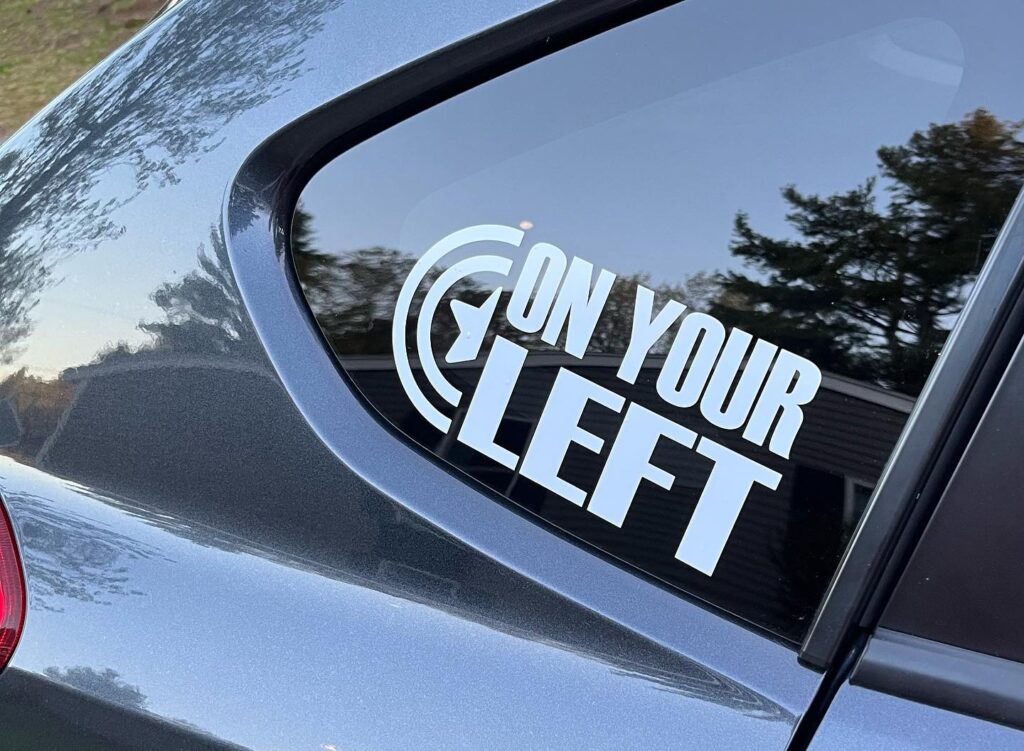 But other than that, the month was a bit quiet. And that is exactly what I needed!
Let's dive into the rest of my monthly recap!
Monthly Musings
Reading:
Watching:
Ozark | 2022 – the final episodes | Netflix –
Phew boy… this one starts with a bang, and only get more intense! If you haven't yet watched this show, you need to go start it asap!
Little Evil | 2017 Horror Comedy Film | Netflix –
The cast in this movie was fabulous! I LOVED Bridget Everett, who played Al, and Adam Scott is always a hoot. The horror comedy take here was just wonderful. I had such a blast watching!
Aftermath | 2021 Horror Film | Netflix –
MY GOODNESS! Shawn Ashmore crushed his role here. I felt so bad for Ashley Greene's character. I definitely recommend this one if you're looking for a creepy movie to watch!
Things Heard & Seen | 2021 Horror Film | Netflix
This was SO chilling! Right from the beginning, there's a deep sense of unease, and that only gets worse as the film goes on. The ending is SO freaking good.
The Bye Bye Man | 2017 Horror Film | Netflix –
When two childhood best friends move into a house off campus, they're originally startled with the appearance of the house. Determined to make the most of it, they clean it up and settle in. But then odd things begin to occur… and things start to go very wrong. My goodness the jump scares here are so good. Douglas Smith does such a great job here!
Blast from the Past | 1999 Comedy | Youtube Rental –
When Alex found out that I hadn't seen this, he immediately asked for us to figure out where it was streaming to watch. We rented it from Youtube, and boy am I glad we did! This film was so funny!
Journey to the Center of the Earth | 2008 Comedy Film | HBO Max-
This was so much fun! I can't believe I hadn't seen it before. The cheesy lines here had me chuckling! I love Brendan Fraser and Josh Hutcherson!
Bedazzled | 2000 Comedy | Youtube Rental –
I didn't love this one, but I enjoyed the watch! There were quite a few scenes that made me laugh. But I had trouble staying attentive to it. Loved Brendan Fraser of course! He did an amazing job here playing the various characters. His facial expressions were so funny!
Doctor Strange in the Multiverse of Madness | 2022 Horror Marvel Film | Theater –
GIVE ME MORE HORROR MARVEL MOVIES PLEASE! While there was a lot of this one that I literally couldn't watch due to the spinning, I had a blast watching this one. There were loads of jump scares, and the darkness was super creepy! I loved it!
Nightbooks | 2021 Horror Film | Netflix –
The cast was awesome! Winslow Fegley as Alex and Lidya Jewett as Yasmin did an amazing job! I can't wait to see these two in more. Krysten Ritter as Natacha was so creepy! I think this is my favorite role I've seen her in. The sets were also amazing! While focused on the kids, this was certainly not your average kids movie. This one had some major spooky elements! Watching this brought me back to the days of watching Goosebumps! This one was based on a book by J.A. White, so you know what I'm adding to my TBR!
George of the Jungle | 1997 Film –
I haven't seen this since I was a kid!! This is such a fun movie. Gotta love the classic line, "Rubber tree, always good for clothesline!"
The Sadness | 2021 Horror Film | Shudder –
This is by far the goriest film I've ever seen. The subway scene specifically…. This one starts out like the best zombie films, nice and sweet with a little unease. Then once the first sick person is seen, it's full blown terror and gore!
Braindead | 1992 Horror Film –
This was a WILD movie, my goodness! With a bit of a slow start, it picked up soon enough! The line "I kick ass for the lord!" killed me. It only got more bananas from there on out! The scene at the park was something else!
Candy | 2022 True Crime Drama Mini Series | Hulu –
My god this was a tough watch. I felt so bad for the victim! There was one episode that was by far the most awkward thing I have ever seen in my life. Not sure I would recommend this one…
A Perfect Pairing | 2022 Romance Comedy | Netflix –
This was amazing! I loved how determined the main character was and how quickly she took any situation and pivoted. I also really loved that she stood her ground! The storyline had the classic hallmark slow build romance, a little dip, then a wonderful happy ending! I could watch this one over and over!
I Don't Feel At Home In This World Anymore | 2022 Film | Netflix –
I don't know how I totally missed this film with this duo, I'm obsessed! This was so fun, but boy do I need to see this actor in a happy role soon! I will be watching again very soon when my husband has time to check it out!
Stranger Things | Season 4 | Netflix –
OH MY GOD. I absolutely loved this season! It's so horror filled, and that scene at the jail made me so happy! I'm so antsy to see what happens next!
In the bookish community:
The Overdue Podcast had another amazing episode out this month. It was a discussion around the book How to Train Your Dragon by Cressida Cowell. I highly recommend the whole episode, but if you dig into one specific spot, you gotta listen to 33:40 – 34:08. This section made me laugh SO hard.
Monthly bookish related haul: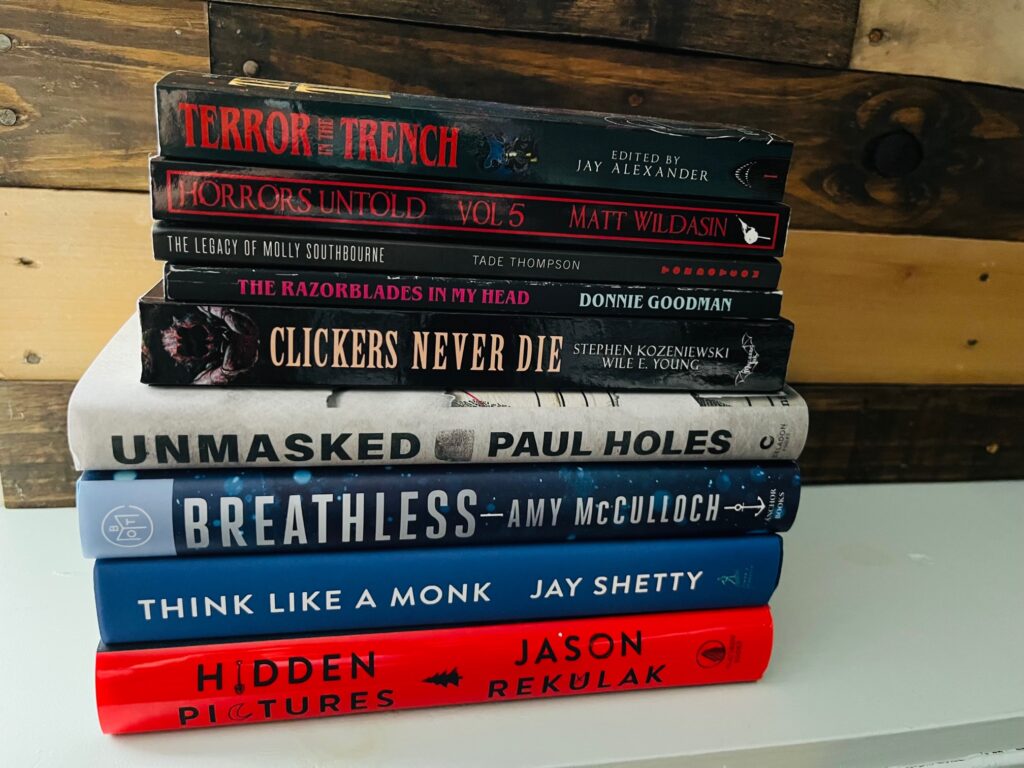 This month, I snagged the following books, quite a few were direct from authors, a few were from bookstores, and one I snagged from Book of the Month:
Terror in the Trench edited by Jay Alexander
Horror Untold Vol 5 by Matt Wildasin
The Legacy of Molly Southbourne by Tade Thompson
Clickers Never Die by Stephen Kozeniewski and Wile E. Young
Unmasked by Paul Holes
Breathless by Amy McCulloch
Think like A Monk by Jay Shetty
Hidden in Pictures by Jason Rekulak
Locke & Key: The Golden Age by Joe Hill & Gabriel Rodriguez
Locke & Key: Heaven And Earth by Joe Hill & Gabriel Rodriguez
I'm so grateful that a number of these were signed!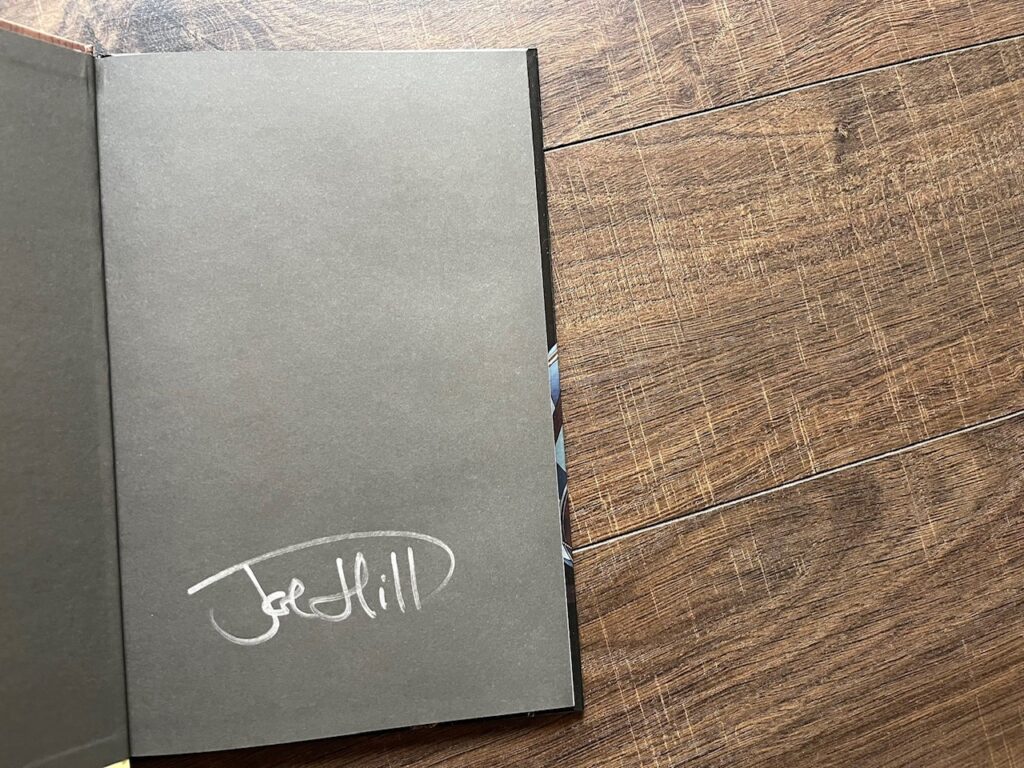 My favorite bookish photo this month: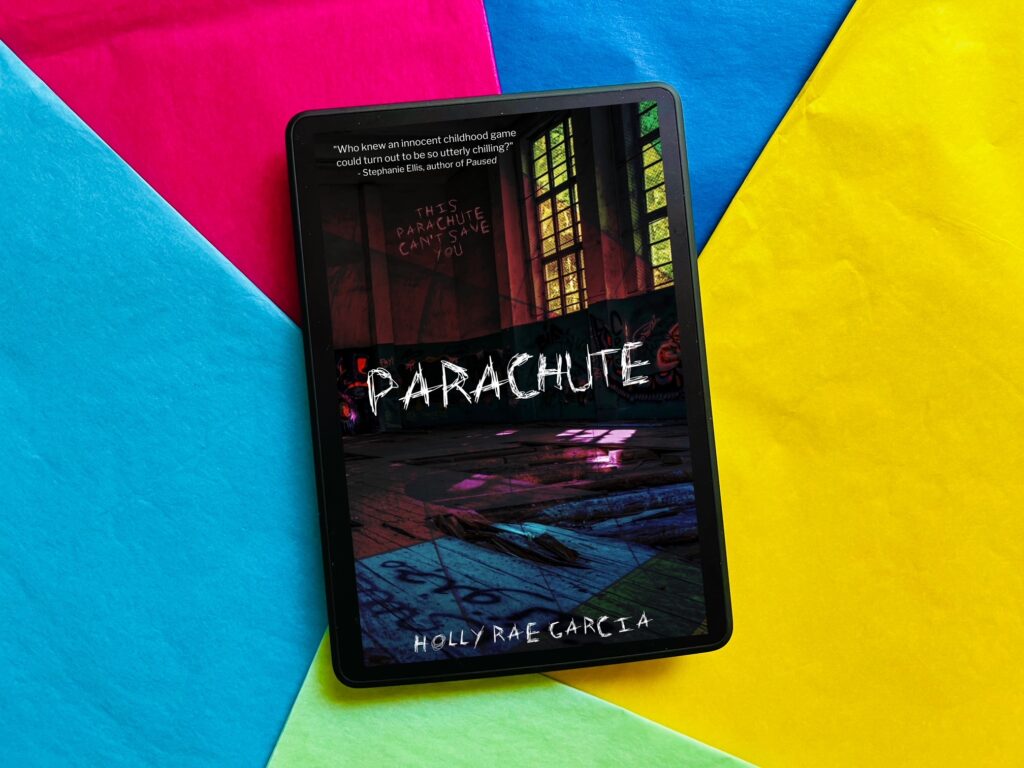 In case you missed it:
Looking forward to:
For the month of June I'm so excited to kick the first weekend off by attending my niece's first birthday party and then the next day, meeting my nephew for the first time!
I also have an acupuncture appointment this month that I'm looking forward to. I haven't been to an acupuncturist since early college. I'm going specifically to talk about the infertility, but I've got some major back pain and migraines I wanted to discuss as well.
So far for the remainder of the month, our plans are looking light, and I'm hoping to keep them that way as much as possible so we can enjoy the weather before it gets too hot!
Thanks for reading!