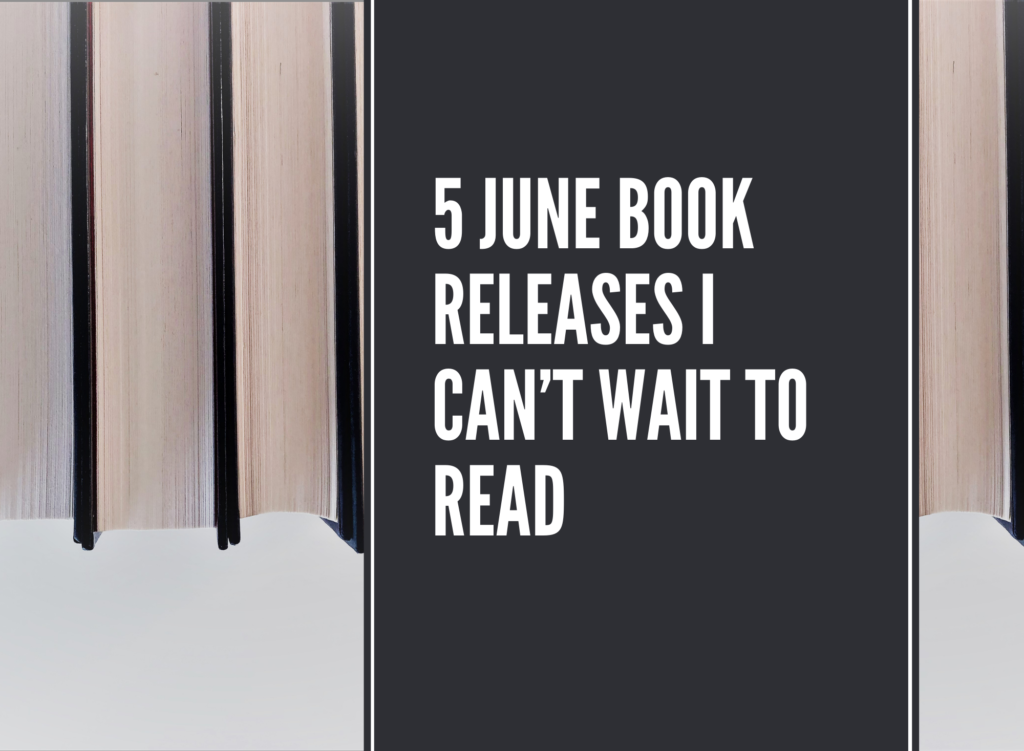 Ah, June! This is my annual post that I hope my husband see's the most out of everything I do here so he can get some birthday ideas as my birthday is July 7th! 🙂 I am SO excited for each of these releases!
Note: This post features Bookshop.org affiliate links. Using these links to purchase helps support local indie bookshops.
Let's dive in!
June 2022 Book Releases
Montague's Carnival of Delights and Terror by Jamie Stewart
Expected Publication Date: June 3rd, 2022
Genre: Occult Fiction
Synopsis:
Kansas, 1983. Joe Cage wanders into the quiet farming community of Marybell looking for work. To his good fortune he discovers that he isn't the only stranger that's come to town. Montague's Carnival of Delights and Terror, a traveling carnival, is setting up and looking for help.
Lily Grey, like the other kids, is excited at the prospect of riding the rides, especially Journey Through The Crypt – the carnival's ghost train. That is, until she goes missing inside it, until all that can be found of her is a teddy bear coated in blood.
---
Screams From the Dark: Tales of Monsters and the Monstrous edited by Ellen Datlow
Expected Publication Date: June 7th, 2022
Publisher: Tor Nightfire
Genre: Horror
Synopsis:
A bone-chilling new anthology from legendary horror editor, Ellen Datlow, Screams from the Dark contains twenty-nine all-original tales about monsters.

From werewolves and vampires, to demons and aliens, the monster is one of the most recognizable figures in horror. But what makes something, or someone, monstrous?

Award-winning and up-and-coming authors like Richard Kadrey, Cassandra Khaw, Indrapramit Das, Priya Sharma, and more attempt to answer this question. These all-new stories range from traditional to modern, from mainstream to literary, from familiar monsters to the unknown … and unimaginable.

This chilling collection has something to please—and terrify—everyone, so lock your doors, hide under your covers, and try not to scream.

Contributors include: Ian Rogers, Fran Wilde, Gemma Files, Daryl Gregory, Priya Sharma, Brian Hodge, Joyce Carol Oates, Indrapramit Das, Siobhan Carroll, Richard Kadrey, Norman Partridge, Garry Kilworth, Caitlín R. Kiernan, Chikodili Emelumadu, Glen Hirshberg, A. C. Wise, Stephen Graham Jones, Kaaron Warren, Livia Llewellyn, Carole Johnstone, Margo Lanagan, Joe R. Lansdale, Brian Evenson, Nathan Ballingrud, Cassandra Khaw, Laird Barron, Kristi DeMeester, Jeffrey Ford, and John Langan.
---
The House Across the Lake by Riley Sager
Expected Publication Date: June 21st, 2022
Publisher: Dutton
Genre: Thriller
Synopsis:
Be careful what you watch for . . .
Casey Fletcher, a recently widowed actress trying to escape a streak of bad press, has retreated to the peace and quiet of her family's lake house in Vermont. Armed with a pair of binoculars and several bottles of bourbon, she passes the time watching Tom and Katherine Royce, the glamorous couple living in the house across the lake. They make for good viewing—a tech innovator, Tom is powerful; and a former model, Katherine is gorgeous.
One day on the lake, Casey saves Katherine from drowning, and the two strike up a budding friendship. But the more they get to know each other—and the longer Casey watches—it becomes clear that Katherine and Tom's marriage isn't as perfect as it appears. When Katherine suddenly vanishes, Casey immediately suspects Tom of foul play. What she doesn't realize is that there's more to the story than meets the eye—and that shocking secrets can lurk beneath the most placid of surfaces.
Packed with sharp characters, psychological suspense, and gasp-worthy plot twists, Riley Sager's The House Across the Lake is the ultimate escapist read . . . no lake house required.
---
Diet Riot: A Fatterpunk Anthology, edited by Sonora Taylor & Nico Bell
Expected Publication Date: June 21st, 2022
Genre: Horror Anthology
Synopsis:
"Diet Riot: A Fatterpunk Anthology" features twelve fat-positive horror tales of people who come into their own, celebrate their curves, and save the day. There are babysitters and bakers, thieves and roller derby stars. Young women unsure about their bodies meet demons and water spirits who offer assistance–in their own way, of course. Danger lurks in hospitals, in the mysterious occult shop in the local mall, and in a house filled with cats. Campers, trash collectors, and house flippers alike uncover nasty secrets underground. A myriad of horrors await you–none of which comes at the expense of fat bodies.
It's time to reclaim the "f" word.
Note: I have an advance copy of this that I will be diving into very soon! Stay tuned for my review 🙂
---
We Can Never Leave This Place by Eric LaRocca
Expected Publication Date: June 24th, 2022
Publisher: Trepidatio Pub
Genre: Horror
Synopsis:
"When you're given a gift, something else gets taken away."
A precocious young girl with an unusual imagination is sent on an odyssey into the depths of depravity. After her father dies violently, young Mara is surprised to find her mother welcoming a new guest into their home, claiming that he will protect them from the world of devastation and destruction outside their door.
A grotesque and thrilling dark fantasy, We Can Never Leave This Place is a harrowing portrait of inherited grief and familial trauma.
Note: I cannot wait to add my physical copy preorder to my shelves! If you'd like to take a peek at my review of We Can Never Leave This Place, click here!
---
Thanks for reading!
What books are you looking forward to in June?