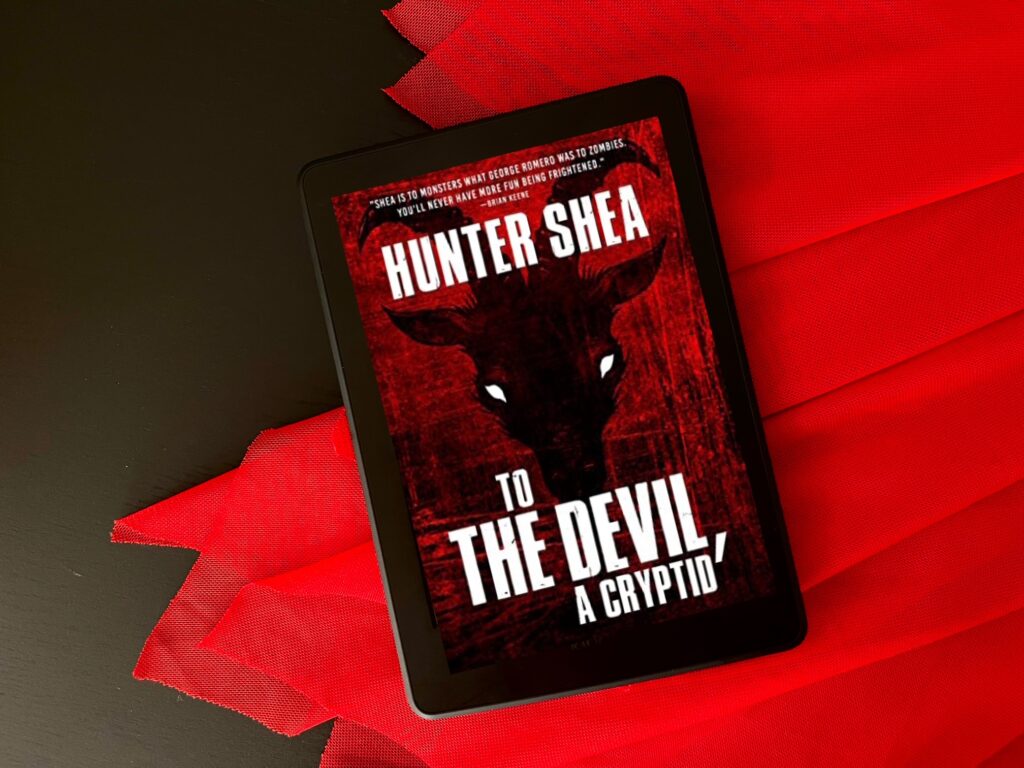 To the Devil, a Cryptid by Hunter Shea is a tale of blood and total mayhem. And per usual with Hunter Shea, the story is terrifying, but it's also an absolute blast to read!
Let's dive in!
My Thoughts on To the Devil, a Cryptid by Hunter Shea
When a group of people head to the woods near a bridge that is rumored to be the home of a goat man, this group sacrifices a goat in hopes to contact the devil. And boy do they contact something!
Unfortunately, at the same time of the sacrifice, there were a handful of other people headed to that area, all for very different reasons.
The sacrifice goes very wrong and the people in the area are either killed immediately, killed shortly afterward, or sent running for their lives in hopes to not be killed.
The rest of the tale is fast-paced, and complete and utter bloody mayhem as we watch the Goat Man rip the town apart!
The cast that we meet are all such an interesting group! I was sad to see a few go so quickly, but I was more nervous about seeing if the others would make it. At every turn, they were faced with even more life threatening situations.
I loved that the original group that had been in the area at the start of the story kept crossing paths throughout the tale! The reactions that they had with one another each time made me chuckle. There were a few classic "YOU AGAIN?!" situations.
And the blood! Hunter Shea does not shy away from the gore here. I loved that in one paragraph, I would be cringing, while in the next, I was laughing!
This was such a fun read!
My Favorite Passages from To the Devil, a Cryptid
Calm…the…fuck…down! If you don't, you're going to keep doing this Scooby Doo crap where you run in place and then the Goat Man will get you for sure!
He's read that one of the worst smells in the world was that of freshly spilled blood. Chad could confirm that right now, though the perforated guts were also adding to the heady aroma.
Chad screamed for all he was worth, even though he knew there wasn't anyone around to hear or help him. There was no shame in shrieking when an abomination had ahold of you.
Before popping the trunk open, Tina looked up and down the street. "We're clear. Don't want anyone to walk by and catch a glimpse of dark and crispy in there."
While the Goat Man slept, the leaves on the tree turned black and fell like grimy snowflakes around it. The grass browned and shriveled back into the soil. A passing cardinal swooped too close and fell out of the air, dead before it hit the ground.
It caught a woman square in her chest. Her entire body exploded, as if she has been made of paper – paper filled with a copious amount of red Jell-O.
My Final Thoughts on To the Devil, a Cryptid
Hunter Shea has done it again! His work with cryptids is unmatched.
I highly recommend picking this one up on a day off so you can read cover to cover! I made the mistake of starting it right before bed and had to pause to finish it the next day. Can you bet what I dreamed about that night?! Oh yes… The Goat Man!
This is a must read for fans of violent and intense horror with a bit of a B-Movie vibe.
Enjoy!!
---
Snag a copy using my Amazon Affiliate link or inquire at your local indie as the paperback will be out soon!
---
Related Reading: