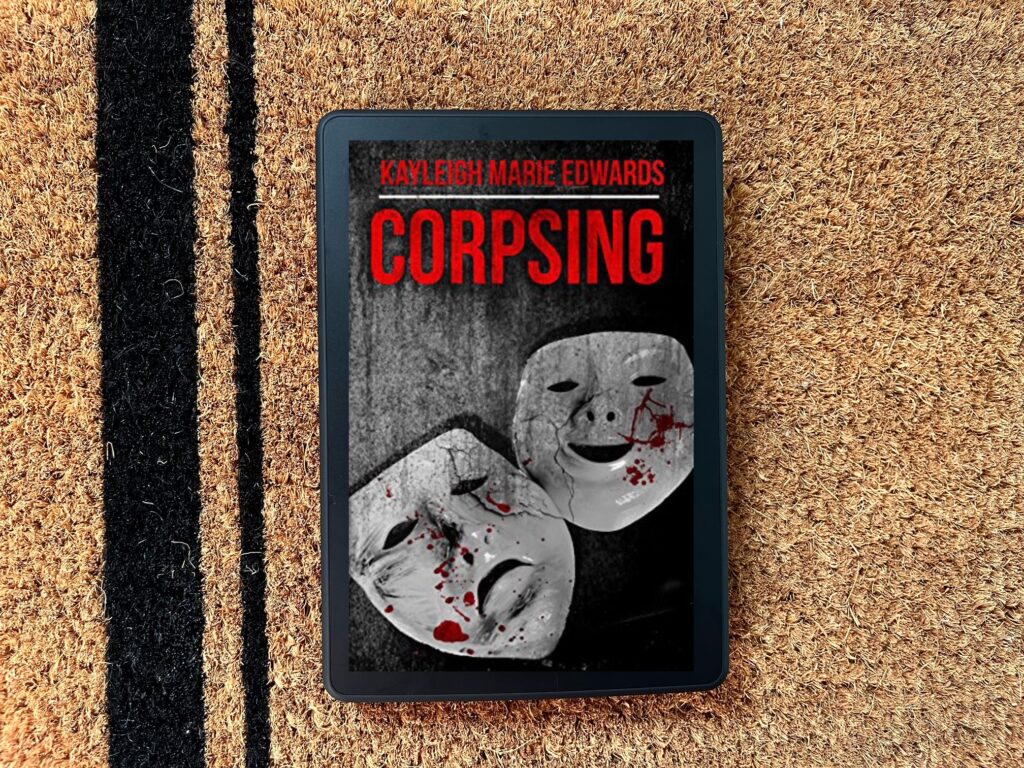 Corpsing by Kayleigh Marie Edwards is a superb collection of horror comedy short stories that will give you chills, even while you laugh.
Full disclosure: I was given a free copy of this book from the author per request of an honest review. This did not affect my rating in any way.
Let's dive in!
My Thoughts on Corpsing
I'm a huge fan of horror comedy to begin with. While this author was new to me, I was immediately in awe of their creativity and wonderful storytelling.
Choosing a favorite from this collection is impossible for me. I loved each story so much!
Per usual, here are my notes on each tale-
Bitey Bachman –
This was a hoot! What a great story to kick off this collection. When the story begins, we meet a man that seems a little overtired as he gives his boss a hard time. Working in a mental hospital, they wind up needing to give a resident a sedative. But this character unfortunately doesn't pay attention and kicks off something worse than just having an unruly resident.
This one had a heavy hand of comedy with a sprinkle of horror. The scene right out of the shower had me laughing out loud. These poor characters!
Bits and Bobs –
When a man gets let go from The Body Farm, he drunkenly makes a plan to get one last laugh. But that laughter quickly turns to screams of pain.
I loved the set up for this one! But my goodness, this poor guy!
Siren –
When a mother and daughter move to a house by a lake, the little girl immediately senses something is wrong there. And then she meets a new friend.
This one was so unsettling right from the start! I wanted to scream at this character at each turn. This poor kid.
Now You See Them –
When a mother thinks her kid is making up excuses to stay up past bedtime, she agrees to leave a light on. But in the night, she turns it off…
Truly a scene straight out of every kids nightmare! Who wasn't afraid of something getting them in the dark? This one was terrifying!
Skin –
After a spider bite, this girls whole world changes very quickly.
This was such an intense body horror tale!
'S' Day –
When God gets tired of an eight year olds constant prayers to get what he wants, God loses it a bit, resulting in chaos.
This was such a fun but blood boiling tale! We all know how frustrating it can be to be around someone unbearable, whether they're young, or old enough to know better. While scary, I also couldn't help but laugh.
Barry's Last Day –
Barry is a negative and grumpy man that hates basically everything about his life. When a series of events leads him to a situation where he needs to drink up, things only go sideways from there.
This guy was so negative, I almost bailed on the story. I'm glad I didn't. The turn this one took was wild!
'Twas The Night Before Christmas –
While out looking for a replacement tree after their dog destroyed the first, they stumble across a perfect Christmas tree. The boys try to convince their father not to cut it down because it's right where they buried their cat. But of course, cuts it down anyway.
I loved this one so much! It had the eerie vibe right from the start, but dipped right into b-movie nightmares soon enough! What a fun one!
My Favorite Passages from Corpsing
Lucy couldn't sleep that night; she hated her new house and she hated her new bed. She hated the tree that scratched on her window like icy fingers, and she hated the wind that was moving those branches in the first place.
The boys would have argued, but that would have been unwise judging by the glowering expressions on their parents' faces. Plus, they really had no idea how to convince two sane adults that the tree had come to life and battled a pug in the middle of the night. It was utterly ridiculous.
My Final Thoughts on Corpsing
If you're looking for a collection to entertain you with it's original tales that mixes the chilling with a wonderful level of humor, then you need to pick this one up!
I had an absolute blast reading this collection and I already cannot wait to dive back into the tales. And sign me up for anything Kayleigh writes in the future!
---
Snag a copy through Bookshop to help support local indie bookshops:
Thanks for reading!