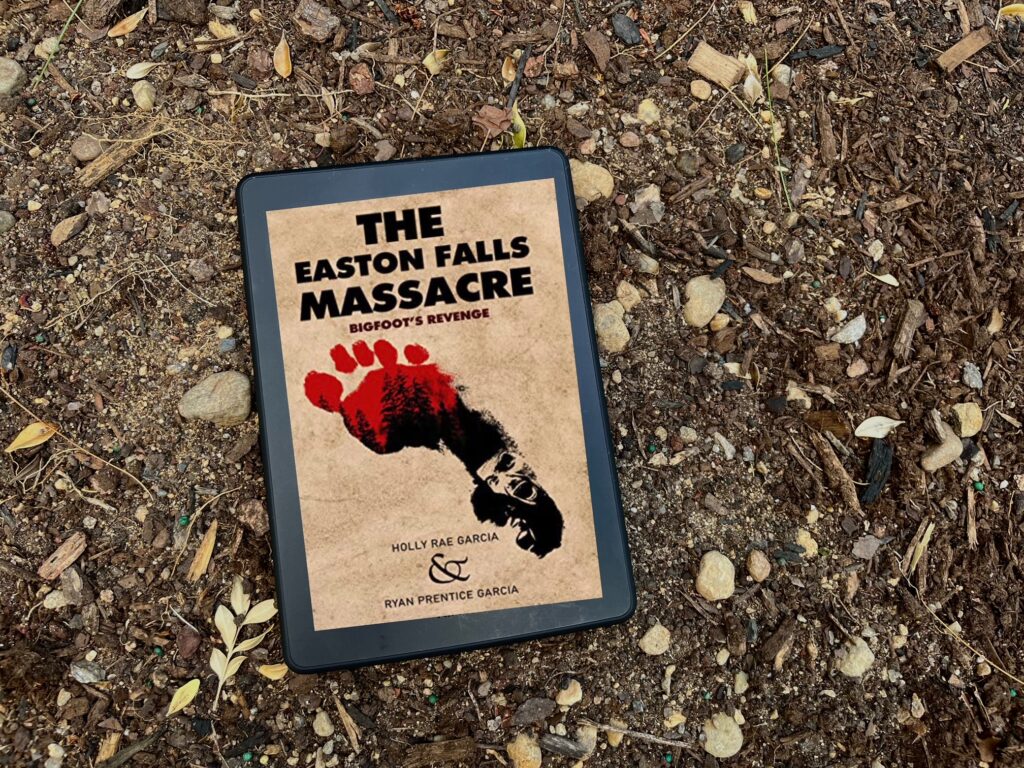 The Easton Falls Massacre: Bigfoot's Revenge by Holly Rae Garcia and Ryan Prentice Garcia is a nail-biting tale about a hunting mistake that has huge consequences.
Full disclosure: I was given a free copy of this book from the author per request of an honest review. This did not affect my rating in any way.
Let's dive in!
My Thoughts on The Easton Falls Massacre: Bigfoot's Revenge by Holly Rae Garcia and Ryan Prentice Garcia
While on a hunting trip, a man who just wants to get out of his head for awhile after some awful news ends up straying a bit too far from the path he was meant to be on. When he spots what he thinks is a large bear, he shoots it. Unfortunately, it wasn't a bear… it was a bigfoot. And it's family is not pleased.
Totally shocked at the discovery, the man calls for backup to bring the body into town to have the game warden look at it, but little does he know, that's the worst thing he could had done. Second to shooting it anyway.
It's not long before the town starts to get torn apart as the family of the deceased search for the body.
This story starts with a scene that at first seems so simple, but you'll see how it all ties in later on. Then we jump to our main character learning the bad news that sends him on the hunting trip.
From the minute he shoots the beast, the unease and tension starts to build and it's not long before things start to turn to terror.
I was so invested in this one! I read it in one sitting. I absolutely could not set it down.
The small town feel was wonderful. I could relate to this so much, especially with the whole not locking your doors and the gossip traveling fast! We had a joke in my tiny hometown off the coast of Maine that when you sneezed up-island, someone down-island was already saying, "Bless you."
The characters also really came off the page for me as they each seemed like someone I had known at one point or another while growing up in a small town.
Gosh, this one was such a great read!! I could ramble on forever! But I'll leave the rest of the magic up to you.
My Favorite Passages from The Easton Falls Massacre: Bigfoot's Revenge
Easton Falls was a small town, and Henry liked almost everything about it. Except, as the current situation highlighted, the fact that gossip spread faster than the plague and it looked like Daniel had happily told everyone in the bar what had gone on over at the hunting lodge that morning.
He'd seen plenty of awful things and waste of human life in the war. The things men could do to each other had hardened him, but that barn… that was no man. You could reason with a man and predict what he would do next. But a creature that no one knew anything about, that scared the shit out of him.
Easton Falls was the kind of town you didn't have to worry about locking your door, day or night. Though most people locked them at night anyway, ever since that bear over on Henderson managed to open the door and surprise Peter Washington while he rummaged through his refrigerator for a midnight snack.
What he thought he knew about the world, and what he had just faced, were two very different things.
My Final Thoughts on The Easton Falls Massacre: Bigfoot's Revenge
A must-read for fans of cryptids and horror that doesn't shy away from the gore-filled terror!
I cannot recommend this one highly enough. Go pick up a copy today!
---
Snag a copy through Bookshop to help support local indie bookshops:
Related Reading: