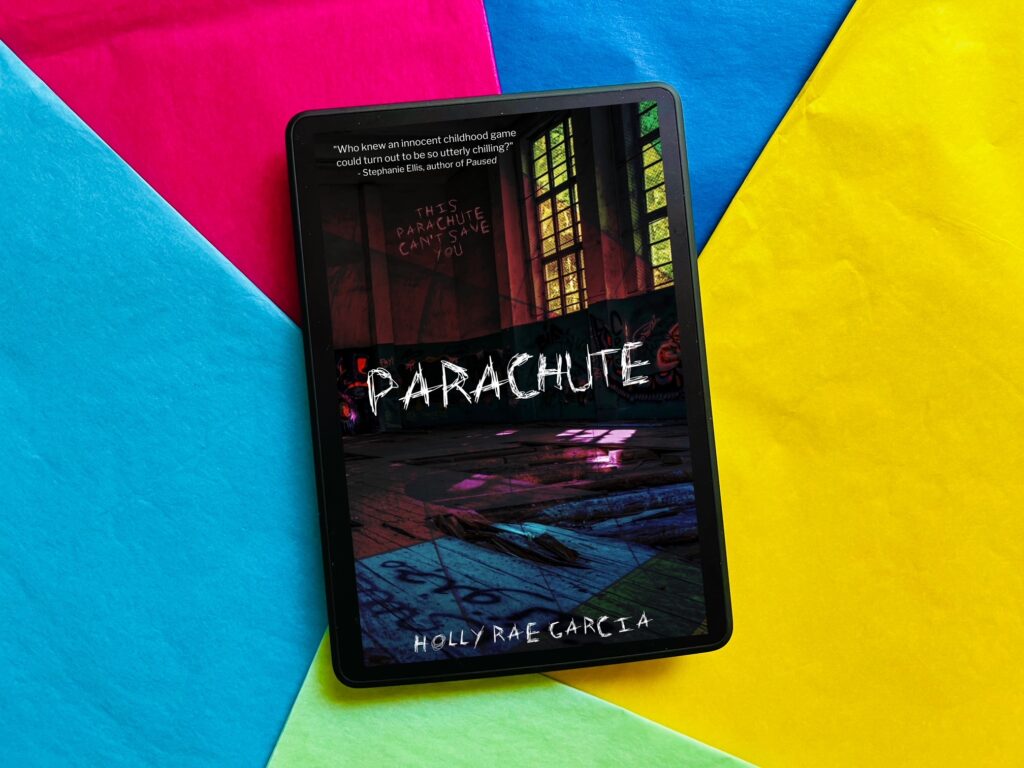 Parachute by Holly Rae Garcia is a fast-paced tale of teenage curiosity, terror, and the old gym-class favorite, the parachute, that will have you gripping your book, afraid to let go of the edges as if you had a piece of the fabric in hand.
Full disclosure: I was given a free copy of this book from the author per request of an honest review. This did not affect my rating in any way.
Let's dive in!
My Thoughts on Parachute by Holly Rae Garcia
When a group of teens head a school that was left abandoned after it was flooded, they plan to spend the evening chilling on the roof. But as they get to talking, they reminisce about the only thing better than when a teacher rolls out the tv stand; the parachute.
Determined to see if there was a parachute left behind, they break into the school. Shocked to have actually found one in great shape, they try it out immediately. They're expecting to go under and see each other's grinning faces, but something else happens.
Even though the parachute can only be twenty feet across, they suddenly couldn't see one another. When they come back out, they chalk it up to a bad trip. Maybe something was mixed in to the weed.
Tempted too much with their teenage curiosity, they can't help but go back under the parachute. But they should have left it in the box…
This tale starts out like any ordinary night. Just a group of teens looking for something to do. But then a little harmless breaking and entering turns into a horrific nightmare. Once the terror kicks in, it's a full on sprint to the end!
I loved that each situation they found themselves in was so different, but also terrifying in its own right. I felt so bad for these kids, and I was so anxious to see what was going to happen next. The author serves up shock after shock here!
My Favorite Passages from Parachute
Angela's gray 1984 Mercury Cougar limped down the highway like a dying elephant. She used to refer to it as "The Boat," but her best friend Valerie Linscomb had once called it "The Silver Bullet" as a joke and the name stuck. It wasn't pretty, but it got her from point A to point B and that was really all she needed. Well, she could do without the air conditioner that leaked ice-cold water on her feet every time she took a sharp left turn.
Val tripped but managed to hold onto the fabric. Laughing, she was the last to sit on her piece of the parachute, making her also the last to see what happened.
"We have to be dreaming. Otherwise, what the fuck is going on? This shit doesn't happen in real life. We don't live in a goddamn Wes Craven movie," said Jason, shaking his head and standing up.
My Final Thoughts on Parachute
Whether you were a fan or dreaded the day the parachute came out in gym class as a kid, this tale is sure to chill you!
I highly recommend this one to fans of horror novellas that will leave you with a deep sense of unease.
Thanks for reading!
---
Related Reading: