June was another insanely busy month filled with more celebrations and summertime events!
The major bummer of the month is that things with our living area has turned into a massive problem again. Alex and I have been really struggling with our townhouse really since we moved in… Most recently, our ceiling started leaking again and mold started growing on the wall. The office told us it was taken care of, but that wasn't the case. So as I'm writing this, we have a hole in the ceiling and there is water dripping out of it… I have a bucket put down, but it's hitting a handrail and splattering all over the wall and carpet. They think it may be the roof this time. So we'll see…
Keep your fingers crossed for us and our house hunt! We NEED to get out of here… On the brighter side of things, being fed up with this place finally pushed me to reach out to a loan officer. Alex and I got preapproved for a mortgage, and we're meeting up with our real estate agent soon!
To kick off the month, Alex and I attended the annual cookout that Alex's old co-worker and friend hosts. We played beer pong and bocce, both of which I haven't played in AGES. It was so much fun! And it was great to see the couple that hosted! The last time I saw them was just very briefly at our wedding.
The next day, we headed to Alex's aunts house to help her with yard work. And boy… I royally messed up my hand using a pair of clippers to clear the vines from her fences. But it was totally worth it because her fencing looked great afterward!! And I got to see my chiropractor the very next day, so he fixed me right up!
Later during the very first week of the month, we got to go meet our friend's brand new baby, Max! He is just the cutest little guy! I cannot wait to see this munchkin grow up!
The second weekend of the month, Alex and I took a trip north and went to finally see the house that my brother and his girlfriend had built! It is AMAZING. I'm so proud of them! During that weekend, I got all the pup cuddles with Dixie, Cole, and Eevie. This is Cole in his element:
One of my highlights of the month happened that weekend as well… I GOT TO GO TO TIM HORTONS! All of the locations anywhere near me closed years ago, so this was a real treat! The one we went to is actually the location that's the closest to where we live in New Hampshire now… it's a 2 hour and 40 minute drive.
The third weekend of the month held a crazy busy day of work and things around the townhouse. This was also Father's Day weekend. So on Sunday we spent time with the Metcalf family.
The next weekend was yet another busy one! We ran errands and did a bunch of things around the house on Saturday. I also did some work for my side job and cut my hours really close to the maximum. I had just five minutes to spare!
Then on Sunday, we traveled to Maine to see one of my favorite people get married! I mean, look at my best friend! I'm so freaking happy for him and his stunning bride! Fun fact! They hired the same photographer that did our wedding. To see more photos of the beautiful day, check out Trina's blog.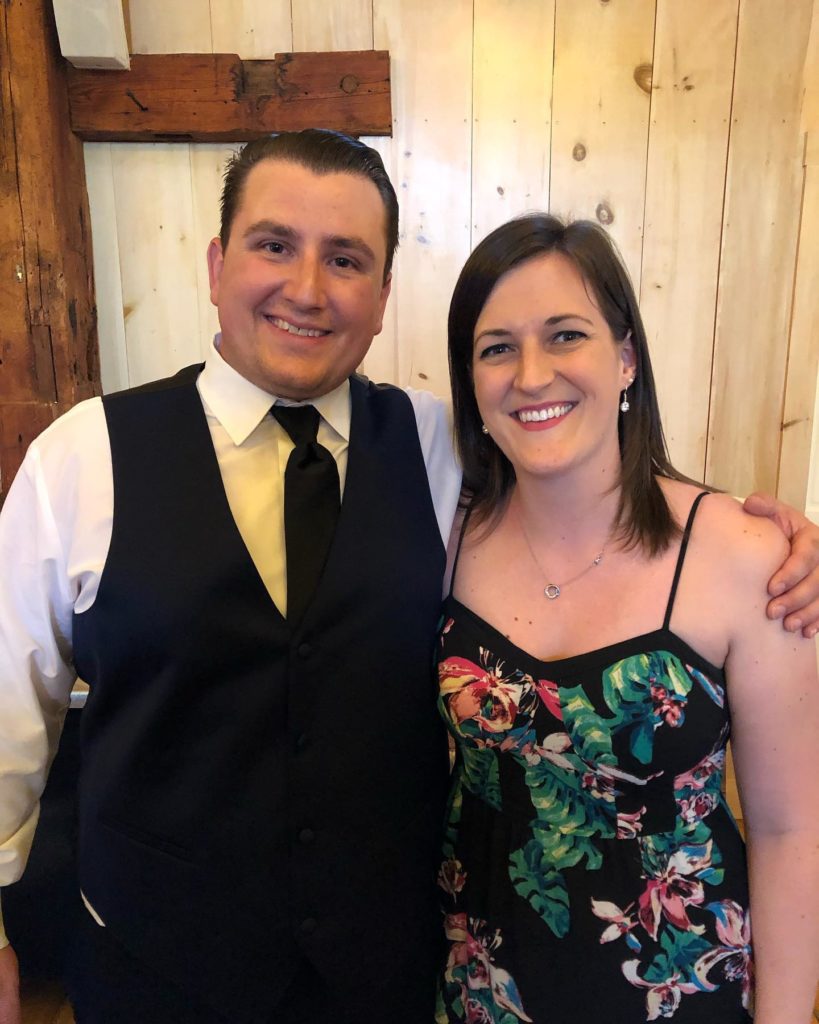 The last weekend of the month was busy as well. On Saturday, we went to a concert in Portland, Maine.
On Sunday I had a photo shoot with the Houston family, which is always a pleasure! This family is just too cute!
This month, I was also doing a thirty day ab challenge with my co-worker and favorite person, Morgan. It's KILLER, but soooo good!! I cannot wait to start the challenge over again and see how we've progressed! This is a quick screen shot of one of our convos about it.
On top of the ab challenge, Morgan and I have been going to our yoga classes!
This month, we've also been making use of the back patio at work for our lunch breaks. The following two photos are from two separate lunches:
Luka joined us for lunch! How cute is she?!
For the last weekend of the month, I did a photoshoot for a lovely family. I cannot wait to start editing the photos!
Then Alex and I went to a concert in Portland, Maine. We saw Nerf Herders, Reel Big Fish, and Bowling for Soup. Just like the last time I saw BFS, we got DRENCHED in rain waiting to get in. Totally worth it though because we got right up front. I loved every second of the show!!
While running errands, I spotted this gem while leaving Target and just had to share with you all:
Phew! Without further delay, let's dive in to my monthly wrap-up!
My Reading Breakdown for June:
5 Stars- 5
4 Stars- 0
3 Stars- 2
2 Stars- 1
1 Star- 0
DNF- 0
Monthly Musings
Watching:
Beware the Slenderman (2016 Documentary)
Watching this was absolutely infuriating! It focused on the two girls that committed the crime, but there was very little about the victim. Perhaps she didn't want to be included much… but man. I wanted to learn more about her and how she was doing. Not center only on the two monsters. It was heartbreaking to learn about one of the girls and her struggles though. I'm glad I finally watched it, but I wouldn't recommend it. 2/5
Annihilation (2018 Film)
After finally reading the book, I snagged this film. While it was visually wonderful and the acting was great, I was still left quite confused at the end. Click here to check out my review. 3/5
Pet Sematary (1989 Film)
Oh my goodness, this was PERFECT. I loved this adaptation so much. It followed the book so closely! Click here to check out my full review. 5/5
N0S4A2 (2019 AMC Series)
I'm SO in love with this adaptation! It is a bit different from the book, but it has totally captured the heart and soul of the tale. I cannot wait to see where the rest of the series goes! 5/5
Unrest (2006 Film)
This film was shown at the horror film festival 8 Films To Die For during the 2006 fall season. While I certainly appreciated this one, it just wasn't really for me. The plot and the acting just didn't mesh well for me, and I kept losing interest. If medical horror is up your alley, I'd recommend this one to you though! 2/5
I Sell The Dead (2008 Film)
Gosh, I love horror comedy! This film starred one of my favorites, Dominic Monaghan! This one was so funny. I highly recommend it! Shout-out to our friend Cory for recommending I snag this one! 4.5/5
Aggretsuko (TV Series)
After my coworker, Giselle, recommended this, I couldn't wait to give it a watch! Oh my goodness, it is so funny! I especially love it because when I'm frustrated at work, I put on headphones and blast metal or screamo music. I'm definitely going to keep watching this!
Playing:
More Trivia! I'm SO in love with Morgan's group! I'm so grateful that that invited me in 🙂
Drinking:
This month I got to try another new sour beer. This one if officially at the top of my favorites list!
This month, I had a Maine-first! Being a born and raise Mainer, this is a bit embarrassing… but I had never been to Dysarts! I'm so glad I finally went thanks to my brother and his girlfriend!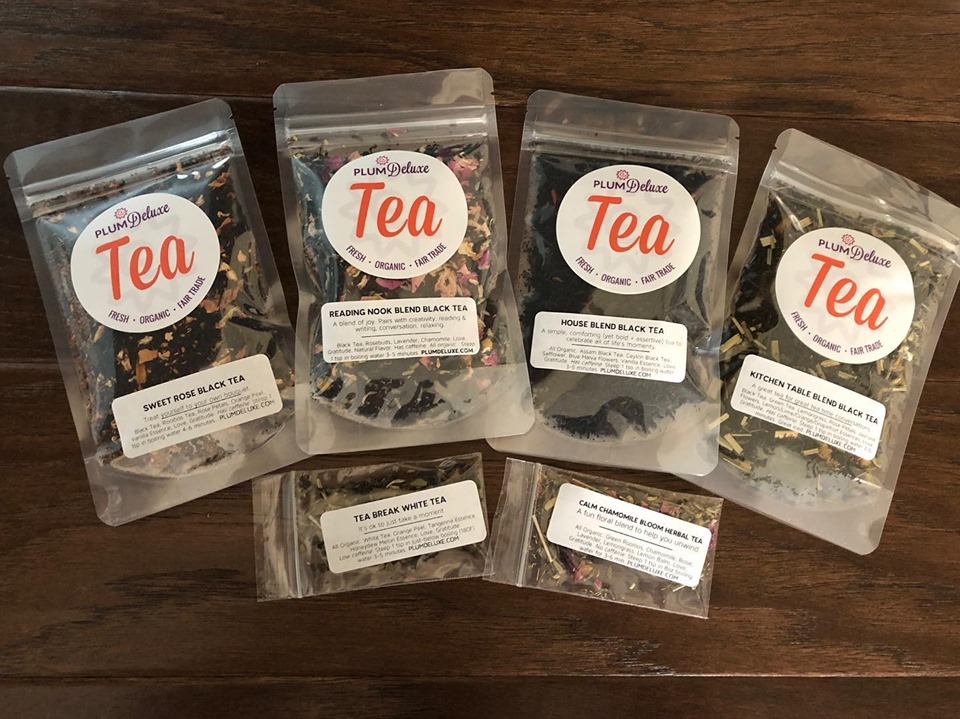 I've also been drinking a bunch of tea this month! Stay tuned to see my thoughts on the teas in the photos above!
The tea I featured this month was the House Blend Black Tea from Plum Deluxe. Check out my full review here!
Listening to:
I listened to the podcast, Supervision. It's just a quick five-episode series about a life on parole. It's definitely worth the listen, but it's very difficult to listen to. I recommend going into it without doing any research so you can get the full effect!
With all of the driving we did this month, I got to listen to the audiobook of Soul Render by T.L. Branson, narrated by A. W. Dickson. It was AWESOME. Click here to check out my quick review!
In the bookish community:
Monthly bookish related haul:
This month, I received two free books from publishers, got one BOTM novel, and purchased three books. I cannot wait to dive into each of these!
Book of the Month:
This month I snagged A Nearly Normal Family by M.T. Edvardsson, but I haven't been able to dive in just yet.
I also read a book I had snagged for a previous month; A Woman Is No Man. It was incredible!
Book Club:
I missed my book club again this month 🙁 I miss my crew so much! Fingers crossed I can make it to the next one.
My favorite bookish photo this month:
I had too many favorites this month to pick just one!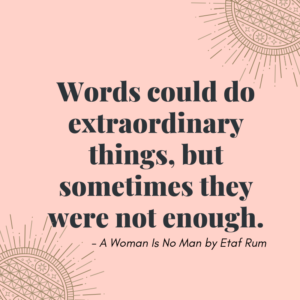 In Case You Missed It:
Looking forward to:
My birthday is in July, so that will be fun! 🙂
In July I'm also traveling to Colorado for work. Per usual, I'm wicked nervous about traveling and not looking forward to staying away from home for a week, but I'm also wicked excited to see many of my members! I'm also hoping to spend some time exploring the area with some of my coworkers if time allows!
Thanks for reading!
How was your month? Have any special plans for July? I'd love to hear about them in the comments section below!