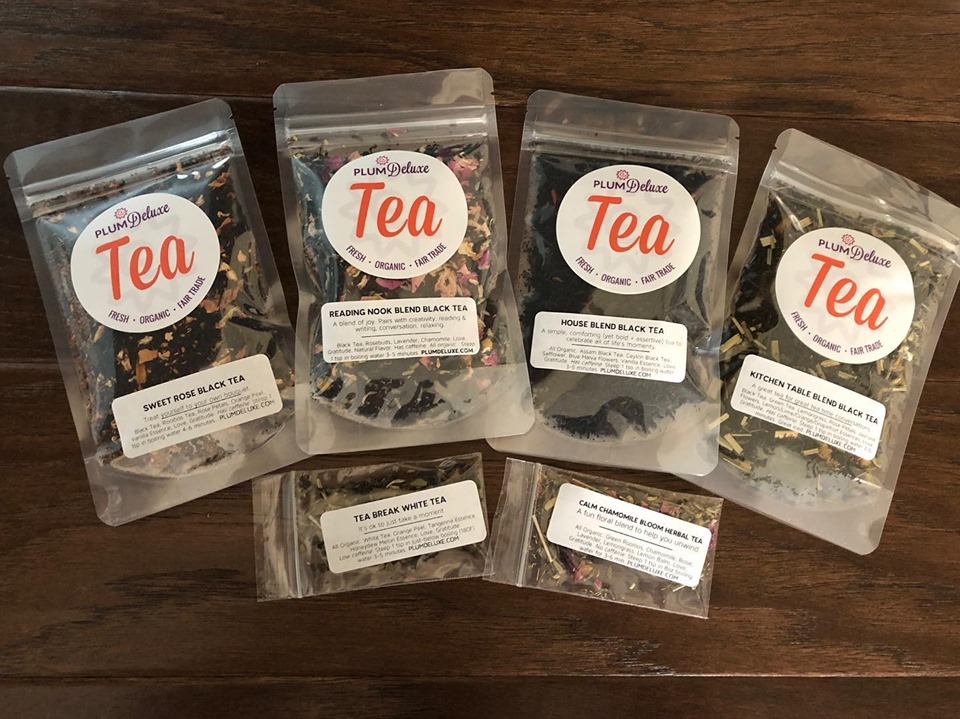 As a reader that is absolutely obsessed with tea… I am SO excited to announce a bit of news with you all today! I have been accepted as a Plum Deluxe Ambassador!
What does this mean? Basically that I will be posting more content about tea!
If you're a tea drinker and are interested in learning more, this post is for you!
Let's dive in!
What is Plum Deluxe?
From the email I received from their team:
"Hand-blended in small batches at our studio in Portland, Oregon, Plum Deluxe's line of signature loose leaf teas will help you to slow down for a mindful moment and enjoy the luxurious feeling of a cup of tea, perfect for a warm exchange with friends and family or a few quiet minutes of reflection in solitude.
All of our tea blends are organic, non-gmo, and free of chemicals and sulfites – we support local and USA farmers wherever possible and run an active philanthropy program.
Our company was founded by entrepreneur Andy Hayes as a tribute to his mother, who lost a brave 6-year battle with breast cancer but never forgot to enjoy "the little things" in life."
When I read this blurb, I was all in. I couldn't click over to their website to learn more fast enough! I immediately started adding teas that I want to try eventually to my cart. In just my first quick look through the site, I added 14 items to my cart! Their blends all sound so wonderful!
I was also so excited to learn that they also have a Tea of the Month Club where Andy creates a blend exclusively for club members.
I definitely need to sign up for this when my budget allows! How exciting would that be to receive a special blend every month?!
My role as a Plum Deluxe Ambassador
To be totally transparent with you all, I want to let you know that I would get a percentage of referred online website sales if someone chooses to use my affiliate links. I will be sharing these links on each post where you see me discussing the product.
However, I will not let that stand in the way of being my usual honest self. If I really enjoy something, or I don't like a certain tea, I'm going to let you know!
I was sent six tea samples to try to get my content rolling. Out of the six, I only disliked one of them.
I'll also be adding in my husbands thoughts here and there, as he has tried some of the teas with me.
I'd love for you to follow me on this journey! Stay tuned to learn my thoughts about the various teas I have tried so far.
---
If you would like to use my link now to go check out their site and potentially make an order, feel free to click here!
---
Thanks for reading!
If you're a tea fan, what are your favorite types or blends?