Ah, July! My birthday month!
This year I decided to follow Victoria Schwab's idea, and celebrated my birthday (lightly) all week! Of course, I still worked during the week as well and we ran all over the place to see houses, but it was still a great week!
On the 4th, I also got to wear my one and only baseball hat… which I think is extra funny because I don't swear.
After that fun week, it was crunch time preparing to leave for the 2019 Summer Convention in Colorado!
Altitude sickness aside, the Convention was wonderful! I really enjoyed seeing my members in person and getting to hang out with co-workers. Check out some of the photos below! To see others, feel free to check out my Instagram!
Back in New Hampshire, Morgan and I took a walk down by the river for our lunch break one day. We definitely need to do that more often!
On a bit of a sad note, we had to say goodbye for now to our amazing Yoga teacher, Ruth. Ruth has been coming into our office to teach a yoga class every Thursday for quite a while. I had the pleasure of attending her classes for a year and seven months. While I am bummed to see her move away, I'm so happy that she's got a great new job lined up. She also mentioned that she may do recorded yoga videos, so I cannot WAIT to see if she has time to do that!
Toward the end of the month, we had a lovely little work baby shower for our co-worker, Ashley. We cannot wait to meet her little girl!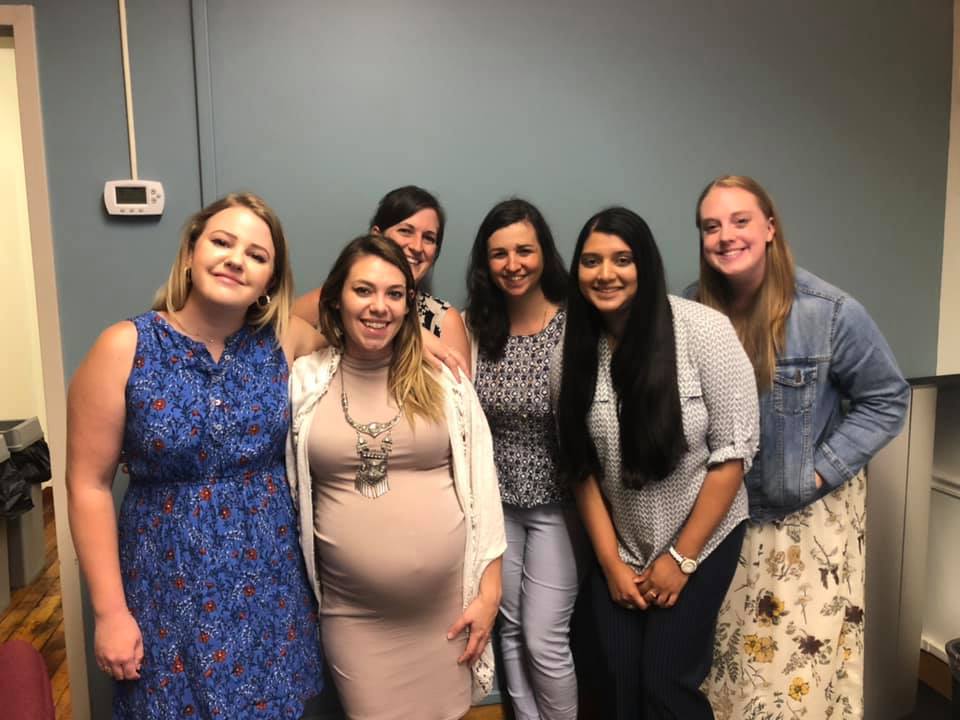 Without further delay, let's dive in to my monthly wrap-up!

My Reading Breakdown for July:
Monthly Musings
Watching:
Spider-Man Far From Home (2019 Film)
I LOVED THIS SO MUCH! Ugh, the beginning scared me though… 5/5
Pet Sematary (2019 Film)
What…did I just watch? 100% would not recommend. This was awful. It was rushed and the story line didn't flow very well. It wasn't scary overall, but there were some jump scares that were really only jumpy because of the music and noise that happened during the scare. This film also looked pretty bad. I didn't like anything about it. 1/5
Stranger Things Season Three (2019 Netflix Series)
I managed to avoid too many spoilers this season, so I was pumped about that!
The Book of Eli (2019 Film)
Alex has been asking me to watch this with him for ages. We finally had time and I was so glad he pushed me to watch it! It was really slow, but really good! The premise of the film was super interesting for bookworms especially! I definitely recommend this one! 4/5
Velvet Buzzsaw (2019 Film)
Oh my goodness! This was SO WEIRD! But also quite creepy. Many of the deaths or situations were predictable for me, as a thriller fan, but the death scenes were still amazing! That sounds odd, but if you watch this you'll know what I mean. I'm not big into art, but this film was also shot very artistically! Many of the shots looked so great or had such a neat perspective that Alex and I kept commenting about it. The entire cast was AMAZING! Jake Gyllenhaal did an especially great job and I just love everything that Toni Collette and Daveed Diggs do! And poor Natalia Dyer! She needs a powerful role ASAP please! I'd give this one a 3/5, I really enjoyed watching it, but I highly doubt I'd watch it again.
Fantastic Beasts: The Crimes of Grindelwald (2018 Film)
Well this took us forever to watch! I LOVED IT! I really enjoyed the storyline and I cannot wait to see where things go from here! 4.5/5
Alita: Battle Angel (2019 Film)
This was a film that my husband went to see in theaters. I skipped it because I didn't think I was interested. I was SO wrong. I LOVED IT SO MUCH! 5/5
Playing:
Morgan and I played a really fun board game called, Splendor. I definitely need to play this one again soon!
Drinking:
On my birthday I had a tasty drink while out for dinner, though I can't remember for the life of me what it was called…
While in Colorado, I got to try a new sour beer and I LOVED it! Ugh I wish I could get this brew in New Hampshire!
This month I also featured the Reading Nook Blend Black Tea from Plum Deluxe!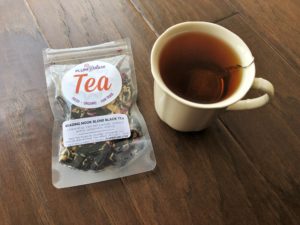 Listening to:
Happy Birthday to me! On July 7th, Books in the Freezer released their Interview with Riley Sager!
I've also been working to catch up on all the episodes I fell behind on for The What Should I Read Next podcast.
In the bookish community:
Monthly bookish related haul:
Book of the Month:
This month I snagged Lock Every Door by Riley Sager and Gods of Shadow by Silvia Moreno-Garcia. I had already read the ebook version of Lock Every Door, but I just had to snag a physical copy! I cannot wait to dive into Gods of Jade and Shadow!
Book Club:
I couldn't make it to my main book club yet again this month… I was SUPER bummed because they went to a speakeasy that I love! Fingers crossed for next month!
I did make it to my work's book club though! I was the one who picked our book for July; The Curious Charms of Arthur Pepper by Phaedra Patrick!
My favorite bookish photos this month:
In Case You Missed It:
Looking forward to:
August is going to be SO busy! But what's new, ha!
The first weekend of the month we have a family reunion. This will be my first one with Alex's mom's side of the family so I'm really excited!
The next weekend is our annual trip to the mountains with friends! This weekend is always such fun.
For the third weekend, we will be celebrating Alex's 30th birthday!
Also that third weekend, WE WILL BE CLOSING ON A HOUSE! We're so pumped. I cannot wait to get in there! The house is super cute and so perfect for us. That whole process went much faster than we expected!
There are a few maintenance things that we'll need to do right off the bat, as well as a few items that we'll need to budget for that we need soon after we get in there (lawn mower, snowblower, rakes, etc.). But after we go through the needs list… it'll finally be time for bookshelves! I'm extra excited because this will be the first time that I will have actual shelving since high school! 🙂
The only bummer is that our apartment complex isn't going to let us out of our lease, so our lease and our mortgage will overlap for two months… I've still got my fingers crossed that our leasing office will throw us a bone. We'll see. In the meantime, Alex and I will be working as much as we can; him with his overtime, and me with my second job.
After closing, I'm sure we're going to be totally absorbed in house projects, so a heads up just in case I disappear a bit. Stay tuned to my Instagram; I'm sure I'll be posting updates on the house there!
Thanks for reading!
How was your month? Have any special plans for August? I'd love to hear about them in the comments section below!