Happy February! Can you believe we've already made it through January!? I don't know about you all, but January is not my favorite month. Bring on February!
For those that have followed me for a bit, one heads up that I'm adjusting the way I do my recaps to make them a bit shorter. Feel free to let me know what you think!
Let's dive in!
My January Recap
Reading:
Other Posts:
Dead Headspace:
Starting out as a fan, I was shocked when Patrick and Brennan of Dead Headspace asked me to guest host for the first time. This month, I joined Pat and Brennan officially as one of the three hosts of the show, and I cannot be more honored to take part! This month, I took part in three episodes:
Episode 182 with author Rachel Harrison
Episode 183 for the Best of Season 3 with guests Chance Forshee and Brian McAuley
We also had C.J. Tudor on the show to talk about her latest release, The Drift. The lovely Candace Nola joined this session as well! Stay tuned for that episode's launch!
Monthly bookish related haul:
One of these months, I'm going to hold myself to my book buying ban… Clearly January was not that month.
I acquired the following books directly from the author:
Hallowed Oblivion by Katherine Silva
The Hag Witch of Tripp Creek by Somer Canon
Cruel Summer by Wesley Southard
Vicki Beautiful by Somer Canon
A Fresh Start by Somer Canon
You're Mine by Somer Canon
Haunt of Southern-Fried Fear by Ronald Kelly
Churn the Soil by Steve Stred
The Wild Dark by Katherine Silva
Decimated Dreams by Brennan LaFaro
The Cursed Among Us by John Durgin
I also snagged the following from local bookstores:
Cackle by Rachel Harrison
Return of the Living Elves by Brian Asman
The Return by Rachel Harrison
Curse of the Reaper by Brian McAuley
How To Sell A Haunted House by Grady Hendrix
All Hallows by Christopher Golden
And finally, I got the following direct from the publisher:
Southern Fried & Horrified by Ronald Kelly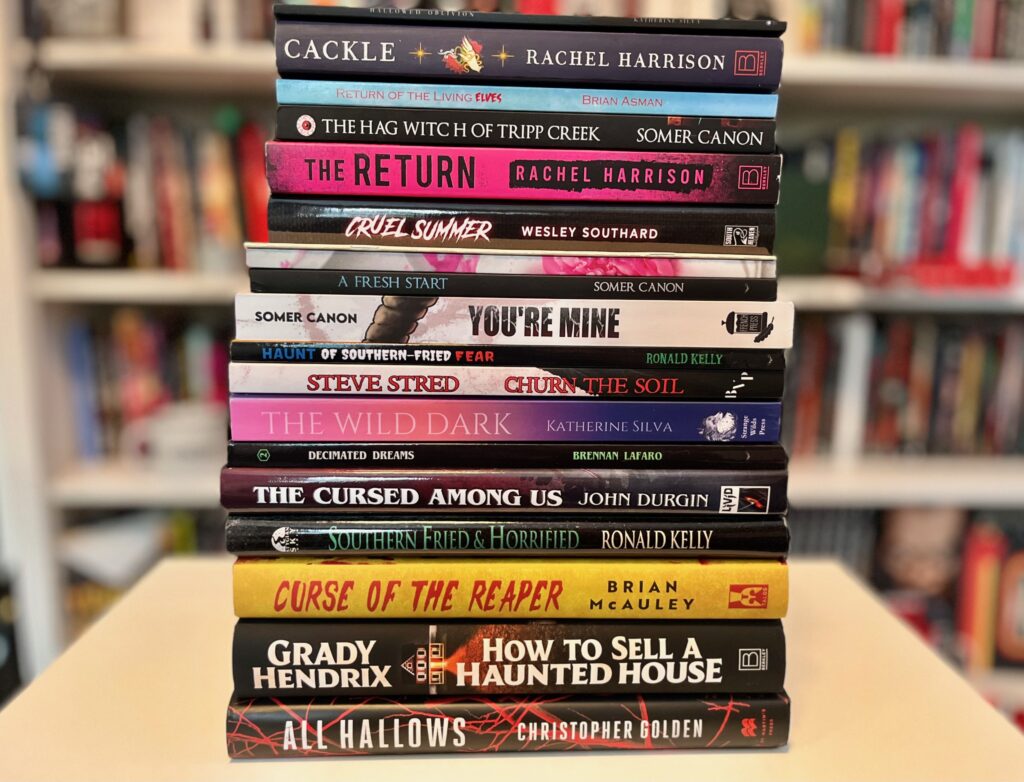 My favorite book photo this month:
Thanks for reading!