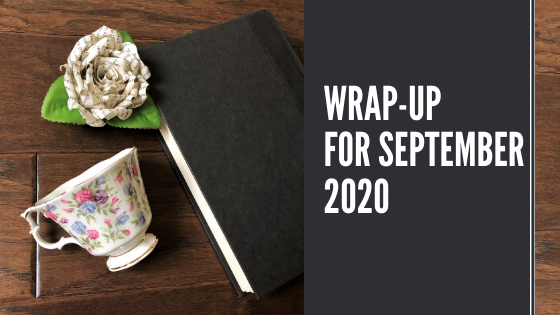 Phew. September was both such a long month, but it felt like it also FLEW by. Story of this year, right?
My mantra for the month was "Rest is a productive activity." I'm still actively working on making time for myself. This is definitely going to be my mantra for the remainder of the year as well!
I finally splurged and got a mask with a fun pattern rather than just all solid colors. I love it!
This month, I replaced our window box flowers with mums. I snapped this photo very early on, so they hadn't fully bloomed yet.
To try to get more out of the ferns I had planted this spring in those window boxes, I temporarily added them to our steps! When it started getting a bit colder, I planted these at the edge of our year. We'll see if they come back!
One day, bugs decided to suddenly appear ALL OVER THE PLACE at our house! We had stink bugs ALL over, a yellow jacket nest that was formed in a hill quickly (which we had to deal with before we could get trees cut…), various other things I didn't recognize, AND TWO STICK BUGS! Crazy!! Here's one of the stick bugs:
Speaking of those trees… We got a BUNCH of trees cut down. We're still working on the cleanup, but it already feels so much better! The new natural light that various rooms in the house gets is incredible! Below is a before and after. I can't wait to do another once we get everything cleaned up!
Our new couch also finally arrived! We had ordered this back in May, so we're so excited it's here!
Of course, I quickly decorated with spooky pillows 🙂
This month, one of the highlights for me was working with my friend Gillian Barnes for a project that she hosted called, Gillian Writes With, where she featured articles from various people on her site. Click here to check out my article, LEARNING HOW TO GIVE MYSELF PERMISSION TO RELAX.
I also got two AMAZING pieces of artwork in, both of which are of me! One is another #toonme from Cassie of LetsGetGalatic–
And another is a likeness drawing from Mike Lee-Graham. I love Mike's work SO much!!! This also seriously adds to my urge to dye my hair again.
My Reading Breakdown for September:
5 Stars –
4 Stars –
3 Stars –
2 Stars –
1 Star –
DNF –
Monthly Musings
Watching:
Enola Holmes (2020 Film) – 4/5
This was so fun! What a cast!!
Ozark (Season 1-3) – 3.5/5
I finally caught up on Ozark! I liked a lot about this show, but I kept losing steam with it, especially when mental health became a big plot point. Ruth is by far my favorite character.
Watching on Shudder:
Soooo, I got a Shudder account and participated in the first month of the 61 Days of Halloween watch-a-thon. I started out strong, but then got a little busy and couldn't keep up. Even so, I was able to watch a number of the films that were part of the event as well as a few extras! Moving forward, I will be making watching movies on this platform more of a priority. As such, I will be keeping these films in their own section.
Below are the films I watched this month-
Bram Stokers Dracula (1992 Film) – 3/5
Not a huge fan of this one… It just seems way too long to me and didn't flow very well. I'm quite bummed this was a miss for me. Maybe I need to give it another go?
Squirm (1976 Film) – 2/5
My goodness the acting in this was awful… What a spooky premise though! There was one jump scare that really got me!
Color Out Of Space (2019 Film) – 4/5
PHEW. What a visually stunning and terrifyingly bizarre movie! I just wanted to scream at these people to leave! Nicholas Cage KILLED it with his acting for this character!
The Changeling (1980 Film) – 4/5
PHEW! What a trip!
The Nightshifter (2018 Film) – 4/5
My goodness. This one was brutal, sad, and terrifying all at once! There were so many jump scares that totally got me! I definitely recommend this one, but just give it a bit as it starts off pretty slow. This actors did an awesome job in this one! I just wasn't a major fan of the last minute of the film.
Starry Eyes (2014 Film) – 4/5
Yikes. What a great slasher! This one was also quite bizarre. Watching this actually made me a bit nauseous quite a few times. When the main character gets physically ill, I had to fast forward.
Tourist Trap (1979 Film) – 3/5
Oh my goodness, these mannequins were terrifying! A bit slow at times, but this was super eerie.
Southbound (2015 Horror Anthology) – 5/5
This one was SO creepy. What a crazy idea. I need to look for more horror anthologies. I absolutely loved the music in this film! I also loved that this one had two people that I had just seen in Starry Eyes! And so neat that it also featured Natalie Love! She summers in my hometown and I've met her a few times. She's so kind!
Fade To Black (1980 Film) – 3/5
This one didn't age super well. Creepy while watching, but the overall message is wicked sad as it's mental health based.
The Shed (2019 Film) – 5/5
Phew! I was a little nervous that this one was going to be a bit lame if it all took place around one small shed. But like Panic Room, it was a very suspense-filled film! I loved the pacing and that ending! If you enjoyed Cabin in the Woods, I highly recommend this one!
Countess Dracula (1971 Film) – 2/5
Not my cup of tea. The idea behind this one was super spooky, especially because it was based on a real person and event, but it was just too slow for me to stay engaged with it. I ended up doing other things while this was playing.
Sweet Sweet Lonely Girl (2016 Film) – 2/5
Creepy overall, but wicked slow. I was hoping for a more powerful ending, but it was a bit of a let down for me personally.
The Taking of Deborah Logan (2014 Film)- 5/5
This is the single most terrifying film I have ever seen. It made me nauseous for weeks thinking about one specific scene… My god. Stick with this one. It's got a slow start, but it's so worth waiting it out.
Spiral (2020 Film) – 4/5
How unsettling!! Yikes!! I highly recommend this one! So twisted!
The Beach House (2019 Film) – 1/5
Wow. Would not recommend. This one pissed me off more than anything with how slow it was and what stupid things the characters did. Spooky idea, awful execution. Not a fan at all.
Mandy (2017 Films) – 4/5
This one was VERY slow to start, but once Nicholas Cage's character chugs vodka… then we were off and running! I mean, there was a CHAINSAW FIGHT. This one was so bizarre and intense. And the colors were beautiful!
Hellraiser (1987 Film) – 3/5
I cannot believe it took me this long to get to this one! I enjoyed it, but I'm not sure I'd rewatch.
Playing:
Nothing this month.
Drinking:
This month, my work crew ventured out to a local brewery. This was the first time we had all seen each other in person since March, and we went out to celebrate Kate getting a new job in the medical field. Congrats again Kate! 🙂
I also popped into another local brewery and snagged a four pack of something I hadn't tried before, and I LOVED it!! This All Mixed Up sour from Lithermans Brewery is SO GOOD.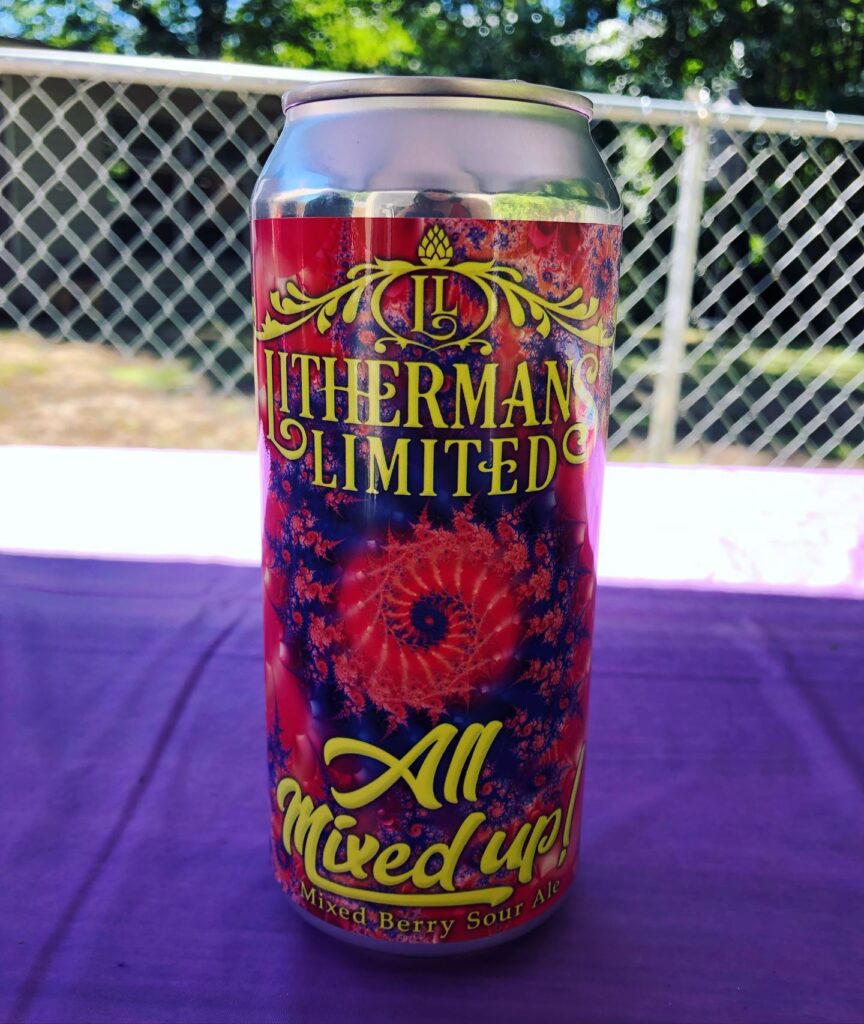 My brother-in-law also gave me this Vape Tricks sour to try. Also amazing! It tasted like a cherry blow-pop lollipop!
I also tried this amazing blackberry sour from Smuttynose. It was DELICIOUS!
Listening to:
This month was big on audio books for me! I listened to Jurassic Park and The Lost World thanks to Libro.fm!
If you're looking to snag a new audiobook, please consider using Libro.fm rather than Audible. Libro.fm helps support local bookshops rather than "the-big-A". Feel free to use my referral link at checkout to get a free audiobook! Here's my code: lfm208628
I was also SUPER hooked on the following songs:
In the bookish community:
This month, another highlight was that I got watch along to The "Making of Monstre" Launch Day Event! This was so much fun to get a look at everything that happens when a book is launched! Plus, it was for an AMAZING book! I highly recommend grabbing a copy!
Check out this still from one of the Monstre trailers!
I also got to participate in the #lifefindsawayin2020 readathon as hosted by @tonyshorrorcorner and @charmandareads! I had been meaning to reread these books and this month was the perfect time! I absolutely loved this group that participated and I can't wait to start seeing all the posts as others finish up! Now to binge watch the films!
Monthly bookish related haul:
My signed copies from Samantha Kolesnik also arrived!
My favorite bookish photos this month:
In case you missed Ii:
Looking forward to:
This month I'm going to be a guest host on the Dead Headspace podcast!! I'm SO NERVOUS! But also very very excited!! I can't wait to share the link with you all soon!
Thanks for reading!