You all know how much I love a great book cover!
Today, I'm so excited to be sharing my reaction to the NightWorms cover reveal for Eric LaRocca's newest book, A Bright Enchanted Suffering. Click here to check out the original post on NightWorms!
Let's dive in!
Before we get to the cover reveal… let's start with a bit about the book!
An #OwnVoices Release, author Eric LaRocca explores the darker side of humanity in his upcoming horror collection:
A BRIGHT ENCHANTED SUFFERING
An invitation to terror in broad daylight.
Author Eric LaRocca brings together two chilling never-before-published novelettes which explore the darker aspects of humanity – a world in which horrible things can and will happen in the light of day.
In "You're Not Supposed to Be Here," a married couple and their infant child find themselves at the mercy of a seemingly benevolent couple who are eager to play a game with horrifying consequences.
In "Where Flames Burned Emerald as Grass," a widower and his daughter meet a peculiar gentleman in the Costa Rican rainforest with sinister intentions.
Shocking and disturbing, A Bright Enchanted Suffering plumbs the depths of human depravity and showcases the most fearsome monster of all – our fellow man.
Darkness can still touch you even when the lights are on.
---
PRAISE FOR A BRIGHT ENCHANTED SUFFERING
"Eric LaRocca wields his prose like a scalpel, peeling away the thin skin of civility's charade to write straight from the haunted, bloody heart of it all. Doling out brutal insights and the rare tender mercy like medicine, LaRocca doesn't flinch from exposing the horrors hidden just beneath the day-to-day."
– Gordon B. White, author of As Summer's Mask Slips and Other Disruptions
---
Cover Reveal for A Bright Enchanted Suffering by Eric LaRocca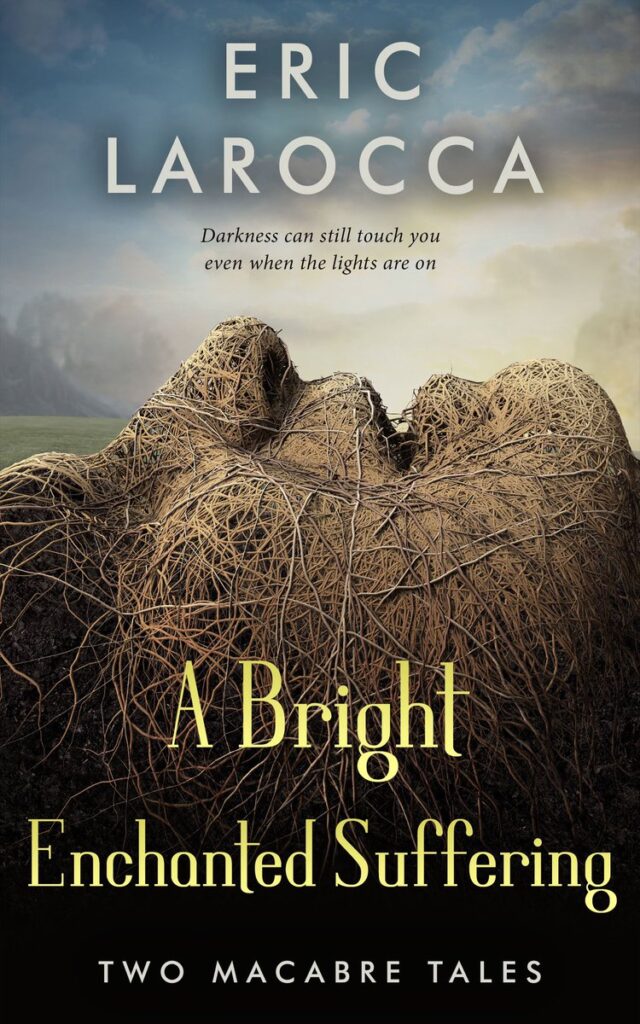 So, first things first… the whole vibe of this book cover totally draws me in! I cannot wait to read the blurb to find out more!
Next, that tagline! "Darkness can still touch you even when the lights are on." How spooky is that?!
I love the color scheme and how the more subdued colors helps the pale yellow of the title pop. The misty landscape scene right at the top is lovely!
And of course, we have that creepy face! I love the placement and how it fades to black on the backside of the head before we get to the bottom of the cover. I also love the one line of vine/root that travels from the top of the lip dow the page as it really draws your eye toward the title again.
I cannot wait for this book to publish to dive in!
---
A Bright Enchanted Suffering will be released on Tuesday, March 30th, 2021. Readers can preorder the title by clicking below:
---
Related Reading: