Little Paranoias by Sonora Taylor is a killer collection of tales! This had such an awesome range; from the stories that will hit you with an emotional punch to the tales that will crawl under your skin.
Let's dive in!
My Thoughts on Little Paranoias by Sonora Taylor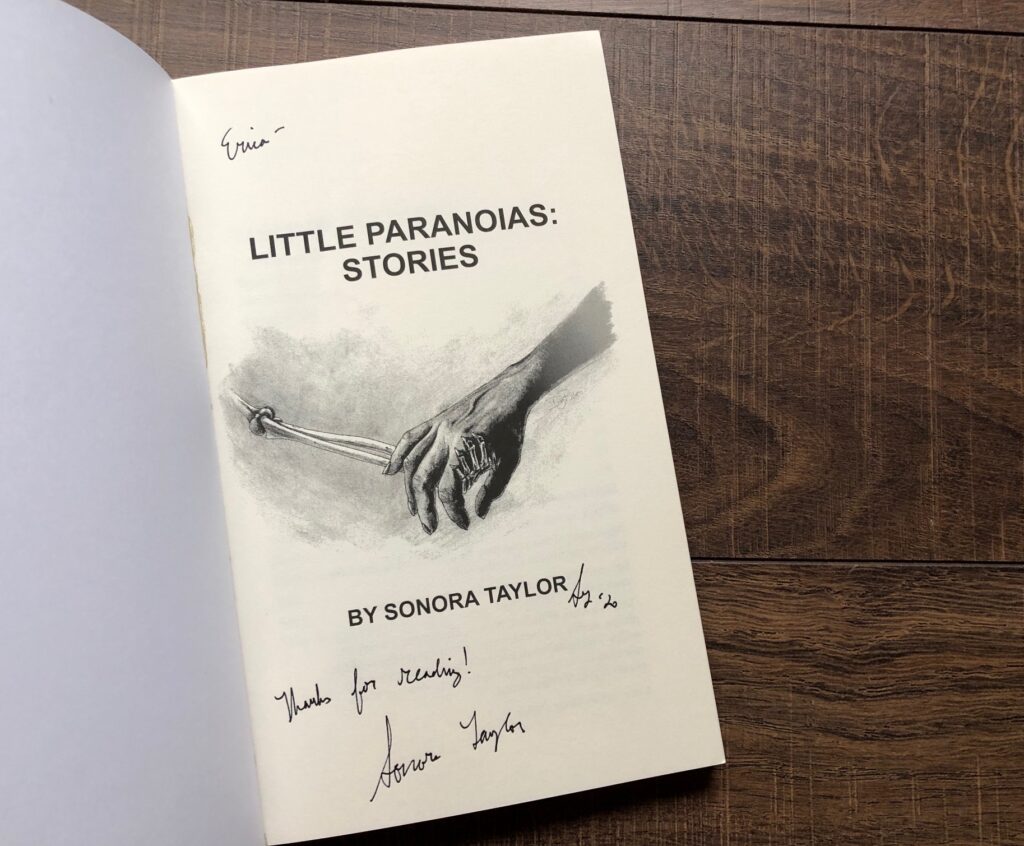 I absolutely love Sonora Taylor's writing style! Each tale was so wonderfully organized and paced. There were so many that had a wonderful twist at the very end that I especially loved!
Per usual with short story collections, here are my quick thoughts on each!
Weary Bones – 5 Stars
Oh my gosh! What an idea! Centered around a serum that people rush to get before the fully understand the results is terrifying. This story broke my heart, but I'm so glad that it centered around an amazingly compassionate main character.
Never Walk Alone – 5 Stars
Whoa! This one totally got me! While short, it packed a punch! The paranoia that comes with walking somewhere alone is spot on for me, especially at night.
A Part Of You – 5 Stars
Oh my! Another short one that packs a punch! Go Mom!
Crust – 4 Stars
Yikes! What a quest for perfection.
The Note On The Door – 4 Stars
Ah man, the curiosity was so strong here! I love how this one turned out!
Always In My Ear – 5 Stars
Phew! When true crime obsessions go too far… this one was wicked nerve-wracking.
I loved this passage so much:
"You have to whisper secrets. That way they always stay in your ear, and not in the air or they can fly and spread around."
Brooke smiled, charmed by the thought of a secret zipping through the wind like a glittery moth, with red eyes and white crystal teeth to match its wings.
As Quick As Poison- 4 Stars
A wonderful little poem!
Cranberry – 5 Stars
Shout-out to the author for including the trigger warnings on this one because woof. This one was intense and so sad. It certainly triggered some crap that happened to me in childhood that I will never forget. People really need to stop commenting on other people's weight!
Drops – 3 Stars
Ooh! Spooky! This one left me wanting just a smidge more because I wasn't sure what was going on.
Snowfall – 4 Stars
Oofh! This poor girl!
Death Is A Hunter – 5 Stars
What a turn this one took!!
Quadrapocalypse – 5 Stars
Absolutely terrifying! I can't decide which situation was the worst!
Hollow – 4 Stars
Phew! Dolls creep me out so much…
Stick Figure Family – 5 Stars
I will never look at the stick figure families on the back of cars the same again…
Hearts Are Just "Likes" – 4 Stars
My goodness! The obsession over social media always makes me so nervous! This one got intense very quickly!
Perfection In Shadow – 4 Stars
Yessss what a turn!
Salt – 5 Stars
Whoa! That was crazy!! What a perfectly organized short story!! What devotion between these two!
Seed – 4 Stars
Gosh the thought of plants and vines reclaiming the earth is so spooky!
He Trapped My Thoughts Inside My Head – 4/5
What a poem!!! And what a way to end this collection!
My Final Thoughts on Little Paranoias
I had so much fun reading this collection! I'm just kicking myself from taking so long to pick up this authors work. I cannot wait to dive into Seeing Things ASAP.
---
Snag a copy through Bookshop, where your purchase will help benefit local bookshops:
Thanks for reading!
And thanks again to Sonora Taylor for sending me a copy!