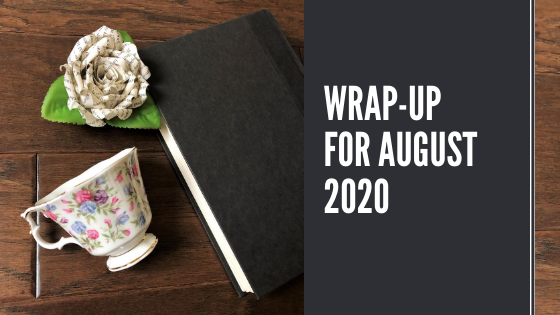 August was the month of virtual conventions! I had SO much fun watching along to sessions including The Scares That Care Virtual Charity Event, KillerCon, and Buzz Book Expo! I had so much fun joining in to these virtual events.
I also totally started decorating for Fall and Halloween. Check out these goodies I got at Homegoods:
Another fun purchase I made a few months ago finally came in! I'm obsessed:
This month Alex and I also celebrated his birthday and our one year home anniversary! I can't believe it's been a year since we bought our house! It's finally starting to come together. We've gotten a bunch of furniture this year. Most recently, we made an order from Ikea and Wayfair. In one weekend I built two bookshelves, a dresser, and two side tables while I was home not feeling super well and my husband was away for the weekend with friends.
The next weekend, we rolled out a new rug and built our coffee table. Excuse the table mats! I should have moved those but I was getting antsy to get this post together! With how many movies my husband and I have watched on shudder, we've been eating in front of the TV a lot.
Unfortunately this month, I also lost a good friend. If you've been following me, you've likely seen me talk about her quite a bit- Heather of Heather's Reading Hideaway passed away very suddenly. I still just can't believe it, but I'm finding peace imagining her in a heaven surrounded by books.
My Reading Breakdown for August:
5 Stars – 6
4 Stars – 2
3 Stars – 0
2 Stars – 0
1 Star – 0
DNF – 0
Monthly Musings
Watching:
Dragon Ball Super – 5 Stars
Alex and I still watching this series. My GOSH, I LOVE Whis and Beerus!!
Clash of the Titans (2010 Film) – 5 Stars
This was so much fun! I can't believe I haven't watched this before!
Jawbreakers (1999 Film) – 3 Stars
Oh boy… This was fun to watch, but I think it's one I would have enjoyed more if I had watched it when I was younger for sure.
Mayhem (2017 Film) – 5 Stars
OH MY GOD. Go watch this asap. This was such an intense and fun film. I love the horror comedy mashup! I LOVED the two main characters so much.
Random Acts of Violence (2019 Film) – 4 Stars
PHEW! This one was intense! The first kill totally caught me off guard! What a brutal film and a killer cast. I just wasn't a huge fan of the ending.
Summer of '84 (2019 Film) – 5 Stars
WOW. This one was so so so good. It reminded me a bit of The Body by Stephen King, but then that ending!!
Train to Busan (2016 Film) – 4 Stars
WOW! I can't believe I hadn't seen this one earlier! I loved this so much but man was it sad!
Host (2020 Film) – 5 Stars
GO WATCH THIS ASAP IF YOU HAVEN'T YET. Such an amazing film. I have zero complaints and it REALLY spooked me!
Playing:
This month we had an awesome game night where we played Legendary from Marvel, a great card game! We beat the bad guy this time!
Drinking:
This month I actually ventured out once to sit outside at a brewery with two friends and my husband. I had an AMAZING sour beer called Floyd. It was a pink lemonade sour beer from Rockingham Brewing Company.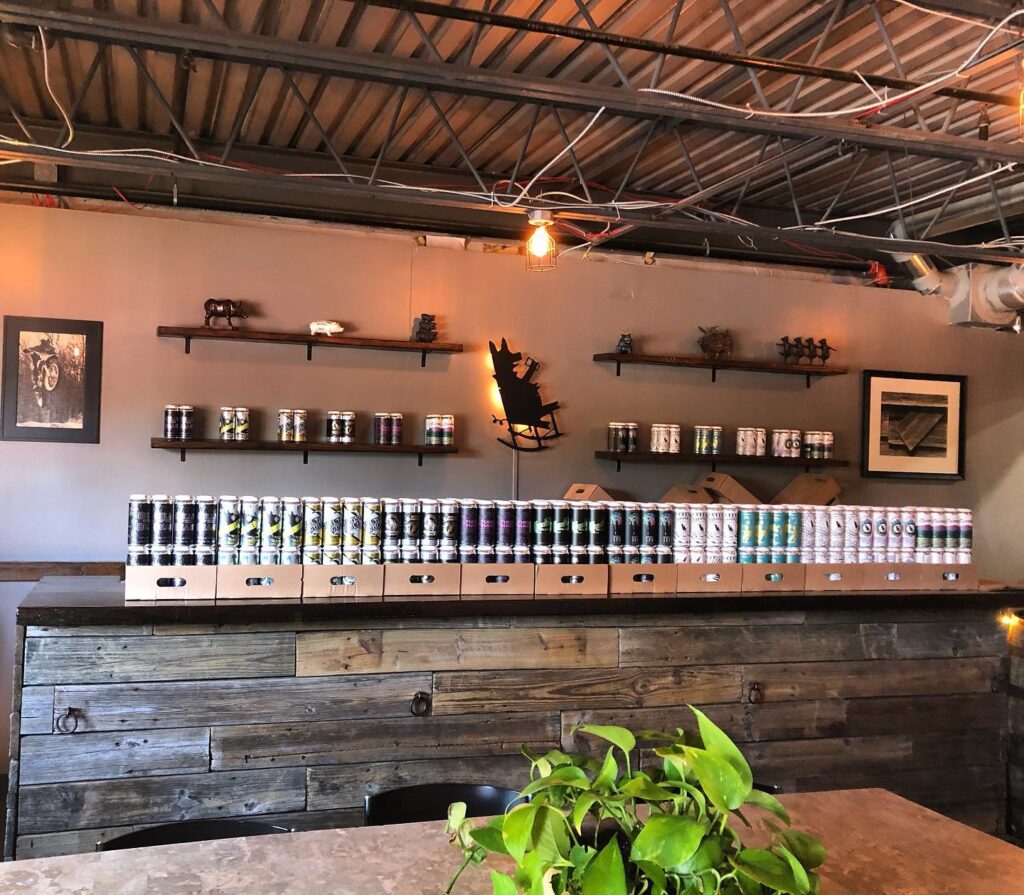 Listening to:
I totally binged all of the episodes of The Fiendish Minds Podcast! I highly recommend checking this podcast out if you enjoy horror and want to learn more from some amazing authors!
This month I also listened to Audiobook of Pet Sematary by Stephen King, narrated by Michael C. Hall and LOVED it. If you're looking for a great horror audiobook, check this one out!
I also became OBSESSED with the band Siamese after hearing this song for the first time:
In the bookish community:
If you haven't snagged one yet, check out the amazing Mildred bookmark from Michael Clark's The Patience of a Dead Man – Double Sided Bookmark created by A Stranger Dream.
Megan of Reading in the Wildwood featured me on her wonderful post, Blogs You Need to Follow. Go check her blog out today! Her reviews and bookish related posts are always so wonderfully put together! I get so excited every time I see a new post from her pop into my feed!
Monthly bookish related haul: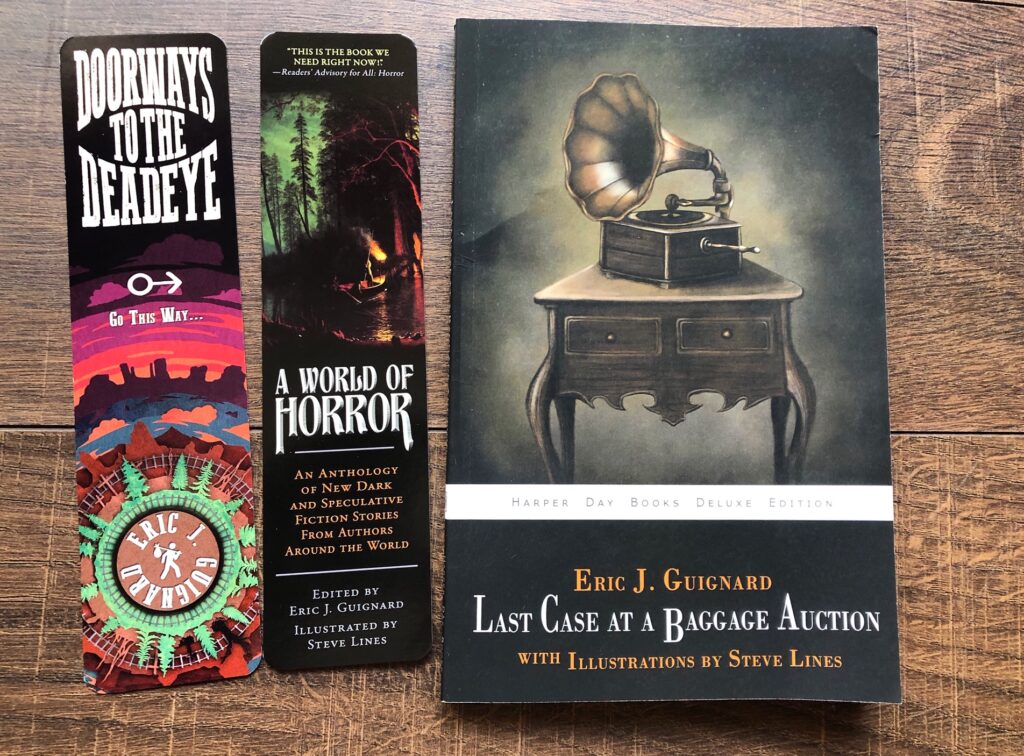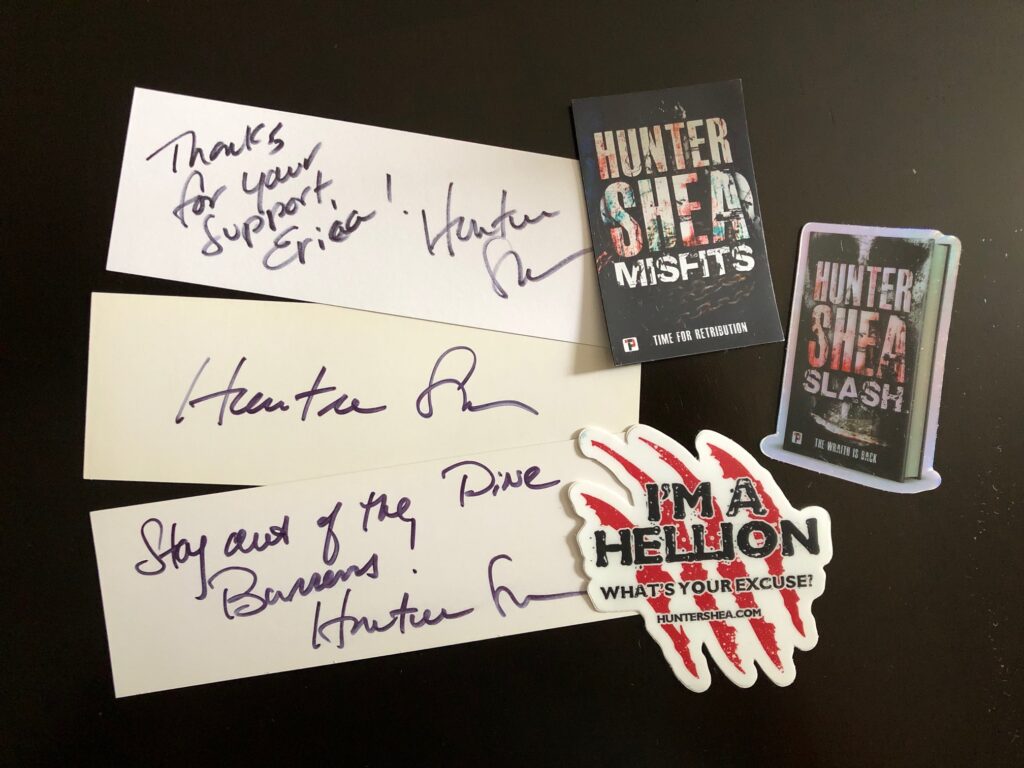 My favorite bookish photos this month: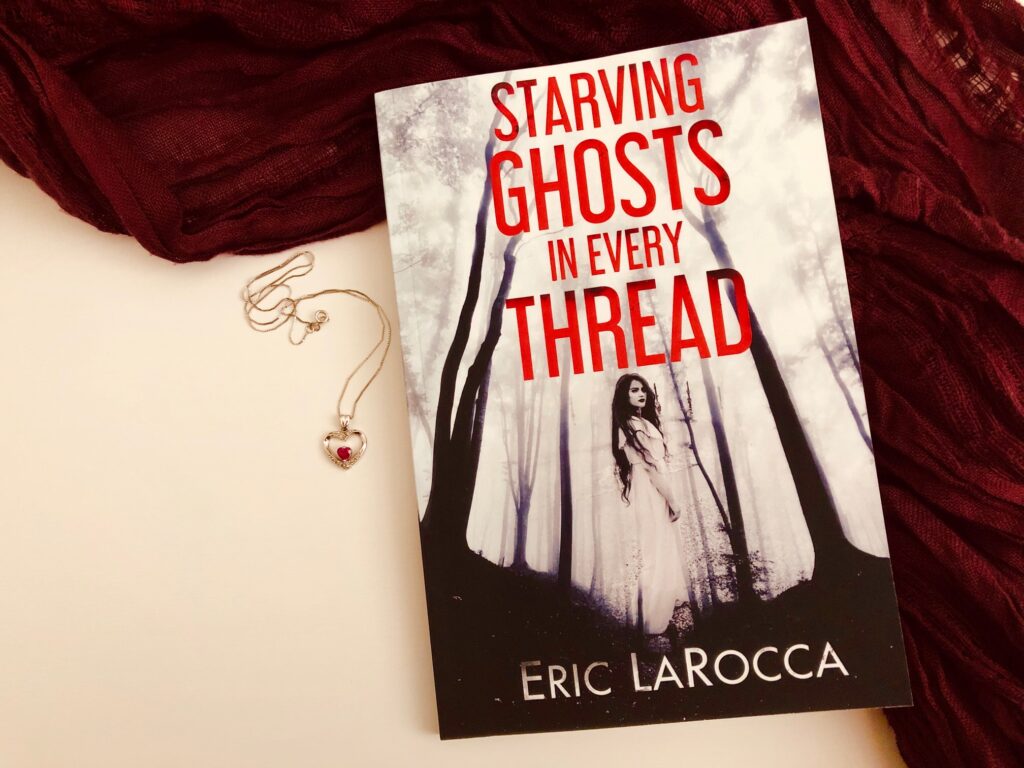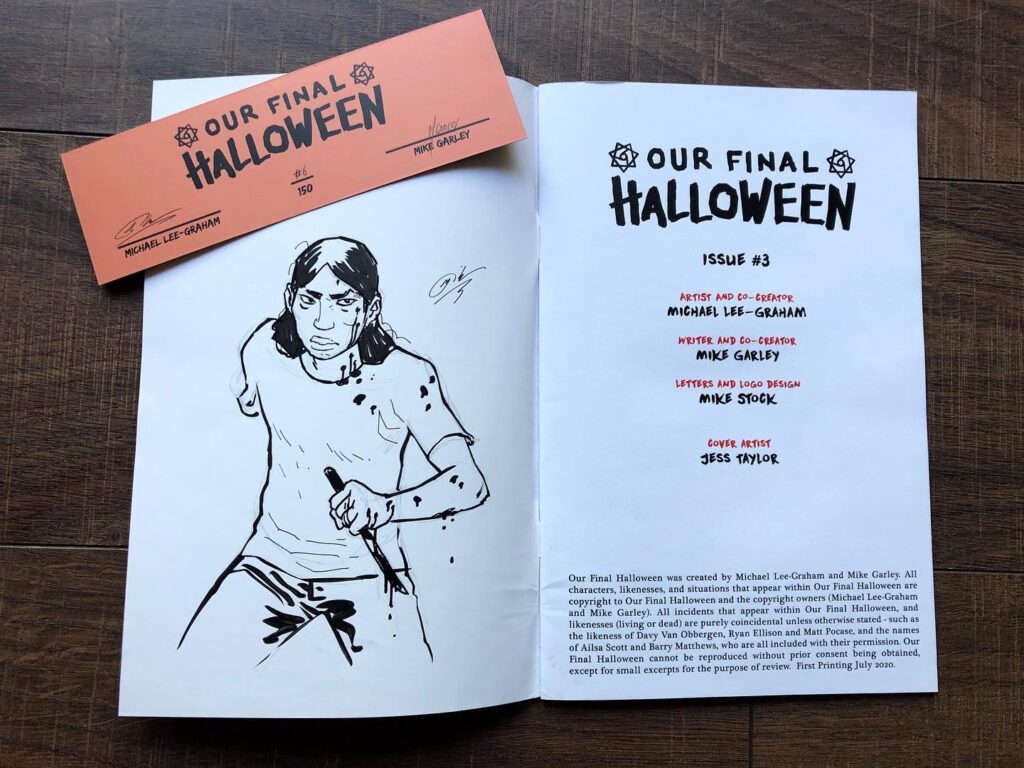 This month I was also tagged by The Book Dad in a #bookstastrong challenge where participants held a stack of books with one hand. Here's my stack of some amazing authors! 🙂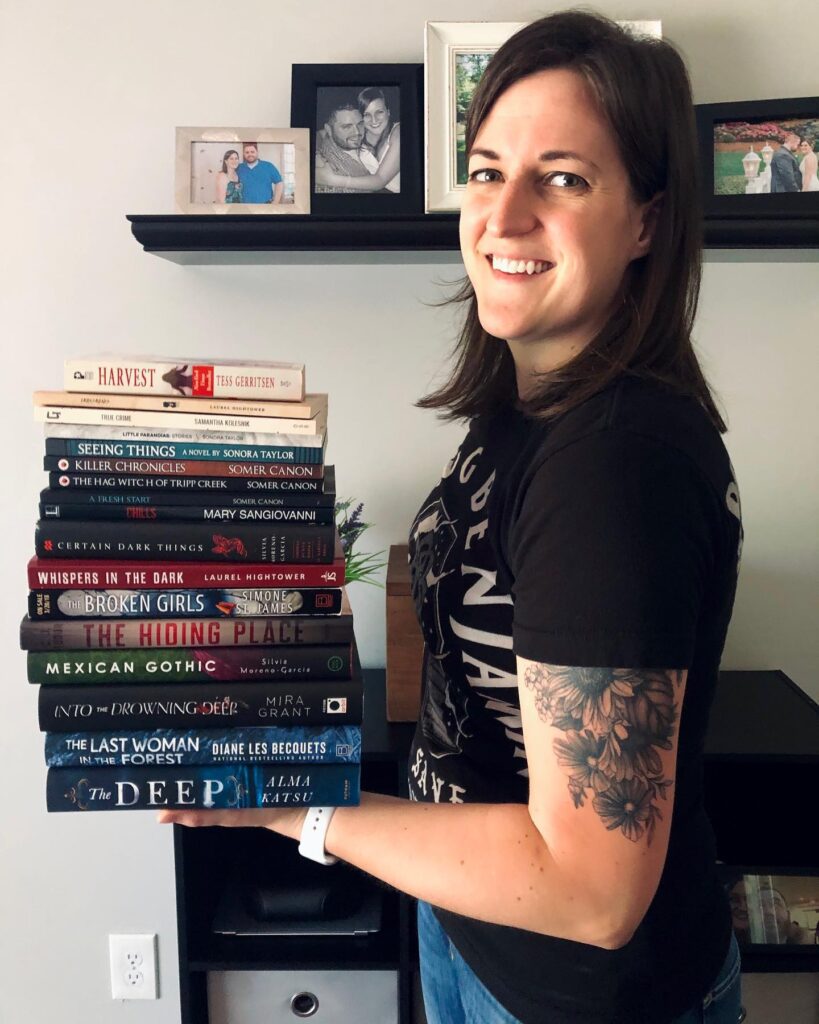 In case you missed it:
Looking forward to:
September is one of my favorite months! While I feel like it was just March, then I blinked and it's September, I am so ready for Fall!
This month I'm looking forward to to the 61 days of Halloween on Shudder, a readathon I'm participating in called #lifefindsawayin2020, and all of the amazing things the Ladies of Horror Fiction are doing! It's going to be a busy month!
Thanks for reading!