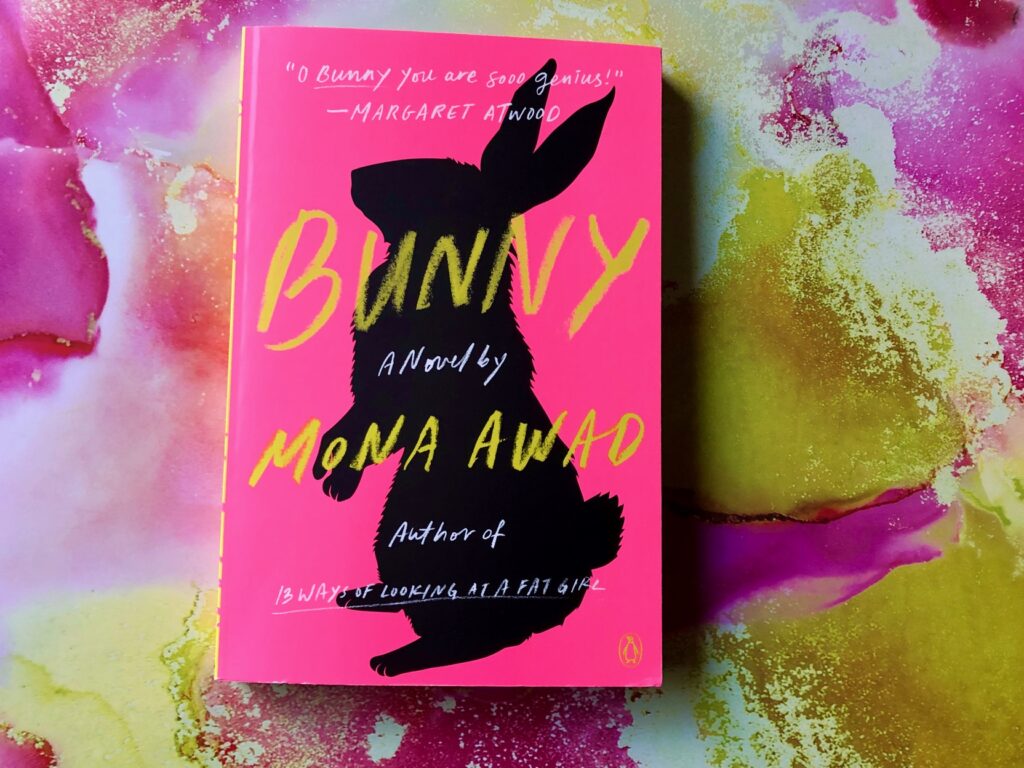 Bunny by Mona Awad is an unforgettable and bizarre tale that had me clenching my teeth in hatred for each and every one of the characters. But man, what a read!
Shout out to Kelso for sending me a copy for my birthday! <3 And one with a signed bookplate at that!! Thank you, thank you!
Let's dive in!
My Thoughts on Bunny by Mona Awad
This novel was organized in three main parts, and each part was more bizarre than the last!
Imagine the film Mean Girls, but rather than occurring in high school, it's grad school… and rather than competing with one another, they all love each other a bit too intensely. But then add a majorly dark element to the tale… and you have this book!
It took me a bit to get used to the writing style. It's all very short and it's got an almost child-like quality to it.
At first I struggled with the immaturity of the characters and their severe lack of understanding and drive, especially considering that they were in grad school. It was clear that most of them had a very sheltered life and grew up not wanting for anything.
But then I made a connection to one of my roommates from college, and once that connection was made, all I could do was imagine her as each of these characters and it all made sense! That poor girl was years older than me, and when we wound up rooming together, she didn't know how to do laundry or boil water for tea.
So while I couldn't relate in the slightest, and each of the characters drove me up a wall, it was hilariously frustrating to see this storyline through to the end.
My Favorite Passages from Bunny
They always came apart from these embraces intact and I'm wounded despite the ill will that poured forth from my staring eyes like so much comic-book-villian venom.
You've read books that say things like "time stood still"? I always thought it was bullshit. But it does. It can. It can stand as still as I am standing, here in the kicked-down doorway. It can stand as still as the blood-splattered walls and the broken window.
My Final Thoughts on Bunny
Phew what a trip! I definitely recommend giving this one a read! Just prepare yourself for something wicked bizarre.
---
Snag a copy through Bookshop to help support local indie bookshops: