Phew, what a start 2022 is off to!
My apologies to anyone waiting on me for reviews. Between all of the PT for my back injury, endometriosis surgery, crazy times at work, and other personal things, I just haven't had the capacity for much.
My physical therapy is going wonderfully! We were finally making really good progress, before the short surgery setback anyway. I LOVE my physical therapist. She's wonderful and I love that she knows exactly when I need a push vs when I need to rest.
The endometriosis surgery happened very quickly! I had my intake appointment on a Friday, four days later, they called to schedule me for surgery just three days after that! Then it was a mad rush to get a covid test, have my pre-op appointment, and get prepared. My doctor told me I would only need a day of recovery, and where my surgery was scheduled for a Friday, I figured I'd be back in action Monday for sure, so I only took the actual day of surgery off of work.
I was never in pain after the surgery, but I was very uncomfortable for sure. The incision sites were sore and I was very bruised. I wasn't able to wear anything other than my husbands pj pants for a week! Thankfully, my boss let me work from home for a week.
I later learned that most people take a week off of work after a surgery like this. That's good to know for next time… Just mentally, the break to focus on rest would have been good.
But anyways! I sure did have "a significant amount of endometriosis!" My doctor commented, "You must have been in a lot of pain." All I could do was laugh and say, "Yes." I mean, that's why I've been asking for this surgery since I was a teenager and learned what it was… It took 7 different doctors and enrolling in the infertility program to finally get the surgery.
Trust your body, friends. Keep pushing until you find someone that listens to you.
Let's dive in to my recap!
Monthly Musings
Reading:
Watching:
The Devil Below | 2021 Horror Film | Netflix
I could just not stay invested in this one. The acting was not convincing at all…
Ant-Man and the Wasp | 2018 Marvel Movie | Disney+
Another rewatch with my in-laws! This one is so frustrating but so much fun to watch. I always laugh a ton during this one.
Dark Shadows | 2012 Film | Netflix
I had watched this once before but couldn't remember anything about it. My rewatch showed me why…. Love Johnny Depp in this role though!! The cast overall was amazing! Just not a film for me.
I Know What You Did Last Summer | 1997 Horror Film | Netflix
Oh man the number of times that I asked to watch this when I was 12 and was told no by my parents! This unfortunately fell of my radar until I saw it pop up on my Netflix queue! This was so much fun. I loved how the story came around full circle to what happened at the beginning with the scary story told on the beach!
Avengers: Infinity War | 2018 Marvel Film | Disney+
Another re-watch while the in-laws get caught up! This one is such an emotional rollercoaster!
Eternals | 2021 Marvel Film | Disney+
I cannot wait to see where this storyline goes next! What a fun first film! Lots of action and drama!
I Still Know What You Did Last Summer | 1998 Horror Film | Netflix
A fun follow up! But wow, why does Ty totally suck?! I was so over that character very early on and he only gets worse.
Shang-Chi and the Legend of the Ten Rings | 2021 Marvel Film | Disney+
A rewatch while I heal from surgery! I love this film so much. I've decided the "What happened to your shirt?" scene is my favorite 😂
Vampires vs. the Bronx | 2020 Horror Comedy | Netflix
A trio of boys who had been working hard to keep their local bodega open suddenly realize that there is something strange going on in the area. So of course, being curious teen boys, they investigate. On their path, the discover that there are vampires living in the area… and of course, the adults don't believe them. At least not at first. This film was wonderful! I loved the pacing, the humor that was thrown in here and there, the suspense of the violence and death, and how heartwarming the tale was overall! Seeing everyone band together at the end was perfect.
Brazen | 2022 Film | Netflix
This was a fun little murder mystery. A bit too slow for me, but I enjoyed having it on in the background.
Shitts Creek | Comedy TV Series | Netflix
My husband and I started watching this after my sister-in-law recommended it. And what perfect timing! Work was insane for both of us recently, and we needed the laughter! We LOVE this show!
Ozark | Season 4 Part 1 | Netflix
OOFH. What an intense first half of the season! If you haven't watched yet, please do before you get spoiled online!
The Book of Boba Fett | Season 1 | Disney+
I'm really enjoying this! I can't wait to see where the story goes!
Playing:
Hot Wheels Unleashed | Switch
My husband bought me Hot Wheels Unleashed, a racing game for the Switch and I am obsessed. I used to play a computer game from Hot Wheels when I was a kid, so this was so nostalgic to jump back into! This game served as a wonderful distraction from everything else that was going on, and bonus, my husband and I could play together!
Monthly bookish related haul: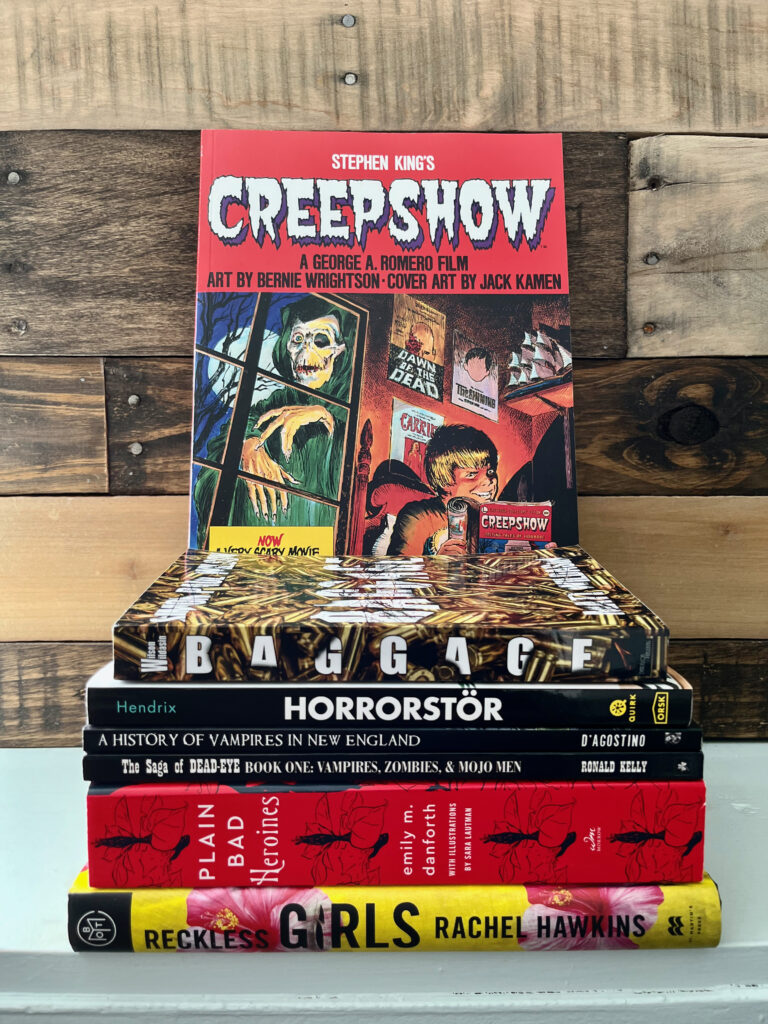 My favorite bookish photo this month:
In case you missed it:
Looking forward to: 
More rest and eventually getting back into the swing of things! February is also a month where my husband and I celebrate the day we first met, so I'm looking forward to that as well!
Thanks for reading!