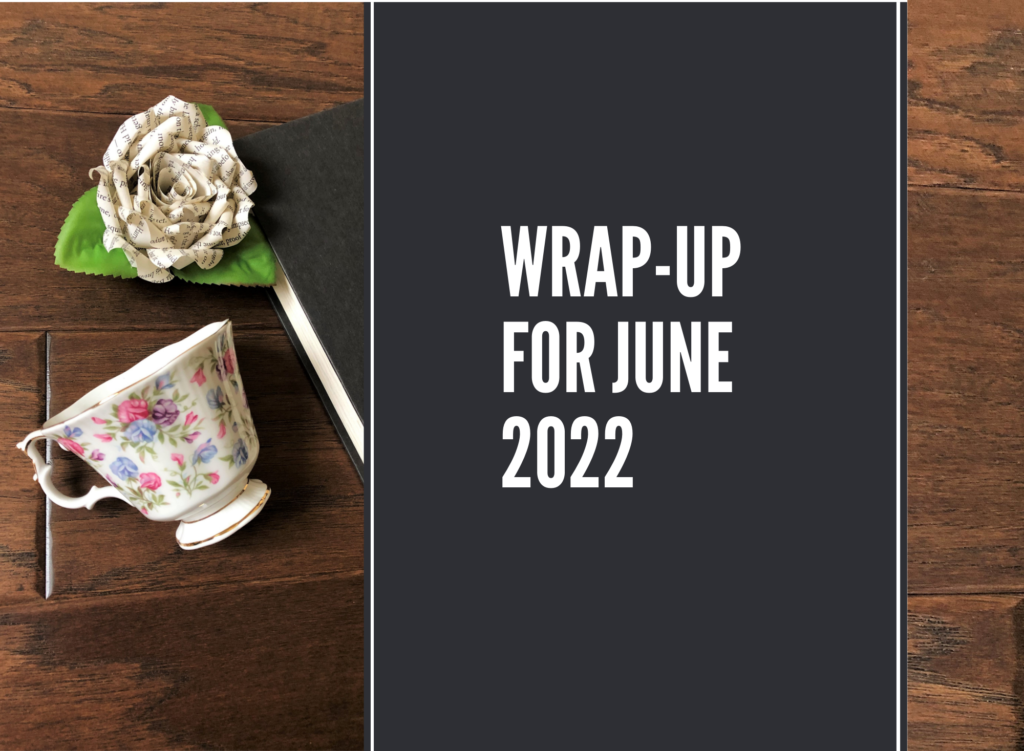 Oofh, June threw me some curveballs! Coming off my two week staycation in May then dipping back into my poor habits at work with work/life balance, I had some personal boundary work to do when June first began. Then I had a couple of rough weeks with health related things. Thankfully I started to bounce back again toward the last two weeks of the month thanks to my weekly therapy sessions that my therapist had time for this month! I usually try to go at least once a month, but needed some extra support this month.
Health wise for those of you following along- we're pausing our fertility journey for a few months as we discovered a cyst the size of a tennis ball on my right ovary. It hadn't been painful until the day they discovered it, and it caused quite a fair amount of pain after that for weeks. Yesterday was actually the most painful, but today isn't so bad. We're now waiting for the cyst to dissolve on its own, or worst case, burst, before starting the last treatment we're allowed for the year. We're still feeling very positive about it, and honestly, I could use a bit of a break. The meds have been awful!
On a brighter note! I've started acupuncture and I am LOVING it. My doctor has been so helpful already with the recommendations she has to help me along my path, and I look forward to each appointment, even if I hate needles!
June also brought the first birthday party for one of my nieces (Noxley) and Alex and I got to meet my new nephew, Hudson! I was absolutely loving all the family time!
Alex and I also had some house projects we had help with this month that made me feel productive even when my body had me down and out.
We had our AC system maintained for the year and we finally got around to hiring a plumber to come take a look at our shower drain. The guy that came out was incredible! As the drain only took a few minutes, he dove right into a few other things we had been meaning to get around to so I made the most of the hour I had paid for! I couldn't believe it. How many people would ever step up to do that?! I left them a raving review on Google. While I hope to not need him again any time soon, I also can't wait to hire him again!
Let's dive in to the rest of my recap!
June 2022 Monthly Musings
Reading:
Watching:
Tammy and the T-Rex | 1994 Horror Film –
This was a wild ride! Not sure what I just watched haha! Classic toxic ex ruining things for a couple. Mix that with a bit of shorty science, some gore, and a dinosaur and that's what you'll see here.
The Amazing Spider-Man | 2012 Marvel Film –
I really loved this one! I thought this rendition really nailed the personality, the curiosity, and really portrayed the core beliefs of the character. The effects were awesome! The storyline was intense! Definitely one I would watch over and over!
Hustle | 2022 Sports Film –
This film was so freaking good! A perfect feel good movie with some downs, but way more ups!
We Summon the Darkness | 2019 Horror Film –
After attending a heavy metal concert, three girls decide to bring three boys back to one of their fathers homes. But one boy has a knife, and the drinks get spiked. Then things go bananas! Tho seas such a fun watch. Very over the top, but I loved it!
Rim of the World | 2019 Adventure Film –
Go watch this asap! This was a blast. A lot of the camera work made me nauseous with the movement, but I loved the story! The ending will make you want to cheer!
Stranger Things | Season 4 Vol 1 | Netflix –
OH MY GOSH! This season was so intense! I loved it, but I'm SO nervous to see what happens next!
Obi-Wan Kenobi | Season 1 | Disney+ –
I really enjoyed this season! Ewan McGregor was perfect, as always, and little girl that plays Leia was too cute! She crushed the role!
Umbrella Academy | Season 3 | Netflix –
I love this show so much! I was so nervous to see where this season was going to go with how it left off last time… Now I can't wait for season four! It was also so great to see Elliot Page look so much more confident in his role as well. I'm so happy for him! And per usual, the actors that played Klaus and Number Five were amazing.
Ms Marvel | Disney+ –
I'm loving this so far, but I can't wait for the tension between Kamala and Bruno to be over. I'm so done with that trope.
Playing:
Please note, this section includes two Amazon affiliate links.
OH MY GOSH, I have two new favorite games!! This month, we had a game night with one of Alex's coworkers and her and her husband introduced us to Unstable Unicorns. When Alex and I got home, we ordered a copy and a couple of expansion packs. It is SO MUCH FUN. I keep pestering Alex to play this more with me!
I also discovered the mobile phone game, Exploding Kittens. This is a hilarious game! I love popping on to play with others. Each round is pretty quick, but I can get lost in the games and play for hours!
Outside of those two, we also played Spaceteam, which is marketed as "A Fast-paced, Cooperative, Shouting Card Game." I was so nervous for this one, but it was a blast! I could definitely play this one again!
In the bookish community:
Die Booth included my review link of Diet Riot on their blog post. Thank you Die!
While promoting his latest, Aiden Merchant used a snippet of my book review in his email blast for Sickness Is In Season: "…has everything a horror fan craves!" Erica Robyn Metcalf via www.ericarobynreads.com
Monthly bookish related haul: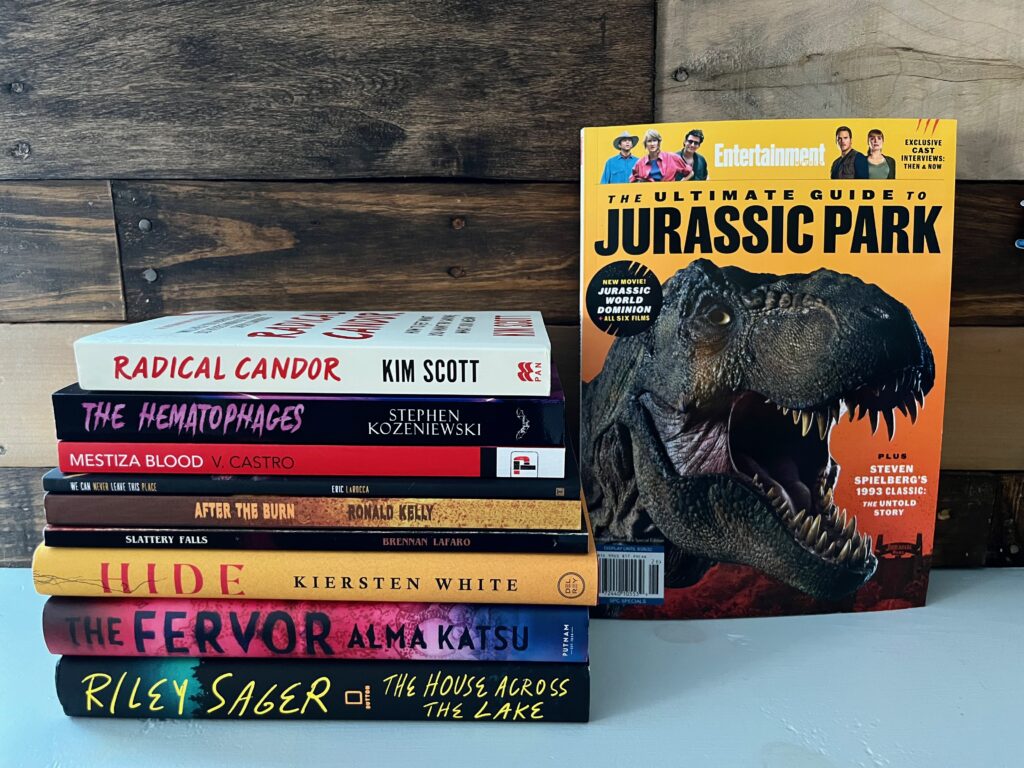 This month, I snagged the following books directly from the authors:
After the Burn by Ronald Kelly
Slattery Falls by Brennan LaFaro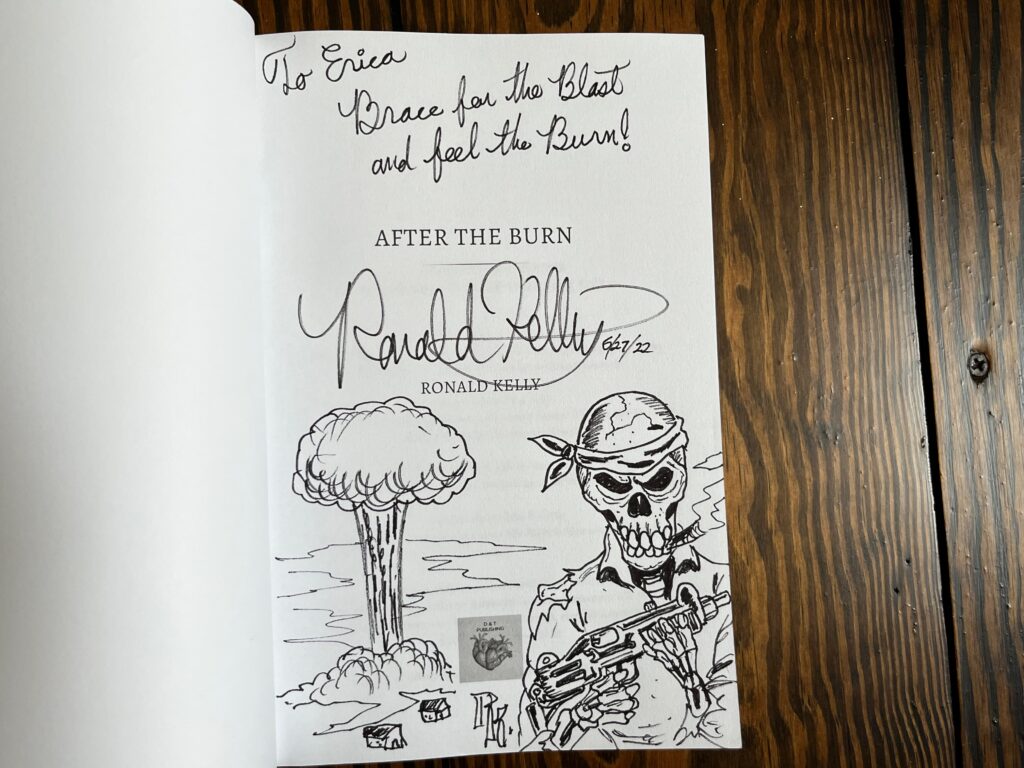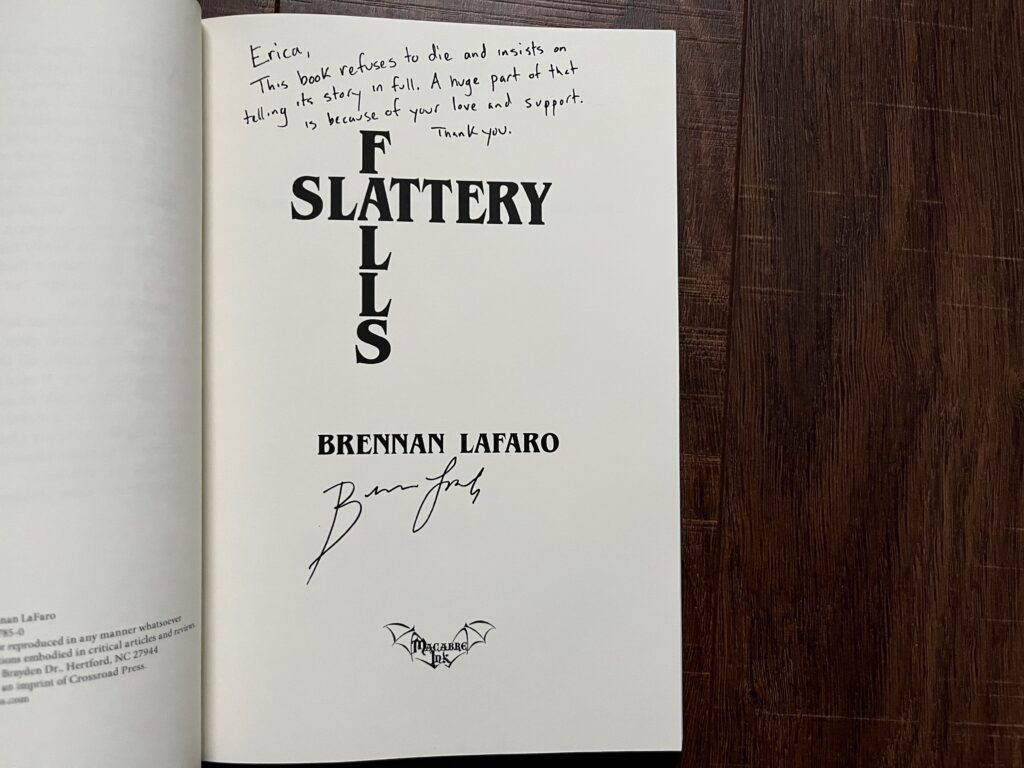 Next up, were all the books that I got from Gibson's Bookstore:
The House Across the Lake by Riley Sager
The Fervor by Alma Katsu
Hide by Kiersten White
We Can Never Leave This Place by Eric LaRocca
Mestiza Blood by V. Castro
Shout out to the staff member that wrote me a little note on the box; "Spooky Books Inside! <3"
I LOVED seeing this on my stairs when I got home.
And the last few stragglers that I bought include:
The Hematophages by Stephen Kozeniewski
Radical Candor by Kim Scott
The Ultimate Guide to Jurassic Park magazine
My favorite bookish photo this month:
This month I have to pick this bookish selfie! I need to remember to do more of these as new books come in!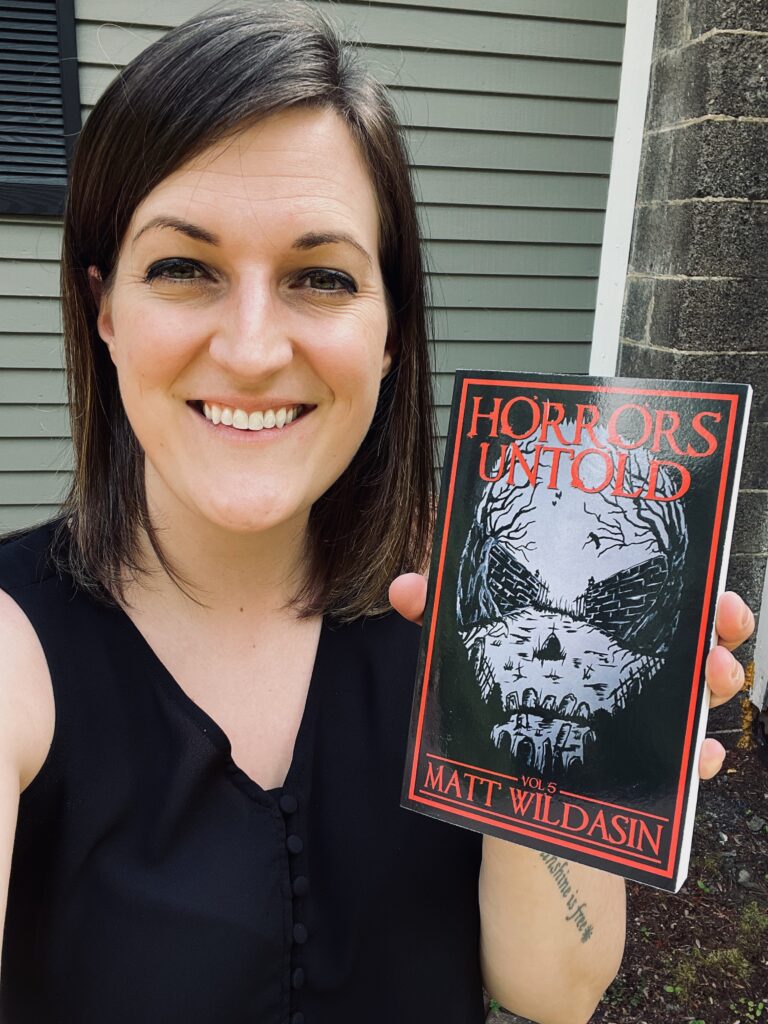 In case you missed it:
Looking forward to:
While the world is a massive dumpster fire with the overturn of Roe V Wade and the literal WAR that is happening… I'm trying really hard to focus on positive things in my personal and work life so I don't lose it.
Typically in July, I try to spend the first week focused on self care and celebrating my birthday week, but I just haven't felt up to it yet. It's only day one, so we'll see how the rest of the week goes. My birthday itself we have a loose plan for, but we're going to have to bump it out a few weeks.
But mainly this month, with all our plans, I'm looking forward to as much downtime as possible.
Thanks for reading!