Edge of Twilight by Matt Wildasin is a collection of four short stories that will leave you sitting there, trying to recover after turning the last page of this emotional horror trip. My goodness, the range this collection has is incredible!
Let's dive in!
My Thoughts on Edge of Twilight by Matt Wildasin
I went into this one totally dark. Just knowing it was from Matt, and I was sold. I cannot believe this was his first collection!
The stories here are truly haunting and wonderfully written. With each story, I was drawn right in and had very strong emotional reactions. I love that Matt can go from one beautiful passage one minute, but then he dials up the terror in the next!
Per usual, here are my thoughts on each tale –
The Stairs –
Taking on a new role, this rookie is ready to get out into the field to try to find a missing person. But when his curiosity ramps up over the sudden change in mood of the woman training him, he starts to pester her for answers. Once she shows him what is lurking in the woods, he regrets that he ever asked.
This was so spooky! Stairs that lead to nowhere freak me out! Back in Maine, there was a spiral staircase builder who had multiple examples of his work sitting outside on the lawn, and whenever I drove by, I'd get the chills. I can't imagine seeing a staircase out in the woods!
---
Silent Cove –
Thrilled to have a date with a girl he's been dreaming about for years, nothing can deter him from going to Silent Cove. Not the jock that hassles him, not even the principal that warns him away. But what the principal says does get under his skin a bit… but of course, his hormones win and he goes on the date.
I spent so many summer nights at the beach as a teen. Living on an island, that's about all we could do. This tale brought me right back there, but then added in some wild terror! Noooo thank you.
---
It Dwells –
Sent on a job to survey land to build ranger stations, this man who loves to be alone, suddenly doesn't want to be that alone as he can't hear a single living creature after entering the woods. But soon enough, he's going to learn that he's not actually the only one out there.
The red flags that were popping up left and right from the start were so anxiety inducing! My goodness. I was taking the most shallow breaths while reading this one! I was so stressed for this guy!
---
A Walk On A Winter's Night –
When a man still haunted by his drug addiction and violent past is forced to leave the halfway house, he goes to get a coffee. Mulling over what to do next, his plans come crashing down.
This tale was heartbreaking real-world horror. This poor man!
My Favorite Passages from Edge of Twilight
Martin, who instinctively clung to the seat for dear life, froze in his chair not moving a muscle, as if it would render him invisible to her. A little trick that he picked up from Alan Grant in Jurassic Park.
The smell of pine and coastal flowers permeated the air along with the faint scent of salt water as they made their way along the path. The sun was just starting to meet with the horizon as it radiated a pallet of purples, oranges and yellows. The distant trees silhouetted against the canvas of the sky as a slight chill approached on the tails of a gentle breeze. It was picturesque and non-threatening to say the least, but that made it all the more eerie to Justin.
Dylan felt the sound resonate in his chest, like the booming blow of nearby fireworks.
Stephen meant to splash his face with some water to help him snap out of it, but all he could do was stare into his own reflection and ponder the memories he had of home; the memories that were happy. Sadly, much like steaming hot water near a mirror, the reflections of his memories grew foggy and nearly unrecognizable.
My Final Thoughts on Edge of Twilight
In just four short stories, Matt has served up some serious horror!
This is a must read for horror fans! You'll love this trip where you will get to experience some unsettling spookiness, a creature gore-fest, some anxiety filled terror, and real world horror!
Trust me, you cannot miss this one if you haven't picked it up yet!
---
Snag a copy through Bookshop to help support local indie bookshops:
Thanks for reading!
And thanks again to Matt for sending over a signed copy! I'm so pumped to have this copy on my bookshelf!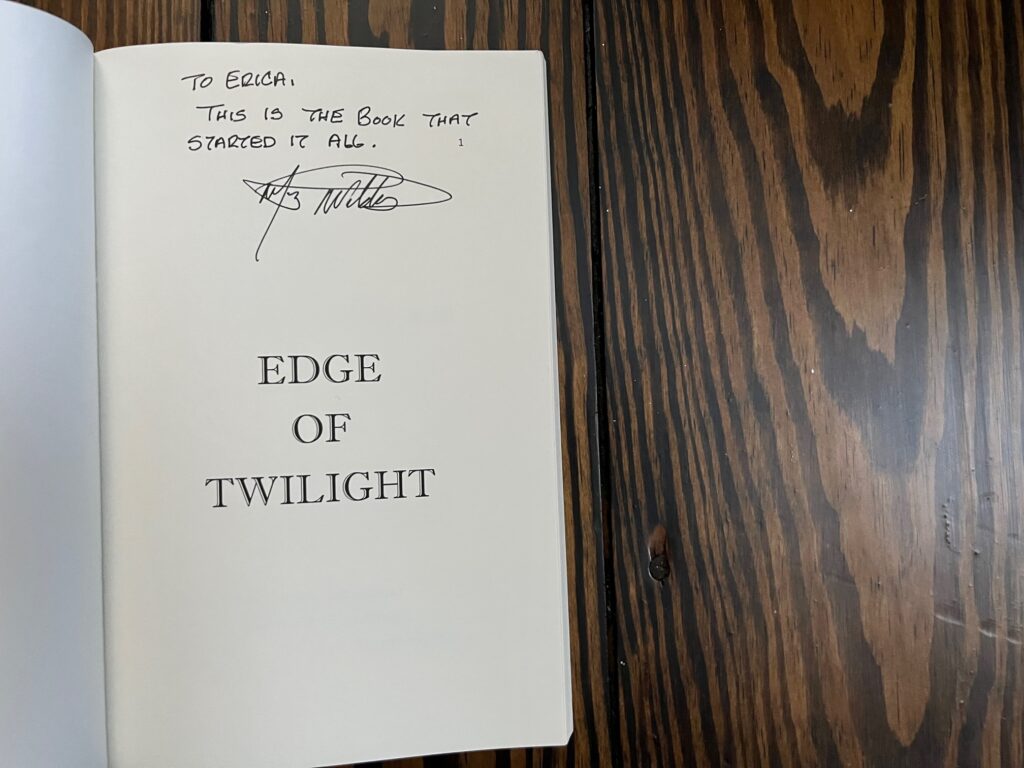 ---
Related Reading: