August was, as usual, a super busy month! For the big ticket items, I went to a family reunion, attended a work conference then had a quick friend trip tacked on to that. We also had a big birthday bash for my in-laws, followed by lots of smaller events.
We kicked things off with a family reunion for my mother-in-laws side of the family. When we were there, Alex and I got to hold the newest family member, Ms Lennox!
The day after that, I jumped on a plane to head to Nashville for the summer Convention for my work.
My travel anxiety was already high, and it didn't help that the flight out was rough. I was so excited to have booked a direct flight for the first time, but when we got close to Nashville, we circled for 20 minutes to try to wait out a storm before the pilot said we were running out of fuel and that we needed to go to Louisville. So we had a pit stop after all… We then sat on that plane on the ground for a long time before taking off and heading back to Nashville.
As I was now running way later than I had hoped, I had to rush to get right over to our team dinner. The rest of the Convention went along those lines; jam packed events and running all over the place from 6:30am to at least 10pm for three days straight.
Convention was exhausting as usual and the constant masking made it more difficult as the face covering was combined with the oppressive heat. But seeing the members was wonderful and it was an amazing send off for Howard, who is retiring this fall. The venue, the Gaylord Opryland Resort & Convention Center, was also pretty amazing. I took the photo below one night after the events that shows some of the gardens and lights.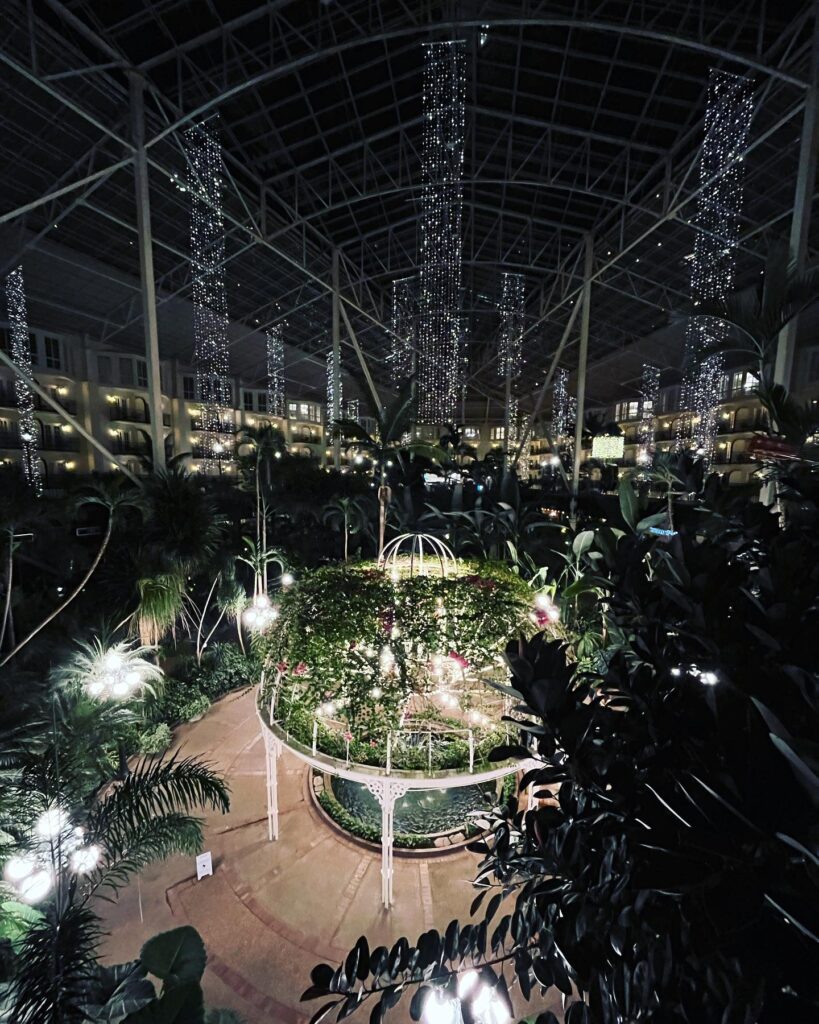 The company had an amazing closing event as well to cap off the events of the week. We all went to the Grand Ole' Opry for a special show! The line up as well as the headliner was kept a secret for everyone. I was joking with a team member that I owned only two country cds back home, Florida Georgia Line and Scotty McCreery, so I would probably be clueless.
The headliner was freaking Scotty McCreery and he put on an awesome show! The other acts leading up to Scotty included: Mark Wills, Maddie and Tae, The Steeldrivers, and Don Schlitz. The photo below is from Scotty McCreery's set.
After the closing event, it was right back to my hotel room to pack up and get ready to leave the venue the next morning.
The next couple of days was spent with our friends! Alex and our friend Andy flew down from New Hampshire, and the rest of the crew drove down to meet us in Nashville. We had some lovely time together, but it went by way too fast! During our short time, we got to go on a ghost tour and see the Parthenon replica. We also went to the zoo, an arcade, and a book store I had been dreaming of visiting.
The photo below is our group outside the Parthenon replica. I was SO excited to see this landmark. I had seen the real one in Greece, but it was almost impossible to really look at with all the supports and such trying to hold it up at the time I was there. Seeing what it would have looked like in its full glory was amazing.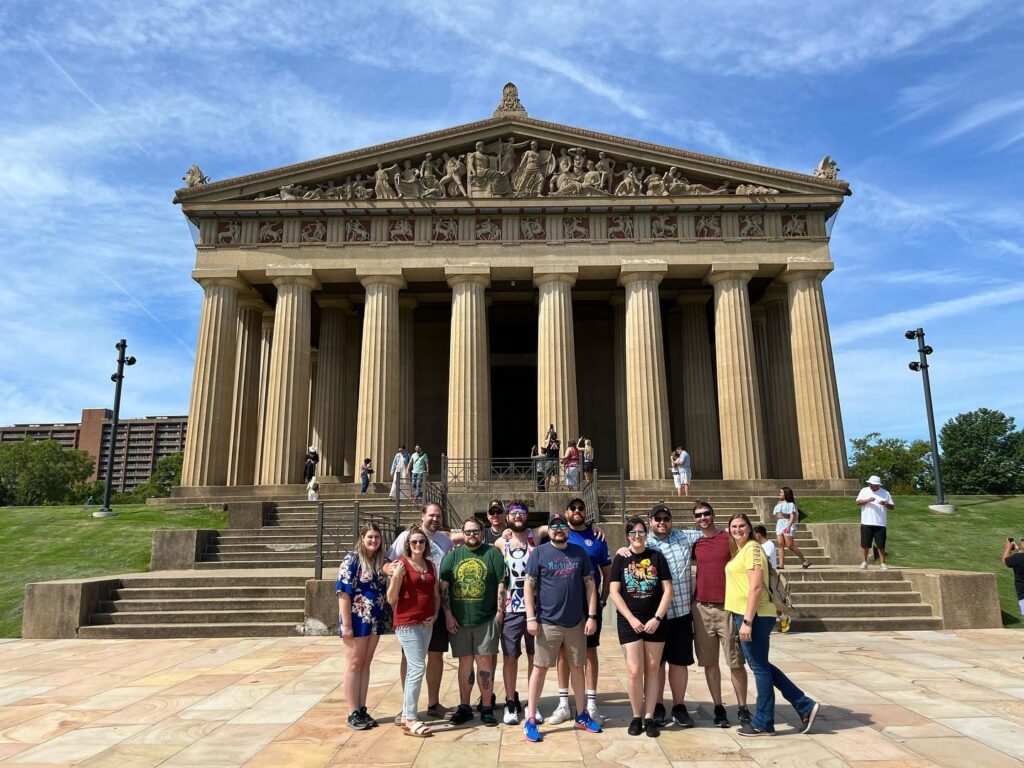 We went inside as well to look at all the artwork and see the Athena Parthenos reconstruction on the top level.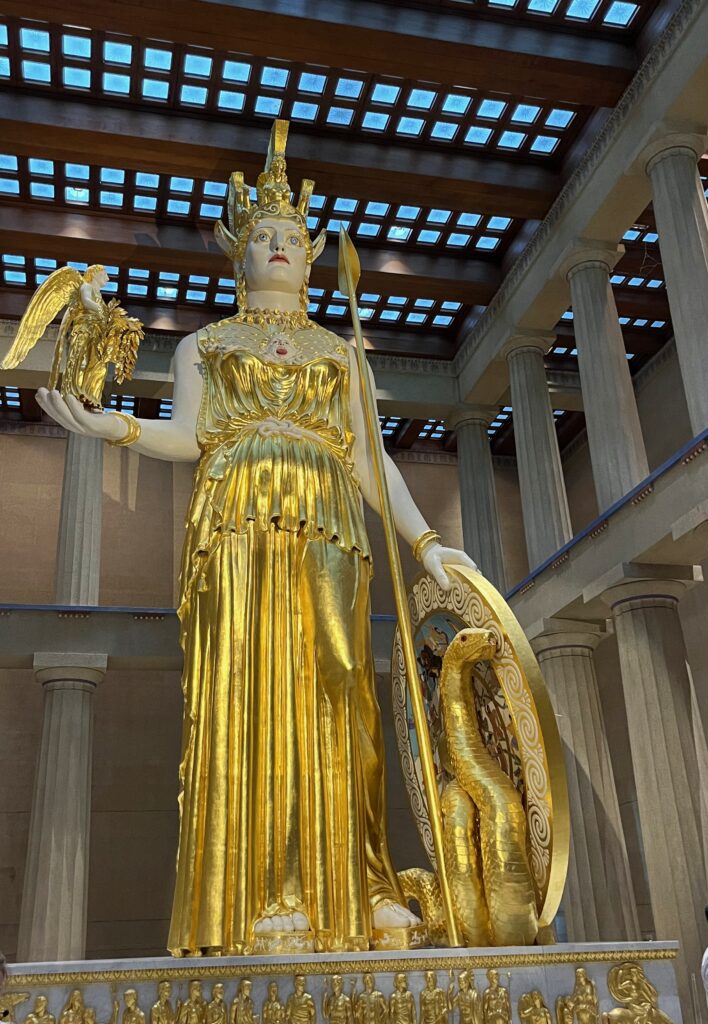 There were only two downsides to the trip; first was how short it was, and second, that I got heatstroke. I get heat exhaustion really easily, but this was only the second time it had gone further. I was super embarrassed, especially when I was violently ill on the side of the road and almost jumped out of our friends car right into traffic in an attempt to not get sick in his car. Luckily, Alex and the friends were incredible. They let me go get an ice shower and take nap while they stayed out of the room we were sharing. When I woke up later, I was good as new!
But I'm very grateful that I seem to have made it without getting COVID or Monkey Pox. A lot of my team members ended up getting sick in one way or another while we were out there, or shortly after their return. Keep wearing your masks and sanitizing, friends!
When we got back to New Hampshire, we were right back at it! We hired a handy man to replace our over the range microwave and he did an amazing job. There's no way Alex and I could have managed the same job seeing everything that he did and all the tools he had to use. We can't wait to hire him back for more projects soon!
Next up, was my husbands birthday! I got him a dark saber that he has already picked up to use here and there and seems to enjoy it. The next day, we continued the celebration by going to see the new Dragon Ball Z movie. My gosh, I had a blast!
That weekend, we had a big 60th birthday bash for my in-laws. It was WICKED hot that day, so I had to keep going inside to cool down, or risk more heatstroke. But the day was a blast and everything went wonderfully! My sister-in-law, Aja, crushed the party planning! I was so happy to help as I could, and I also brought my camera with me to capture some of the day.
On the health front, the cyst on my right ovary burst and is totally gone now. But of course, now I have a cyst on the left side. So we'll see how that develops over the next few weeks. My thyroid is still doing great on my new medication dose though! So I'm very excited about that.
Let's dive in to the rest of my recap!
August 2022 Monthly Musings
Reading:
Watching:
Parenthood | 2010 Drama Series –
I finally convinced Alex to give this a try. He was hooked very quickly! When I went away from my work trip, he texted me to ask if he could keep watching on his own! I love this series so much, and getting to watch it with Alex has been a treat. It's so funny to me to see which characters I like best the second time around now that I'm older.
Day Shift | 2022 Action Film –
This was fun! I loved this cast so much and the action was glorious!
Dragon Ball Super: Super Hero | 2022 Film –
This was SO much fun! Alex and I went to go see this with one of his coworkers. We laughed so much and the overall storyline was fun and intense! When we got home, I immediately told Alex I want to go to the theater and see it again!
Locke and Key Season 3 | 2022 Netflix Series –
My goodness I love this show! This season was intense just like the other two, but with more powerful baddies this time! This season was edited in a way that makes it impossible not to binge watch the whole season!
Glorious | 2022 Horror Film –
This was wild! The music mixed with what was going on, especially during they mist scene, was wonderful! I loved the humor mixed in here. Definitely worth the watch if you like movies that are definitely on the more strange side of things.
So Vam | 2021 Horror Film –
This story was so much fun! A great vampire tale that was centered around finding yourself and accomplishing your dreams. LOVED the content warning at the start of the film because that first scene was a doozy. The colors throughout this film were awesome! The camera angels for many of the violent scenes were so creative. The sound was a little off. It sounded more like a VoiceOver and many lines fell a bit flat, but I think this just added to the charm overall. The overall storyline and how it all tied into the first scene is such a powerful way was wonderful! I highly recommend this one!
Listening to:
I've been HOOKED on an instrumental album from Jon O'Bergh titled 13 Witches. Learn more about that album here!
Playing:
When we were in Nashville, we went to an arcade called Game Terminal. I played a couple of pinball machines, but this Halloween themed one was by far my favorite!
In the bookish community:
If you are a horror fan, you need to be aware of the amazing little horror bookshop in Toronto, Ontario called Little Ghosts! Their social presence on Twitter has been so fun to follow along! And this month, they announced a monthly subscription! I sighed up SO DARN FAST! In this sub, you'll get: one novel, one novella, a bookmark, an exclusive ghosts sticker sheet, and an exclusive pin. Want to sign up yourself? Click here!
This month, I got to help celebrate the launch of Die Booths' novella, Cool S! I had so much fun sharing my review of Cool S over on FanFiAddict as well as sharing an interview I did with the Die!!
Die also shared a wonderful blog post giving me a shout out. You can give that a read by clicking here. I'll sound like a broken record, but Die is seriously one of the kindest people I've met so far while on my blogging adventure. Please go give him a follow on all platforms you're also on!
This month, I also learned that James Flynn used one of my quotes to promote The Hand That Pulls You Under!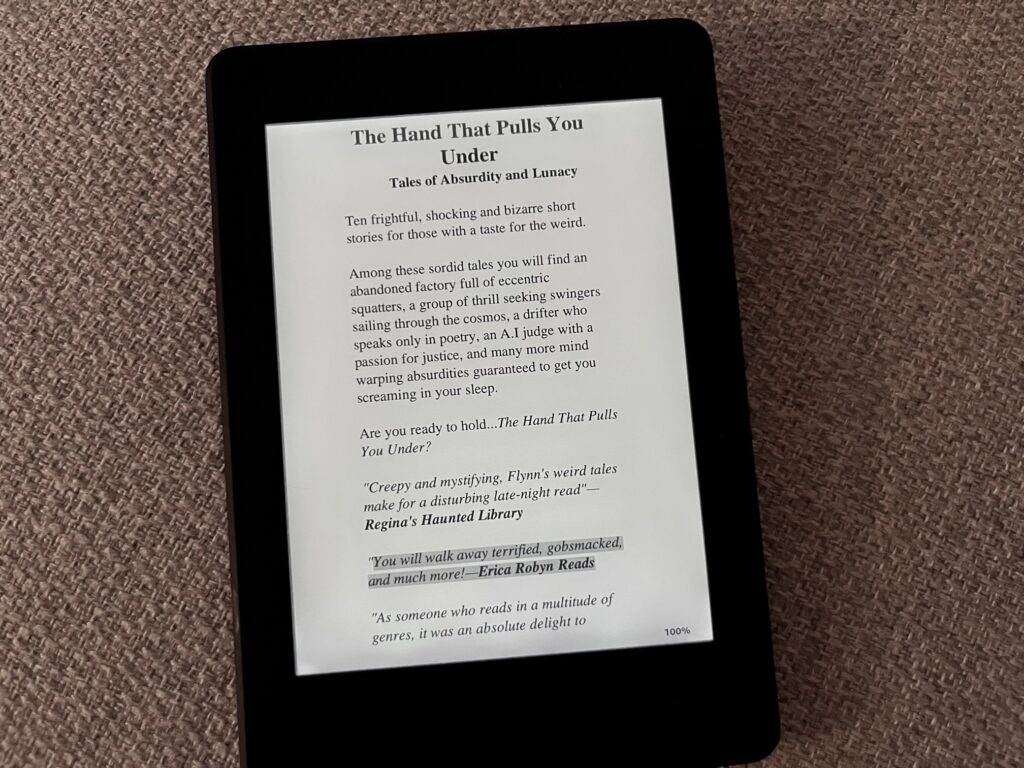 Monthly bookish related haul: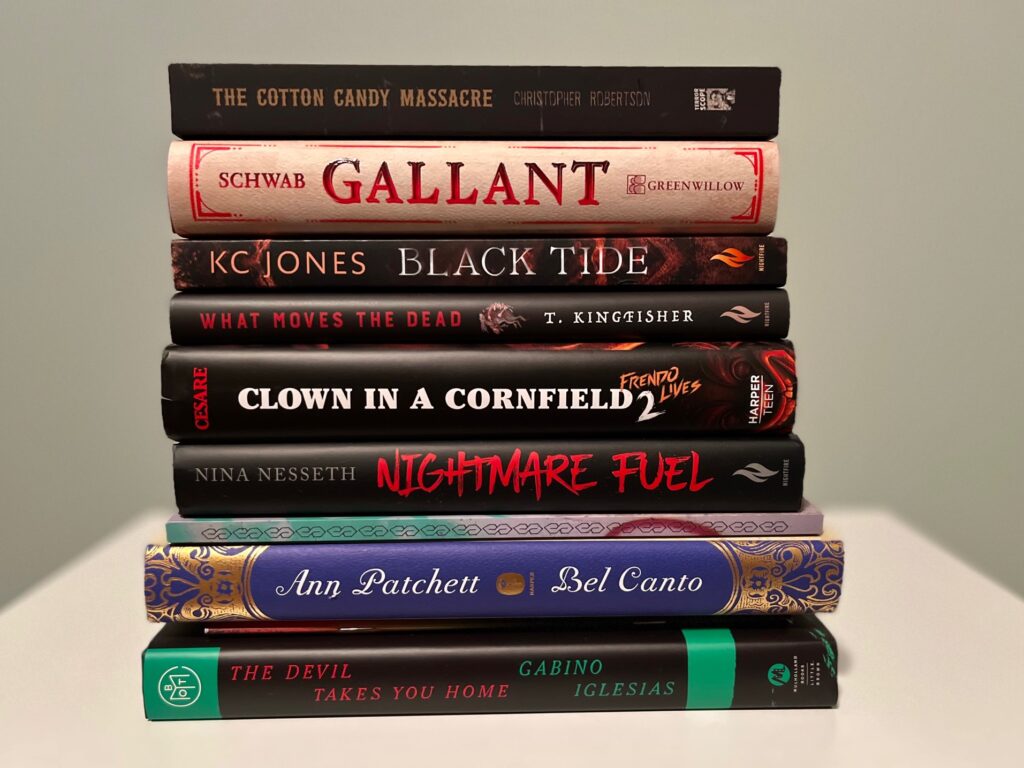 This month, I snagged a bunch of books! The titles include:
The Cotton Candy Massacre by Christopher Robertson
Gallant by V.E. Schwab
Black Tide by KC Jones
What Moves the Dead by T. Kingfisher
Clown in a Cornfield 2 Frendo Lives by Adam Cesare
Nightmare Fuel by Nina Nesseth
Cool S by Die Booth
Bel Canto by Ann Patchett
The Devil Takes you Home by Gabino Iglesias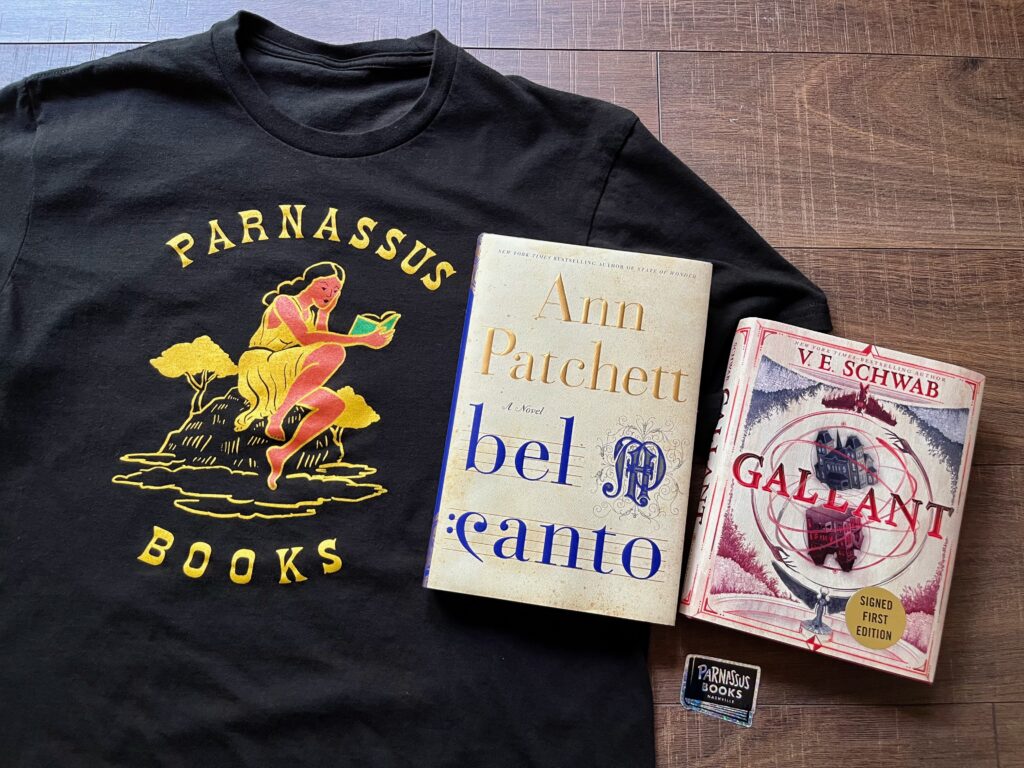 Of course, there was also my haul from Parnassus Books which included a t-shirt, sticker, and two books; Bel Canto by Ann Patchett and Gallant by V.E. Schwab.
I also received a signed sticker from Adam Cesare when he ran a promo of sharing your preorder links. I stuck that right in my copy of Clown in a Cornfield 2 when it arrived!
My favorite bookish photos this month:
In case you missed it:
Looking forward to: 
September is already jam packed with events and doctors appointments, so I'm hoping to suck up as much of our down time as possible.
But one thing that I'm really looking forward this month to are two Dead Headspace episodes that I'll be joining the gents for!
Thanks for reading!