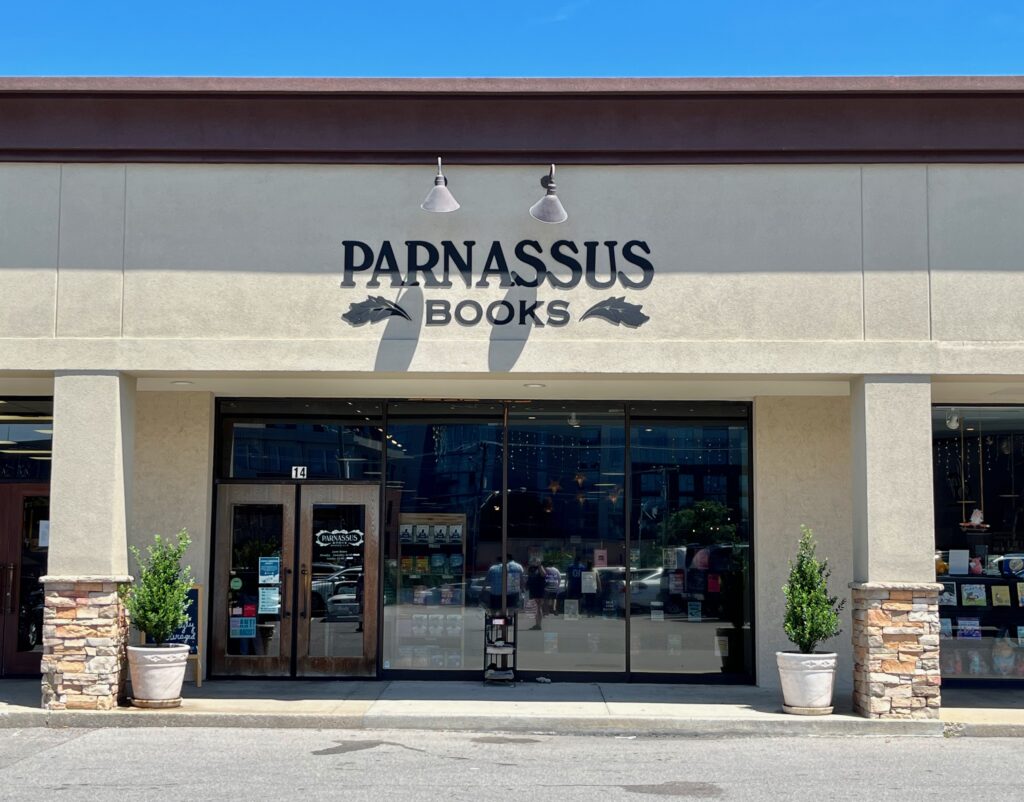 This month, I was visiting Nashville, Tennessee for a work event. Of course, while I was down there, I just had to make a trip to Parnassus Books! This is such a lovely bookshop. I highly recommend anyone in the area make it a point to visit.
Let's dive in!
Visiting Parnassus Books
We had been planning to visit Parnassus Books on the second day of our vacation, but I ended up getting heatstroke and had to return to the hotel immediately for a cold shower and a nap after getting quite ill on the side of the highway. Luckily, I was good to go after that nap!
I was so excited that the very next day, we had time to stop by the bookstore!
I got my husband to take a VERY awkward photo of me out font before we went in:
Then we took note of the signage out front that lovingly encouraged the public to please wear their masks to help protect the immunocompromised.
Thank you to the staff of Parnassus Books for being so wonderful and keeping the community safe! Also peep the other stickers and signage in the door window; Friendly Shop Dogs On Duty, All Welcome Safe Space, Women Owned Business, Be Anti-Racist, and more!
Next, we headed in!
I love that you never know what to expect with independent bookstores! Bookshelves lined the walls from floor to ceiling and various tables and displays were set up in the space between.
As soon I walked through the door and turned to my left, I was excited to see that the first couple of displays include the staff pick books as well as a section penned and picked by the store owner, Ann Patchett herself! I had to do some serious resisting here. I simply snagged a copy of one of my all time favorite books, Bel Canto by Ann Patchett. A reread of that one is LONG overdue. I must have read it a dozen times in high school. I'm so pleased to now have a signed copy for my shelves!
Also at the front of the store, there was a beautiful message from the owner about the importance of shopping locally, especially for books. There was also a little sign about donating used books! Parnassus Books accepts donations all year long for The Friends of the Green Hills Library book sales. These sales help to fund the library programs. What an awesome idea! I need to keep an eye out for local bookshops that do the same.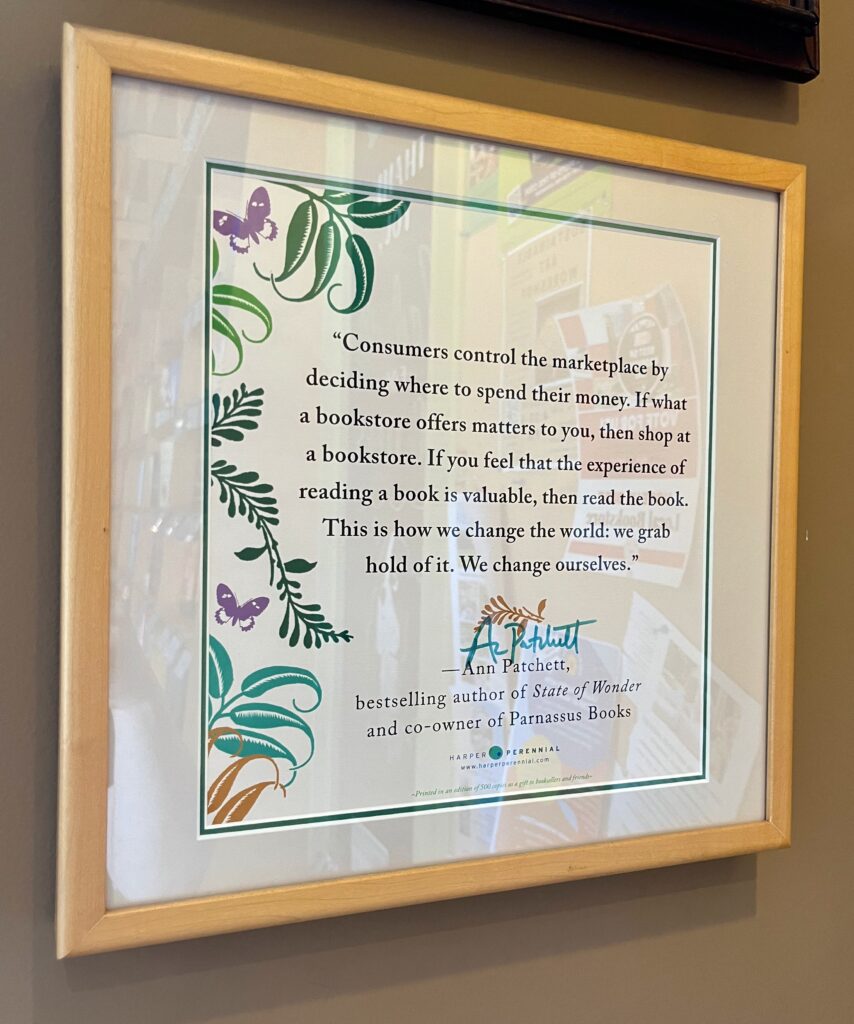 One of the displays that I stopped to look at first was the Local Authors display. I LOVE when bookshops do this as this is exactly what I'm looking for when I'm traveling. Unfortunately, there were no horror options here, so I moved on.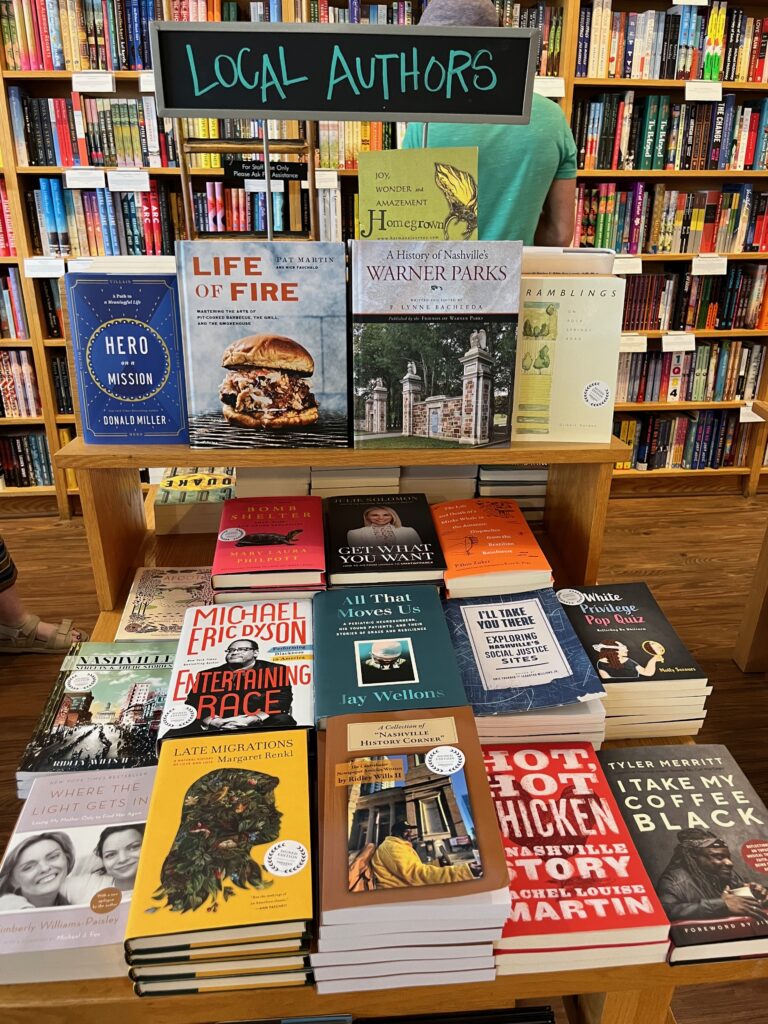 Next, I zeroed in on the Mystery section! I saw a lot of great books on here, many of which I already owned (like that Riley Sager book on the top right!), but nothing new really jumped out at me for this specific trip.
After that, I started to focus in on the chalkboard signage. This one was one of my favorites: "Lose yourself in a GREAT BOOK!"
Then I stopped by a display for books to beat the heat with! I was so excited to see Devolution by Max Brooks and The Winter of the Witch by Katherine Arden on there!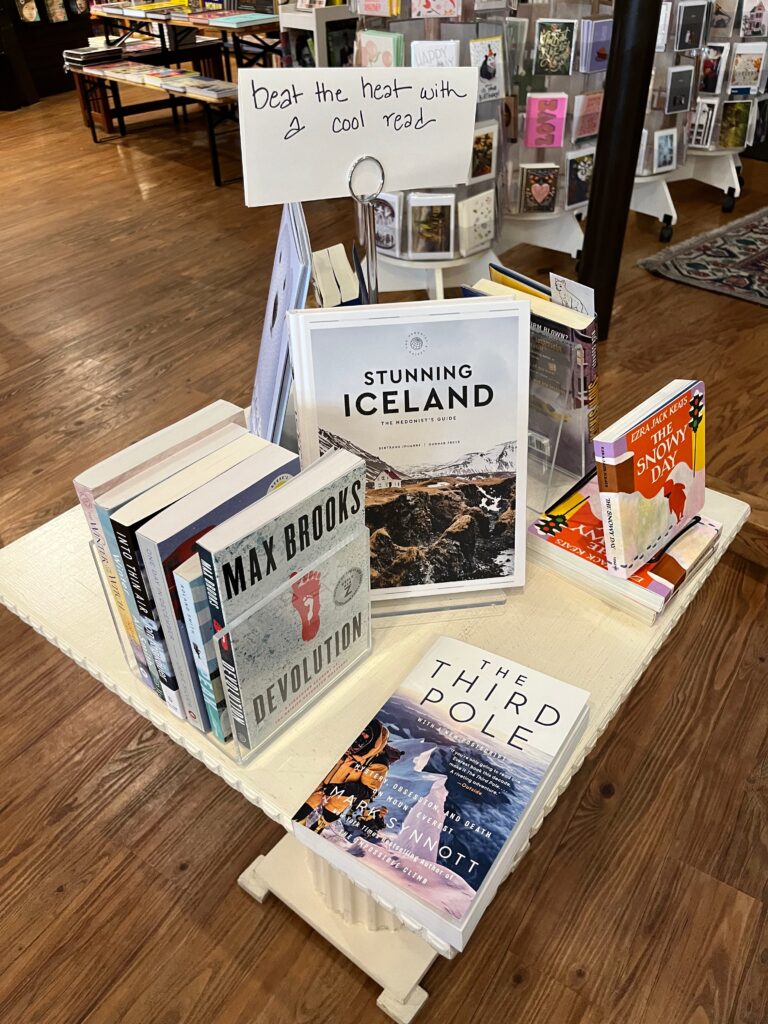 From here, I looked over and saw the entrance to the kids section! How cool is this archway?!
Not to worry for the adults that don't want to go through that small passage way! There was also another way to get to this section as seen in the photo below. I really loved the paper stars in this area!
After making a loop, I headed back to the Mystery section again, and then made my way back to the front of the store. Here's a view of the shop when heading forward: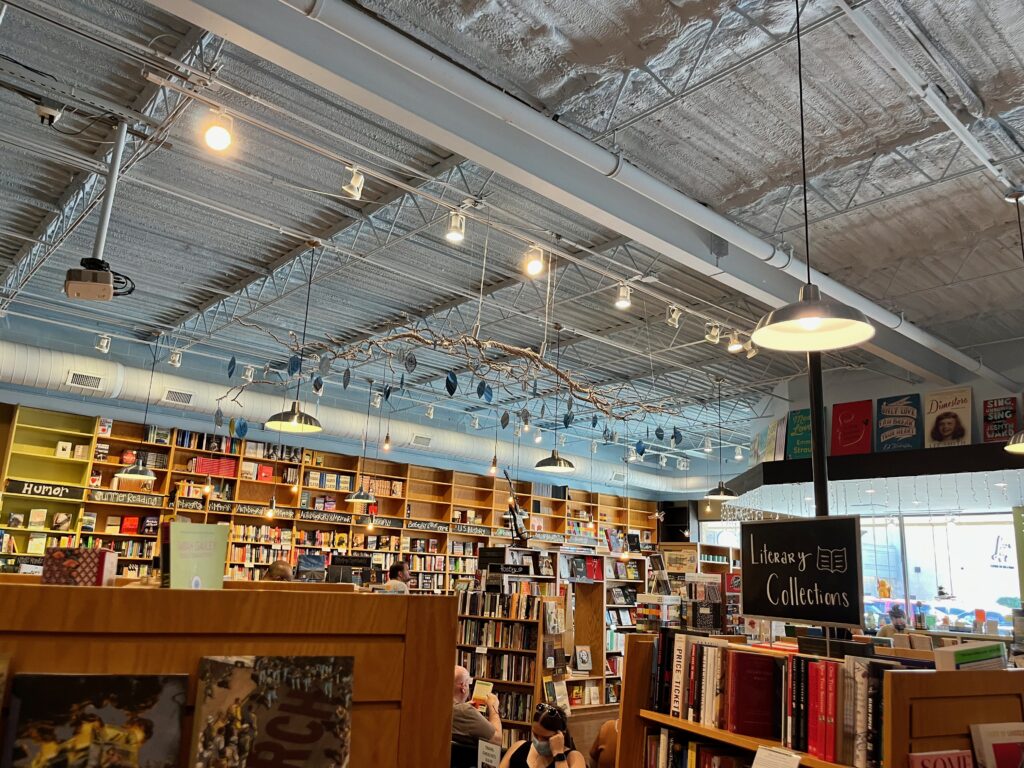 Toward the front of the store, I was delighting to see that there was a great banned books section. A lovely idea, especially considering the latest round of book banning that has been happening.
So what did I end up leaving with?
I easily could have walked out of the shop with more books from Ann, but knowing we had to try to fit these into our already overloaded luggage for the flight back, I kept it minimal.
I snagged a Parnassus Books t-shirt, a signed copy of Bel Canto by Ann Patchett, a signed copy of Gallant by V.E. Schwab, and a little Parnassus Books sticker. My husband also got a World Of Warcraft tabletop game!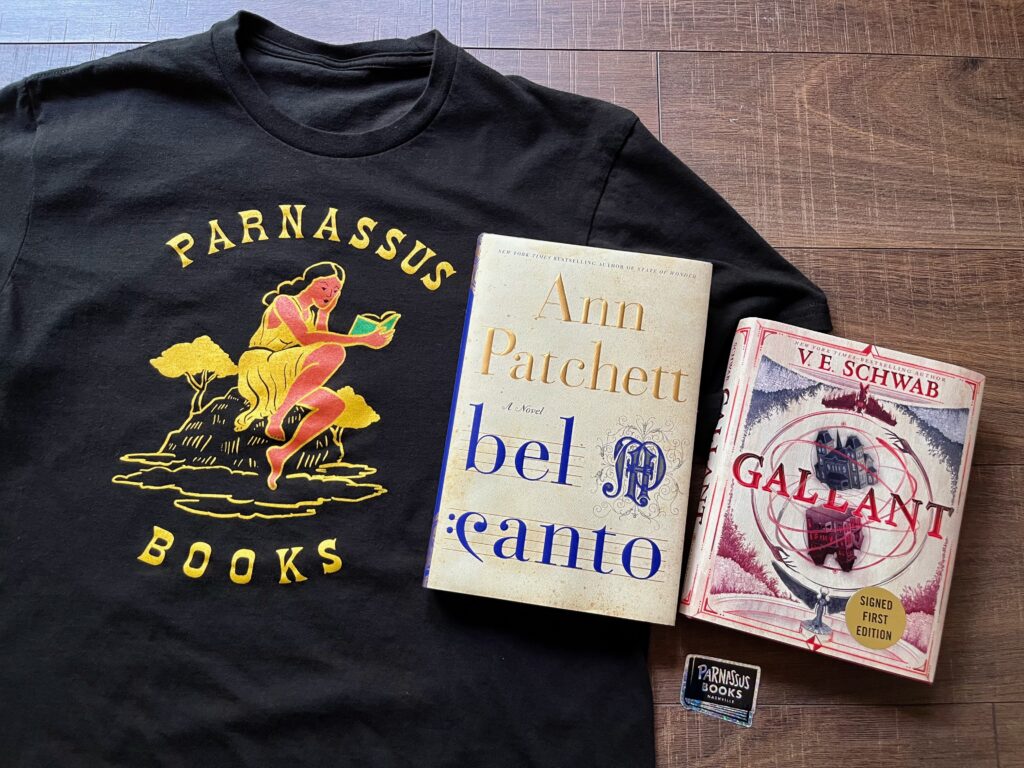 Click here if you're interested in ordering any signed books from Parnassus! They have a section for Ann's books, for local authors, sub-genres, and for preorders!
---
Thanks for reading!
Have you visited this book store? If so, what did you buy?
To learn more about Parnassus Books, feel free to click the links below: