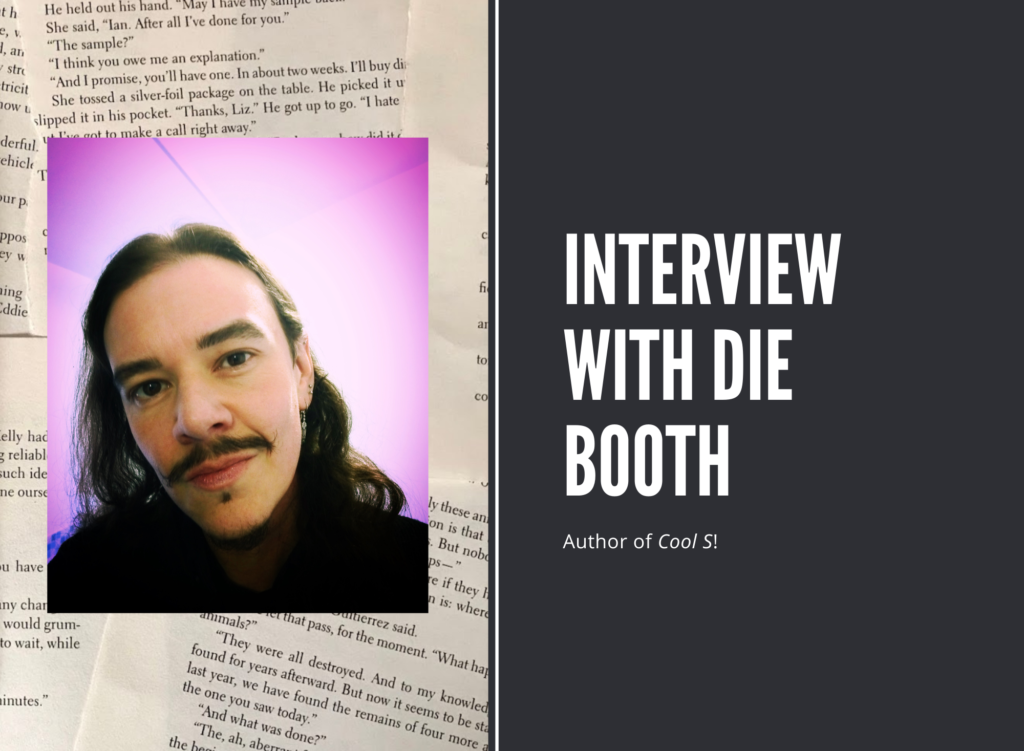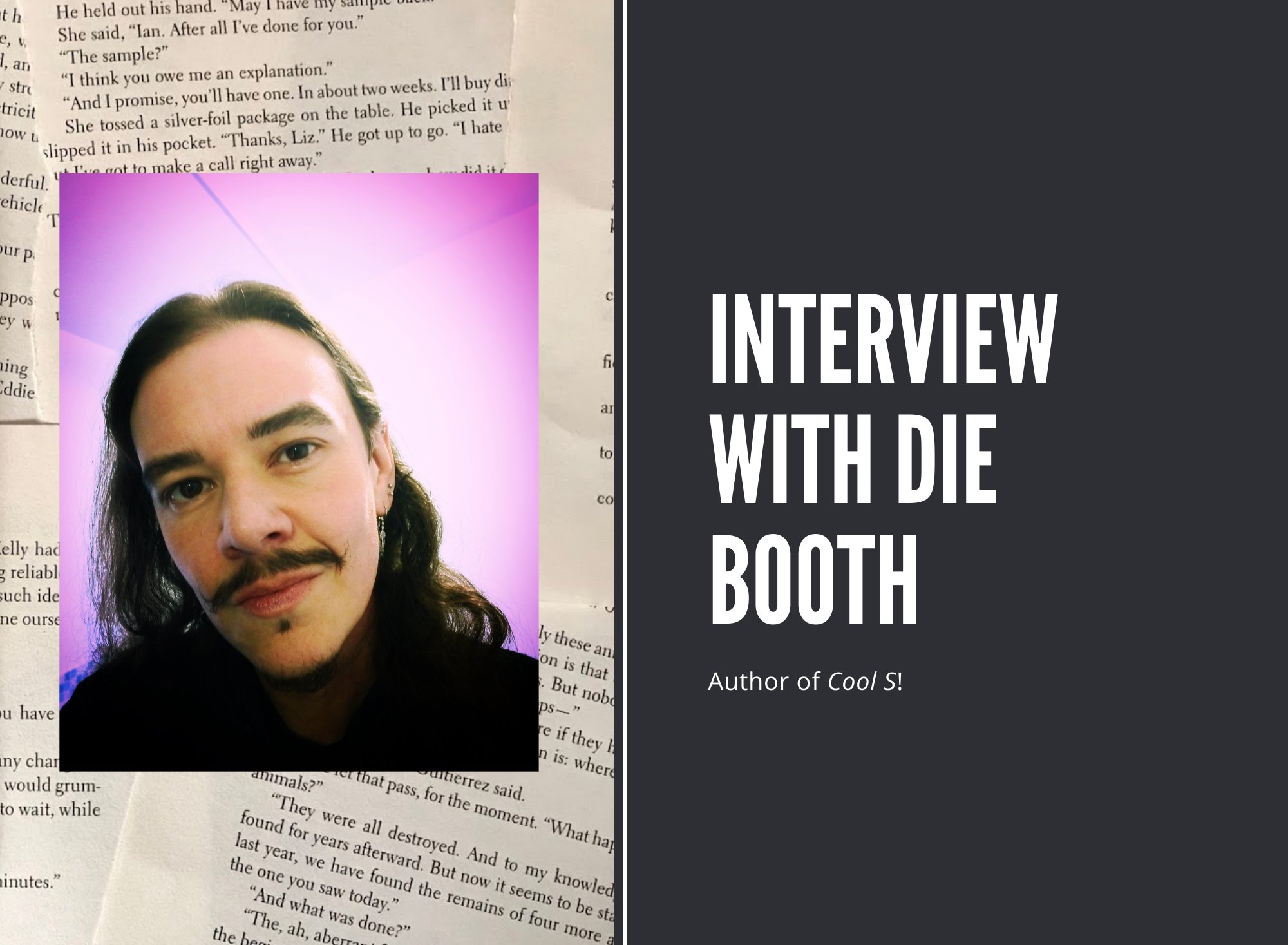 I'm so excited to be hosting an interview with one of the kindest souls I've met in the horror community, the amazing Die Booth!
We met thanks to Diet Riot: A Fatterpunk Anthology. When I posted my review, Die commented to thank me for the kind words. From there, we started chatting about his upcoming novella. One thing lead to another, and I was blessed with the opportunity to give the book an early read. Horror fans and 90's babies… YOU NEED THIS BOOK. Check out the purchase links at the bottom of this post, and add it to your Goodreads TBR by clicking here!
Let's dive in!
Interview with Die Booth, author of Cool S
Who is Die Booth?
Die Booth is a queer indie author who likes wild beaches and exploring dark places. When not writing, he DJs at Last Rites – the best (and only) goth club in Chester, UK. You can read his prize-winning stories in anthologies from Egaeus Press, Flame Tree Press, Neon Hemlock and Prime amongst many others. His collections 'My Glass is Runn', '365 Lies' (profits go to the MNDA) and 'Making Friends (and other fictions)' and novel 'Spirit Houses' are available online, and his cursed new novella 'Cool S' is due out in August 2022. You can find out more about his writing at http://diebooth.wordpress.com/ or say hi on Twitter @diebooth.
What is your first memory of writing for fun?
I always enjoyed writing and storytelling, from the moment I could speak. There are still cassette tapes in existence of me aged about five or something telling stories about owls and bats. I think I quite heavily internalised a mixture of talking animals and creepy tales very early on. I remember feeling very pleased when a story of mine was read out in class at junior school (I think I must have been about seven) with the teacher seeming impressed that my cocktail-stick-sword-fighting mouse wasn't just a mouse but a 'stout, black mouse'. I also wrote one fairytale where the princess ended up marrying the dragon (who was imaginatively named Fire) instead of the prince, who was boring, and it still amuses me to this day – I started out identifying with the 'monsters' very early on, it seems, and it's been a bit of a theme in my work ever since.
How many books or short stories have you written?
Oh wow… Books, I've written and published one novel (Spirit Houses) and three solo short story collections (My Glass is Runn, 365 Lies and Making Friends), and contributed to and co-edited another short story collection (Re-Vamp). I've got a new novella coming out this August 2022 (Cool S). I've got two more short story collections as yet unpublished, a half-written novella, a half-written novel, and a drawer novel that I wrote aged 20 (Dream City) that will never see the light of day! I've lost track of my short stories at this point. I've probably written about 400 flash stories and maybe 80 or so shorts?
What are some of your other interests outside of writing?
I love anything creative. I do a bit of illustration work – mostly pen and ink stuff – and I really enjoy drawing. I play about with a lot of craft stuff. I love sewing when I get chance, especially clothes and historical costume, and I have a little casual sideline making commissioned plush character dolls (DieDarlingsUK). I also love working with silver, and wood carving, mainly making jewellery. I'm passionate about music too, although these days it's more listening to it and going to gigs than performing it, which is a shame as I really miss singing in bands. My partner and I do run a goth club in our home city of Chester though, called Last Rites, which is on about four times a year and is good fun and a nice way to build a bit of scene community locally.
Are you also a reader?
Not as much as I'd like to be these days. I think my time, stress and social-media-addled attention span have all suffered a great deal recently meaning I don't read half as much as I'd like to. I absolutely devoured books as a kid, right up until my 30s, but in the past five years or so it's tailed off a lot. I do still try and read as many indie books as I'm able though, and I try to review them as well. I'm hoping that once (fingers crossed) my stress levels go down a bit I'll be able to concentrate on reading a bit more again.
What genres do you reach for the most?
I love horror, but it has to be the right type of horror for me. I like quiet, unsettling horror, preferably with some kind of happy or at least satisfying ending, which is actually quite unusual to find. I also love a good writing style – something expressive and vivid but not too frilly. I guess I'm quite picky!
Do you have an all time favorite book or author?
I don't think I can pick just one! I really love M R James for that quiet, creeping dread. I love Chuck Palahniuk for prose style and weirdness. I love Shirley Jackson 'Hill House' for being the perfect balance of supernatural horror, literary style and emotional punch. I love Bruce Robinson 'The Peculiar Memories of Thomas Penman' for sheer beauty of writing that transports the grotesque and mundane into grandiose and heartrending magic.
Book Related Questions
Cool S is a brilliant tale based on a doodle that many of us had drawn as preteens. Where did this story idea originally stem from?
Thank you so much! I've always been a bit fascinated with symbols, and sigils (being involved in magic myself) and I have a pretty childish sense of humour and find schoolyard graffiti frequently hilarious. I went down a rabbit hole a while back of trying to find out where Cool S originated, and was fascinated to discover that nobody actually really knows. I researched all the theory and what little history there was and made notes in one of my writing notebooks for future plundering. The one little spark of a notion that really stuck was that Cool S vaguely resembles an old European symbol that was based on a shepherd's crook and symbolised recovering that which was lost. Then one day I went out for a morning run (a very productive writing time for me: I think my brain just likes to throw things up at the most inconvenient times) and the idea dropped on me pretty much fully formed.
Consent, a very important thing to understand, was a strong element that was mixed into the overall storyline of Cool S. Can you tell us a little more about why you highlighted that?
Yeah. It's something that's increasingly on my mind as more and more of our freedoms are stolen from us. Whether it's the hideous developments around female reproductive rights in the US, or the increasingly disgusting treatment (or lack thereof) of transgender people in the UK, or any number of other atrocities, it seems that our bodily autonomy is being slowly taken from us by governments and corporations under the guise of 'it's what's best for you'. That includes invasion of privacy and constant surveillance from modern technology, too. Add to that the increasing emphasis on one narrow definition of beauty that's virtually unattainable without the aid of artificial filters – I just wanted to showcase that it's alright to look how you look, to be who you are, to age, to change, to learn and grow. Stasis is not a requirement of happiness, in fact it's often incredibly unhealthy, and the ways in which people will desperately try to achieve this mythical state of suspended being can be incredibly damaging and have consequences for themselves, others, and society as a whole.
The body horror in Cool S was intense, to say the least! Did you have inspiration from other media that you pulled from to develop these scenes? What are some of your favorite books or movies that feature body horror?
It's been so strange for me to read Cool S referred to as body horror, because I always think that I don't really enjoy – let alone write – body horror. I honestly thought Cool S was pretty mild! I'm a massive wimp when it comes to blood and guts in any capacity other than OTT '80s video nasties (which I do love – Braindead will be forever one of my favourites) so I can't honestly say where I got the inspiration for Cool S from in terms of body horror – although maybe I'm less soft than I thought! I do love a good creature feature or werewolf transformation though, which I guess counts, so I'll shoutout Hemlock Grove for some really banging werewolf transformations. And I absolutely adore Guillermo del Toro's creatures – they're the perfect blend of terrifyingly uncanny and beautiful. My Cool S creatures are definitely brought to the screen of my mind by del Toro.
Because Cool S was about a doodle from childhood, I have to ask, do you have any plans for more stories or books based on things from when you were a kid?
Yeah. Apparently I'm working through my teenage issues or something, because my next novella will be a '90s coming-of-age queer teen folk horror. When I was growing up, music played a huge, all-encompassing, part in my life. So I'm working on a story about growing up queer in a small town at the height of Section 28, with rock music as your only escapism.
Where can readers find you?
Final notes:
D: Thank you so much Erica for inviting me to interview and being such an awesome supporter of Cool S alongside all your other fantastic reviews – it means the world to an indie author like me.
E: And thank you for taking the time! I'm so glad that we were able to connect and I'm honored to host this interview. I cannot wait to read more from you very soon! All the best for the release of Cool S!
---
Snag your copy of Cool S today!
You can buy an e-book copy of Cool S from Smashwords by clicking here.
You can buy it a copy of Cool S in print from Lulu by clicking here.
---
Related Reading: