EEP! September is going to be a killer month for new releases from some of my favorite authors! Each person on this list are auto-buy authors for me and I'm so pumped for their latest releases!
Note: This post features Bookshop.org and Amazon affiliate links. Using the bookshop link to purchase helps support local indie bookshops. I will also get a small bit of compensation when the links are used.
Let's dive in!
September 2022 Book Releases
When Distilled From Rage by Shana Frost
Expected Publication Date: September 1st, 2022
Publisher: Self Published
Genre: Mystery
Synopsis:
What secrets do the peatlands hide?
An octogenarian distiller is wary of the goings-on in his distillery. The only person he can turn to is innkeeper Aileen Mackinnon.
Amateur sleuth Aileen Mackinnon has a knack for numbers and accounting. After all, she was a revered forensic accountant once. Wanting to wear her sleuthing hat once again, she takes on this simple case, never expecting a foray into familial fights, flying bullets and death.
Detective Inspector Callan Cameron is ordered to stay away from the peatlands. That means he'll never find his best friend's body. But something strange is brewing in Loch Fuar. As summer blazes through town, unease and distrust run rampant.
Has the summer heat awoken a murderer or were they awaiting the return of a Mackinnon?
---
Noose by Brennan LaFaro
Expected Publication Date: September 4th, 2022
Publisher: DarkLit Press
Genre: Splatter Western
Synopsis:
It's been fifteen years since Noose Holcomb perpetrated the Buzzard's Edge Train Robbery of 1872, leaving Rory Daggett an orphan. Settled in with a new family and a second chance at life, Rory never quite sheds the thirst for revenge. When one of the gang members returns to Buzzard's Edge, Rory's life is violently upended once more. Capturing the rogue spurs on a furious chain of events that pits Rory against each member of Noose's gang, every one more twisted and terrifying than the last, in order to work his way to their leader. With the help of a fellow orphan whose life Noose turned upside down and the town's sheriff, Rory will stop at nothing to be the man who ends Noose's reign of terror, but can he do it without becoming the man he seeks to kill?
---
Things Have Gotten Worse Since We Last Spoke & Other Misfortunes by Eric LaRocca
Expected Publication Date: September 6th, 2022
Publisher: Titan Books
Genre: Horror
Synopsis:
A whirlpool of darkness churns at the heart of a macabre ballet between two lonely young women in an internet chat room in the early 2000s–a darkness that threatens to forever transform them once they finally succumb to their most horrific desires.
A couple isolate themselves on a remote island in an attempt to recover from their teenage son's death, when a mysterious young man knocks on their door during a storm…And a man confronts his neighbour when he discovers a strange object in his back yard, only to be drawn into an ever-more dangerous game.
From Bram Stoker Award finalist Eric LaRocca, this is devastating, beautifully written horror from one of the genre's most cutting-edge voices.What have you done today to deserve your eyes?
Note: I have this one preordered from Barnes & Nobel! Can't wait to get this reprint with additional content in my hands!
---
Full Immersion by Gemma Amor
Expected Publication Date: Sept 13
Publisher: Angry Robot
Genre: Horror
Synopsis:
When Magpie discovers her own dead body one misty morning in Bristol, it prompts her to uncover the truth of her untimely demise. Her investigations take her on a terrifying journey through multiple realities, experimental treatments, technological innovations and half-memories in a race against time and sanity. Accompanied by a new friend who is both familiar and strange, and constantly on the run from the terrifying, relentless presence of the mysterious predator known only as Silhouette, Magpie must piece together the parts of her life previously hidden. In doing so, she will discover the truth about her past, her potential, and her future.
---
Dark Observation by Catherine Cavendish
Expected Publication Date: September 13, 2022
Publisher: Flame Tree Press
Genre: Horror
Synopsis:
1941. In the dark days of war-torn London, Violet works in Churchill's subterranean top secret Cabinet War Rooms, where key decisions that will dictate Britain's conduct of the war are made. Above, the people of London go about their daily business as best they can, unaware of the life that teems beneath their feet.Night after night the bombs rain down, yet Violet has far more to fear than air raids. A mysterious man, a room only she can see, memories she can no longer trust, and a best friend who denies their shared past… Something or someone – is targeting her.
---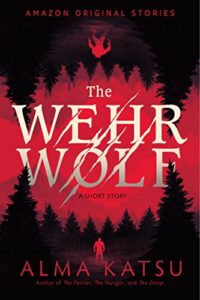 The Wehrwolf by Alma Katsu
Expected Publication Date: September 29, 2022
Publisher: Amazon
Genre: Horror
Synopsis:
Germany, 1945. In the waning days of World War II, the Nazis have been all but defeated. Uwe Fuchs, never a fighter, feels fortunate to have avoided the front lines as he cared for his widowed mother.
But Uwe's fortune changes when Hans Sauer, the village bully, recruits him to join a guerilla resistance unit preparing for the arrival of Allied soldiers. At first, Uwe is wary. The war is lost, and rumor has it that Hans is a deserter. But Hans entices him with talk of power, brutality, and their village's ancestral lore: werewolves.
With some reluctance, Uwe joins up with the pack and soon witnesses their startling transformation. But when the men's violent rampage against enemy soldiers takes a devastatingly personal turn, Uwe must grapple not only with his role in their evil acts but with his own humanity. Can he reclaim what this group of predatory men has stolen from him?
Or has he been a monster all along?
---
Thanks for reading!
What books are you looking forward to in September?