The March 2022 Night Worms package is my favorite package to date! The team really hit it out of the park with this one!
And as a bonus, this package arrived on a day that I was having a really difficult time, so opening it up was a wonderful pick-me-up.
NOTE: THERE WILL BE SPOILERS BELOW!
Let's dive in!
My Thoughts on the March 2022 Night Worms Package | Nightfire
The Goodies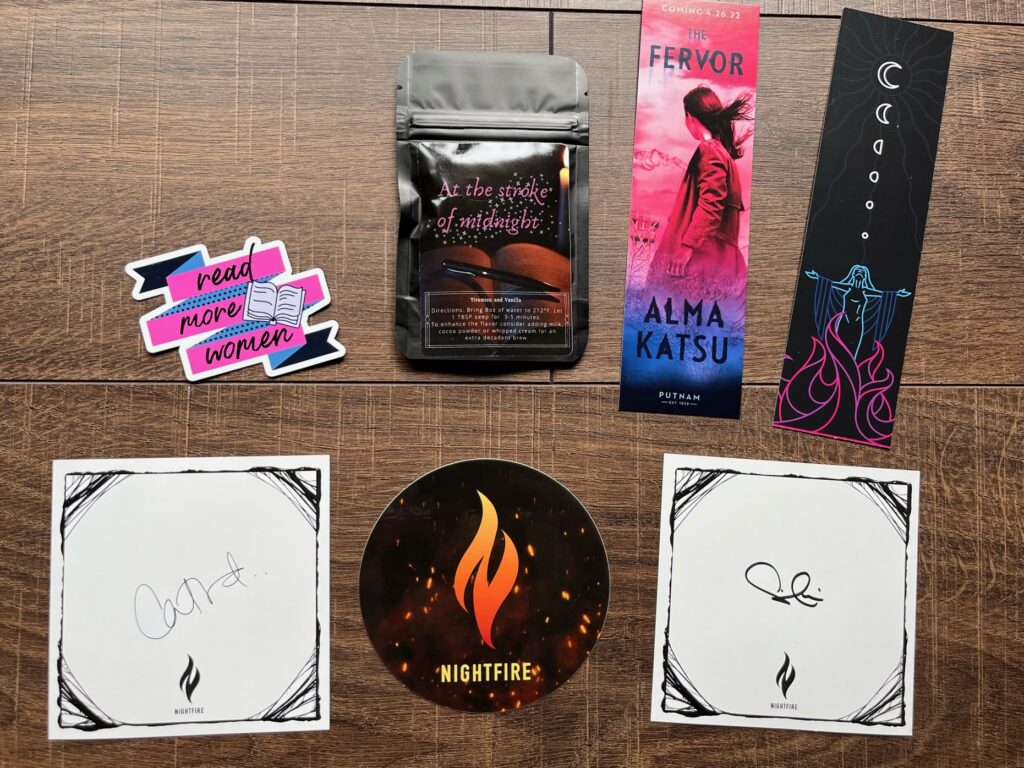 I'm obsessed with the Nightfire theme. How stunning is that illustration on the bookmark?! Alma Katsu's promotional bookmark fit the theme perfectly as well with those colors! I cannot wait to snag a copy of Fervor.
The "read more women" item is a magnet. I LOVE this so much! I usually turn my stickers into magnets, so it was nice to have one already done for me! 🙂
The tea is "at the stroke of midnight" a blend from Leaf and Lumos that is tiramisu and vanilla flavored. My husband is so pumped to try this one!
Then of course, we have the three stickers; two book plates from the two authors and one Nightfire sticker.
The Books
The two books from this package include:
Sundial by Catriona Ward
Certain Dark Things by Silvia Moreno-Garcia
Sundial by Catriona Ward was one of my most anticipated books of the year and I cannot wait to dive in! Certain Dark Things by Silvia Moreno-Garcia is a book that I already own, but I am still thrilled to have a copy of this version! The covers of both of these books absolutely rule!
The Whole Package
How killer is this package!? After I opened it up, I immediately ran downstairs to my husband to show it off.
---
Related Reading: